Drive Safe and Save Gas and with a Small Travel Trailer
GO is designed to be ultra lightweight, low profile, streamlined, and aerodynamic. You don't need to drive a gas guzzler to tow this smart, economical (and super fun) trailer. You can easily hitch it to your fuel-efficient vehicle and feel good about the money you're saving on gas, not to mention hotels. You'll find that it's a lot easier and safer to tow a small travel trailer than a bulky RV, so the highway flies by and you can just enjoy the scenery. Tour the country in comfort and convenience with your sleek GO in tow.
Less is More with this Amazing Travel Trailer
GO is the Swiss Army knife of small travel trailers, easily to shift from one mode to another. It's a pop up camper, a sturdy pull behind trailer, and a hardcore adventure gear hauler, all in one. GO is lightweight enough to be towed behind just about any vehicle. Subarus, hybrids, sedans, small trucks, even a Mini Cooper can pull a GO! So, if you're looking for a compact trailer that doesn't skimp on cargo capacity or bring-it-on-toughness, definitely check out GO. It's no wonder that National Geographic called this awesome travel trailer the "Coolest. Camper. Ever."
You Won't Find Another Travel Trailer This Easy and Fun to Use
As travel trailers come, the GO is one of the easiest to load, offload, and hitch up. The custom Control-Tilt™ cargo bed with pneumatic dampening system allow you to load and unload gear and equipment without a ramp. And, one person can easily connect the GO to its tow hitch. Once you're on site, the GO transforms into a sleek, comfortable above-ground tent (complete with self-inflating mattresses and a rain-sheltering awning) that practically sets itself up. You'll enjoy every minute of your trip with no hassle hitching, unhitching, or setting up camp.
GO May Be Small—But It Can Haul Nearly 1,000 Pounds!
With its TIG-welded aluminum construction, GO weighs just 840 lbs—but it can carry a payload of nearly 1000 lbs! GO is built to carry serious adventure gear, with capacity for a dozen bikes or kayaks, a couple dirt bikes, a full-sized ATV, or mid-sized motorcycle. You'll also find that GO saves the day when you've got work to do. Need to haul a fridge? A load of lumber? A pile of mulch? You can't exactly fit that in your car, but with GO, it's not problem.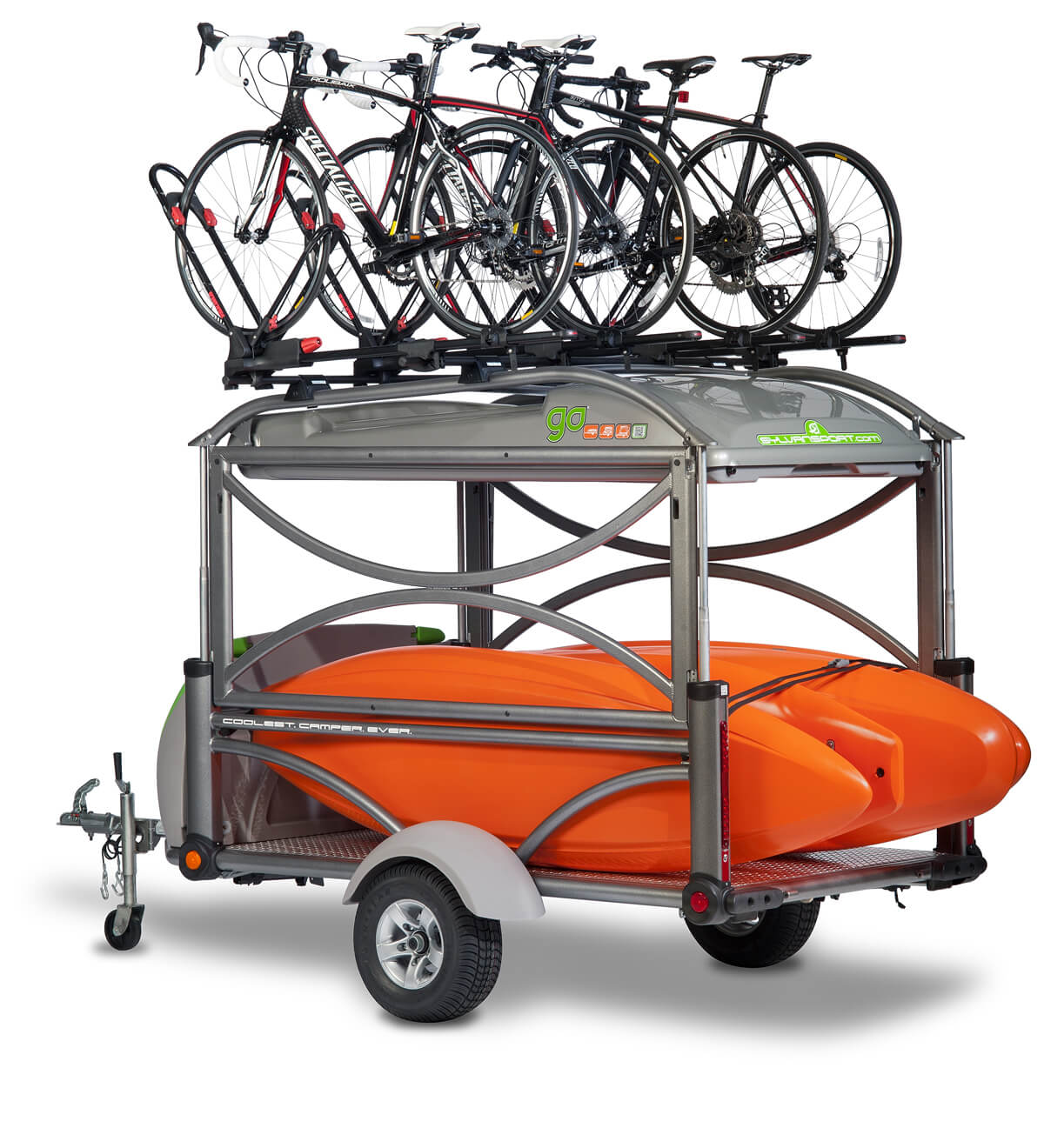 You're Off on an Adventure—Why Limit Yourself?
When you take your adventure on the road, you don't want to be weighted down. There's simply no room for single-purpose tools and equipment. If you're an enthusiast with more than one outdoor passion, GO is your new best friend. This small but ingeniously expandable travel trailer allows you to bring all your handy tagalongs, big and small, for your ideal adventure in the wilderness. The GO can haul kayaks, canoes, mountain bikes, surfboards, stand-up paddleboards, a motorcycle, an ATV, dirt bikes, whatever you and your family and friends need for ultimate fun!
Disclaimer: SylvanSport recommends that all GO owners follow the guidelines set forth by their tow vehicle manufacturer. We do not recommend doing anything that would either void a warranty, or create an unsafe or uncomfortable situation. [For more information, refer to Terms, Section 4].