Honda Campers and Trailers
Camper/Trailers for Honda Odyssey, CR-V, Pilot, Fit, Civic and More
You're a Honda driver for a reason. Stylish engineering, efficiency, quality, and durability are the hallmarks of the Honda brand of vehicles. So, when you're looking for a camper or trailer, you want to find those same qualities. And, of course, your camper has to be compatible with your vehicle. SylvanSport GO is an ideal pop up camper and utility trailer for a wide range of Honda models from the family-friendly Odyssey, CR-V, or Pilot to smaller, highly efficient car models like the Fit, Accord or Civic.
Perfect for Honda SUVs and Vans like the CR-V, Pilot, or Odyssey 
SylvanSport GO is the ultimate addition to your van or SUV, converting your get-around-town vehicle into a fun-maximizing get-out-of-town vacation machine. Now, you can take the whole family or a crew of friends out on a road trip without worrying about expensive hotels—just sleep in your pop up camper! And GO is so aerodynamic and lightweight, it won't drag down your mileage like a heavy RV. There will be plenty of space in your vehicle for passengers, plus  everybody's stuff, because you can tow up to 1,000 pounds of extra gear in your GO camper. Vacations aren't just for summer time when you have a GO. It's nearly effortless to use, so you can turn any weekend into a fun adventure. 
Yes, Your Honda Accord, Civic, or Fit Can Tow This Camper!
SylvanSport GO is so lightweight, at 840 pounds, that you can tow it with just about any four-cylinder vehicle, even the most efficient hybrid models. That's great news if you're driving a Honda Accord, Civic, or Fit. Your small to mid-size Honda car has all the muscle you need to tow this compact pop up camper and utility trailer. You will just need to equip your car with a trailer hitch if it doesn't have already. And  GO isn't just great for play days. It also helps you get serious work done. You can hitch your GO to your car when you're moving or you need supplies for a home or garden project. Essentially, you can turn your car into a truck on an as-needed basis.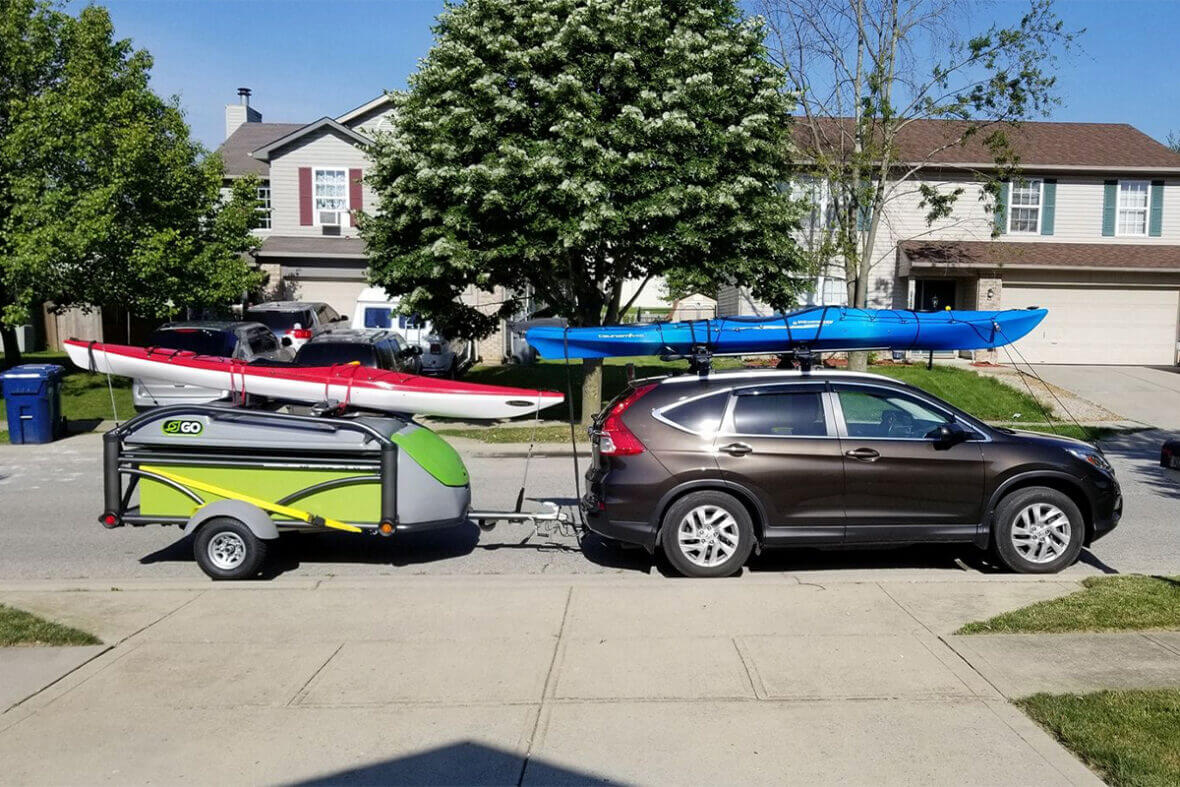 GO Adventure Camper Takes Your Honda to the Next Level
GO was designed with all Honda makes and models in mind. This is a "one-size-fits-all" outdoor experience for all Honda drivers. Just hook up GO to any Honda and see how the awesomeness of your car, truck, van, or SUV increases exponentially. Regardless if you drive the small yet powerful Civic or the heavy duty CR-V, the GO is the ultimate Honda camper.
With the SylvanSport GO, your favorite vehicle can achieve its ultimate level of awesomeness. Pile on your bikes, boats, and other outdoor gear and get out there! 
Disclaimer: SylvanSport recommends that all GO owners follow the guidelines set forth by their tow vehicle manufacturer. We do not recommend doing anything that would either void a warranty, or create an unsafe or uncomfortable situation. [For more information, refer to Terms, Section 4].
- national geographic adventure