Pop Up Tent Trailer
Tent camping is supposed to be a hassle-free, low impact way to get out into the great outdoors and enjoy nature. You want to leave behind the complications of the workday world and experience the simplicity of the woods and rivers, mountains or beaches. The pop up tent trailer was invented to help you get out there with more convenience and comfort. But, over time, the simple fun of camping has been overshadowed by complicated and expensive equipment, bigger and more burdensome camping trailers. The time has come for the SylvanSport GO—a paradigm-shifting pop up tent trailer that is both high-tech and simple, designed for low-impact outdoor adventure. See why National Geographic Adventure called this pop up trailer the "Coolest. Camper. Ever."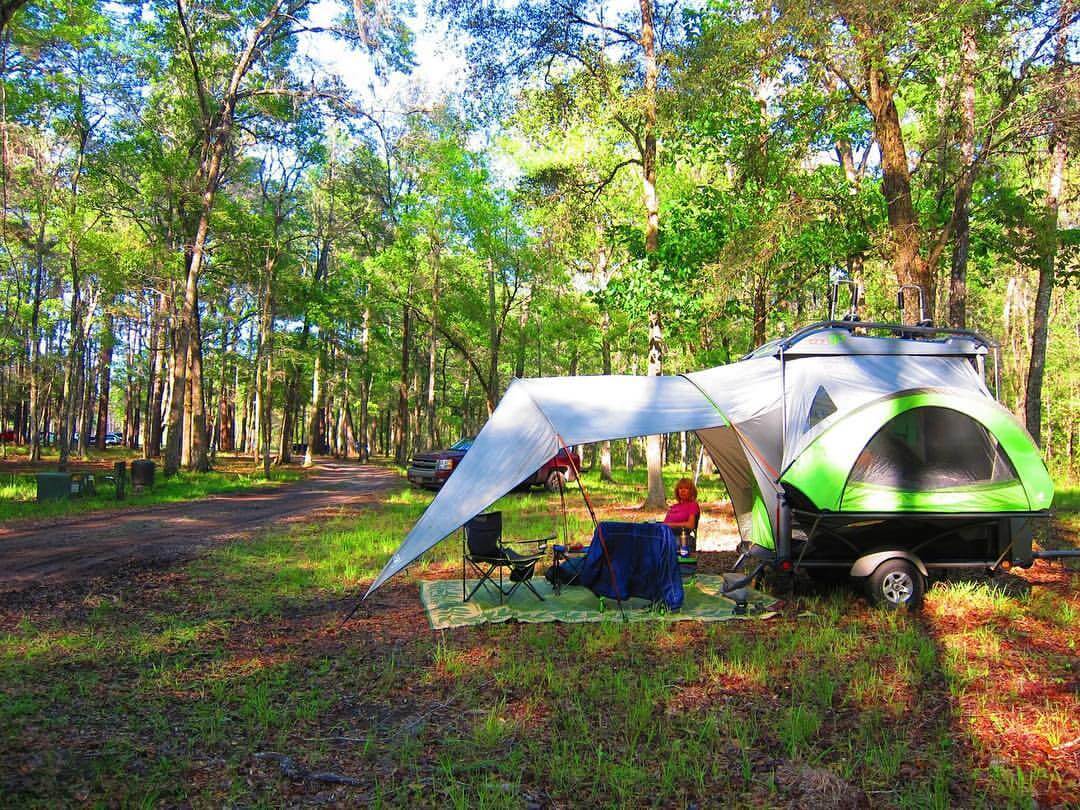 Gear Trailer, Utility Trailer, and Pop Up Tent—All in One!
GO has won many prestigious engineering and 'gear' awards for its incredible design and versatility. You can easily switch between three configurations to meet your needs. In Travel mode, it's a sleek, low-profile tow-behind gear trailer. In Transport Mode, it expands so you can haul as many as 12 kayaks or 12 bikes, or large equipment such as an ATV, motorcycle, or riding mower. You can use the GO for work or for play. When you've got a job to do, like moving a refrigerator or a load of lumber, your GO serves as an open-top utility trailer. When it's time to to get out and play, you'll appreciate Camping Mode, with a state-of-the-art pop up tent that sleeps four or more people.
Ask for More from Your Tent Trailer
We challenge you to find another pop up trailer on the market that can match the extraordinary versatility and functionality of the SylvanSport GO. It's a lightweight but super strong, all aluminum trailer, tough enough to take off-road, made in America, and built to last. At only 840 pounds and designed to minimize drag, it's easy to tow—so you can do with a small car most of what you could do with a truck and more! We put all our efforts into designing, engineering and crafting the lightest, most durable and versatile tent trailer in the world. And it shows in every feature: custom aluminum extrusions, fully tig-welded frames, a Kelty tent system, unmatched carrying capacity, an easy to use one-step coupler, a Cargo-Tilt deck so you don't need a ramp, ultra lightweight design, and dozens of user-friendly innovations.
A Tent Trailer for Outdoor Lovers, By Outdoor Lovers
SylvanSport is based in the United States, designing and manufacturing our groundbreaking tent trailers in beautiful Brevard, North Carolina. We're lucky to have the Blue Ridge Mountains as our backyard. Not by accident, our design team is made up of passionate outdoor enthusiasts. We're hikers, kayakers, and mountain bikers, with a deep understanding of the needs of both the weekend warrior and the hardcore adventurer. Our passion for the outdoor experience comes out in every detail of the GO, a game changer in the world of pop up tent trailers.
Pop Up Trailers Designed for Low Impact
Our ideal is the "leave no trace" principle of the backcountry code. At SylvanSport, we understand the need to protect our great outdoors so we have somewhere to play! Our design team spent many hours figuring out how to shave as much weight as possible off this amazing tent trailer without sacrificing any strength or durability. Most importantly, you don't need a gas guzzler to haul the GO. You can attach it to the back of a four-cylinder car or a hybrid vehicle and you're on your way! GO is the perfect tent trailer for the eco-conscious outdoor traveler.
GO Tent Trailers For Sale Near You
We invite you to explore everything that GO can do. Got questions? Give us a call. Our customer service team, based in Brevard, NC, is happy to answer any of your questions or help you place an order. We also sell GO pop up tent trailers through an expanding network of local dealers across the U.S.—so you can go see one for yourself. Check out our map of participating dealers to find a GO tent trailer for sale near you.
Disclaimer: SylvanSport recommends that all GO owners follow the guidelines set forth by their tow vehicle manufacturer. We do not recommend doing anything that would either void a warranty, or create an unsafe or uncomfortable situation. [For more information, refer to Terms, Section 4].