lightweight utility trailer
The SylvanSport GO is the utility trailer that can do it all and then some.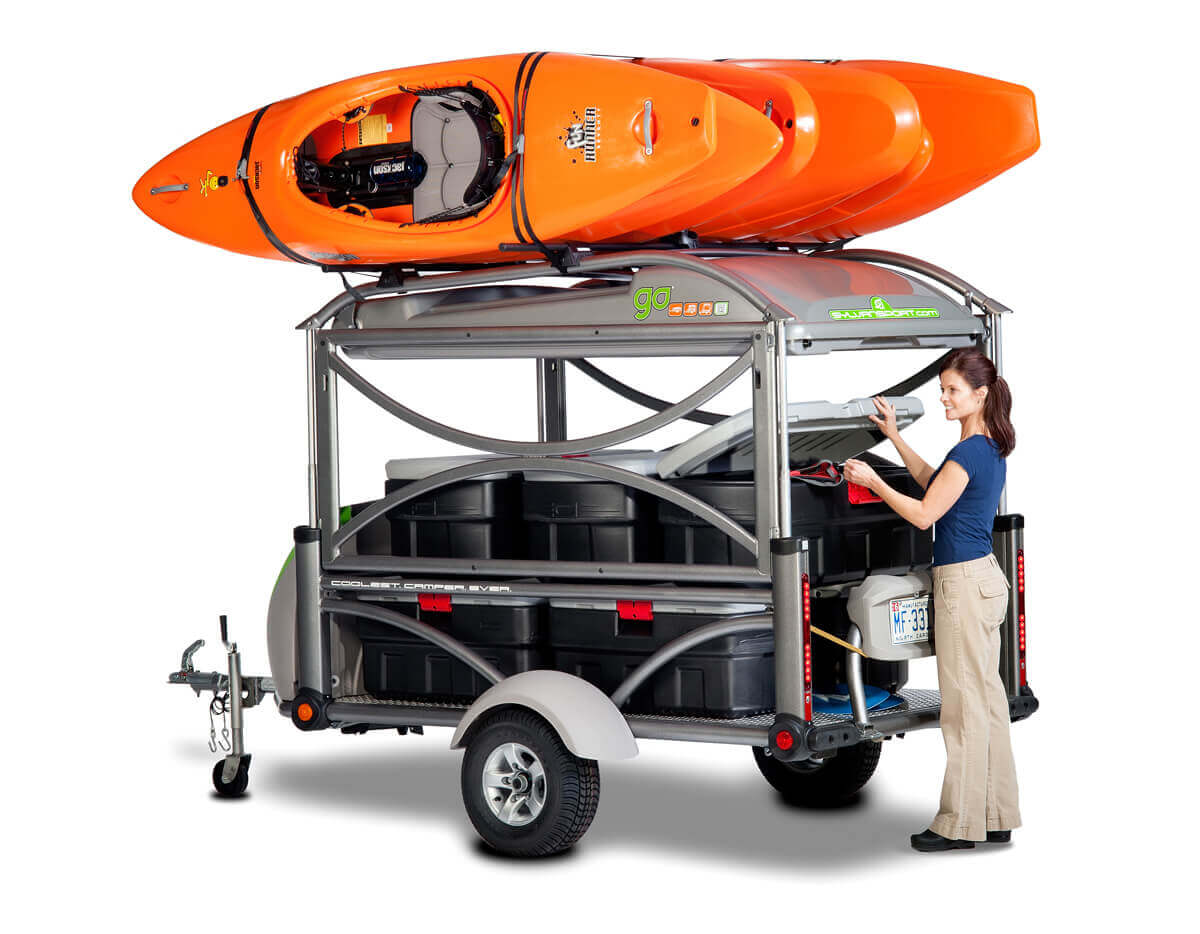 GO Trailer and Pop Up Camper
Looking for a new take on the utility trailer? A trailer that loves adventure but can
get some serious work done
too? A trailer lightweight enough to tow with virtually any vehicle? You won't find another utility trailer like the SylvanSport GO. GO is a totally unique, expandable utility trailer that you can use in the compact Travel Mode or the high-capacity Transport Mode. But that's not all. In Camping Mode, it converts into an awesome pop up camper that can sleep 4+ people. Best of all, it's so lightweight you can pull it behind a small car!  You can switch back and forth between three completely different configurations: Travel Mode, Transport Mode, and Camping Mode. It's hard to believe it's even the same trailer.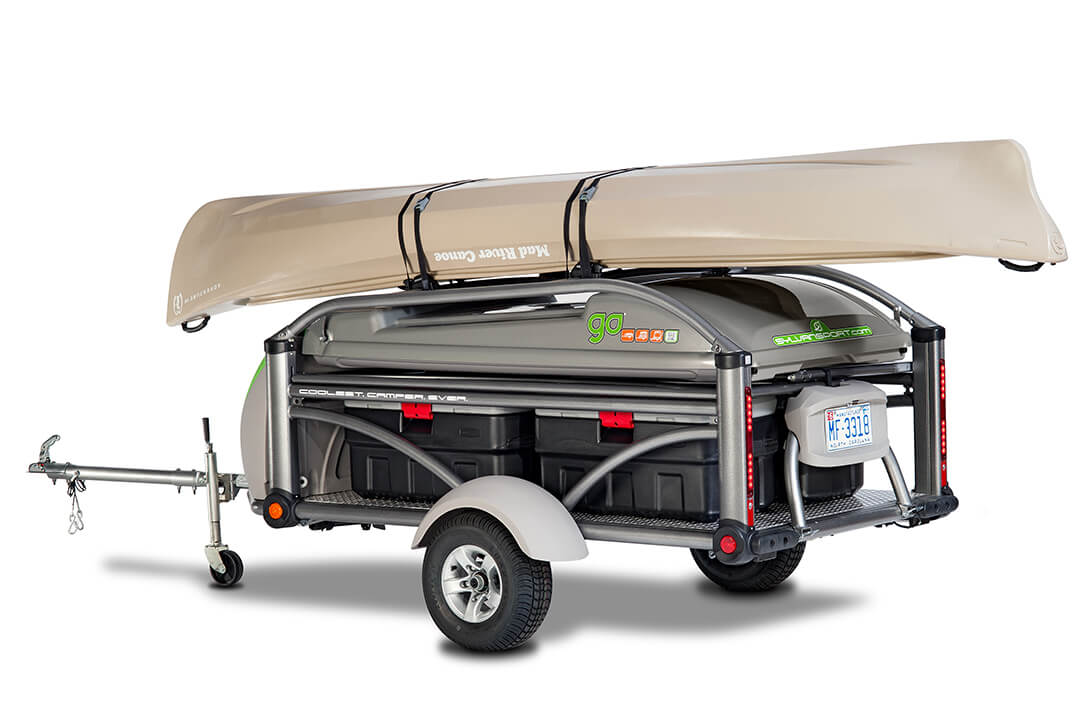 Use Your GO Trailer In Compact or Expanded Mode
If you're looking for a compact utility trailer, Travel Mode is perfect for you, providing the most aerodynamic, low profile shape for efficient hauling. But when you need to haul larger equipment or big loads, you can convert GO to Transport mode, with high sides and a removable top. In this mode, GO is ready to haul equipment such as a riding mower, an ATV, or a motorcycle—and with our unique CargoTilt deck, you can load effortlessly, without a ramp!
GO Trailer and Camper—Light Enough To Tow With a Small Car
GO is designed to provide heavy-duty hauling and spacious camping at the lightest weight possible. With its all-aluminum, TIG-welded frame, GO weighs only 840 pounds. GO is so lightweight that you can tow it with just about any vehicle—car, truck, van, or SUV! You won't need a giant gas guzzler to get around—and this compact, lightweight trailer is designed to save you money on fuel. There are tiny pop up campers that weigh less than GO, but they don't offer nearly as much space and they don't double as workhorse utility trailers.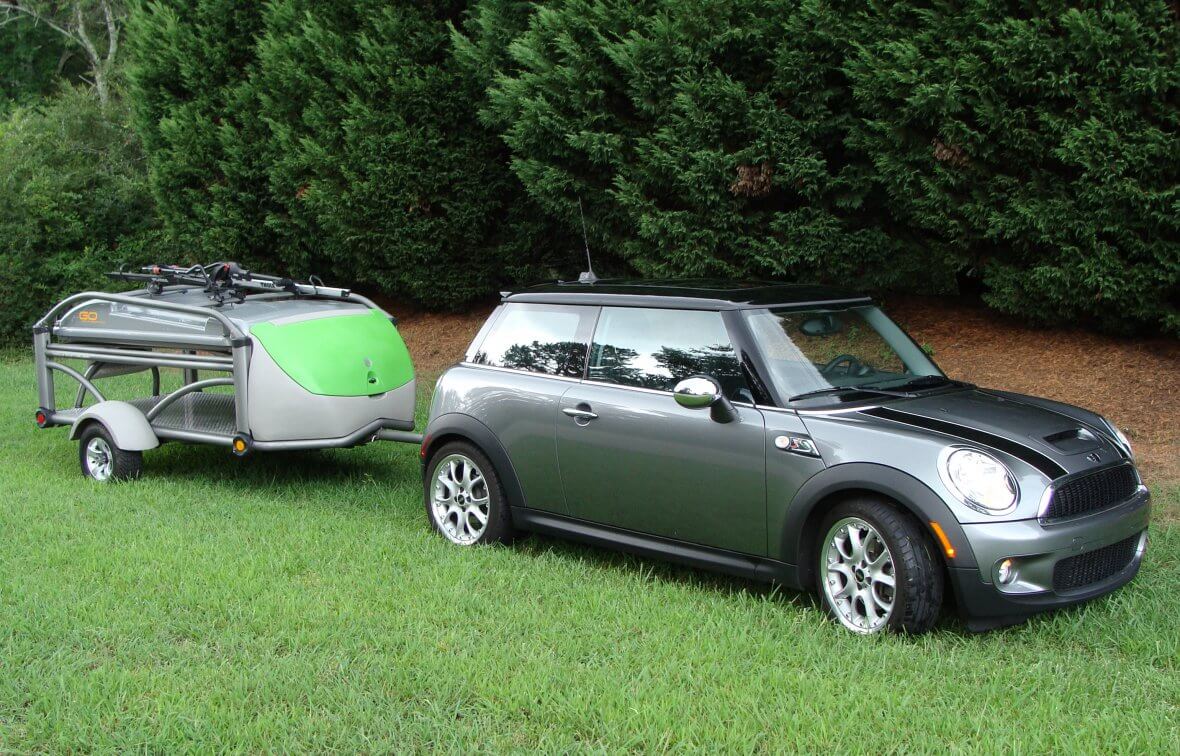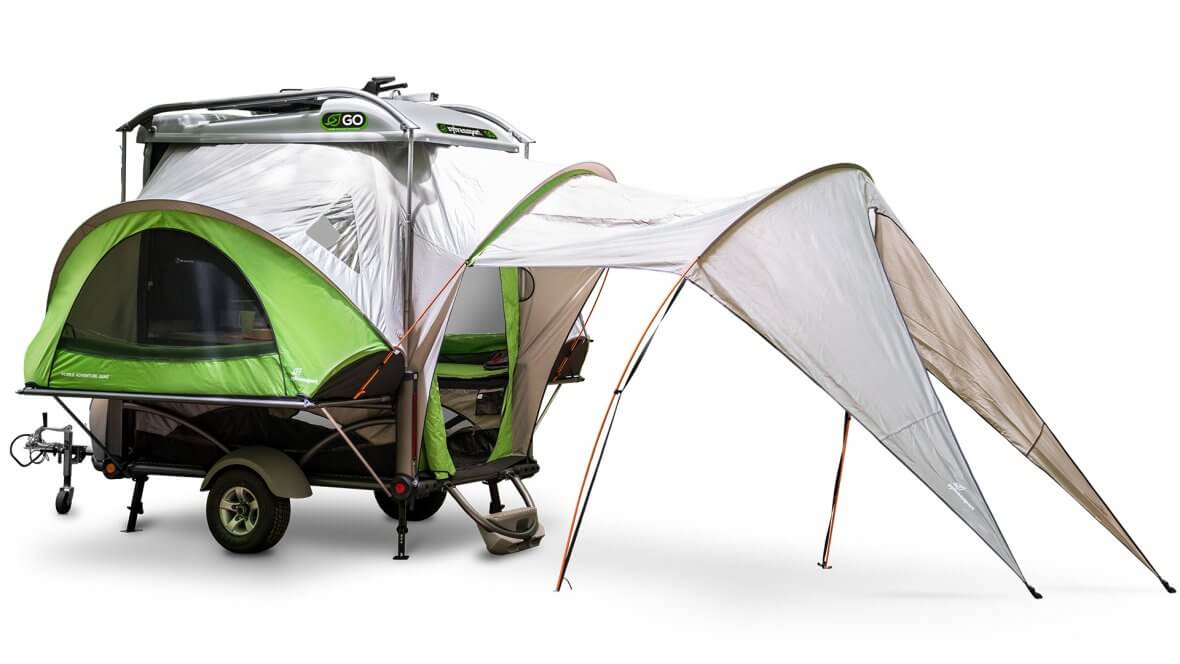 GO is a Pop Up Tent Camper Built for Adventure
Boating, biking, rock climbing, surfing, motorcycling, hauling, and, of course, camping! Carry whitewater kayaks, sea kayaks or canoes to your favorite waterway. Load up mountain bikes, road bikes and take off for a day of fun. If you have motorcycles or an ATV, drive them right on-board and take them anywhere. Once you arrive, unload your gear and toys and you have a comfortable, spacious pop up tent camper to call home.
GO Easy Micro Trailer
Go Easy is designed to provide maximum hauling capacity with minimal impact on your gas mileage and your budget. GO Easy is so lightweight that you can actually tow it behind a motorcycle! The GO Easy is designed to haul outdoor adventure gear, such as bikes, boats, paddleboards, surfboards, and more. It's also built to help you get work done, including moving and hauling, home improvement, and yard and garden projects.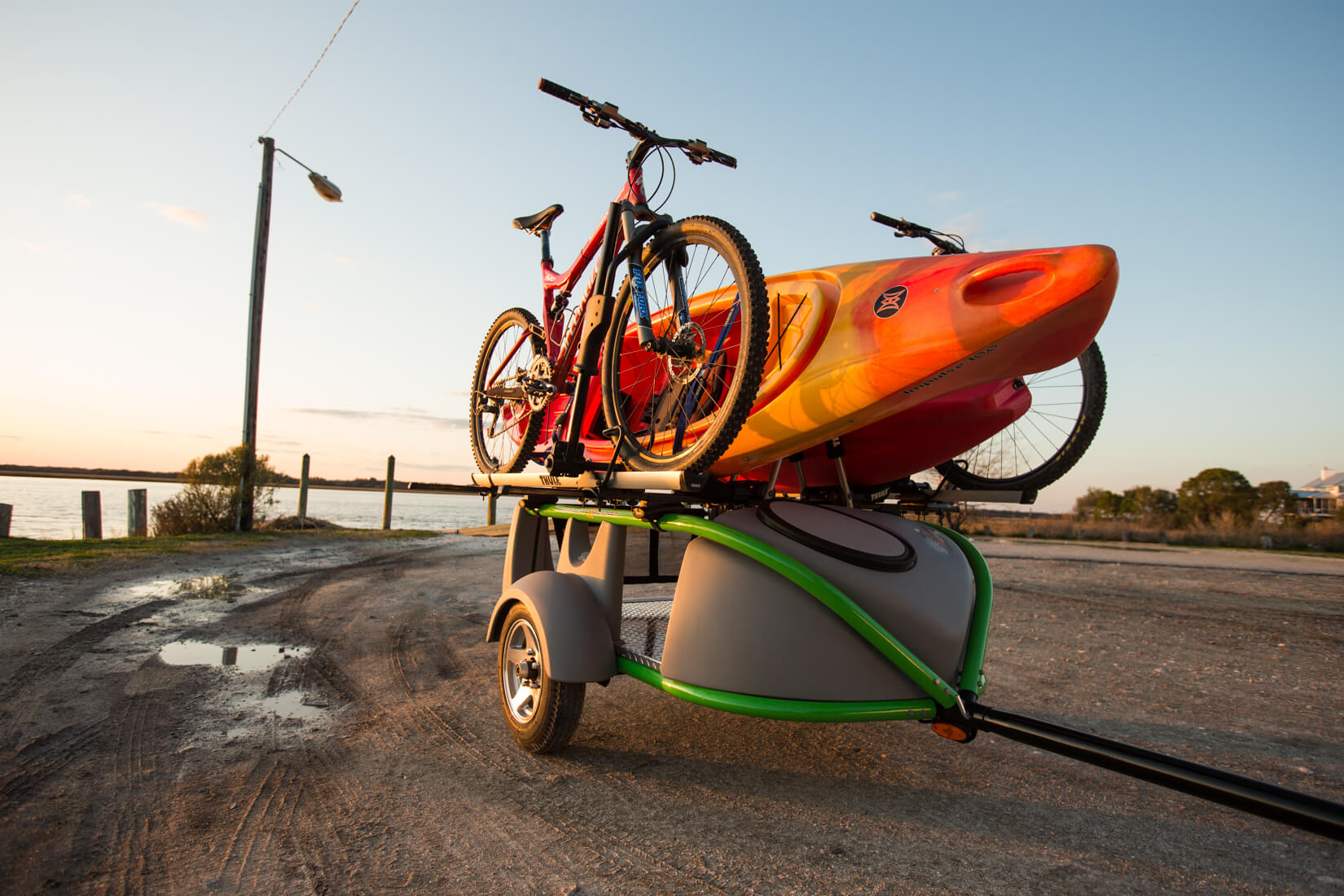 GO Easy, the Ultimate Compact Utility Trailer
GO Easy is a lean, mean hauling machine – with a sleek, low-profile shape that makes it a breeze to tow. GO Easy is so compact we call it a "roof rack on wheels." But don't be fooled by its minimalist appearance, GO Easy can haul a full 525 pounds! For reference, a mid-sized washing machine weighs about 150 pounds.
GO Easy—Light Enough to Tow with a Motorcycle
GO Easy offers several options—so you can choose the version that best matches your lifestyle. Get your GO Easy in either the Essential or Ultimate model. (Learn about these options.) The lightest version weighs a mere 235 pounds, while the heaviest is just 305 pounds.
Lightweight Without Sacrificing Quality or Performance
If you've been looking for a lightweight utility trailer made to the highest quality standards with an array of innovative, user-friendly features, check out the GO and Go-Easy. What makes SylvanSport's utility trailers better than any other on the market?
Advanced engineering
Quality craftsmanship
Versatile design
Premium materials
We make each one of our trailers to the highest standards of quality. Each SylvanSport lightweight utility trailer is designed and built right here in the USA. We're so sure that you'll love yours that we offer a no risk, 30-day satisfaction guarantee.
Keep in mind that the lighter the trailer is, the more important quality and engineering become. In order for an ultra-lightweight, compact utility trailer to be as durable as it needs to be, it must be well-designed and built.