Outdoor Adventure. Refined. Introducing the award winning VAST™, SylvanSport's newest innovative mid-size travel trailer. Meticulously designed to fit impressive function into an easy to tow, efficient footprint, the VAST packs big trailer function for the most flexible travel trailer ever created. The ultimate outdoor adventure vehicle for you and your toys, the VAST is designed for easy, smooth towing, luxury comfort and unparalleled spaciousness and openness with the largest windows in the RV market for a fresh, modern camping experience.
For questions or to purchase
Are you a current GO owner? CLICK HERE to learn how to trade in your GO for a new VAST. 
Learn More About the Award Winning VAST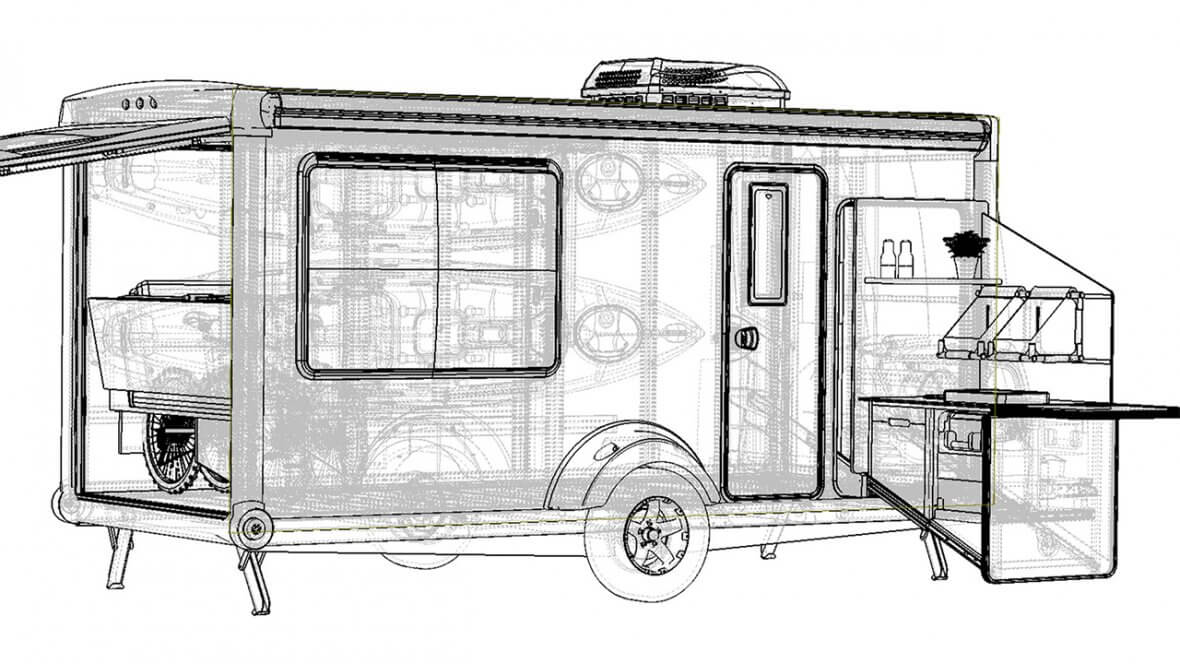 When we say we designed VAST™ from the ground up, we really mean it. From the chassis to the kitchen to the sleep system, and almost everything in between, VAST™ doesn't really like to follow the rules. Sure, it would have been easier to simply recreate a travel trailer that was already out there, but we wanted a travel trailer with a slide-out kitchen for cooking inside or outside, a shell that won't leak, a shower that you can actually move around in, and most importantly, the ability to carry bikes, kayaks, and all your gear. So, while the VAST™ is a beauty on the outside, that beauty runs all the way down to its core.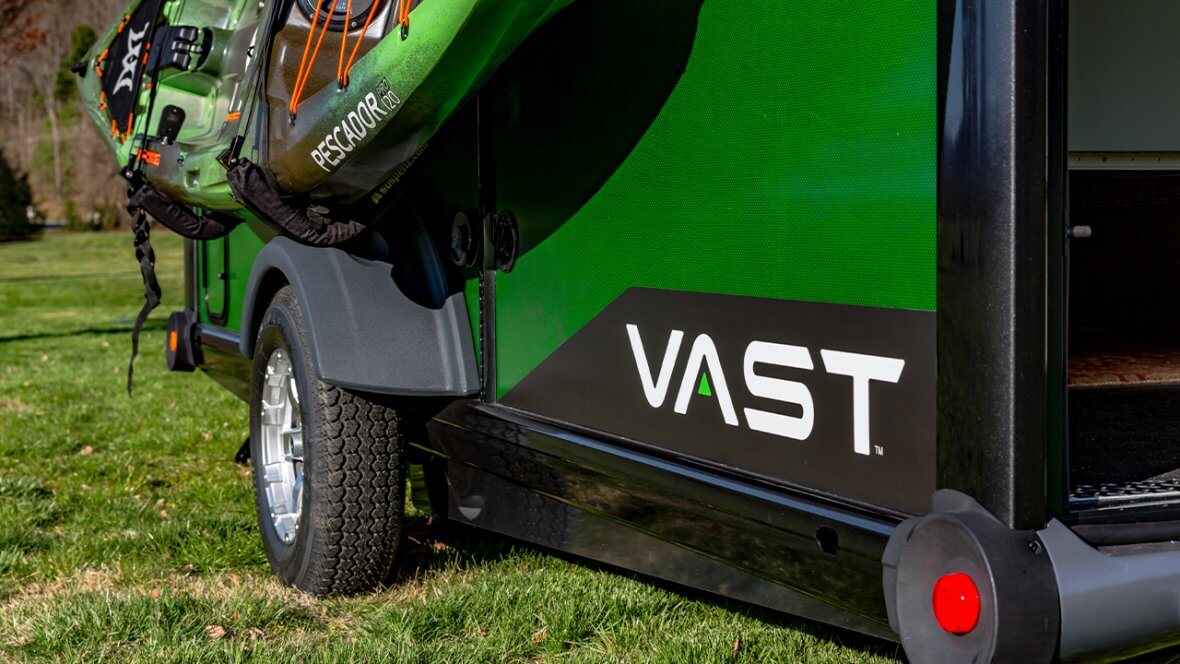 Good enough? That's not how we work at SylvanSport. After going through the standard offerings of parts and components, we stopped looking at what was easiest to get, but rather searched for the what would be the best solution for what we wanted VAST™ to do and be. And if we couldn't find what we wanted…we made it. The result is an adventure travel trailer that feels good to use and will take you (and your toys) from coast to coast with peace of mind.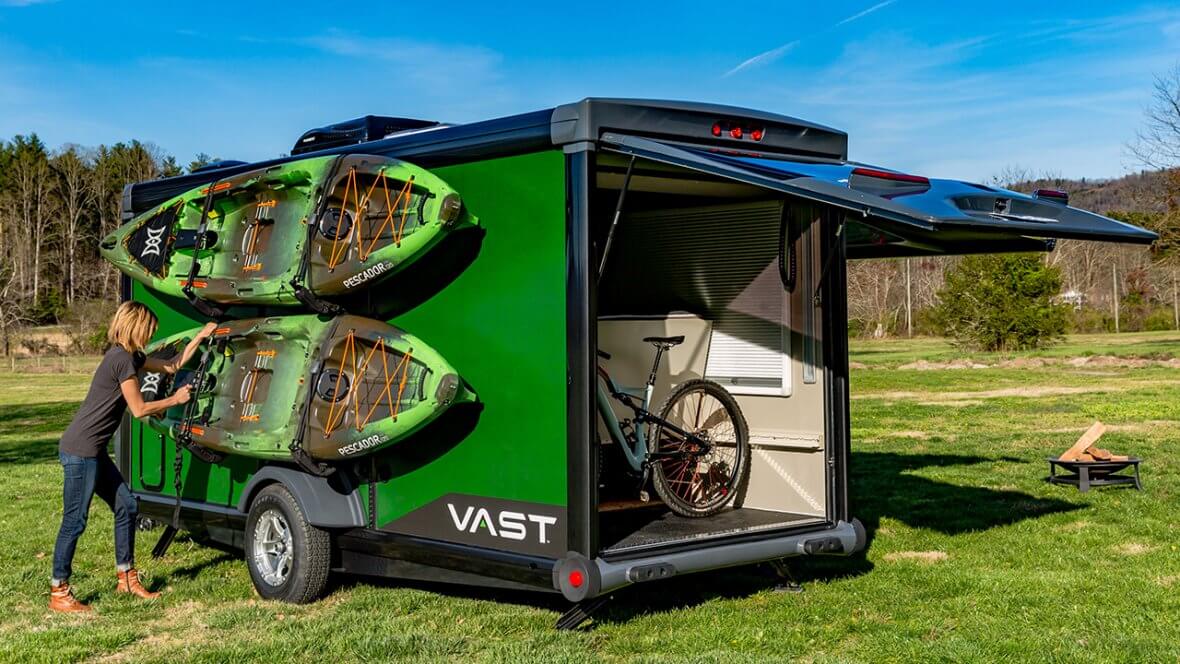 For some, it's not just one activity, but rather a variety of ways to play in the outdoors. For all of you out there, we incorporated ways to accommodate your kayaks, bikes, and gear without sacrificing the ability to use any of the features like the kitchen, bathroom, or lounge area. And, we want you to stay safe too! Kayak racks are mounted on the side, so they are easy to reach and bike/gear storage is conveniently located right inside the tailgate that opens up the entire back end of the trailer.
Innovating comfort is rethinking how we travel, relax and sleep. The lounge area uses premium cushions, high quality fabrics and a variety of configuration options. 
When it's time to turn in for the night, the VAST™ adventure travel trailer continues to impress. Two actual queen size beds provide a home-like sleep experience. One bed stows out of the way and lowers from the ceiling using a motorized lift system and the second converts from the lounge's premium cushions for easy set-up and maximum comfort.
EuroLoft Queen Bed lift w/ 880lb capacity
Lounge converts into seamless  residential queen-sized bed 
L-shaped lounge area
A first for the RV industry, the VAST™ travel trailer has an inside and outside kitchen. The entire kitchen unit slides and lowers outside using our patented "easy slide" technology, so you can enjoy the great outdoors while preparing meals.
2 burner gas stove
portable refrigerator/freezer
integrated sink
residential size faucet
storage drawers
hanging racks
microwave oven
Another breakthrough exterior feature of the VAST™ is the side-mounted equipment rack system. Built-in rails attach vertically from top to bottom, that turn the entire side of the trailer into storage for any style kayak, SUP or canoe. Boats can be effortlessly attached at a convenient, easy-to-reach position.
Using a precision track system, the VAST™'s entire lounge area slides forward to open up substantial interior cargo space. Even with a full load of gear, coolers, totes & bags in the back, the lounge remains fully functional during your journey.
entire tailgate lifts open for weather protection & easy loading
gas-assist easy open/close
easily holds 2 bikes
The VAST™'s front storage box not only provides secure storage with easy access, but it's also designed to improve aerodynamics while cruising down the road. The entire box glides forward to reveal protected storage for propane tanks, batteries, and the spare tire.
18 cu ft exterior storage
stores 2 propane tanks, 2 batteries and spare tire
weatherproof molded HDPE
integrated lock for security
The North Carolina-based company has rocked the RV world with the award-winning VAST, an adventure-minded, hard-sided trailer that offers an array of innovative amenities. We've seen the VAST in person and trust us, it doesn't disappoint.
An indoor/outdoor sliding kitchen, lift-away and convertible queen beds, and sliding sofa combine to create one of the most effective space-optimizers we've ever seen, a dual-personality trailer ready for adventures of all styles and sizes.
SylvanSport has worked tirelessly to create this all terrain camper, and their efforts have not been in vain. SylvanSport has made a family camper that goes back to the roots of what camping is all about...heading out into the wilderness as a team, reading books, and playing games, the kind of quality family time that can really shape you as a person.
The VAST is all about choices. And campers today love choices. People are camping to do a million other things (hiking, climbing, skiing, fishing, boating), and they're often bringing lots of gear with them. The VAST makes that possible, while also offering comfortable space for spending lots of time on the road, at the campground, or in the backcountry.
The SylvanSport VAST is a travel trailer designed for active adventure seekers who love the outdoors and all the gear that goes with exploring it. VAST cleverly maximizes gear storage while providing essentials like a bathroom, kitchen, and sleeping quarters.
VAST™ is the first travel camper from industry innovator, SylvanSport. We applied breakthrough design and engineering techniques to completely re-imagine vehicle systems, residential systems and the overall construction process. The end result is a premium-quality, lightweight towable that is fully-functional, highly efficient and extremely comfortable 
Designed, engineered, manufactured
in Brevard, North Carolina.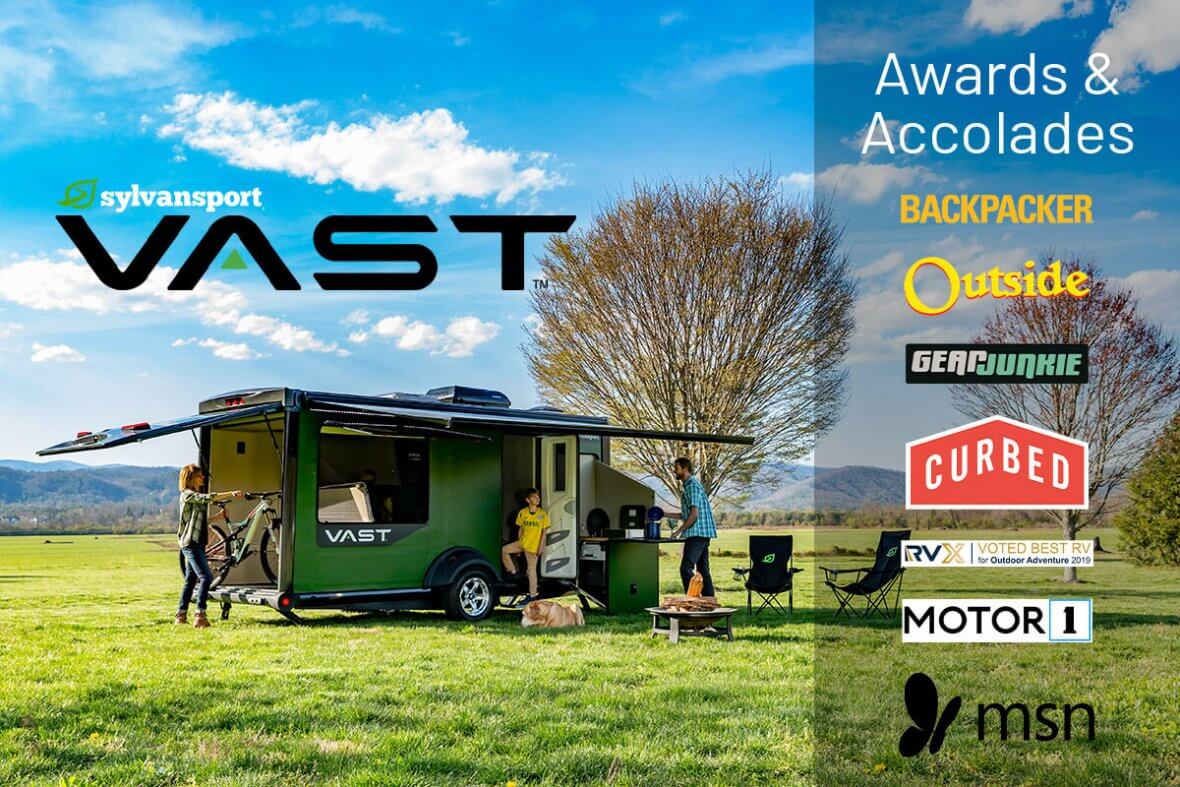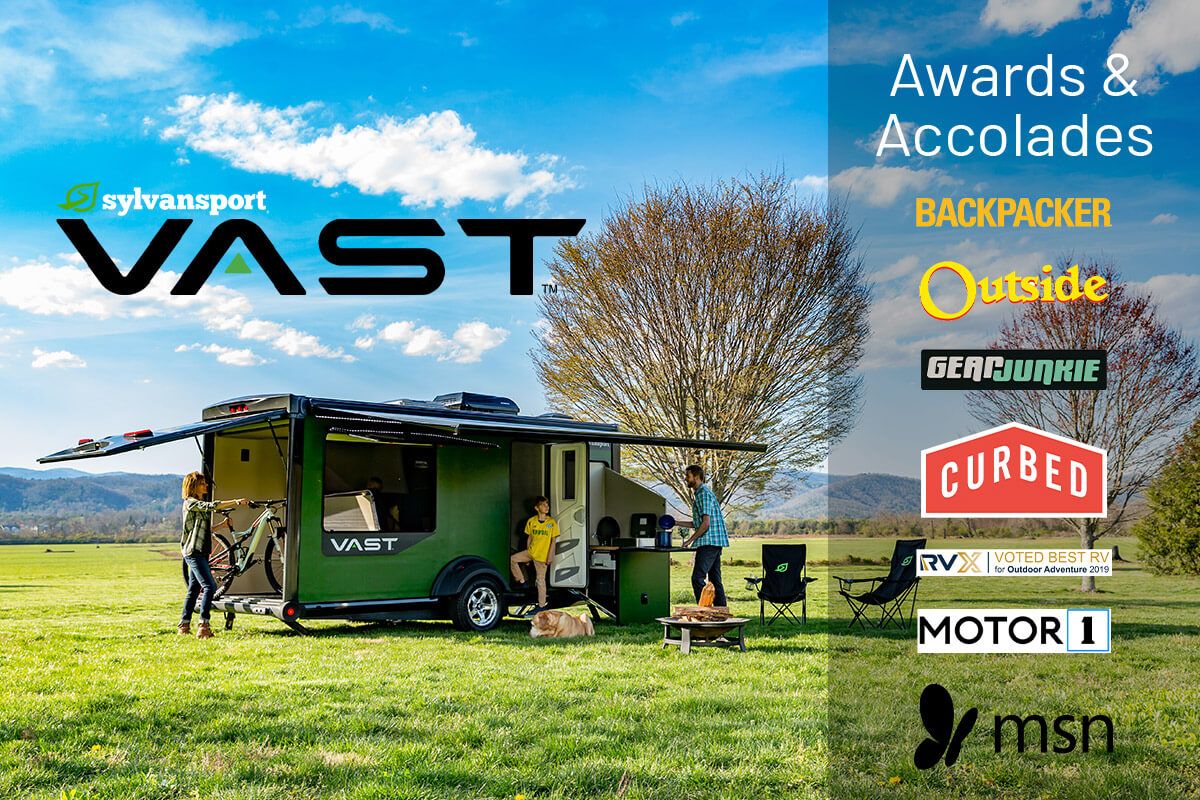 Camp this fall. Skip the lines next spring.
Starting MSRP $69,995.00 USD
For questions or to purchase
Learn More About the Award Winning VAST