Towable Camper
Ready to get away? With a GO tow behind trailer you can hit the open road and leave all of your worries behind—and you don't need a gas guzzler to get you there. The GO is an aerodynamic, ultralight camper trailer with unmatched carrying capacity and maneuverability. And you can pull it behind almost any car or truck! Perfect for family vacations, outdoor adventures, and weekend getaways, GO is your one stop solution for hauling gear and camping. It has never been so easy to escape the stresses of life!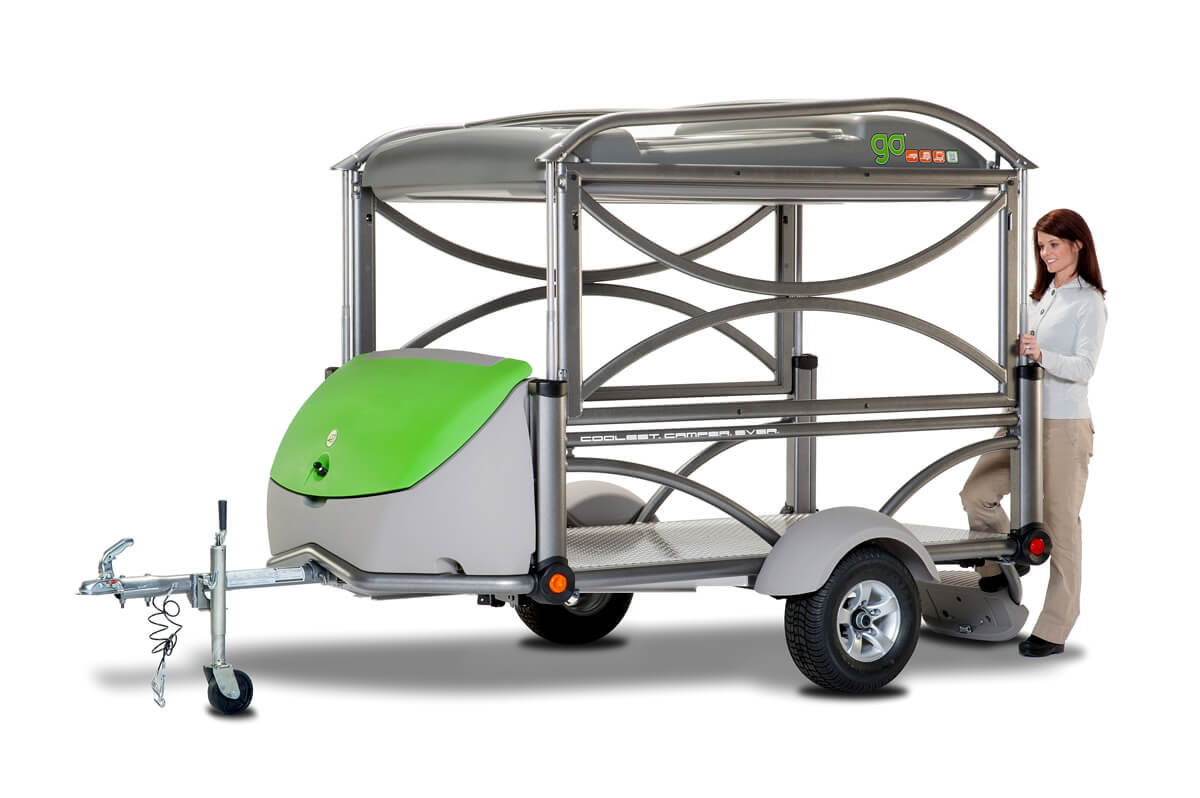 A Lightweight Camper You Can Tow Behind Almost Any Vehicle
Weighing in at a mere 840 pounds, GO is made to tow behind large or small vehicles, including four cylinder cars and hybrids. Whether you drive an SUV, a Subaru, a sedan, a small hybrid, or even a motorcycle, GO is for you. GO's ultralight frame is designed to maximize towing capabilities as well as maneuverability. Its sleek aerodynamic shape is designed to maximize fuel economy. Fully tig-welded, this tow behind camper does not compromise strength for size. Thanks to innovative, easy to use technology, one person can attach or detach this trailer to the back of a vehicle in no time, without tools or technical know how. And it transforms from a sleek gear trailer into a spacious above-ground camper in a snap (actually, a smooth, simple crank).
Tow All Your Gear with This Surprisingly Versatile Trailer
GO has been called the Swiss Army Knife of towable campers and with good reason. It has three different configurations so you can comfortably haul whatever gear you need for your adventure. It can carry up to 12 kayaks or bicycles! Or use it for your personal collection of boats, bikes, surfboards, skis, snowboards, fishing rods, climbing gear, you name it. With a cargo capacity of 800 lbs, it can even haul a mid-sized motorcycle or a full-sized ATV. With its waterproofed electrical system, it's no problem to tow a small boat. It also comes with multiple waterproof storage containers for things like clean clothes, dry towels, and food. The heavy duty reinforced diamond-plate flooring ensures you can haul almost anything. This tow behind trailer is perfect for workdays as well as play days, if you need to haul equipment, garden tools, a lawn mower, furniture, appliances, or a load of scrap or brush.
Adventure is Better with a Comfy Towable Camper
When you arrive at your favorite spot in the great outdoors, turn your trailer into a spacious, Kelty made pop up tent. You can set up the tent in less than ten minutes, so comfort is also convenient. The pop up tent offers plenty of room for four or more people. You'll get a good night's sleep on GO's four self-inflating mattresses that connect to form a king-and-a-half-sized sleeping surface! Trust us—you'll have more fun if you're relaxing in style and sleeping well. With a GO, you can tow your vacation home wherever you go.
Perfect for Family Vacations—An Ultralight Tow Behind Trailer
A GO towable trailer makes it convenient to take the entire family on an outdoor adventure. Hauling gear for a family vacation can often be a hassle, but with a GO, it's no problem to carry everything you need for the whole family. Don't be deceived by the small size—you can haul up to a dozen bikes or kayaks! With 39 cubic feet of storage space on the deck, there's plenty of room for all of your family's gear. And smart design and easy-to-use technology make every step simple—from hitching to loading to setting up camp—so you can get away without stressing out.
A Modern Towable Trailer Made in America
Forget any travel trailer that you've ever experienced. GO towable trailers are hyper-engineered to be unlike any other. Lightweight yet strong, compact yet surprisingly roomy for camping and sleeping, the SyvlanSport GO has taken towable trailers to a whole new level. With custom aluminum extrusions, fully tig-welded frames, a custom Kelty tent system, fuel-efficient design, and a carrying capacity of 800 pounds, GO is a towable camper that's ahead of its time.
SylvanSport takes pride in manufacturing each and every one of our unique tow behind campers right here in the United States of America. Our factory is located in Brevard, North Carolina, nestled in the beautiful woods of Western North Carolina. Intriqued? Connect in person with our customer happiness team and we'll answer all your questions about this extraordinary towable camper.
Disclaimer: SylvanSport recommends that all GO owners follow the guidelines set forth by their tow vehicle manufacturer. We do not recommend doing anything that would either void a warranty, or create an unsafe or uncomfortable situation. [For more information, refer to Terms, Section 4].