Kayaking: Your Adventure Trailer Options
Find the Perfect Trailer for Your Whitewater, Sea, Touring and Fishing Kayaks
A passion for kayaking can take many shapes—from plunging over epic waterfalls to fishing in secluded waters to taking your family out for a fun day on the lake. Fortunately, GO Adventure Trailers for kayakers can take all kinds of shapes as well. Here's our guide to the ultimate adventure trailer options for kayakers, whether you're hauling whitewater, sea, touring or fishing kayaks. Whatever your adventure style, your GO or GO Easy can get you there with everything you need and the people you want to make memories with.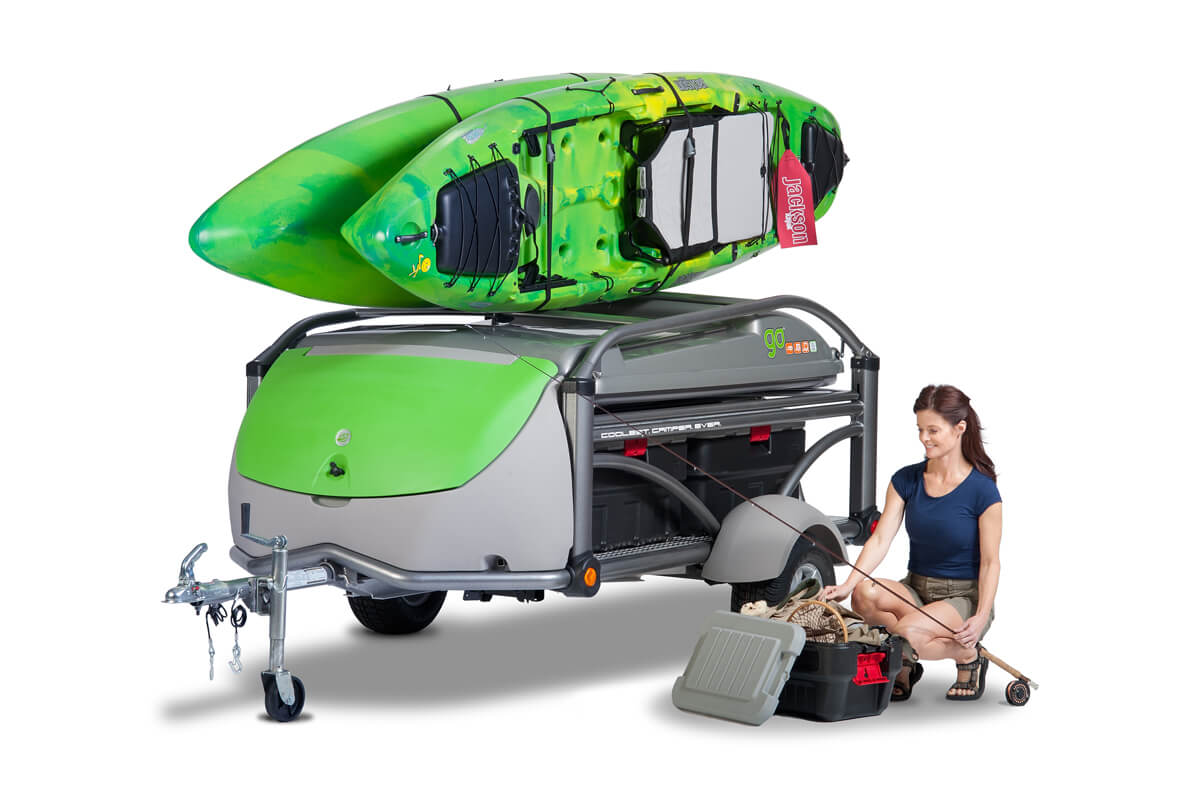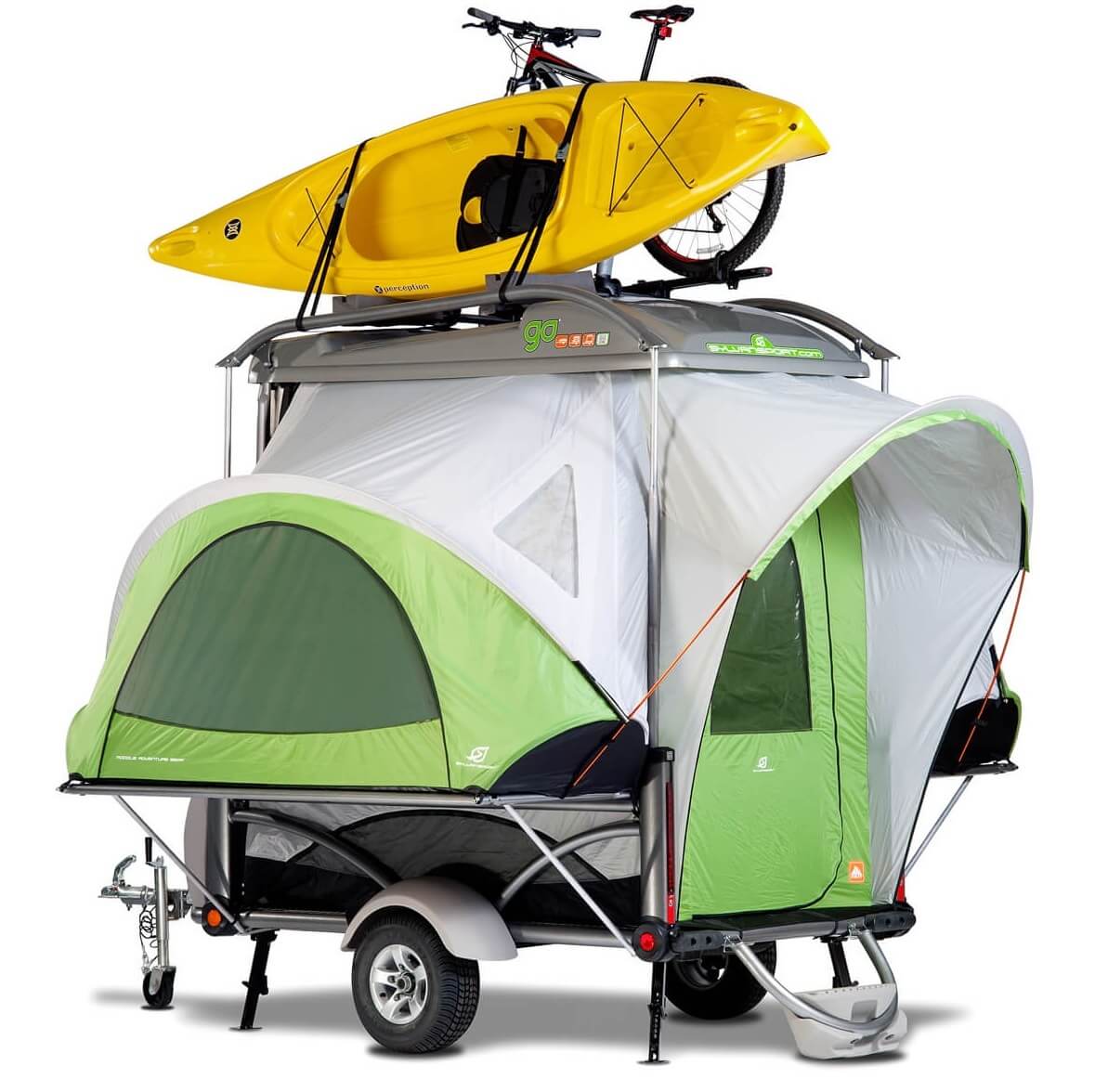 GO: Haul Up to 12 Kayaks, Then Sleep in Your Pop Up Camper
Three Modes for Kayaking Adventures
GO is an incredibly versatile, lightweight pop up camper designed for outdoor adventurers. You can change the GO between three different configurations, depending on your adventure needs:
Travel Mode: In this low-profile configuration, you maximize GO's efficient, aerodynamic design—and you can easily strap 3-6 kayaks to the top.
Transport Mode: Need to haul more gear? No problem! Expand to Transport Mode and you can carry boats on the deck, as well as the upper rack—up to 12 whitewater kayaks!
Camping Mode: Enjoy your overnight adventures in comfort. When it's time to set up camp, GO easily transforms into a pop-up tent camper that sleeps 4+ people.   
GO Features for Kayakers
If kayaking is your passion, you'll appreciate these features of our ultimate adventure camper:
No struggling to lift boats over your head! You can load small boats on the deck or load any size boats on to the rack, at an ergonomically friendly height. For Transport Mode, simply use the lift system to elevate the rack.
The rock solid Power Rack is compatible with most major rack manufacturers, including Thule, Yakima, and Malone.
You can bring all the gear you need for multi-sport adventures, so you don't need to choose between your canoes, kayaks, bikes, paddleboards, and other toys.
GO weighs only 840 pounds, so you can tow it with any small car—and not blow your budget on gas.
GO Easy: High-Performance Simplicity, Designed for Boaters
Essential or Ultimate Micro-Trailer
The Go Easy is a micro trailer so lightweight you can tow it with a motorcycle—yet strong and durable enough to haul multiple kayaks, along with the rest of your gear! When you've got work to do, GO Easy doubles as an awesome utility trailer. The GO Easy is available in two versions, Essential or Ultimate.
Essential: Our most budget-friendly option, the GO Easy Essential is a heavy-duty "roof rack on wheels" that can turn even a small car into a mighty gear hauler.
Ultimate: The GO Easy Ultimate comes with a weatherproof storage pod that holds up to six cubic feet of gear, an aluminum diamond-plate deck and tailgate net so you can easily secure your things, and more cool options.
GO Easy Features for Kayakers
Whether you choose the Essential or the Ultimate, you can get the GO Easy in either a Boating Package or a Cycling Package. With the Boating option, you get a dynamo of a micro trailer designed especially for boaters. Among its great features:
The GO Easy can carry as many as six kayaks. And the 75" tongue (draw bar) gives you plenty of room to carry the longest sea, touring or fishing kayaks.
With a specially tuned torsion axle, you can haul up to 525 pounds of gear, so go ahead—pile on your heaviest boats!
You can back the GO Easy right into the water for easy unloading, like a mini boat trailer.
Sturdy extender bars and convenient tie-down points allow multiple options for racking your boats. You can even add accessories from any major brand rack system.
The GO Easy stores upright, so it won't compete with your boats for storage space.
Challenges and Solutions for Whitewater, Sea, Touring and Fishing Kayaks
Kayaks come in very different shapes and sizes, what you need in a kayak trailer depends on whether you're hauling whitewater, sea, touring or fishing kayaks. GO and GO Easy Adventure Trailers were designed to accommodate all types of boats. In our photo gallery, you can see examples of different types of kayaks and how they fit—although the possibilities certainly don't stop there!
Whitewater Kayaks
Challenge: Multiple Boats
One of the great things about whitewater kayaking is making friends who share your passion. Running the rapids with a friend or a crew of adventure buddies is not only more fun; it's safer. Whitewater kayaking is essentially risky, so you want to go in groups in case anyone is injured. However, the logistics of shuttling multiple boats to and from the put-in and the take-out point can be quite challenging and time consuming.
GO/Go Easy Solution
Either the GO or GO Easy make it possible to carry multiple boats easily—cutting down on the number of vehicles you need and the time it takes it work out the logistics. Depending on the shape of your boats and your rack set-up, you can carry as many as 12 whitewater kayaks on a GO or 6 whitewater kayaks on a GO Easy.
Sea and Touring Kayaks
Challenge: Long Boats
The design of a sea/touring kayak is perfect for gliding over open water, whether you're out on the ocean, lake, estuary, or a river without rapids. These long boats are built to withstand wind and waves and travel long distances across the open water. However, they raise unique challenges when it comes to transportation because of their length—up to 18 feet long!
GO/GO Easy Solution
Both the GO and GO Easy (Boating Package) were designed with sea kayakers' needs in mind, allowing plenty of room between your trailer and your tow vehicle. You can easily carry expedition kayaks, ocean race kayaks, Greenland kayaks, round bilge dayboats and other varieties of sea or touring kayaks.
Fishing Kayaks
Challenge: Heavy Boats
Fishing kayaks have been surging in popularity. These craft allow you to move stealthily across the water without the expense, upkeep, and fuel needed for a larger boat. Fishing kayaks are designed for comfort and stability and they come with convenient features for anglers, from rod holders to livewells. The challenge with fishing kayaks is that they're often too heavy to load onto the roof of a car or SUV. It's common for fishing kayaks to weigh over 75 pounds and some weigh over 125 pounds!
GO/GO Easy  Solution
You might not be able to load such heavy boats on the roof of your car or SUV. Fortunately, our kayak trailers can easily carry the load. GO can carry up to 1000 pounds and the GO Easy can carry 525 pounds. With either trailer, you only need to lift your boats a few feet off the ground, making them much easier to handle.