Best Camper for Ford Cars, Trucks, and SUVs
Ford automobiles are assembled with pride and designed with quality in mind to be the Detroit standard. Ford drivers know what it means to be "Built Ford Tough." At SylvanSport, we crafted our signature GO camper to channel that same invincible toughness to take you and your outdoor experiences to the extreme. A perfect camper for Fords across the whole spectrum, from Taurus to Expedition. This camper helps get you and your gear off the beaten path and into Ford country.
Tough, Lightweight, and Easy to Use—the Ultimate Ford Camper
GO was made to be any easy to use and a fun way to take the whole family on vacation, right in your Ford! Designed with an articulating multi-position aluminum frame that is strong yet light, along with a Control-Tilt deck, this all-in-one, super versatile trailer and camper effortlessly hauls all your outdoor gear and then simply pops up its Kelty tent to set-up camp for the night. We leave the competition in the dust by getting you into the woods with a comfortable place to turn in after a day's activities. This camper is your gateway to adventure.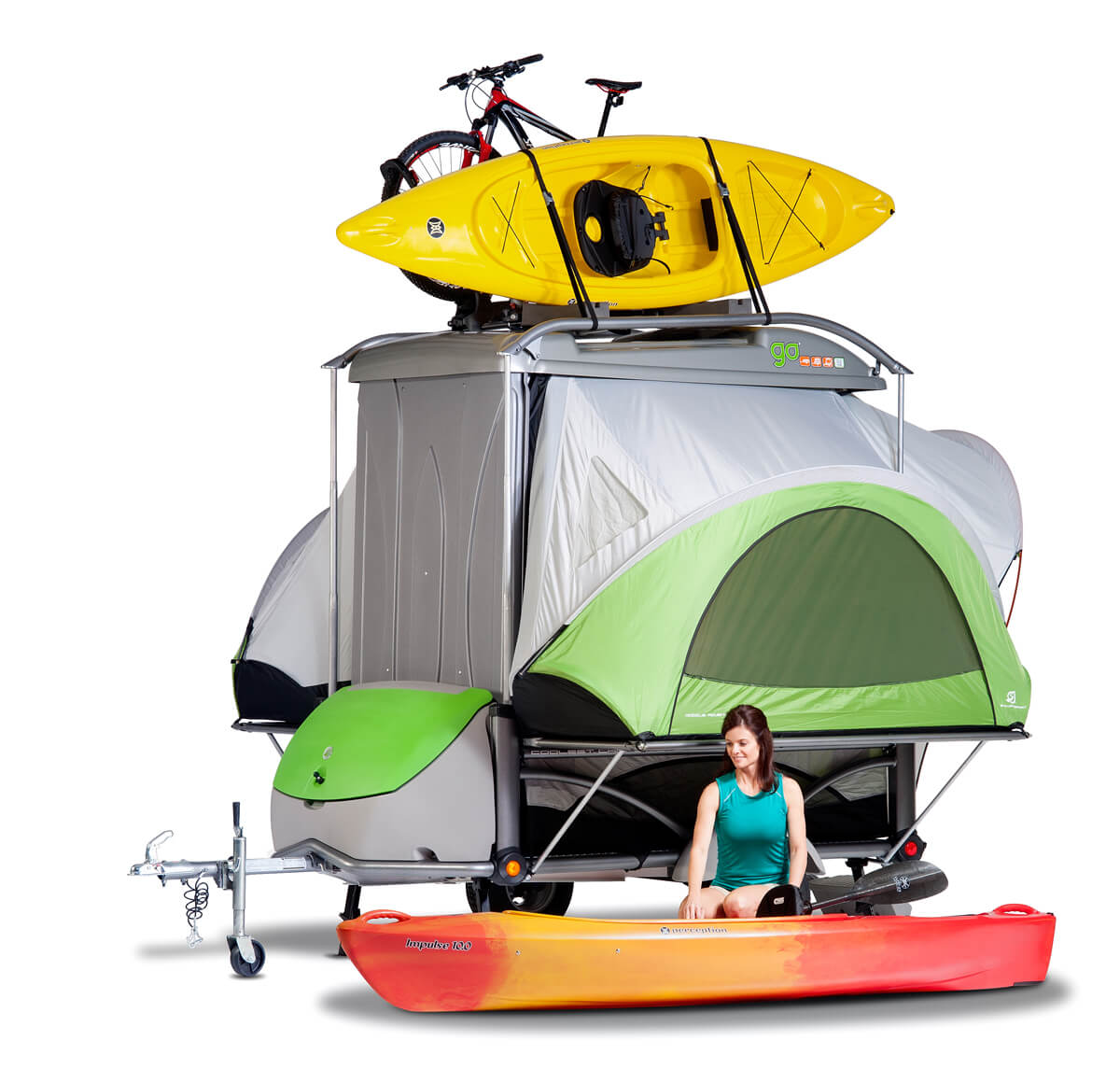 American Made Campers for American Made Fords
Recently we have seen Detroit make a comeback, due to strength and a commitment to American made automobiles. SylvanSport salutes these efforts and takes great pride in the fact that our GO Ford Camper is built right here in the United States. Nestled in the foothills of the Blue Ridge Mountains in Brevard North Carolina, we love the great American outdoors. Travel our great nation in a GO Ford Camper.
Compatible with Ford Fusion, Focus, Taurus, Escape, Explorer, Expedition, F-150 and More
It doesn't matter if you're zipping down the highway in your Ford Focus or powering up a mountain in your Ford Explorer, GO is your ideal camper. GO is so lightweight that you can tow it with virtually any vehicle, from compact cars to burly trucks. Ford four-wheel-drive owners may be interested to know that GO is capable of off-roading, just liek your vehicle. With its low profile design for minimum drag and super fuel efficiency, this camper will get you out there, without guzzling gas. Hop into your Ford vehicle with all the confidence of having your gear and your campsite with this unique, quality built camper.
Disclaimer: SylvanSport recommends that all GO owners follow the guidelines set forth by their tow vehicle manufacturer. We do not recommend doing anything that would either void a warranty, or create an unsafe or uncomfortable situation. [For more information, refer to Terms, Section 4].