Tow-Behind Bike Camping Trailers
Choose between two awesome bike camping trailers from SylvanSport—a lightweight trailer than converts to a pop up camper or an ultralight, budget-friendly bike trailer. Both are light enough to tow behind nearly any vehicle, even a small car! Learn more about these trailers' great features for biking and camping adventures.
Trailer for Up to 12 Bikes Converts to Cool Pop Up Camper
Crystal clear mountain streams, stunning scenery, and a smooth flowing singletrack – sounds perfect and the SylvanSport GO is the perfect camping trailer to get you there. Load this lightweight camper with as many as 12 bikes, all your gear and head out to your biking Mecca of choice. Much like your favorite ride, this all-in-one bike trailer and camper offers you escape and adventure, with a little extra comfort thrown in. After a hard day of playing, you'll sleep well in the SylvanSport GO and be ready for tomorrow's trails.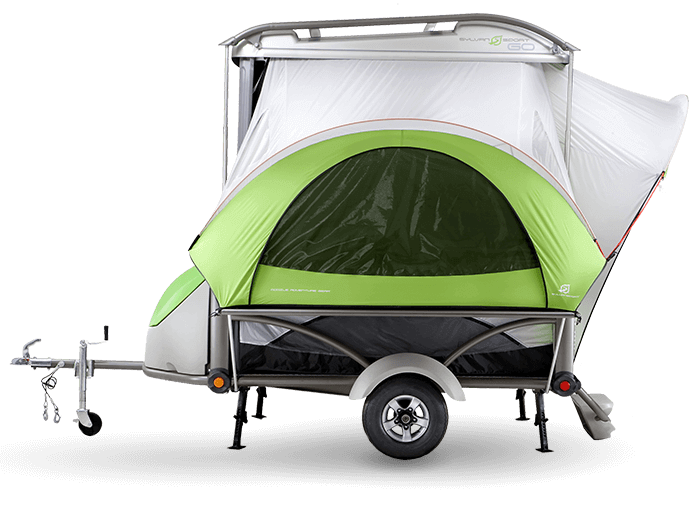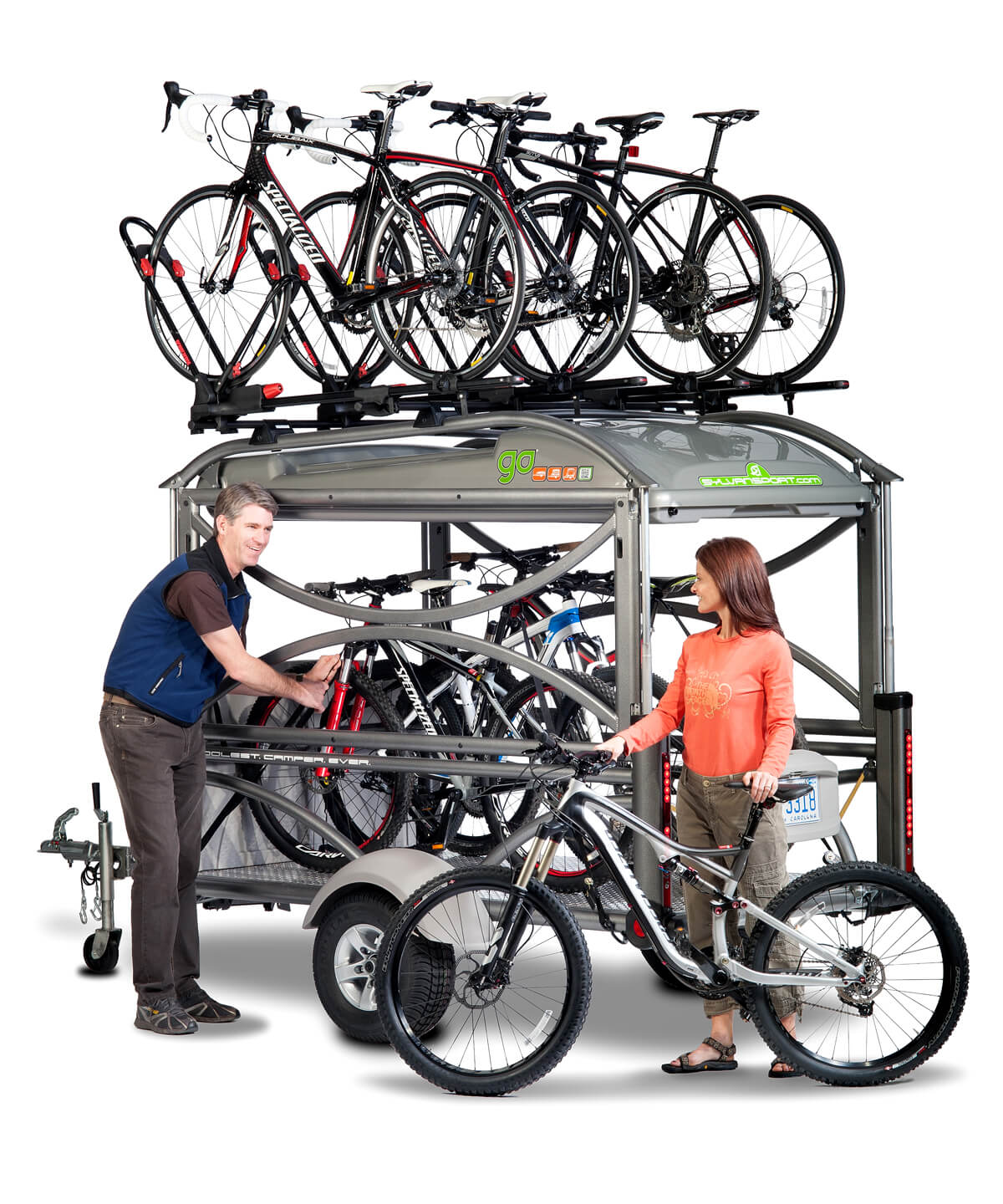 Ultralight Bike Trailer Hauls Up to 7 Bikes
If you're looking for a simple, ultralightweight tow-behind bike trailer, the GO Easy is for you. At just 275 pounds, this trailer is so light you can actually tow it behind a motorcycle! Think of it as a "roof rack on wheels" designed to haul your bikes and camping gear, without weighing you down. GO Easy comes with an optional weatherproof front storage pod, so you can stow smaller items securely, out of the wind and rain. GO Easy is available in a Cycling Package, designed specifically for biking adventures.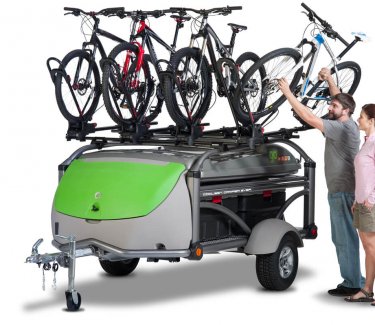 Why Buy a GO Tow Behind Bike Trailer?
For any outdoor enthusiast the answer is simple: SylvanSport's bike trailers are simply the best adventure bike trailers out there—versatile, lightweight, aerodynamic, easy-to-use, and built to last. Our design and engineering team thought of everything—from GO's effortless transition from trailer to camper to GO Easy's space saving upright storage position. Getting yourself and all of your gear out onto the road has never been easier than with these bike trailers—designed by outdoor adventurers for outdoor adventurers.
Tow These Lightweight Bike Trailers with Large or Small Vehicles
At SylvanSport our goal was to design the most versatile bike trailers on the market today. We fabricated a hyper-engineered outdoor adventure machine that you can easily tow behind almost any vehicle—car, truck, van, or SUV.
Weighing only 840 pounds, GO can be pulled by a small four cylinder coupe or a large SUV to get you and your bikes where you want to be.
Weighing only 275 pounds, GO Easy is so lightweight you can easily tow it with just about any vehicle, including a small car, even a motorcycle!
The Best Thing That Ever Happened to Bike Camping
One thing you'll notice about the SylvanSport GO bike camping trailer is that it isn't just another toy hauler. While it will get you to the trailhead with ease and gear room to spare, where it really shines is at the end of the day. You will be amazed how quickly this bike trailer converts into a camper with 6 ½ feet of head room and sleeping space for four. In under ten minutes you can be relaxing on comfortable self-inflating mattresses. In the morning, the elevated beds in this bike camping trailer make getting up to face a new day of riding easier than ever! Featuring a unique specially designed Kelty tent system that contains over a king-and-a-half sized sleeping capacity, this tow behind bike trailer is perfect for taking all the comforts of home with you on the road.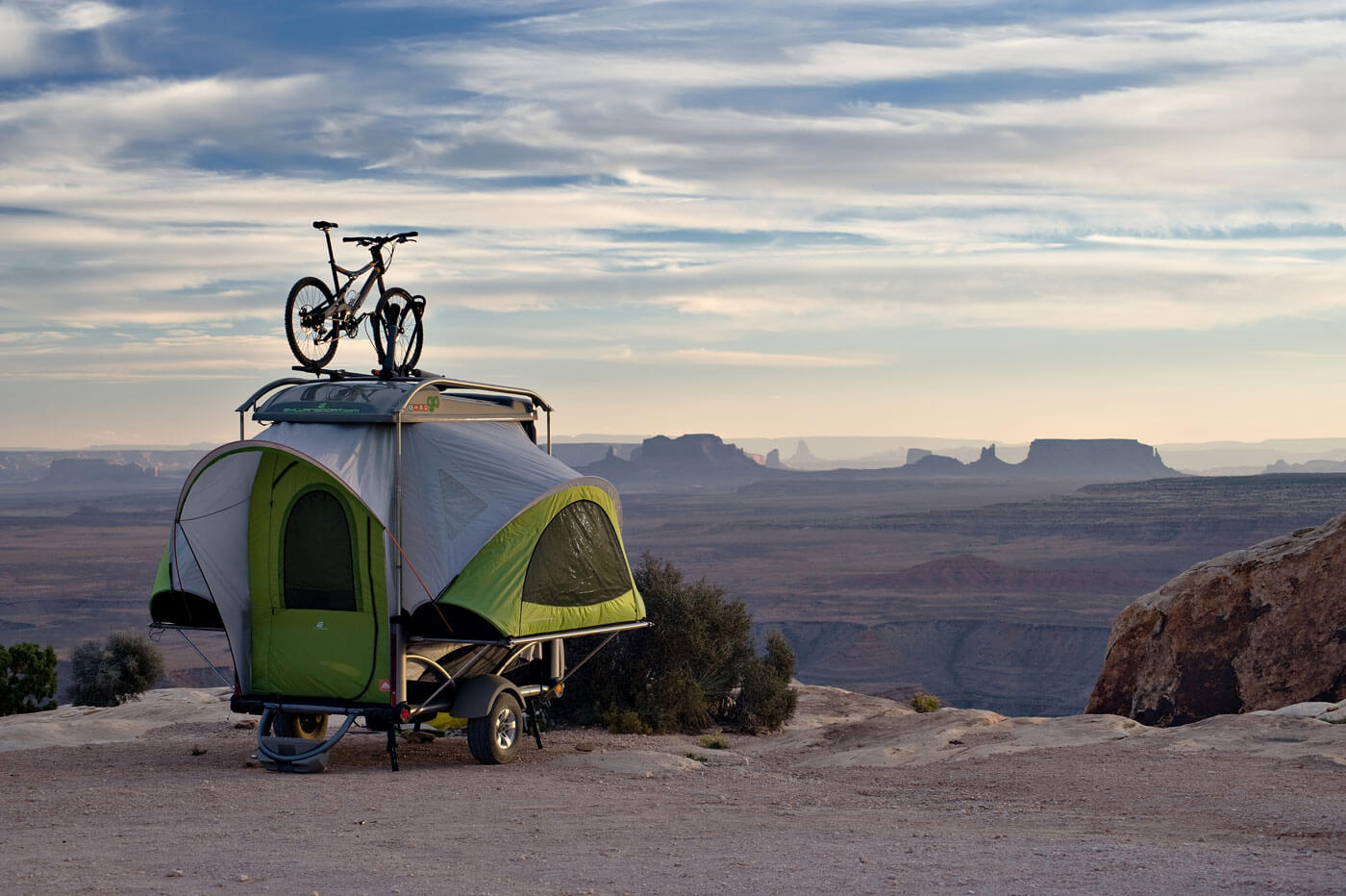 Disclaimer: SylvanSport recommends that all GO owners follow the guidelines set forth by their tow vehicle manufacturer. We do not recommend doing anything that would either void a warranty, or create an unsafe or uncomfortable situation. [For more information, refer to Terms, Section 4].