Mini Cooper Camper
Mini Cooper drivers know that great things come in small packages. You've already got stylish looks, super tight handling, and excellent gas mileage in your powerful, pint-sized car. What if you could add onto that an ultra lightweight, incredibly versatile camper that you can use as a trailer for bikes, kayaks, furniture, the works… then convert into a comfortable pop up tent anywhere your Mini Cooper takes you? True story. The GO SylvanSport camper is so lightweight and aerodynamic that it can be easily towed behind a Mini Cooper.
The Ultimate Mini Accessory—an Easy to Tow GO Camper
Accessories make the Mini Cooper. From custom hardtops to unique spoilers, Mini Cooper drivers know how to deck their rides out in style. Now, you can go far beyond the standard Mini Cooper accessories by adding a full-on gear trailer, utility trailer, and pop-up camper that is designed to tow behind even the smallest and most fuel efficient of automobiles. With its all-aluminum, extra lightweight construction, the GO weighs in at only 840 pounds—no problem for your muscular Mini Cooper!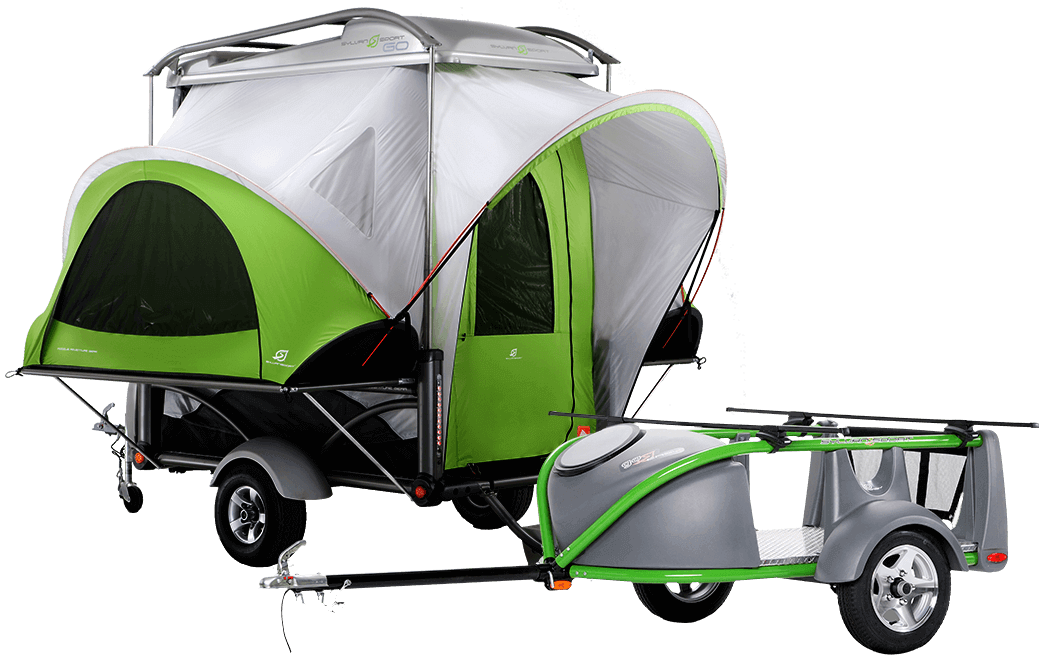 Gear Trailer, Utility Trailer and Pop Up Camper—All-in-One
The GO is incredibly versatile—a Swiss Army knife of a camper trailer. As a gear trailer, the GO can haul an eye-popping amount of adventure gear, including kayaks, canoes, bikes, surfboards, stand up paddleboards—everything you need for your outdoor adventure. As a utility trailer, the GO turns your Mini Cooper into a truck for the day. Now, if you're moving, buying appliances, or doing yardwork or home improvement, you can haul everything you need without needing to borrow or rent a bigger vehicle. As a pop up tent camper, the GO lets you bring a home on wheels wherever you go, with styling camping accommodations for four or more people. Think of the go-anywhere comfort of an RV, without the bulk, in a modern, less-is-more style that matches your Mini Cooper.
How Mini Can You Go? GO Easy is the Ultimate Micro Trailer
If you're looking for a lightweight, surprisingly high capacity trailer to tow behind your Mini Cooper, you have a couple of options. With the GO, you get almost 1,000 pounds of cargo capacity plus an awesome pop up camper. Or, if a simpler but still heavy-duty adventure-utility trailer appeals to you, check out the GO Easy. It's an ultralight micro trailer that can haul up to six bikes, four kayaks, or up to 325 pounds of whatever you need to move.
GO Play. This User Friendly Camper Takes Care of the Work.
GO's freakishly vigilant team of engineers obsessed over every detail of our Mini-Cooper-compatible camper to make sure that it's as user-friendly as possible, every step of the way. One person can easily attach and detach it from your car, using our custom-designed one-step coupler. When you unlatch the Camping Pod, it presents itself for nearly effortless set-up, thanks to hydraulic assists. When you tilt the deck to load or unload your gear, the pnuematic damping system does the work for you. We thought of everything, down to the easy-to-clean polyester tent to the self-inflating air mattresses to the self-lubricating wheel hubs. After all, the point of owning a GO is to be out having fun!
Style and Engineering Made for Mini Coopers
Our engineers took a page from the team at Mini Cooper when we designed a camper trailer that's easy on the eyes but built for action. With super-sexy styling, the GO camper is a perfect match for your fun and fiery Mini Cooper. The GO mimics the hyper-engineering of your Mini Cooper, packing tons of adventure into every ounce of its super-efficient frame. Whether you're moving to a new home or taking off on a cross-country camping trip, anything is possible with your Mini Cooper camper.
Disclaimer: SylvanSport recommends that all GO owners follow the guidelines set forth by their tow vehicle manufacturer. We do not recommend doing anything that would either void a warranty, or create an unsafe or uncomfortable situation. [For more information, refer to Terms, Section 4].