Off Road Camping Trailers
Hit the Mud Running in a GO Off Road Camper Trailer
Off-roading is exciting every time—in the field with a farm truck or out mudding with your Jeep. Now you can go out to the wilderness and stay longer—with a rugged off road camping trailer. Take the road less traveled! Get off the grid! The Sylvan Sport GO is a lightweight off road trailer that makes a perfect companion for any 4×4 vehicle, whether that's a truck, SUV, or Subaru. Best of all, GO lets you bring all of your adventure gear—boats, bikes, snowboards, paddleboards, climbing gear, hunting or fishing gear, you name it.
GO Off Road Trailers – Made in America, Designed for Adventure
Deep in the Blue Ridge Mountains in Brevard, North Carolina, is the home base and proving grounds for SylvanSport, makers of these exceptionally versatile off road camp trailers. It's in Brevard that our engineers designed and tested the ultimate outdoor adventure trailer: a lightweight, versatile, tough, and comfortable off road camper trailer. These camping trailers can stand up to all the challenges of getting to the trail, with the cargo intact, no matter how gnarly your route.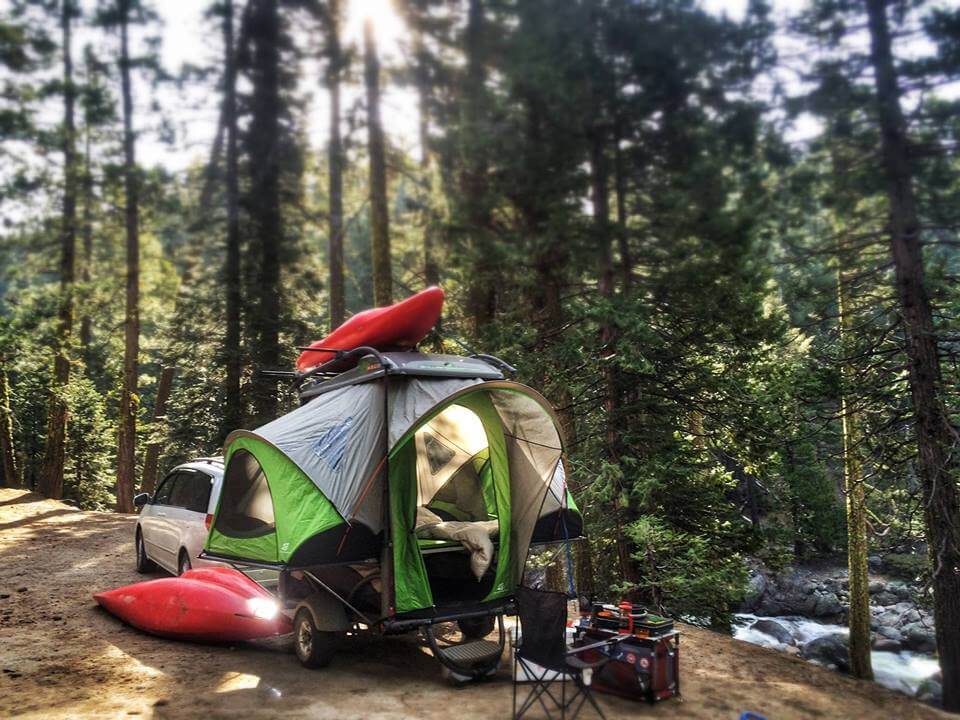 Off Road Camping and Comfort Can Go Together
Does "king size bed" ever come to mind when you think "off road camping trailers?" What about "ultra lightweight" or "low maintenance?" They should. Our GO off road camping trailers are built for multiple purposes. They can get you to the back of beyond—and then offer a cozy home in the wilderness. GO transforms from an off-road trailer to a pop up camper, complete with a king-and-a-half sized bed and stargazing windows so you can watch the greatest show in the universe before nodding off to dreamland.
Off Road Camp Trailer Makes Camping Easy and Affordable
GO camping trailers are so light that just one person can hitch one to the tow vehicle. The Control-Tilt cargo bed also lets you turn GO into its own loading ramp. The frame is also adjustable to give you maximum cargo capacity without sacrificing visibility. GO is even quick and easy to use, converting from trailer to aboveground camper in just 10 minutes. Plus that 840 pound weight and adjustable aerodynamic frame makes GO off road camp trailer considerably easier on the wallet when it comes to gas mileage. It's full of great features like self-lubricating hubs, LED lighting, reinforced diamond-plate flooring, and both UV resistant and waterproof storage, while it's also low maintenance—no hassle!
Off Road Camping Trailers – Perfect for Outdoor Adventurers
SylvanSport GO camping trailers are ideal for adventurers who prefer to spend their time and energy playing and exploring outdoors—NOT setting up and taking down camp. SylvanSport GO off road camper trailers help you get the most out of the journey by minimizing the time it takes to prepare while maximizing your hauling capabilities. GO allows you to bring a wide variety of gear (from kayaks and bikes to a motorcycle or ATV.) It converts to what you need when you need it, whether that's a sleek, aerodynamic trailer that handles well on the road, or a comfortable, above-ground camper with all the practical amenities of an RV. Give into your impulses to head for the hills for the whole weekend without a second thought.o.
SylvanSport for Off Roading: Light. Agile. Impulse-friendly.
When you are off roading spontaneity is a key component of the adventure. If you love escaping into the wilderness and exploring the beauty and fun nature has to offer then you'll need a four-wheel drive vehicle and a rugged camper trailer that can haul all of your equipment and supplies off road. Make your next off road camping trip unlike any other. With a GO off road camper trailer, and you'll be ready to take off on your adventure at a moment's notice!
Disclaimer: SylvanSport recommends that all GO owners follow the guidelines set forth by their tow vehicle manufacturer. We do not recommend doing anything that would either void a warranty, or create an unsafe or uncomfortable situation. [For more information, refer to Terms, Section 4].