Small Pop Up Campers
Meet GO—a Small Tent Camper Built for Big Adventure
SylvanSport GO is a lightweight pop up camper that's small enough to tow with just about any vehicle, but packed with everything you need for your biggest outdoor adventures! This ingeniously expandable camper is compact and efficient on the road, but huge when it comes to possibilities for the great outdoors. Forget the bad old days of oversized, gas guzzling campers. With the SylvanSport GO you have an easy-to-use small tent camper that's big on adventure.
Deceptively Small Camper Hauls it All
GO's streamlined profile and its low weight make it super easy and efficient to tow, so you can get to your destination safely, with less stress. But that doesn't take away from its impressive gear hauling capacity. GO is built to get you wherever you want to go with all the gear you need for your ultimate adventure. This incredibly versatile adventure trailer lets you head out on epic camping trips prepared for almost any outdoor activity—kayaking, canoeing, biking, fishing, motorcycling, off-roading, rafting, surfing, snowboarding, skiing and much more. You choose the adventure and GO will get you there!
Pop Up Tent Camper Sleeps Four with Room to Spare
This small tent camper is plenty spacious when it comes to sleeping arrangements. GO converts into a comfortable pop up tent in a matter of minutes. You'll sleep in luxury in the great outdoors, with an insulated bed platform equipped with custom self-inflating air mattresses that you can set up according to your needs—whether that means a couple of single beds or one shared bed. The full size sleeping space is the equivalent of a king-and-a-half size mattress, with more than enough room for four people. So bring the whole family! GO's many great camping features include a weatherproof Kelty-made tent system, great ventilation, star gazing windows, fold-down tables, and a spacious awning where you can relax and enjoy good times regardless of the weather.
Spontaneity Made Simple with this Small Pop Up Camper
GO pop up campers were made for ease of use with an all-in-one mentality. Groundbreaking design makes GO easy to load, hitch, haul, unload, and convert into a cozy home away from home. Simplify your trip planning—no more hotels. And don't worry about a complicated tent set up. GO features a built-in pop up tent that sets up in minutes, providing a safe, comfortable place to sleep. Feeling spontaneous? GO is so easy to use that you can head out for your next adventure on a whim. Heard that the surf is up at your favorite beach? Notice that fall color is peaking in the mountains? Just grab your gear and your adventure crew and head out!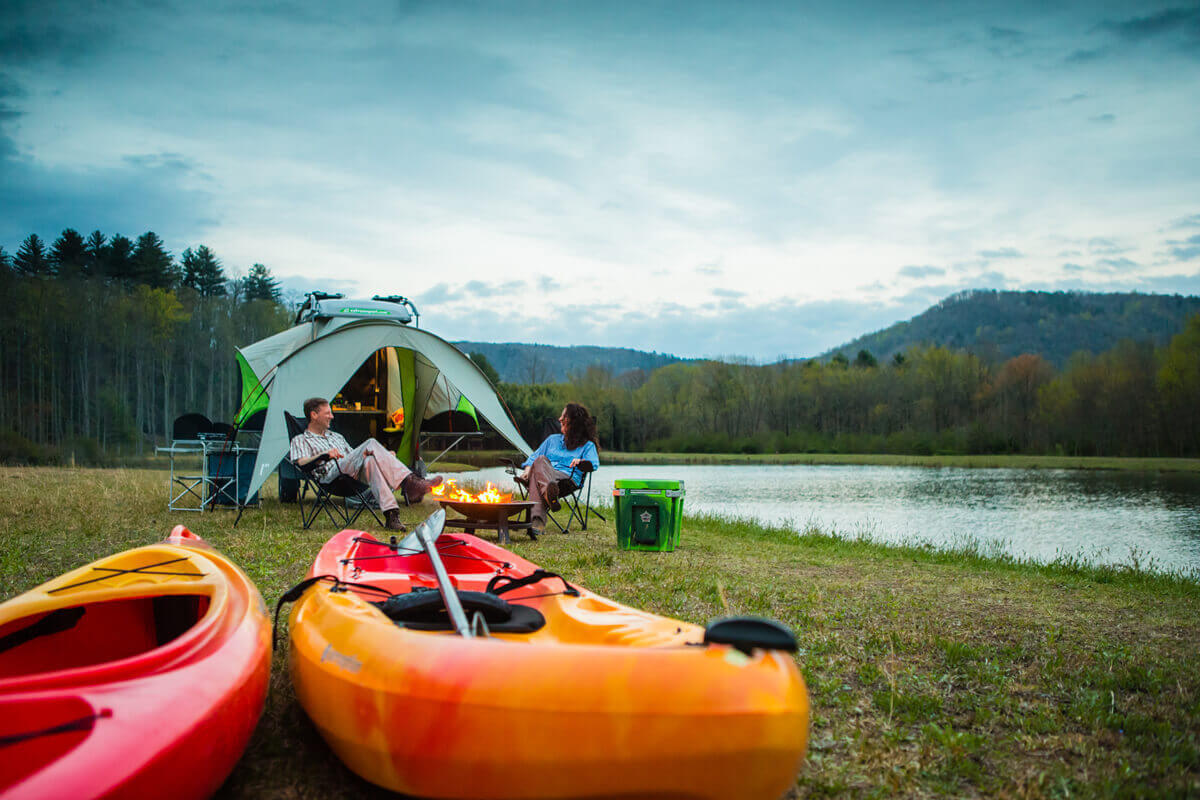 Small is the New Big—Avoiding the Pitfalls of Heavy Campers
Have you ever tried to drive into a wilderness area with a heavy camper hitched to your vehicle? So many issues can come up, especially in a new place. Are the roads wide enough? Will the parking or camping area have room for your camper? Will you get stuck if the weather is bad? Not to mention how much you just spent in gas (enough to make you want to stay home!) Or the years you're taking off the life of your vehicle by hauling such a heavy load. With a small pop up camper, you can camp in style and comfort—without the stress. Looking for a camper you can haul with a smart, fuel-efficient vehicle? GO is ideal for almost all vehicles, including small and midsize cars and trucks.
Pop Up Campers Made and Tested in the Blue Ridge Mountains
GO pop up campers are made in America in Brevard, North Carolina, nestled in the Blue Ridge Mountains. This region is blessed with millions of acres of wild forests, rivers, and mountains and features some of the country's greatest wilderness and recreation areas, including the Great Smoky Mountain National Park and the Nantahala National Forest. Thousands of outdoor enthusiasts visit the region each year to kayak, mountain bike, hike, rock climb, river raft, and more. Wherever you go for adventure, you'll find that GO lives up to its reputation as one of the most user friendly, fuel efficient, durable and comfortable small pop up campers on the market.
Disclaimer: SylvanSport recommends that all GO owners follow the guidelines set forth by their tow vehicle manufacturer. We do not recommend doing anything that would either void a warranty, or create an unsafe or uncomfortable situation. [For more information, refer to Terms, Section 4].