Single Motorcycle Trailer
Lightweight, Heavy Duty Trailer—Perfect for a Single Motorcycle
With the SylvanSport GO motorcycle trailer, it's no longer a challenge to bring your motorcycle on vacation or long trips with you. It's not always practical to ride your motorcycle everywhere you go—but that doesn't mean you have to leave it at home! The GO motorcycle trailer is so lightweight you'll barely notice towing it behind your car, truck, or SUV. But it's heavy duty enough to haul motorcycles up to 800 pounds. Your bike will ride securely in the trailer. Then you can unload it and enjoy the freedom of the open road. The best part might be that at the end of the day, you can sleep anywhere, on a comfortable bed in your easy-to-set-up camper.
Single Motorcycle Trailer Makes Towing Your Bike Simple and Easy
At SylvanSport we cut out the headache of towing your bike so that you can just hitch up and head out! Our one-step coupler makes it easy for one person to hitch this single motorcycle trailer to the back of any car, truck, or SUV. You don't even need a ramp to load your bike. Our patented ControlTilt deck lets you roll your machine straight onto the trailer. Coming in at a slim and trim 840 pounds, the GO motorcycle trailer is incredibly easy to haul and our unique torsion axle suspension offers incredibly smooth load control on the highway.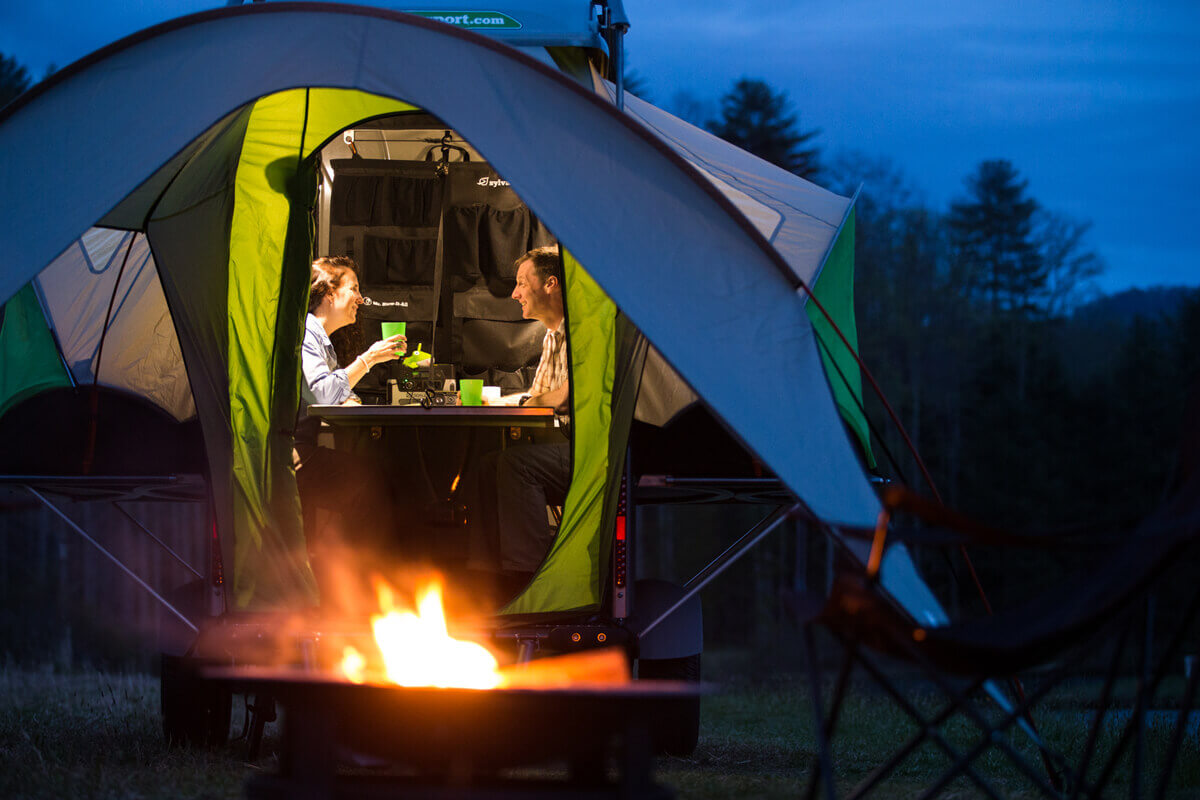 This Motorcycle Trailer Converts into a Comfy Camper
GO is truly a transformer. You can easily convert it from a motorcycle hauling machine to a pleasant home away from home, where you can get a great night's sleep after you're out exploring all day. The custom self-inflating air mattress from Pacific Outdoor Equipment will provide a sound night's sleep so you can get up and seize the day again the next day. Whether you're out on a solo ramble, travelling with your special someone, or bringing the family along, you'll be comfortable in this motorcycle trailer turned pop up camper. There's plenty of room for four people or more!
Support the Economy with an American Made Motorcycle Trailer
We all know how important it is to buy American and support US manufacturing. At SylvanSport we made the commitment to build each and every specialty single motorcycle trailer right here in North Carolina. Check us out online today or give us a call to learn more about our quality-built motorcycle trailer.
Disclaimer: SylvanSport recommends that all GO owners follow the guidelines set forth by their tow vehicle manufacturer. We do not recommend doing anything that would either void a warranty, or create an unsafe or uncomfortable situation. [For more information, refer to Terms, Section 4].