Low Profile Camper Made for Adventure
What Makes a Good Low Profile Camper?
A low profile camper is designed to minimize drag and maximize fuel efficiency. If you're shopping for a pop up camper that won't turn your vehicle into a gas-guzzling monster, then a sleek, aerodynamic camper is the way to go. But, other than fuel efficiency, what else should you consider while you are researching? When shopping for a good low profile camper consider these three major questions:
Will it work for the activities you have in mind?

Is there enough room for you to be comfortable?

How difficult is it to haul?

How much can it carry?
At SylvanSport, we designed the GO to be the best low profile camper on the market, excelling in all of these areas. We invite you to explore GO, a lightweight, multifunctional, compact camper that can sleep 4+ people and carry nearly 1,000 pounds of gear.
.
Low Profile and Low Weight Make GO Easy to Tow
Not only does the SylvanSport GO sport a sleek, compact profile, but it also weighs in at a mere 840 pounds, making it light enough to be pull with just about any vehicle, from an SUV or a minivan to a small car. You don't need to buy a monster truck, or a truck at all, to haul it. We designed GO to be so aerodynamic and lightweight that you can haul it with variety of fuel efficient vehicles. GO users drive Toyotas, Hondas, Subarus—even Mini Coopers! No matter what vehicle you use to haul your GO, the specially designed torsion suspension means that this camper handles beautifully on road, off road and in parking lots and garages.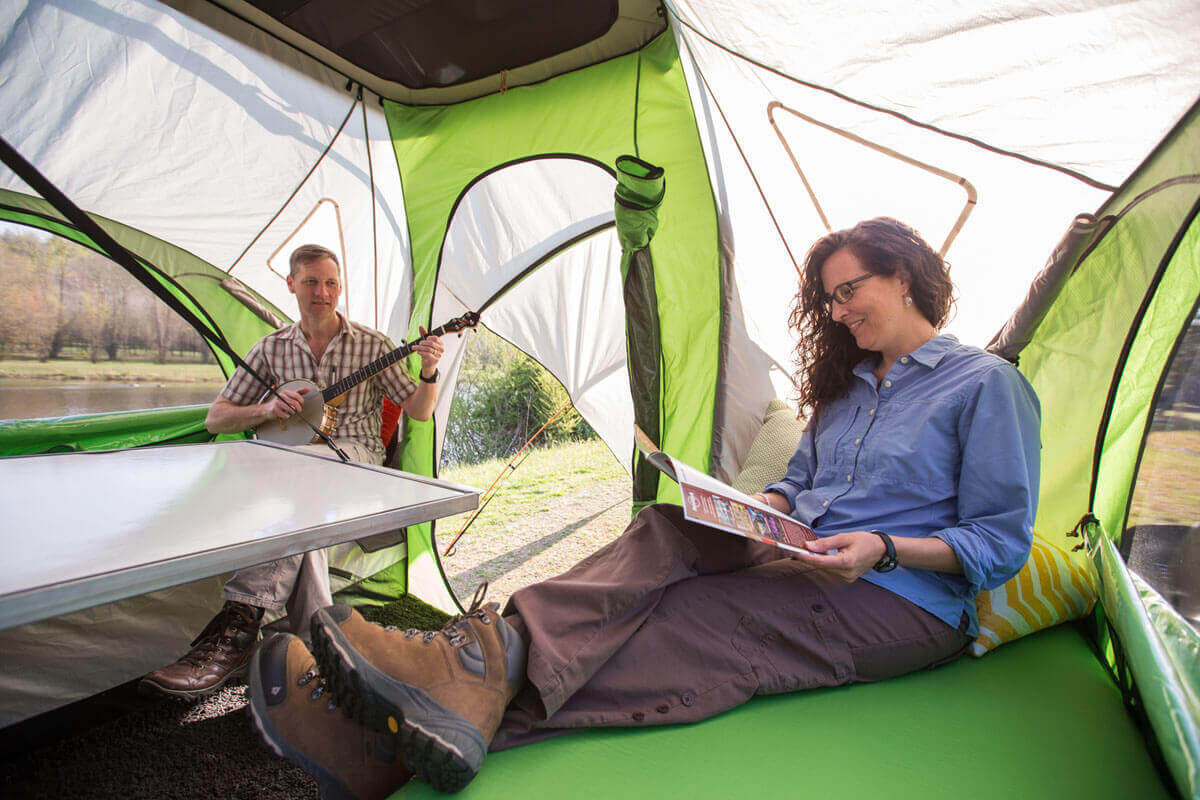 How Much Gear Can Fit in a GO Camper Trailer?
GO is a super versatile camper that you can also use as a trailer. In fact, you can use it as two different kinds of trailer. You can tow in ultra low profile Travel Mode or expand it into still streamlined Transport mode so you can carry more gear. We made GO tough enough to take on all kinds of terrain, rough weather conditions, and heavy gear—so go for it! The reinforced diamond-plate flooring can handle a load up to 1000 pounds. That's a lot of gear—up to 12 bikes or kayaks, even a motorcycle or an ATV. Plus, GO comes standard with a lockable, waterproof storage box that can be used as an ice chest once you've set up camp.
Low Profile on the Road—Pops Up Into a Comfy Tent Camper for Four!
And what an awesome camp site the GO provides. A comfortable Kelty tent is stowed inside, as well as insulated bed platforms and custom self-inflating mattress. With so much equipment already stowed inside your camper, practically all you'll need do is hook GO up to your car and…well, go! Be ready to leave a moment's notice when beautiful weather gives you an opportunity for a spectacular camping trip.
The Ultimate Modern Adventure Camper
GO is an easy-to-haul, comfortable, home away from home for any outdoor adventure. If you are passionate about outdoor sports—check out this one-of-a kind mobile adventure trailer! GO is a like a Transformer. You can change it in minutes from an ultra low profile gear trailer to an expanded travel trailer that can haul ATVs and motorcycles. It all started because GO engineers wanted a camper that could also be used as a travel trailer to haul all our toys and gear—so we designed one! Haul everything you need for fun outdoor adventures—camping, hiking, kayaking, mountain or road biking, climbing, surfing, motocross. You name it! GO is the camper you've been looking for: low profile, lightweight, versatile, easy to tow, and able to carry a ton of gear. GO was developed and is made right here in the United States. National Geographic called it the "coolest camper ever." We think so too.
Disclaimer: SylvanSport recommends that all GO owners follow the guidelines set forth by their tow vehicle manufacturer. We do not recommend doing anything that would either void a warranty, or create an unsafe or uncomfortable situation. [For more information, refer to Terms, Section 4].