Small Pull Behind Camper
Go Big With This Small Camper
Who says you can't have it all? The SylvanSport GO is a pull behind camper that doubles as a gear trailer. And its outsized functionality comes in a surprisingly small package. The GO is an ultra lightweight camper with an aerodynamic frame. With its award-winning engineering and design, it offers handling and fuel efficiency that far surpass larger camper trailers. But don't be fooled by its small size. The GO is a lean, mean gear hauling machine. And it transforms into a roomy, state-of-the-art pop up tent that sleeps four people with room to spare.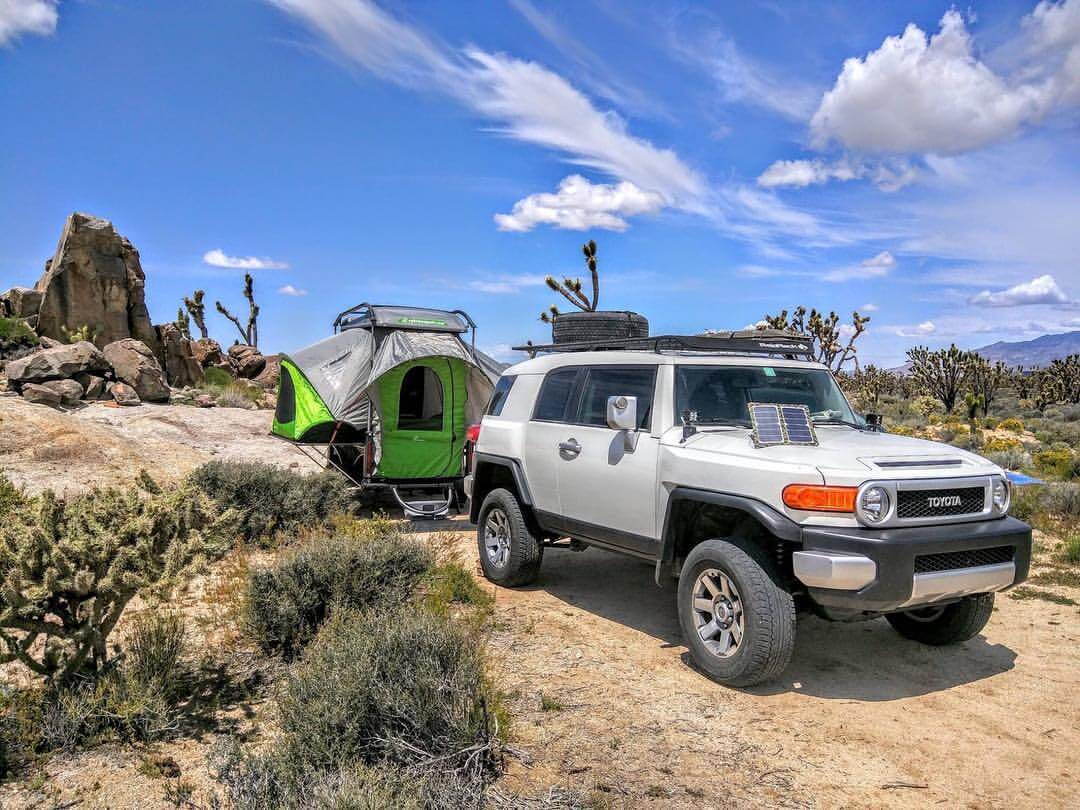 Made to Fit All Your Outdoor Gear
Every outdoor enthusiast needs gear, whether you're heading to the mountains to snowboard, down to the beach to surf, or out to the lake on family vacation. The GO is a small pull behind camper that's HUGE when it comes to gear hauling capacity. It's the perfect trailer for bringing all your kayaks, canoes, mountain bikes, wakeboards, skis, or whatever you need for an epic trip. Your bikes and kayaks will fit securely onto our uniquely designed frame, while your camping supplies stay snug inside our waterproof lock boxes. You can even haul a motorcycle or ATV. Now you can plan all your overnight trips around your favorite outdoor sport activities.
Want a Camper You Can Pull Behind A Small Car?
You love your fuel efficient four cylinder car, but might have thought you couldn't haul a travel camper with it. Maybe that was true in the dark ages before SylvanSport invented our groundbreaking mini camper. GO is a small pull behind camper designed specifically to be compatible with compact vehicles. You will be amazed at how much functionality we were able to pack into its lightweight 840 pound frame. Now, with this lightweight and fuel efficient pull behind camper, you can take any vehicle on an amazing outdoor adventure.
Go Small, Save Money on Gas
Ever towed a full size RV? With fuel efficiency stuck in the single digits, the price at the pump seriously hurts. It's enough to make you just stay home. GO offers an alternative: a sleek modern pull behind camper with a carbon footprint that's even tighter than its hyper-engineered frame. Designed especially to reduce drag and wind resistance, this compact camper will help you zip through highway miles without eating into your wallet.
Buy a Pull Behind Camper Made in America
We design and build every one of our innovative compact campers here in the United States of America, at our factory in Brevard, NC, in the foothills of the Blue Ridge Mountains. We hold our product to the highest standards—providing brilliant engineering, award winning design, top quality materials, excellent manufacturing, and personal customer service. Feel free to get in touch with us any time to talk about purchasing what is simply the "Coolest. Camper. Ever."
Disclaimer: SylvanSport recommends that all GO owners follow the guidelines set forth by their tow vehicle manufacturer. We do not recommend doing anything that would either void a warranty, or create an unsafe or uncomfortable situation. [For more information, refer to Terms, Section 4].