ATV: Trailer and Camper in One
GO is the ultimate All Terrain Vehicle camping trailer. GO makes it easy to tow your ATV or Utility Task Vehicle (UTV) and is lightweight enough for most passenger vehicles to pull it.
Like a Swiss Army Knife, GO transforms from an ATV trailer into an off road pop up camper that sleeps up to four adults comfortably. Plus, SylvanSport's compact ATV trailer camper will help you get better gas mileage than any other big toy hauler.
Rampless ATV Loading!
SylvanSport's Control-Tilt Deck™ with hydraulic dampening system gently lowers GO's deck to the ground so you can roll your ATV directly onto the bed. Just pull the set pin out of the tongue and the trailer tilts down to the ground. Once you are loaded up, ease the deck back to level. No ramp necessary! Once GO is level, secure the built in cross-straps, raise the tailgate, secure all the set pins, and you are off on whatever off road ATV adventure you've got planned.
GO's controlled tilt design makes it so simple that one person can easily load and unload an ATV unassisted. In Transport Mode GO hauls ATVs, UTVs, and most motorcycles and dirtbikes too.
GO Hauls Most ATVs
GO's load capacity is 800 pounds, which means you can haul almost any Sport or Utility ATV— plus plenty of gear. The average weight of ATV ranges between 350 and 400 pounds, though the amount varies according to make and model.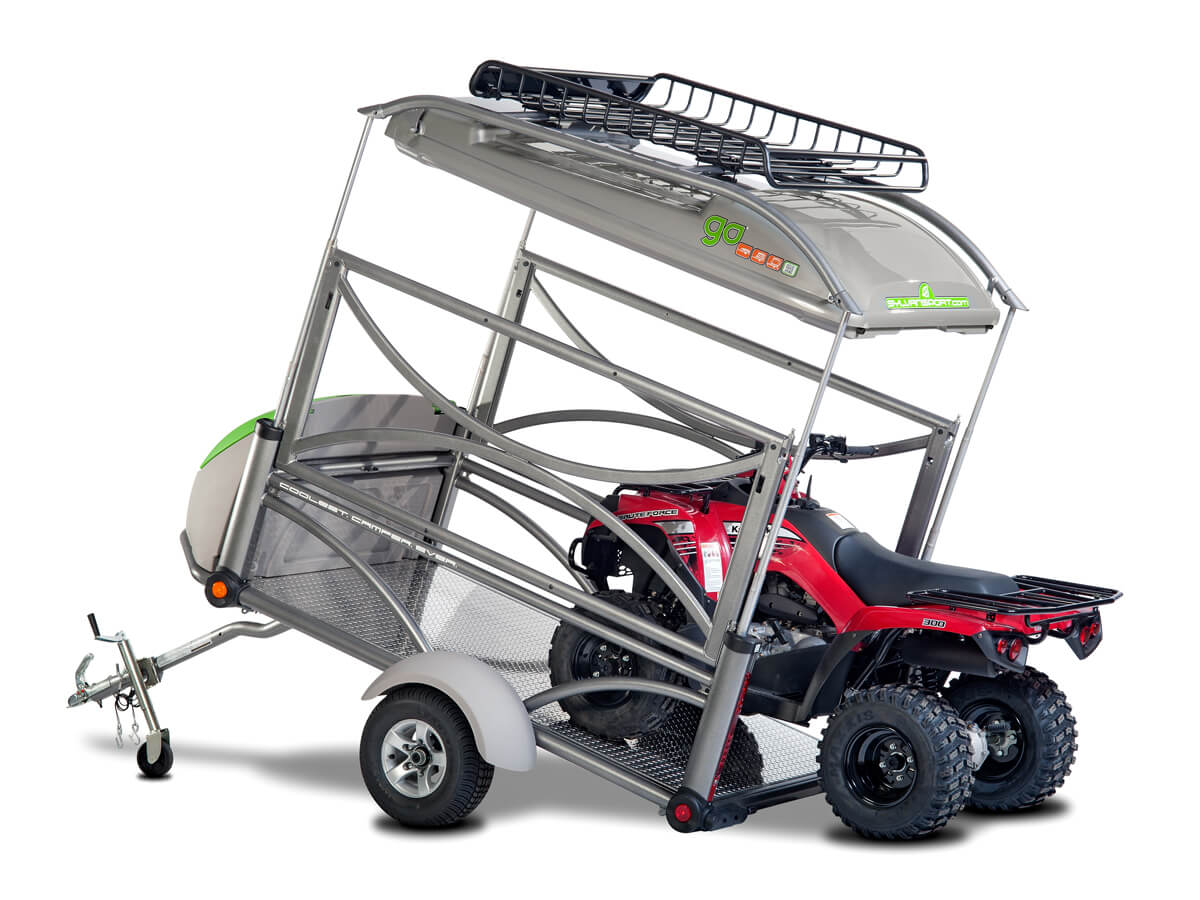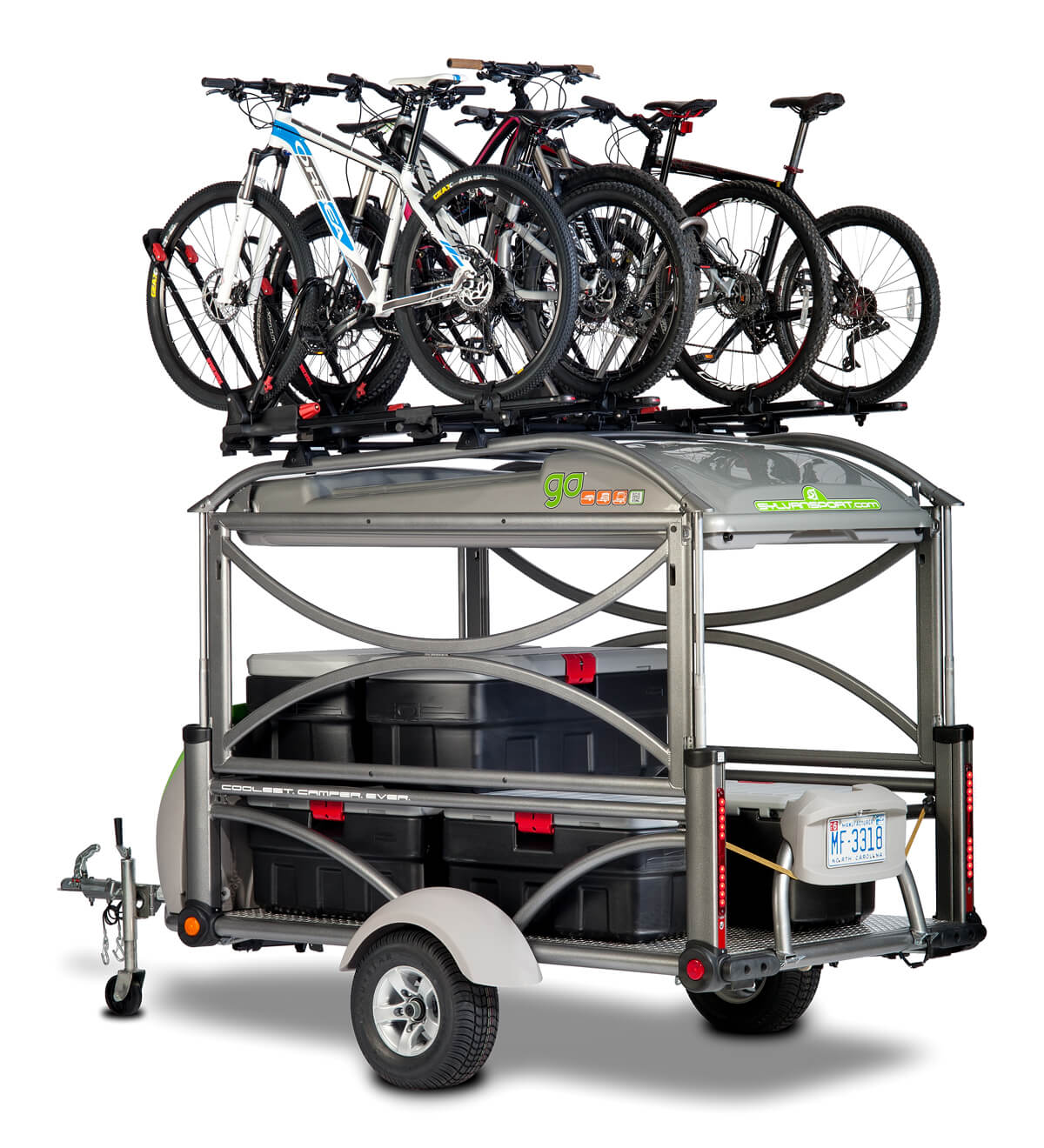 Superior Suspension System = Less Impact
GO's 13" ground clearance, custom designed cast aluminum wheels, 10" high-flotation tires, and smooth riding torsion axle will give you the smoothest ride possible even on rough backcountry roads. And when you tow your ATV into the backcountry, GO's sophisticated torsion axle system and independent wheel suspension means smooth load control and less impact on your ATV and other cargo.
Simple to Hitch, Easy to Tow
GO makes hauling your ATV a snap. You only need a standard 2" ball coupler hitch system and a flat 4-wire electrical trailer connection installed on your vehicle. Empty, GO weighs in at 840 pounds, with a tongue weight of 90 pounds and it falls into the category of a "light-duty Class 1" trailer. GO is so lightweight that, in many cases, it can be towed by small passenger cars. In fact, at that low weight, many ATVs and UTVs are able to tow it!
Lightweight, Tough, and Maneuverable for Off Road Camping
ATVs are designed to go where no other vehicle can. ATV owners are likely to want to camp near a remote, backwoods site. Fortunately, GO is tough enough to use as an off road camping trailer. If the terrain of your chosen camping site makes it difficult to back into place with your vehicle, GO is so lightweight that it's easy to move by hand. Simply pick GO up by the tongue and pull it into place or lower the front support wheel and push the camper into the spot you want it to be in.
Get a Good Night's Sleep on the GO
Just because you like rough terrain in your ATV doesn't mean you want to sleep on a pile of rocks. Camping in a GO will give you the best night's sleep you've had on an outdoor ATV adventure. GO transforms from an ATV hauling machine into a camping trailer in about 10 to 15 minutes. GO changes into several different floorplans to fit your needs. GO even comes with the following features:
Custom built, waterproof tent system will keep you dry in the rain, protect you from insects, and shield you from the wind and sun.
4 insulated, self-inflating mattresses.
Fold-down table for dining or cards.
4 stabilizer jacks that create a level, stable platform.
Awning attaches to exterior to provide over 80 sq. ft of open air shelter.
Built-in mesh ceiling brings in fresh air but keeps out bugs.
Option to customize GO with LED lights, solar generators, and other camping accessories.
Find a SylvanSport dealer or visit our store to learn more about getting a GO to haul your ATV.