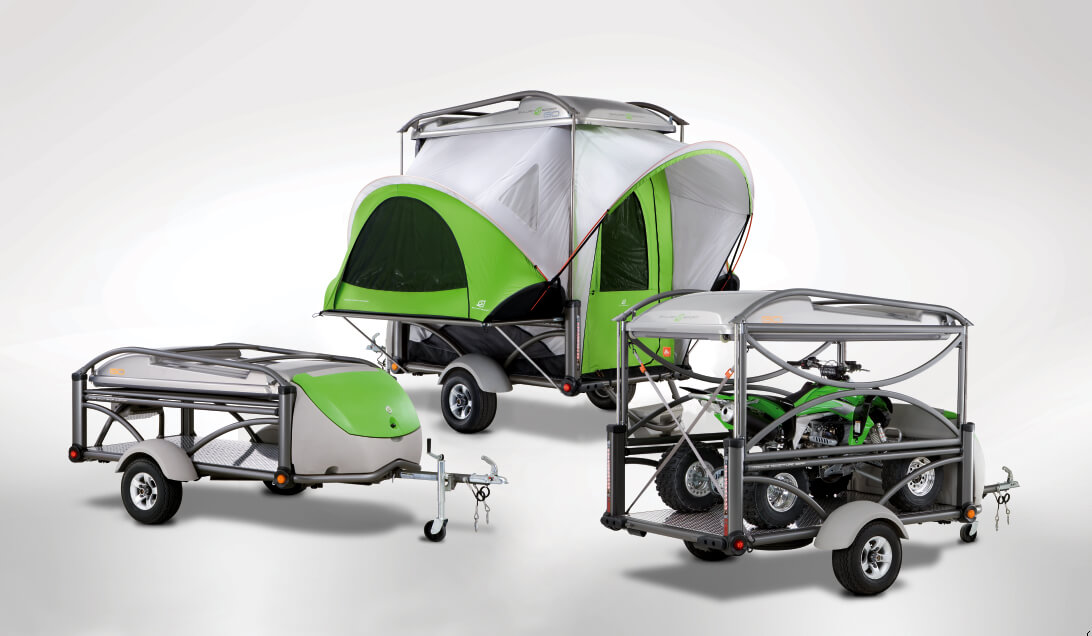 Camping in a Tent Trailer: Best of All Worlds
Camper
Tent sets up in minutes
Gear Hauler
Hauls up to 12 bikes or boats
Utility Trailer
Carries up to 960 lbs in cargo
SylvanSport GO
Years ago tent trailers were invented to allow young families and adventurous outdoor enthusiasts to go enjoy the outdoors, easily and inexpensively. Over the years, things have changed: camping trailers have become larger, more expensive, and let's face it… less fun. SylvanSport set out to change all that with its SylvanSport GO camping tent trailer. We wanted to recapture that spirit of fun by giving you that spectacular, back-to-nature experience of a tent camper, combined with the versatility and functionality of an amazing gear hauling trailer.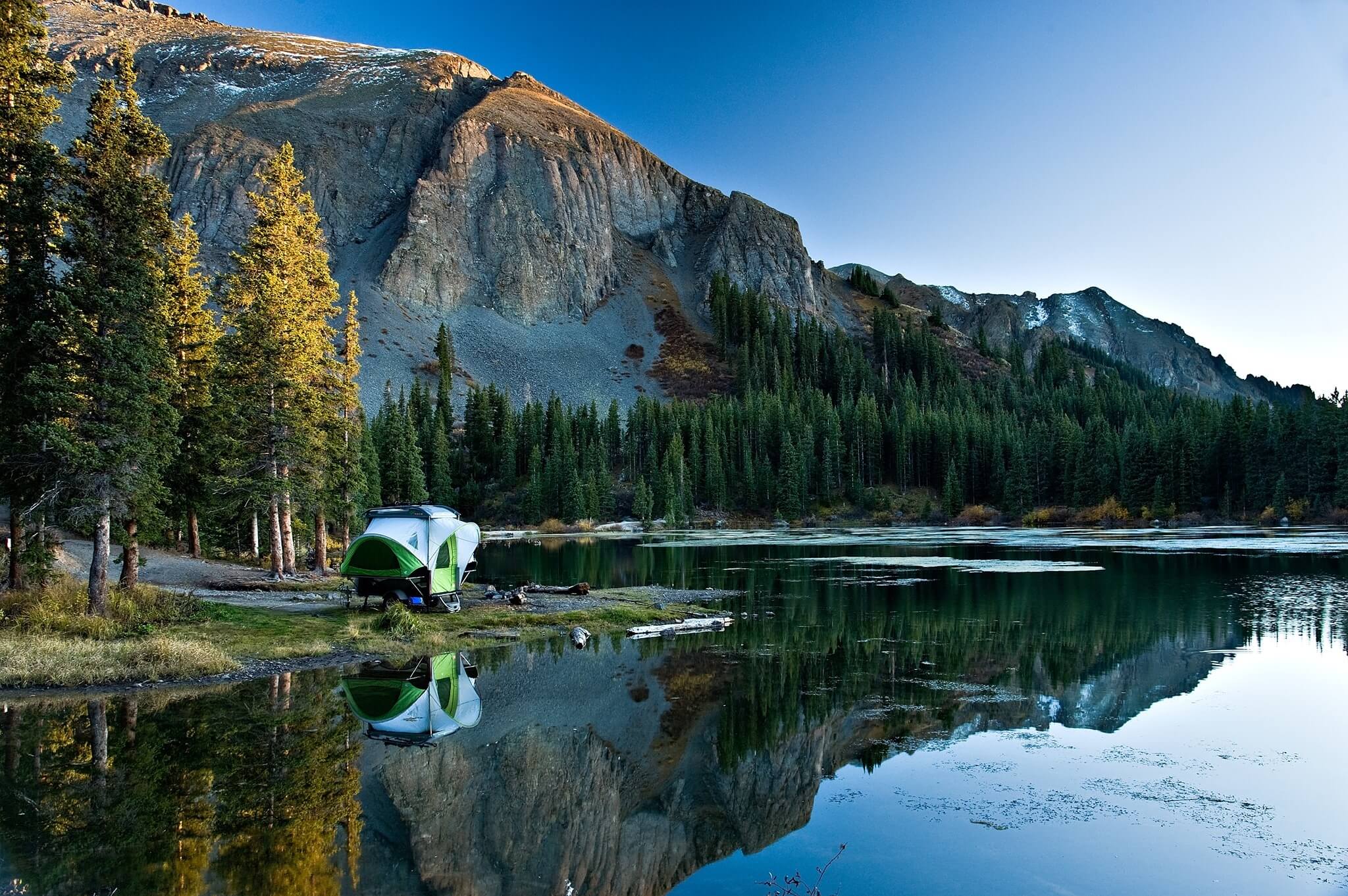 Camping in a Tent Trailer: Best of Both Worlds
That special experience of sleeping outside cannot be duplicated in a hard-sided RV. On the other hand, sleeping on the ground in a tent can be uncomfortable, making it hard to sleep, so you can enjoy your trip. And anybody who has camped in a washout knows how miserable that can be. The SylvanSport GO camping tent trailer gives you the best of both worlds. GO has a state-of-the-art tent to keep you in touch with nature… but warm, dry, and well rested. GO gets you up off the ground too, so you won't get wet or have to lie on rocks and branches. Learn more about GO's great camping features.
First It's a Trailer, Then It's a Pop Up Tent!
Lightweight, at only 840 lbs and with three unique configurations, GO is the Swiss Army Knife of campers. GO can easily change from a lightweight, aerodynamic gear hauler in Travel Mode, to a large capacity utility trailer, capable of hauling larger equipment (even motorcycles and ATVs) in Transport Mode. Finally, once you've reached your destination, GO opens up to Camping Mode and gives you a spacious and comfortable camping tent, with room for four or more people!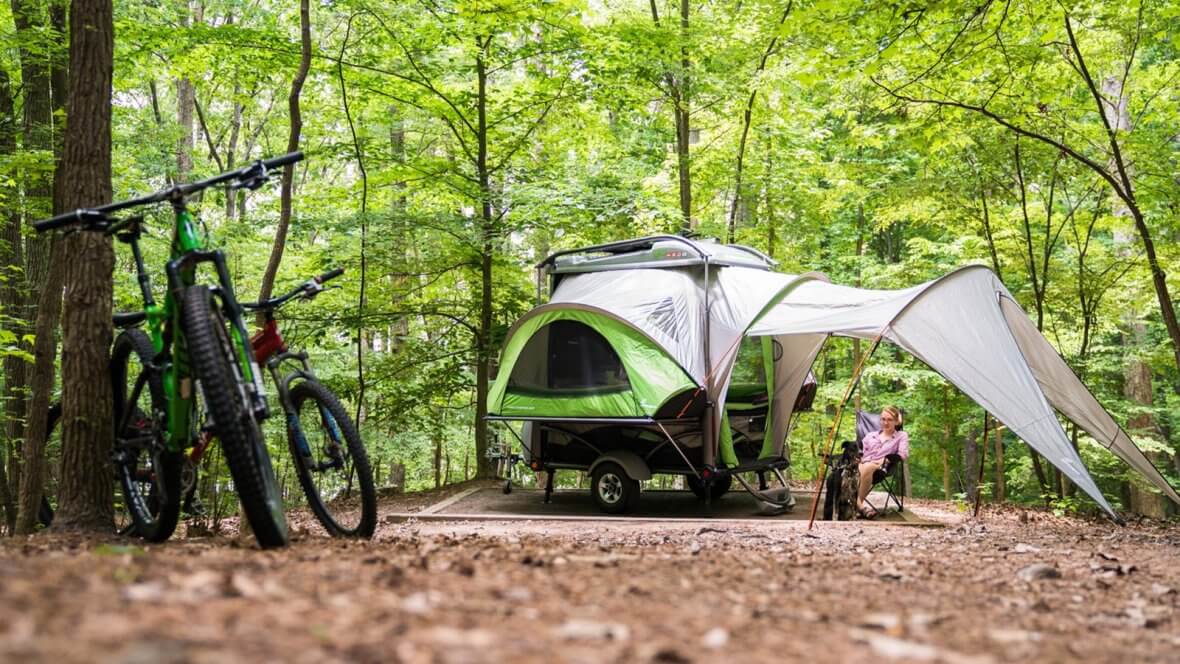 RV Not Right For You? Check Out a GO Camping Tent Trailer
You've always been adventurous and you've always loved tent camping—the fresh air, the sounds of nature . You can never imagine yourself in a big, hard-sided RV (complete with satellite TV and faux fireplace). But you'd like a little more comfort on your camping trips, so everyone will be well-rested and comfortable. You need a GO! This camping tent trailer is the perfect thing to get you and your family close to nature, in comfort, easily and inexpensively. GO takes the tent camping trailer to a whole new level.
All in One
GO is a pop up camper—lightweight, versatile, and built for outdoor adventure. The team that built the SylvanSport GO is made up of nature aficionados who put their passion into this innovative, modern, small camper design. GO is manufactured from high-tech materials with superior craftsmanship that delivers performance, light weight, and durability, unparalleled in any other pop up camper. GO has won many engineering and 'gear' awards for its design and versatility. Simply put, it's the "Coolest. Camper. Ever."