Off Road Pop Up Camper
Get Ready for Your Off Road Adventure
Off roading means you can get further out into the wilderness, away from the demands of day-to-day life. You can experience the freedom of living off the grid, in places with no cell towers or wireless signals. You can get closer to the wildest rapids, the most rugged peaks, the remotest backcountry. You can even get out there with all the comforts of a modern pop up tent camper—and bring all your gear, including kayaks, bikes, and more. Play hard, then camp in style, as you explore places many others do not go.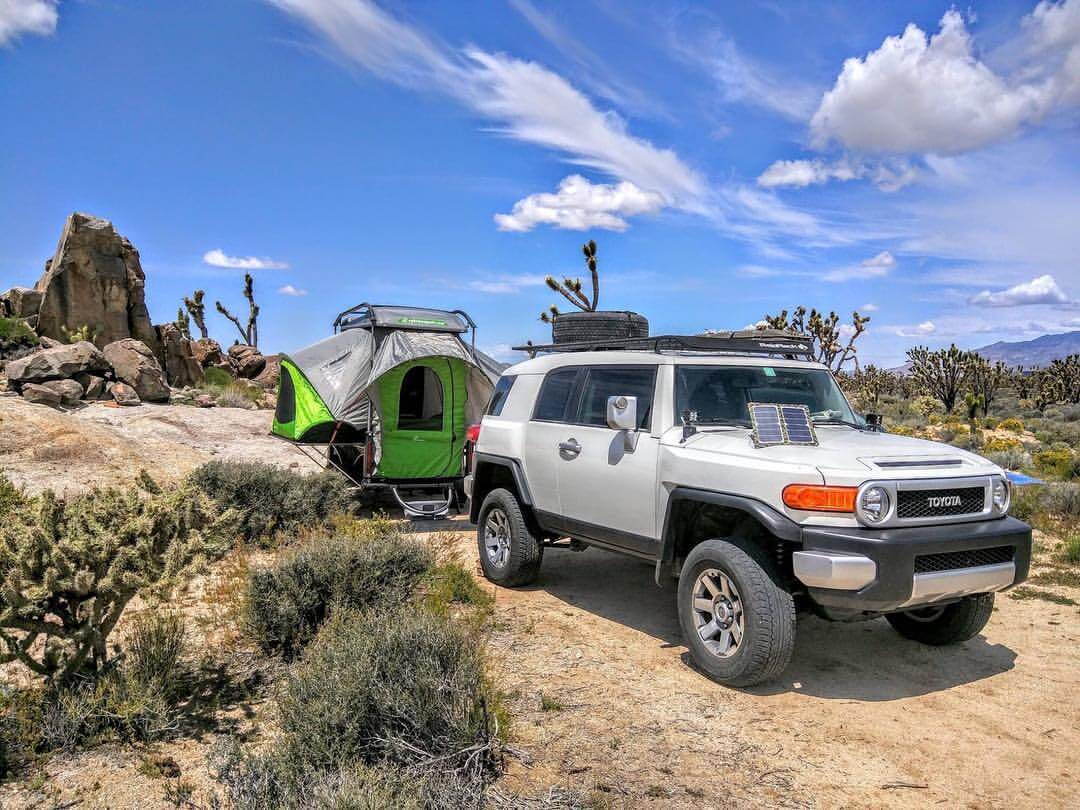 How Far Could You Go with An Off Road Tent Camper?
The SylvanSport GO—an all-terrain gear hauler, utility trailer, and pop up camper—opens up all kinds of potential by transporting your adventure gear deeper into the wilderness. GO can haul everything from motorcycles to kayaks, mountain bikes to whitewater rafting gear, surfboards to four-wheelers. Want to take a hunting trip that lets you retreat from civilization? Want to raft or kayak some of the country's greatest rapids? Looking to ride your bike across the mountains? Attending dirt bike races in a remote area? Headed to the hills to ski and snowboard? Want to access hiking trails that most day hikers never see?
Take On Any Terrain, Then Relax in Your Pop Up Tent
This go-anywhere pop up camper is fully capable of off road, all terrain travel, so you can get way off the beaten path. GO campers are made for just about any terrain, climate, or vehicle. If you can take your car or truck off road, you can haul a GO behind it. And unlike other off road  campers, GO comes with a state-of-the-art tent living space. Simply unload your gear and easily set up your home for the night, under the stars.
Lightweight, Fuel Efficient, and Easy to Use
When it comes to design and functionality you can't beat the GO. Unlike anything else on the market, the GO off road camper makes the life of adventure easier. The GO weighs in at just  840 pounds, so you can tow it with just about any vehicle. And, unlike a heavier camper, it won't kill your fuel economy. The GO morphs from a sleek gear trailer to a spacious off road tent camper, with practically no effort. Smart design and innovative custom technology make it easy to hitch and unhitch, load and unload, and reconfigure between Travel Mode, Transport Mode, and Camping Mode. GO keeps it simple for you, so it's perfect for a spur of the moment getaway, as much as a long planned vacation. The brilliantly engineered off road camper also features LED lighting, custom wheels with high-flotation tires, intelligent suspension geometry, and an extremely simple towing hook up.
How Much Gear Can You Haul in Your Off Road Trailer?
GO gets all your gear out to where the adventure happens, while providing excellent gas mileage. This off road camper is fun, flexible, and always carries the load—up to almost 1,000 pounds of total cargo capacity. So, while you're packing, don't leave out the kayaks, mountain bikes, rock climbing gear, river rafts, inner tubes, surfboards, four-wheelers, camping extras—whatever you need for maximum fun. Planning a vacation with family or friends? The GO frees up space in your vehicle for more people, while allowing you to take plenty of gear for everyone!
Premium Quality Off Road Pop Up Campers, Made in America
These days it's hard to know where your products come from, and, even harder to ensure quality control. That's why purchasing products made in America is so important. If you've been reviewing off road pop up campers and are looking for something modern, lightweight, versatile and fun then be sure to check out the GO. Every GO is manufactured to the highest quality standards at our factory in Brevard, NC—designed and built for adventure.
Disclaimer: SylvanSport recommends that all GO owners follow the guidelines set forth by their tow vehicle manufacturer. We do not recommend doing anything that would either void a warranty, or create an unsafe or uncomfortable situation. [For more information, refer to Terms, Section 4].