Mini Camping Trailers
Live Life Large with This Small Camping Trailer
SylvanSport GO mini camping trailers let you live life to the fullest in a convenient, small, and transformable package. If you hike, bike, camp, kayak, fish, or generally live for the outdoors, SylvanSport GO mini pop up campers make your adventure more about the journey and less about the minor details. GO hauls a wide variety of gear, cuts down on "chore" times, and requires less manpower to get on the road, getting you to your destination more quickly and easily. And SylvanSport GO doesn't sacrifice durability for its versatility and ease of use.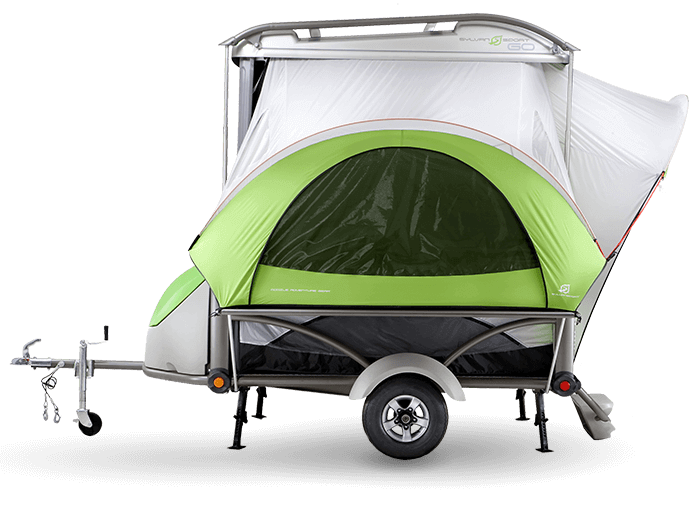 The Goldilocks Zone: Not Too Big, Not Too Small
The all-aluminum, expandable GO weighs in at a lightweight 840 pounds. Some other mini camping trailers can weigh as little as 600 pounds, but that comes at a significant reduction in storage space, capability, and sleeping space. GO offers many of the creature comforts of giant 2,000+ pound trailers in a small package. Don't cheat yourself out of great features like a self-inflating mattress the equivalent of a king sized bed, multiple watertight and/or lockable storage compartments, and the easy-to-use Kelty tent system with stargazing windows.
This Mini Camping Trailer Hauls Big Time Outdoor Gear
GO camping trailers feature an adjustable, all-aluminum frame designed to accommodate all types of gear at every stage of travel. Loading, hitching, and towing are all taken into consideration and facilitated by SylvanSport GO. GO camping trailers suit your needs, whether you need the most streamlined, low-profile tow or a spacious, multi-purpose gear mule. Load your gear and lower the frame for a safe and aerodynamic trailer that stays out of your rear view as well as helps save on gas mileage. Fit a dozen kayaks, a motorcycle, a full sized ATV, or as many mountain or road bikes as you can onto what looks and handles like a tiny camping trailer.
Tow Your Tiny Camping Trailer with Just About Any Vehicle
The other advantage to the all-aluminum frame in GO camping trailers is that it makes for a hauler that weighs 840 pounds—an ideal weight for everything from family-friendly SUVs and Subarus to small fuel-efficient cars. Even a Mini Cooper can tow this mini camper! Of course, use good sense. Follow the manufacturer's guidelines for your vehicle, to make sure you don't void your warranty or create a hazard on the road.
Easy-to-Tow Trailer, Quick Set Up Camper
The outdoor adventure experts at SylvanSport believe efficiency and practicality are important qualities when it comes to outdoor gear and that's why we created GO. Easy to pack, hitch, unpack, and set up, these small camping trailers make getting into the woods and off the road simple, easy, and fun. You can also quickly and easily turn your GO into a comfortable, state of the art tent—the perfect place to rest your weary head at the end of a full day of outdoor excitement. Cut the hassle out of camping!
Mini Campers Made for Outdoor Adventure
The SylvanSport headquarters are in the Blue Ridge Mountains in Brevard, North Carolina, where we design, test, and build these small, state of the art camping trailers. GO was refined on the sometimes rough and steep roads that wind, dip, and curve through the Appalachian Mountains. As outdoor enthusiasts ourselves, the SylvanSport team of engineers is proud to build our dream companion for almost every adventure you can find in the mountains. When you buy GO mini camping trailers, you're buying 100% American-made reliability and knowhow.
Disclaimer: SylvanSport recommends that all GO owners follow the guidelines set forth by their tow vehicle manufacturer. We do not recommend doing anything that would either void a warranty, or create an unsafe or uncomfortable situation. [For more information, refer to Terms, Section 4].