Two Great Trailer Options for Camping Gear
Get a camping gear trailer that does so much more than haul stuff from point A to point B. SylvanSport offers two camping trailers that can carry everything you need for a successful trip to the great outdoors. Choose the gear trailer that fits your lifestyle:
GO hauls up to 800 pounds of supplies and gear and, best of all, converts easily into a comfortable pop up camper. The sleek aerodynamic frame and low profile gives you better gas mileage than any RV.
The lighter, more economical GO-Easy camping gear trailer can be pulled behind almost any vehicle, even a motorcycle, and still hauls up to 525 pounds of gear, depending on the model you chooose.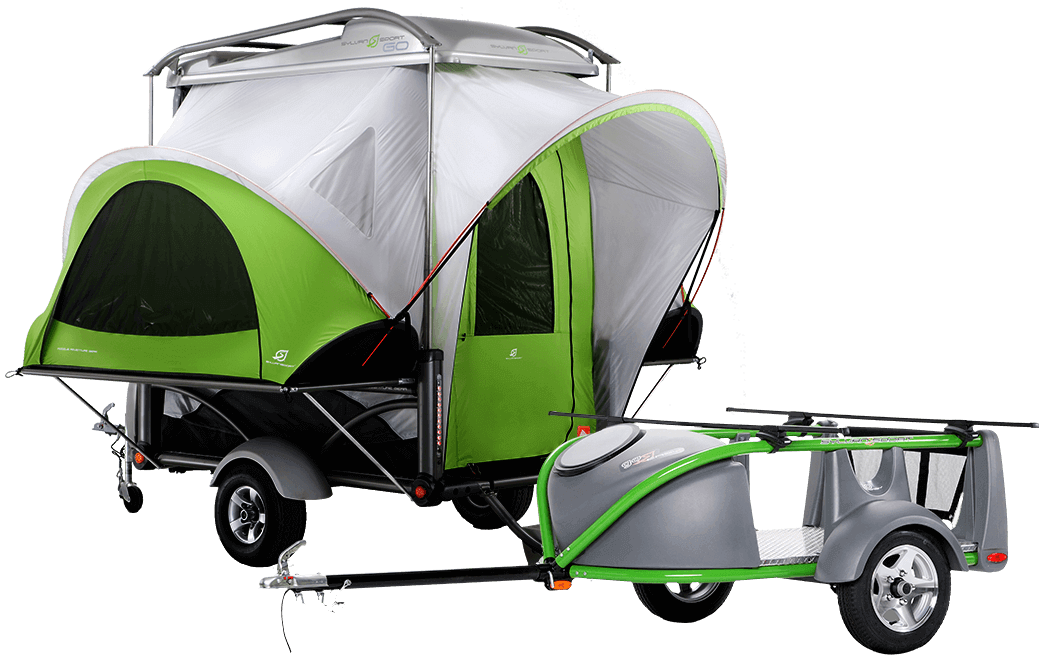 Need a Bigger Vehicle? Nope—Just an Awesome Gear Trailer!
There is no need to buy a huge truck or SUV when you invest in a lightweight camper trailer made by SylvanSport. Both the GO and Go-Easy are light enough to be pulled by just about any vehicle, from a Subaru to a Mini Cooper! And both options, though lightweight, are spacious and durable. Every SylvanSport camping gear trailer is made with the same high quality craftsmanship and innovative engineering we're known for. Both models are so durable you can use them as utility trailers when you are not taking them on camping, boating or biking adventures.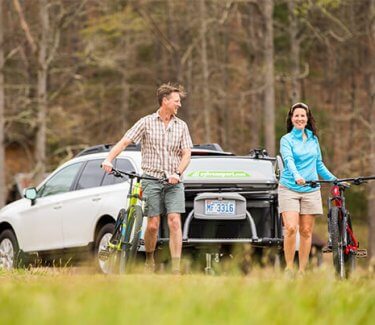 Haul it All on Your SylvanSport Camping Gear Trailer
Planning on doing more on your camping trip than lounging around the campsite? In addition to all the basics like sleeping bags and cooking gear, the GO camping gear trailer can also carry mountain bikes, kayaks, ATV's, motorcycles, surf boards, boats, telescopes, fishing rods, antennas, outdoor grills, camping chairs, inflatable sofas…You name it, the GO camping gear trailer will haul it! Both the GO and Go-Easy were designed to haul the maximum amount of gear with a minimum of weight.
Lightweight Camping Trailer Vs. Bulky RV
Compare a SylvanSport camping gear trailer to any RV on the market. RVs can be difficult to maneuver and require a lot of maintenance. The GO and GO-Easy were designed to be easy to use and easy to maintain. As for drivability, both models were designed with a low profile and built with a torsion axle for a smooth ride. For more information, or if you would like to see a GO or a GO-Easy, contact us. Start planning the coolest camping trip you've ever had in the coolest camping gear trailer you've ever seen.
Disclaimer: SylvanSport recommends that all GO owners follow the guidelines set forth by their tow vehicle manufacturer. We do not recommend doing anything that would either void a warranty, or create an unsafe or uncomfortable situation. [For more information, refer to Terms, Section 4].