How Much Does a Typical Pop Up Camper Weigh?
The weight of a pop up camper can vary greatly depending on what you're looking for in a camper and what your tow-vehicle can manage. Of course, the bigger your ride, the bigger your camper can be. But not everyone can afford a large tow-behind RV and not everyone wants to experience the outdoors like that.
Larger pop up campers that come with a kitchen sink can weigh well over a ton (or 2,000 pounds), while the most spartan pop up campers weigh only around 600 pounds empty. The smallest camper is more than manageable by most vehicles with wheels and a hitch, but can be a little lackluster when it comes to cargo space and capacity.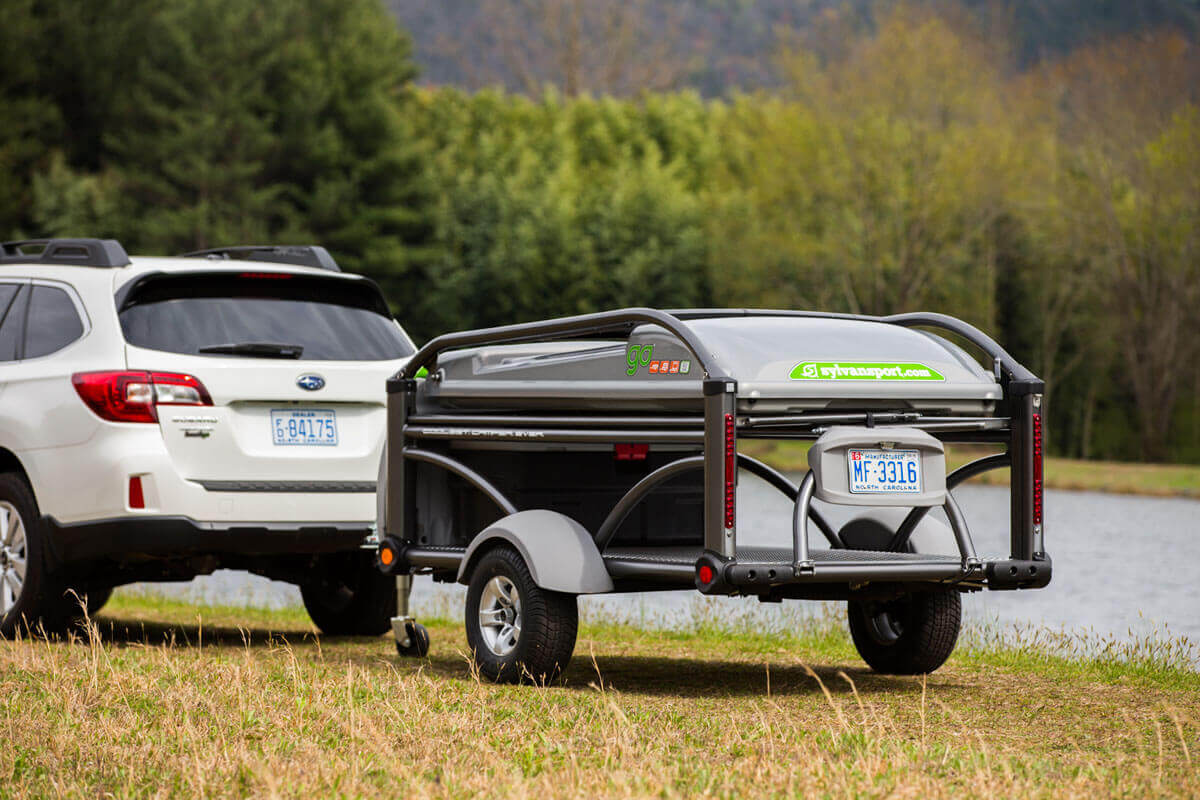 How Camper Weight Can Affect Your Travel
Before you even hit the road, the weight of your camping trailer affects your vehicle choice, which also affects your destination. A large truck or SUV can haul the biggest of campers, but would you want to go cross-country (or even cross-state) with single-digit gas mileage? A fuel-efficient sedan's manual might say it's able to tow 1,500 pounds, but are you comfortable towing that off-road in the family four-door? The size of your camper also affects how safely it handles at high speeds and its visibility on the road.
Trying to find a good balance between your camper's weight and your tow vehicle's capabilities is essential to managing your gas mileage, sight-seeing, and even your safety and well-being.
GO Pop up Campers Are Perfect for Small, Fuel-Efficient Cars
SylvanSport GO is a lightweight camper trailer that's ideal for both the eco conscious and the frugal-minded. At 840 pounds, GO is at the light end of the spectrum, but it's still accommodating, with a pop tent that sleeps four or more comfortably, on self-inflating mattresses.
The reason a GO camper weighs so little is so low is its all-aluminum, TIG-welded frame designed, tested, and built by the SylvanSport squad of outdoorsy engineers in the mountains of Brevard, North Carolina. The frame is also adjustable to help maintain a low, sleek profile to keep visibility high, aerodynamics streamlined, and handling good.
GO is a Simple, Lightweight Camper That One Person Can Manage
But what about before you even hook the camper to the hitch? With GO, the weight of your  camper isn't even a factor thanks to its Control Tilt cargo bed with pneumatic dampening system. One person alone can hitch up the GO, unhitch it on site, and have camp set up ten minutes later.
But GO isn't just a camper—it's a hauler. It weighs only 840 pounds, yet it can carry nearly 1,000 pounds of cargo—800 pounds on the deck and another 160 pounds on the upper racks. That's enough to carry all of your outdoor gear including kayaks, canoes, bikes, surfboards, camping gear, a mid-sized motorcycle, or full-sized ATV. Get a GO and get gone today.
Disclaimer: SylvanSport recommends that all GO owners follow the guidelines set forth by their tow vehicle manufacturer. We do not recommend doing anything that would either void a warranty, or create an unsafe or uncomfortable situation. [For more information, refer to Terms, Section 4].