Biking: 2 SylvanSport Options to Haul Bikes & Gear
Whether you ride a mountain bike, road bike, cyclocross, fat bike, fixie, single speed, or cruiser style bike, SylvanSport offers a bicycle trailer solution that will make it easy for you to load up and GO on awesome biking trips. Choose between SylvanSport's two bike trailer options:
GO is a versatile bike trailer and pop up camper that makes biking/camping trips a breeze.
GO Easy is an ultra lightweight, micro trailer designed to make life easier for cyclists.
Both of these options haul an impressive number of bikes, and are light enough that they can be towed behind almost any passenger vehicle.
GO Hauls a Lot of Bikes
GO's versatility makes it easy to go on cycling trips. One person working alone can easily shift GO into two different modes, to accommodate the number of bikes you need to haul:
In Travel Mode GO hauls up to 6 bikes.

In Transport Mode GO hauls up to 12 bikes.
GO's crossbars accept universal mounts from all major rack manufacturers including Thule, Yakima, Malone, RockyMounts, Inno, and more. You can add a variety of load bars or railings onto the GO, to easily customize it to meet your needs. GO's engineered rack system is universal mount compatible straight out of the box.
Base Camp for Cyclists and Mountain Bikers
The SylvanSport GO makes a perfect mobile base camp for overnight cycling trips, long distance bike races, and 24-hour endurance races.
Who wants to sleep on the ground as you weather the aches and pains of a day-long mountain bike ride or road cycling adventure? When GO is your base camp, you can sleep in the comfort of a real bed at night. It only takes about 10 minutes to transform the GO from a bike trailer into a comfortable pop up camper that can be configured to suit your needs: either two twin beds or a king-and-a-half sized bed that sleeps four adults. Plus, the built in camp table can be lowered for meals, games, cards or any other activity, and then raised and stowed away when not needed.
With a comfy bed to sleep in at night and protection from wind and rain, GO turns any cycling trip or bike vacation into a fun and comfortable camping trip.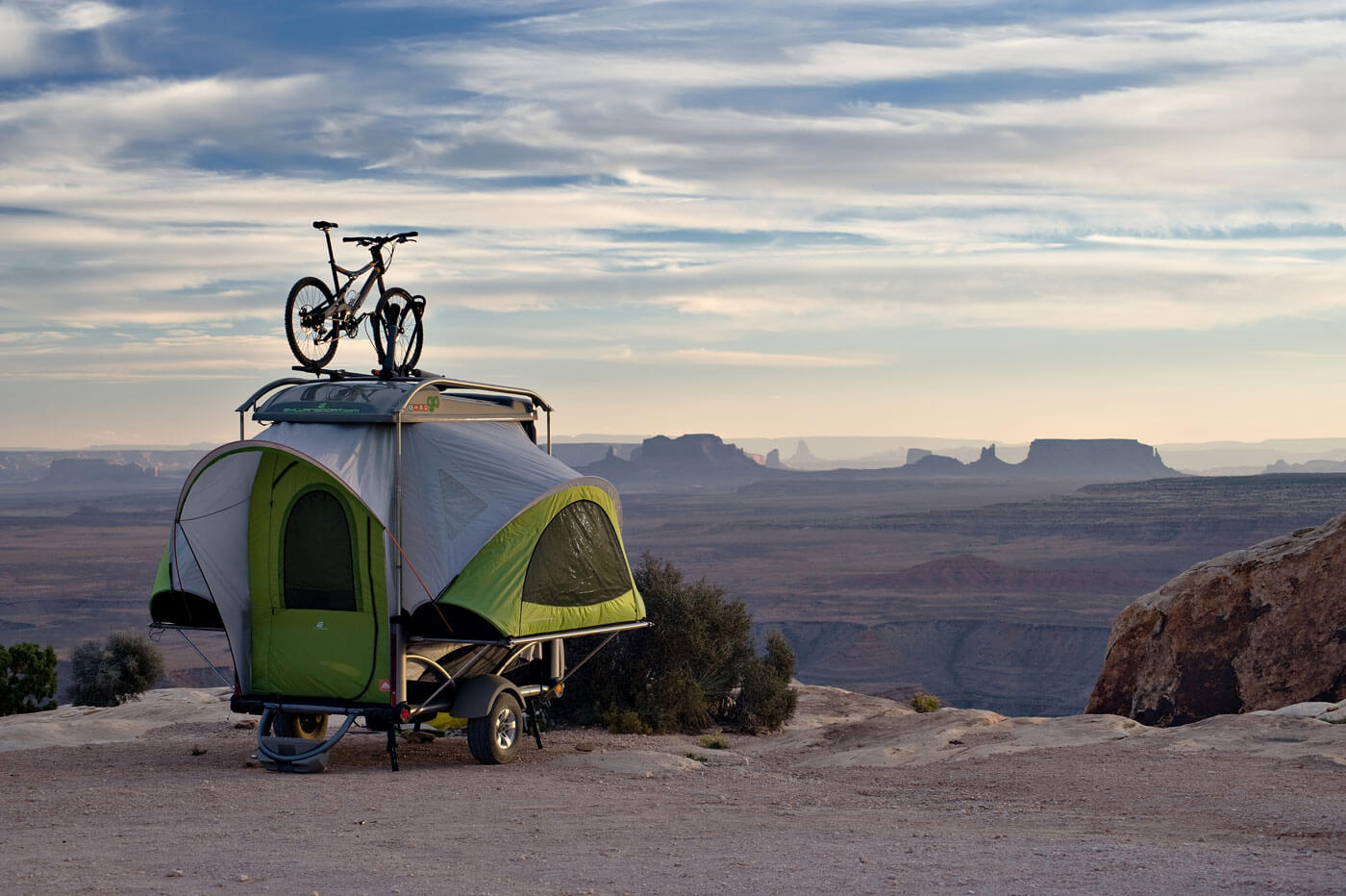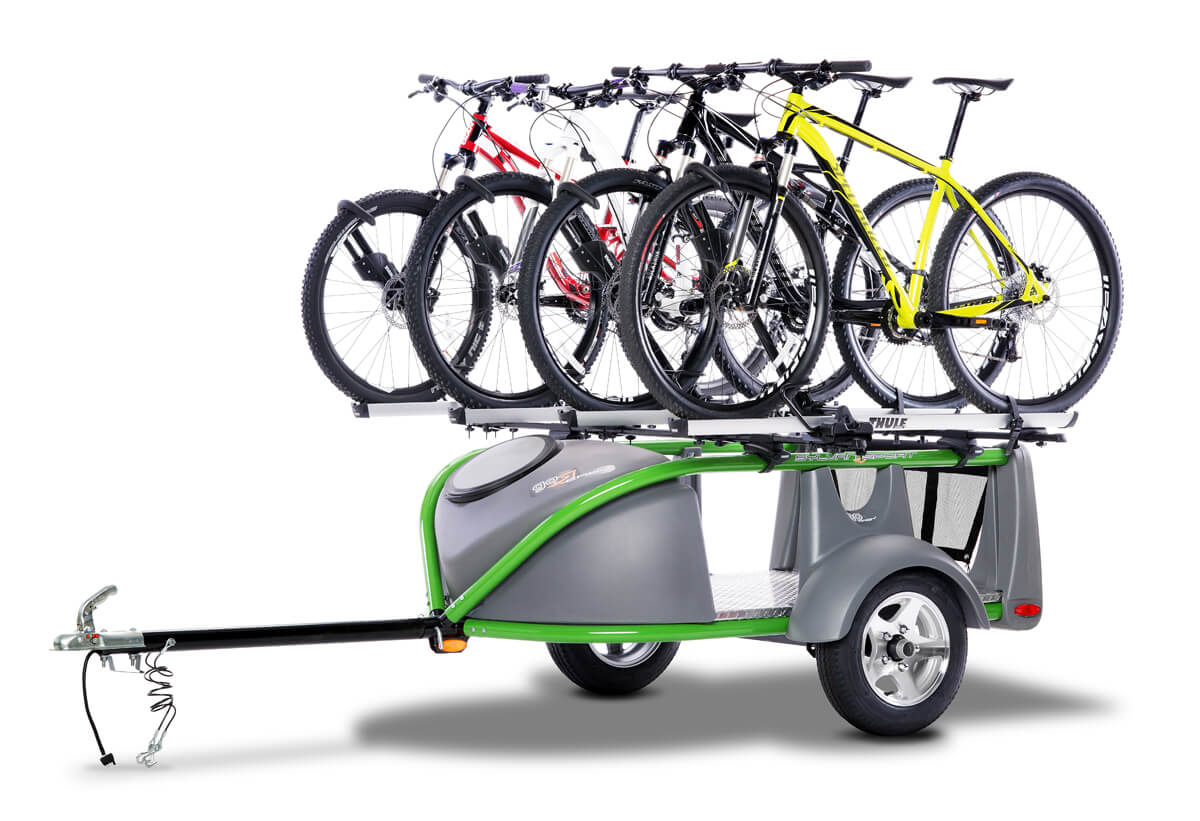 GO Easy Trailer Features Just for Cyclists
If you are looking for an even more compact bike trailer, GO Easy can haul up to 7 bikes. Weighing in at just 275 lbs, this micro trailer will tow your bikes behind any car, van, SUV, truck, or even a motorcycle.
GO Easy was ergonomically designed with a low height to make it very easy to load and unload bikes. No hoisting bikes up onto a rooftop car rack ever again. Plus, you get easy access to the cargo deck without having to remove anything.
Leave your GO Easy loaded up with your bikes and all the gear you'll need for a weekend getaway–then simply drop the one step coupler onto the hitch of your car and hit the road Friday afternoon.
If you are going on a full outdoor adventure, the GO Easy will also fit various combinations of bikes, kayaks, canoes, stand-up paddleboards—you name it—everything a cyclist needs for a multisport adventure vacation. This is the most versatile lightweight bike trailer out there.
Choose between the GO Easy Essential Cycling Package or GO Easy Ultimate Cycling Package. Both trailer options give you the capacity to carry up to 7 bikes. Standard features in both packages include:
A Thule CrossRoad 450 rack system with 78″ bars.
12″ DOT Speed rated tires.
Smooth riding, 600 lb. capacity torsion axle.
Safety cables and integrated tie down points.
Standard 2″ ball hitch coupler, 15″ ball height and flat 4-wire electrical system.
The GO Easy Ultimate Cycling Package, contains all the great features included in the Essential Cycling package plus:
An aluminum, diamond-plate cargo deck with 325 lb. capacity.
A front storage pod that gives your GO Easy and additional 6.2 cubic feet of weatherproof storage space.
A removable tailgate.
Cast aluminum sport wheel package.