Light Pop Up Camper
Looking for a Pop Up Camper That's Light and Easy to Tow?
Do you love the outdoors—but also love the comforts of the indoors? Bring the two into harmony with a GO pop up camper, a convertible trailer so lightweight that almost anything with four wheels and a hitch can tow it! Some pull-behind campers weigh in excess of 2,000 pounds—talk about gas guzzling! The smallest weigh around 600 pounds—but you often sacrifice cargo capacity and durability. GO weighs in right in the Goldilocks zone at 840 pounds. And it can haul more than it weighs, with 800 pounds of capacity on deck and another 160 pounds of capacity on the upper racks—nearly 1,000 pounds of total cargo capacity! Because the GO is so lightweight, it's the perfect camper for an outdoor lover with a small, efficient car or truck.
Cool Pop Up Camper, State of the Art Features
The secret behind GO's low weight, versatility, and durability is its all-aluminum frame designed and TIG-welded in-house here in the USA by the outdoor-loving engineers at SylvanSport. Among the many key features is the Control-Tilt cargo bed with pneumatic dampening system. This feature allows one person to easily hitch GO up to its tow vehicle. Once you're at the campsite, GO's tent system sets up in about ten minutes, so you can get to the fun parts of camping more quickly. When you're done for the day, set up the self-inflating mattress as two single beds or one bed equivalent to a king-and-a-half size mattress. No wonder National Geographic Adventure lauded GO as the "coolest camper ever!" Learn more about GO's great features for camping.
Lightweight—But Strong Enough to Haul All Your Gear
GO is more than a camper—it's the ultimate gear hauler. Even though GO weighs only 840 pounds, it can haul nearly 1,000 pounds of gear. What's that mean in adventure gear terms? It's the equivalent of a full-sized ATV, a mid-range motorcycle, or two dirt bikes. GO can haul a dozen kayaks, multiple canoes, or a whole lot of mountain bikes. GO gets you through your work days as well as your play days—perfect for moving, hauling, home improvement, yard, garden or farm work. The reinforced diamond-plate flooring can stand up to anything you want to haul!
Celebrate Life Off the Beaten Path
Headquartered in Brevard, North Carolina, SylvanSport tested its ultra versatile camping dream machine on the roads, hills, and trails of the Blue Ridge Mountains in Western North Carolina. The terrain is not only a rugged proving ground, but it's teeming with a variety of outdoor activities. Camping, kayaking, rock climbing, mountain biking, hunting—it's all here in the Blue Ridge. We wanted to build a light pop up camper capable of handling every one of those activities, sturdy enough to withstand the road and the elements, easy on the gas bill, and a breeze to operate. With those characteristics in mind, we created this light camper for your ultimate adventure.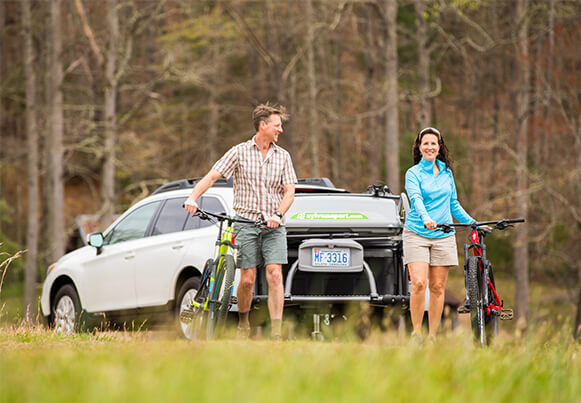 Disclaimer: SylvanSport recommends that all GO owners follow the guidelines set forth by their tow vehicle manufacturer. We do not recommend doing anything that would either void a warranty, or create an unsafe or uncomfortable situation. [For more information, refer to Terms, Section 4].