Camping: SylvanSport's GO Trailer Makes Camping Easy
Camping is more fun when you've got all the right gear, equipment, and toys you want. SylvanSport's GO is an ultralight camping trailer that you can use to turn any camping trip into an outdoor adventure vacation. GO will haul boats, bikes, floats, fishing equipment, coolers—you name it— and you can tow it behind almost any passenger vehicle.
The SylvanSport GO is a pop up camper with a sweet mountain tent that transforms into a boat, bike, motorcycle or ATV trailer; yet it's light enough that most passenger vehicles can tow it.
GO makes camping trips and adventure vacations easy and fun whether you head out for a weekend, week, or month at a time. SylvanSport trailers were created to carry all the stuff you need to play outdoors and then enjoy the most comfortable camping you've ever experienced.
The SylvanSport GO: A Pop Up Camping Trailer and Gear Hauler Built for Outdoor Adventures
If you love camping out in the great outdoors, but want more comfort than a tent on the ground , the SylvanSport GO camping trailer was designed for you. GO offers all the joys of tent camping without the discomforts. You'll enjoy sleeping out in nature, but up off the ground on a comfortable, level bed. No more worries about roots or rocks ruining your night's sleep (or causing back pain). The tent system is so easy to set up that one person working alone can convert the GO from a gear hauler to a cozy pop up camper in a comfortable 10 to 15 minutes.
A Few Reasons Why GO is the Coolest. Camper. Ever.
The GO camping trailer tent system includes a custom designed 220D Rip-stop Polyester tent and sturdy, DAC aluminum poles. The tent system is designed to be a lightweight, easy to use shelter from rain, bugs, sun, wind and weather. Here are some of the GO's great camping features:
Sleeps up to 4 adults comfortably.
Comes with 4 insulated, self-inflating mattresses.
The mesh ceiling allows for cross ventilation.
The interior configures easily into various floorplans, including an optional fold-down table.
Built in windows offer stargazing from your cozy bed.
Designed with 4 stabilizer jacks that create a level, stable platform.
Large weatherproof awning provides over 80 sq. ft of shelter—large enough to fit a picnic table!
With 13 inches of ground clearance and sturdy tires, the GO can maneuver over rough roads to reach your campsite.
GO integrates with great camping accessories such a
1 Pop Up Camper, 4 Floorplan Configurations
The SylvanSport GO comes with 2 bed/table panels that can be used to create various floor plans to meet your needs. These large bed panels are made with a lightweight honeycomb construction and a sturdy aluminum frame. Each panel can hold up to 350 lbs. The panels store neatly in the overhead camping pod when not in use.
Choose Your Floorplan Option
You can configure the GO's built-in furniture to meet your needs. Choose from:
2 twin beds or bench seats
2 twin beds or bench seats with a table
2 twin beds with a table and a bench
1 king-and-a-half sized bed that sleeps four with a weatherproof storage space below the bed
Camping Mode Dimensions
Standing Height                                 77"
Trailer Size                                           154" x 124" x 108"
Interior Floor Dimensions                48″ x 84″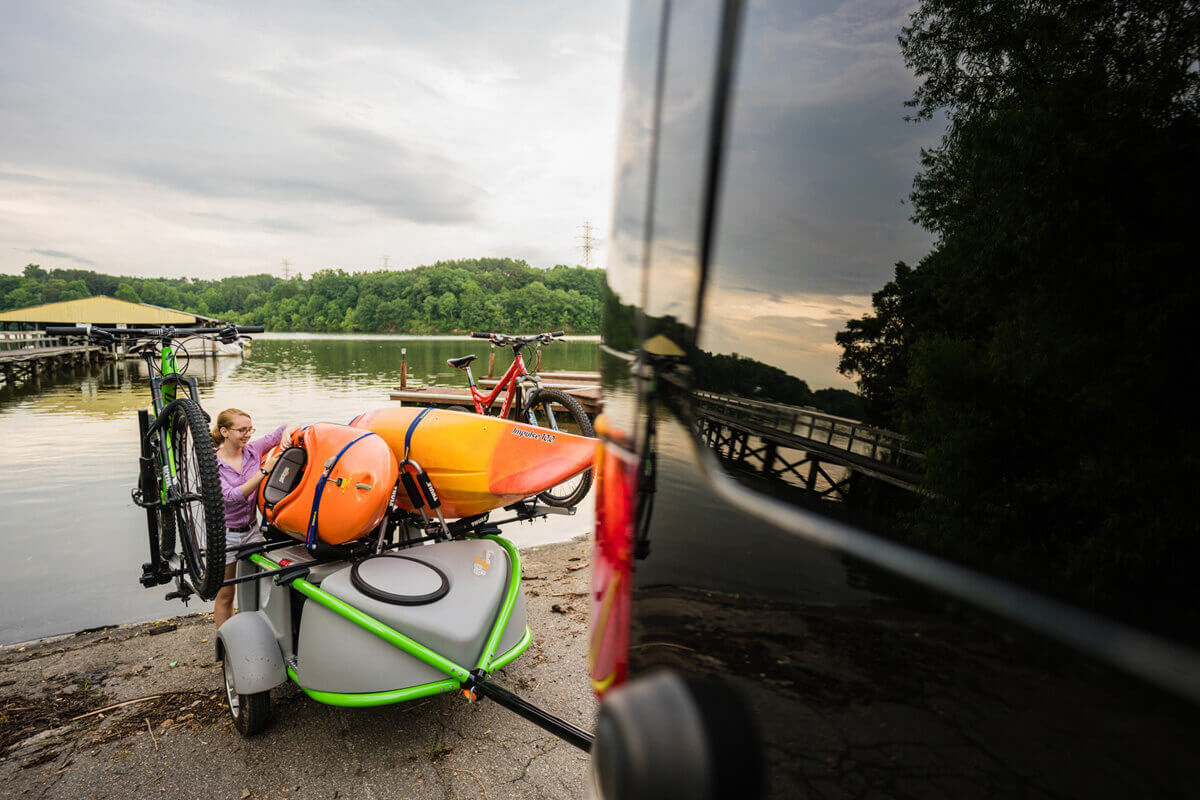 GO Easy: Totally Towable Lightweight Trailer
If you're looking for a minimalist trailer option that is even more lightweight than GO, yet allows you to haul up to 525 pounds of camping gear, check out GO Easy.
GO Easy is functions as a "roof rack on wheels." Weighing in at just 275 lbs, this microtrailer is light enough to be towed by just about any car, van, SUV, truck, or even a motorcycle—but sturdy enough to hold a lot of camping equipment and gear along with a combination of bikes, boats, or coolers.
GO Easy is an easy-to-use pull behind trailer that frees up room in your vehicle for friends and family—while offering plenty of room for toys and gear. GO Easy can haul enough gear to turn any camping trip into a full-on outdoor adventure.