Motorcycle Tent Trailer
Those who love the open road should not have to sacrifice the comforts of home. If you're looking for the best way to transport your motorcycle and sleep comfortably off the ground at night, the SylvanSport GO is the perfect motorcycle trailer for you! The hydraulically dampened control-tilt decks allows for easy ramp-free loading, to get you on the road quickly. Once you arrive at your favorite destination, you'll love how quickly this trailer converts into a roomy and comfortable pop up tent camper. Wake up rested and ready to hit the road! Learn about GO's great features for motorcyclists.
Tow a Mid-Size Motorcycle in This Lightweight Tent Trailer
The GO is an ultralight, aluminum tent trailer designed for fuel efficiency—but it's built for maximum toughness! The GO weighs just 840 pounds, but it can haul up 800 pounds on the deck, plus another 160 pounds on the upper racks. This means you can carry a mid-sized motorcycle, with room for more. Your bike will ride safe and secure, as if it had never left the garage. This combination of a lightweight frame with burly carrying capacity means you can haul your bike behind just about any car or truck, without draining your bank account at the gas pump.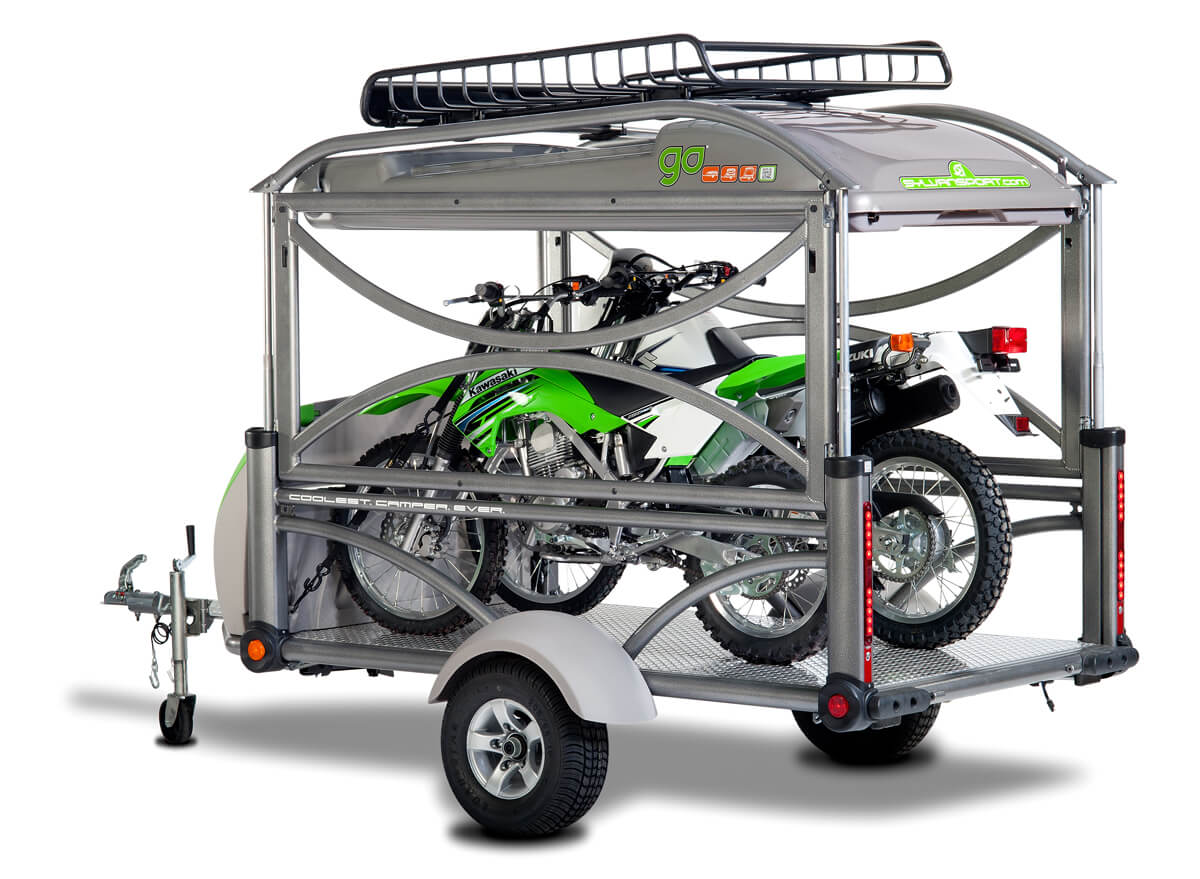 Family Camping Vacation Meets Motorcycle Road Trip
There's a reason why you own a motorcycle. It's the awesome power and freedom that comes with saddling up your bike and getting out onto the open road. But… your motorcycle may not be the best way to take your family on vacation. Now, you can take that family camping trip without leaving your bike behind. Carry your motorcycle with you to your destination. Then, unload it, and in a matter of minutes, turn your GO into a spacious pop up tent for four or more people. There are four luxurious air mattresses built in, so you'll all sleep well. Make your family  vacation the complete badass experience by bringing your motorcycle along.
Save on Hotels with Your Motorcycle Tent Camper
Headed to Daytona for Bike Week or up to Sturgis for the Rally? Exploring new parts of the country? Got a far off destination in mind? Awesome. But where will you sleep? If you're stopping at hotels every night, the costs of your road trip add up fast. Or you can travel in the safety and comfort of your car, breaking out your motorcycle for the fun parts. That way, you can sleep economically outdoors as you cross the country—but with all the comforts of home.
Groundbreaking Engineering and US Made Quality
As a motorcyclist, you love a well-made machine. So, we think you'll appreciate the SylvanSport GO, made in the USA and hyper-engineered for ultimate performance. This extraordinarily versatile trailer reconfigures effortlessly between Travel Mode, Transport Mode, and Camping Mode. Loading and unloading your bike and other gear is easy with the Control-Tilt deck offering a convenient loading ramp. One person can easily attach or detach the trailer from your vehicle, using our custom-designed one-step coupler. TIG-welded aluminum construction makes the GO motorcycle trailer lightweight and fuel-efficient, while rugged enough take on any terrain and any weather. Quality is paramount at our factory in Brevard, North Carolina, where we make each and every GO—so you can have the ultimate motorcycle adventure. We've won numerous awards for design and engineering. Check out the GO and see why.
Disclaimer: SylvanSport recommends that all GO owners follow the guidelines set forth by their tow vehicle manufacturer. We do not recommend doing anything that would either void a warranty, or create an unsafe or uncomfortable situation. [For more information, refer to Terms, Section 4].