Lightweight Tent Trailer
The engineering team at SylvanSport has reinvented the traditional camper trailer and created GO, the ultimate lightweight tent trailer and pop up camper. So much more than a mere tent on wheels, the GO can haul multiple bikes, kayaks, canoes, paddle boards – whatever your gear of choice, up to nearly 1,000 lbs! When you find your perfect spot in the great outdoors, just unload your gear and set up the pop-up tent. Almost instantly, you have a spacious tent for four or more people (complete with air mattresses for a great night's sleep). Then you can kick back and enjoy the comforts of home in the beauty of nature.
This Lightweight Trailer Can Haul A Surprising Amount of Gear
Wherever your adventurous spirit may lead you, GO will get you there in style with whatever gear you need, in just about any combination. You can spend one day kayaking, another biking, another surfing, and everything in between… The GO can carry a full dozen bikes or kayaks, so bring all your friends. Or load it up with canoes, stand up paddleboards, an ATV, a small boat, a motorcycle—you name it! Plus, the GO includes a 9 cubic foot water-tight storage box for keeping gear and essentials handy and dry. Yet, this all-aluminum GO trailer weighs only 840 pounds, making it light enough to tow behind just about any car or truck.
Then It Transforms Into a Modern Pop Up Tent Camper!
If you love to spend your nights outdoors, breathing the fresh air and gazing up at the stars, but you're not crazy about uneven campsites on the cold ground with lumpy roots and rocks under your back, you'll love this modern, convenient pop up tent system. Everyone will get a good night's sleep with four self-inflating air mattresses that add up to a king-and-a-half size bed (or a couple of smaller beds, however you want to configure them). You'll stay snug and secure in this low-maintenance Kelty-made tent system. And you can do your cooking, eating and hanging out under the extended canopy, sheltered from the rain or shaded from the sun. Learn about GO's great camping features.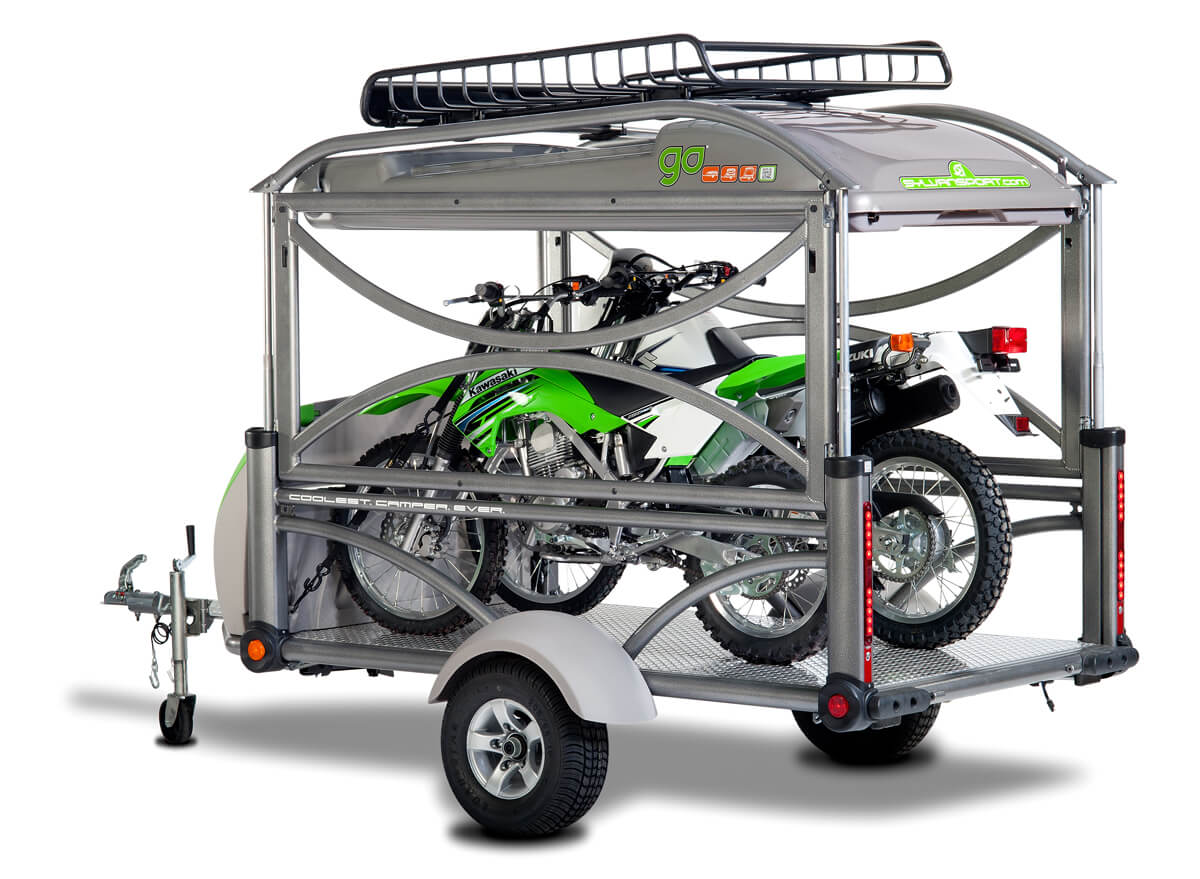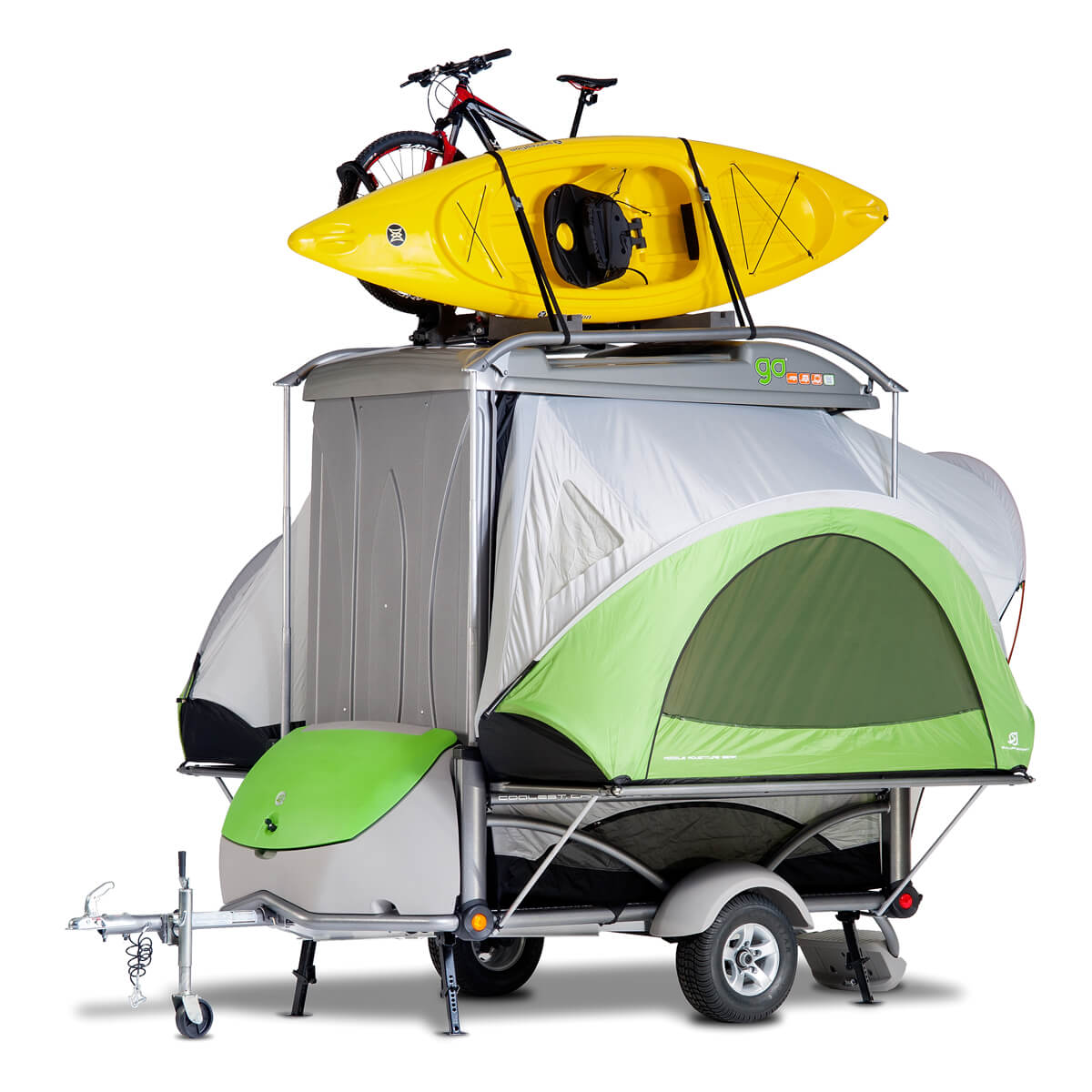 Why Choose a Lightweight Tent Trailer Over an RV
More people are transitioning away from large, gas guzzling SUVs and trucks, but people still want to travel and play. That is why SylvanSport developed a tent camper that's light enough to haul with any four cylinder vehicle with a hitch. Got a small car? Love your fuel efficiency? You're good to GO. Unlike RVs, the GO can easily be hitched and unhitched by one person, with no tools. And unlike traditional pop up tent campers, GO can carry loads of equipment both on its deck and on the universally compatible upper rack system. With the money you'll save on gas, you'll get out way more often in this lightweight tent trailer than a hulking RV.
Big Adventures with Your Perfect Tent Camper
Your adventures are limited only by your imagination, with this go-anywhere, take-it-on tent camper. Load it up with your favorite mountain bikes and backpacks and take off on a mountain expedition. Or, put on a couple of road cycles for a gentle afternoon excursion on the local back roads. Roll a dirt bike or ATV on with ease, using the GO's Control-Tilt cargo bed and head out for some mudding. Pile on all your friends' kayaks, paddles, and life jackets and hit the rapids. Grab a couple boards and head out for some surf. Or take your sleeping bags, a telescope, and your sweetheart, and get comfortable on the GO's air mattresses as you leave your tent awning unzipped under nature's night sky. The world is a wonderful place. Come see it with SylvanSport's lightweight tent camper.
Disclaimer: SylvanSport recommends that all GO owners follow the guidelines set forth by their tow vehicle manufacturer. We do not recommend doing anything that would either void a warranty, or create an unsafe or uncomfortable situation. [For more information, refer to Terms, Section 4].