Motorcycle Pop Up Campers
Turn Your Trip into an Adventure with a GO Motorcycle Camper
Freedom and good times, that's what a great bike embodies: your head to the wind mile after mile. But let's widen the scope a bit: What about weather? What about passengers? What about sleep? SylvanSport's GO motorcycle camper is the perfect tag along.You can easily haul your bike with a GO motorcycle trailer and pop up camper.
Lightweight, heavy-duty, and super-versatile, this American-built camper-trailer was designed for the intrepid spirit. Immerse yourself in a long haul ride with confidence knowing you've got your own back in the face of practical obstacles like rain, flat tires, and No Vacancy signs. Learn more about GO features for motorcyclists.
A Pop Up Camper Built for the Biker Experience
Hauling motorcycles can be a pain, but GO camper trailers are stress-free and will make hauling your bike and the rest of your gear easy! An easy load system and plenty of hauling space make the GO an incredibly unique pop up camper built for motorcycle adventures. What truly sets the GO apart is that after you get to your destination with your bike… your motorcycle trailer transforms into a pop up camper within minutes. Offload your ride with ease down the ramp, unfurl the Kelty tent structure, and set up your tent camper complete with king-size (and a half!) self-inflating mattress, zip-on awning, and stargazer windows. This motorcycle pop up camper will exceed all of your expectations!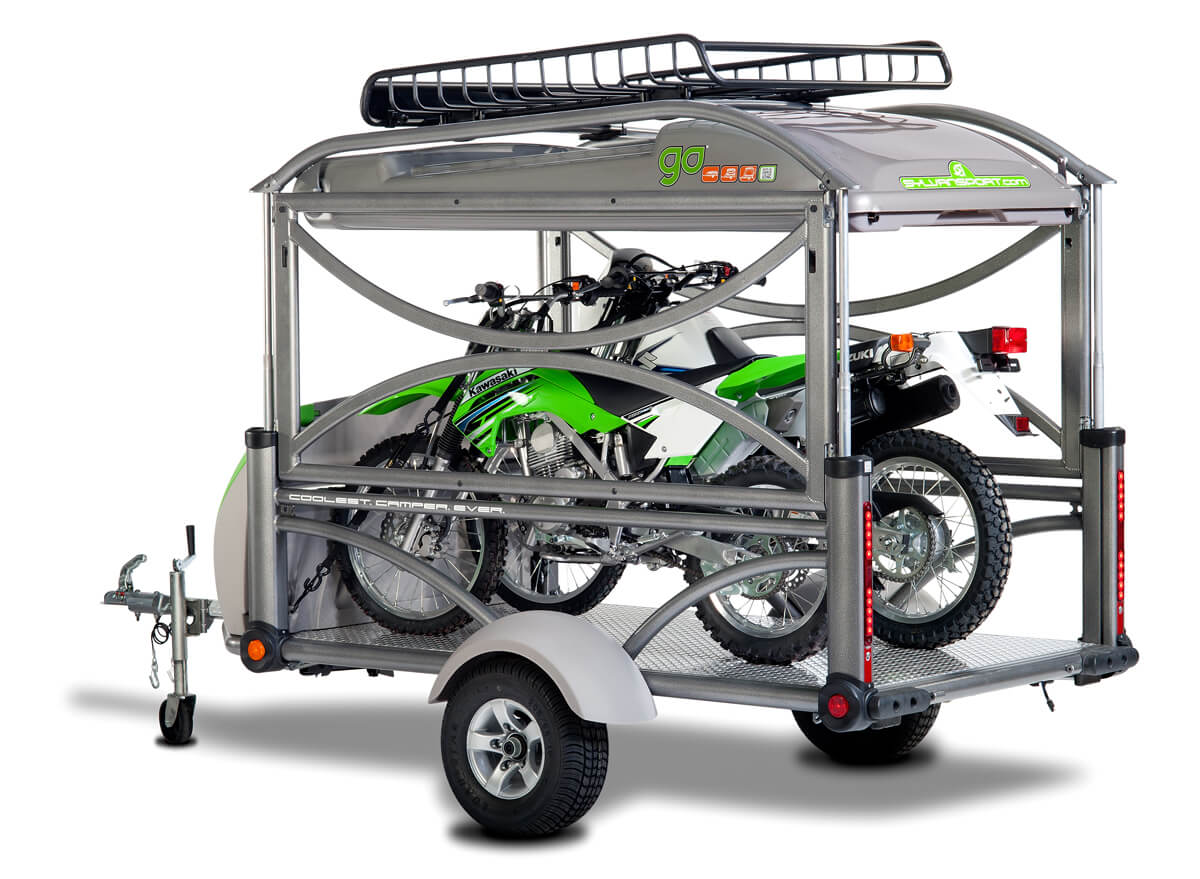 The Perfect Motorcycle Camper-Trailer for Small and Medium Size Bikes
GO weighs 840 pounds and can carry a load of 800 pounds on deck—plus more if you're using the rack system. That's enough to haul two dirt bikes, a full-sized adult ATV, or—most importantly—a mid-sized motorcycle. The smaller your load, the smaller your tow vehicle needs to be, and the more comfortable traveling can be. GO is so easy to use, it's no problem to strike out alone. It only takes one person to hitch GO up to your vehicle, so you can hit the road and soak up the sights in solitude, though a friend is always welcome for the ride.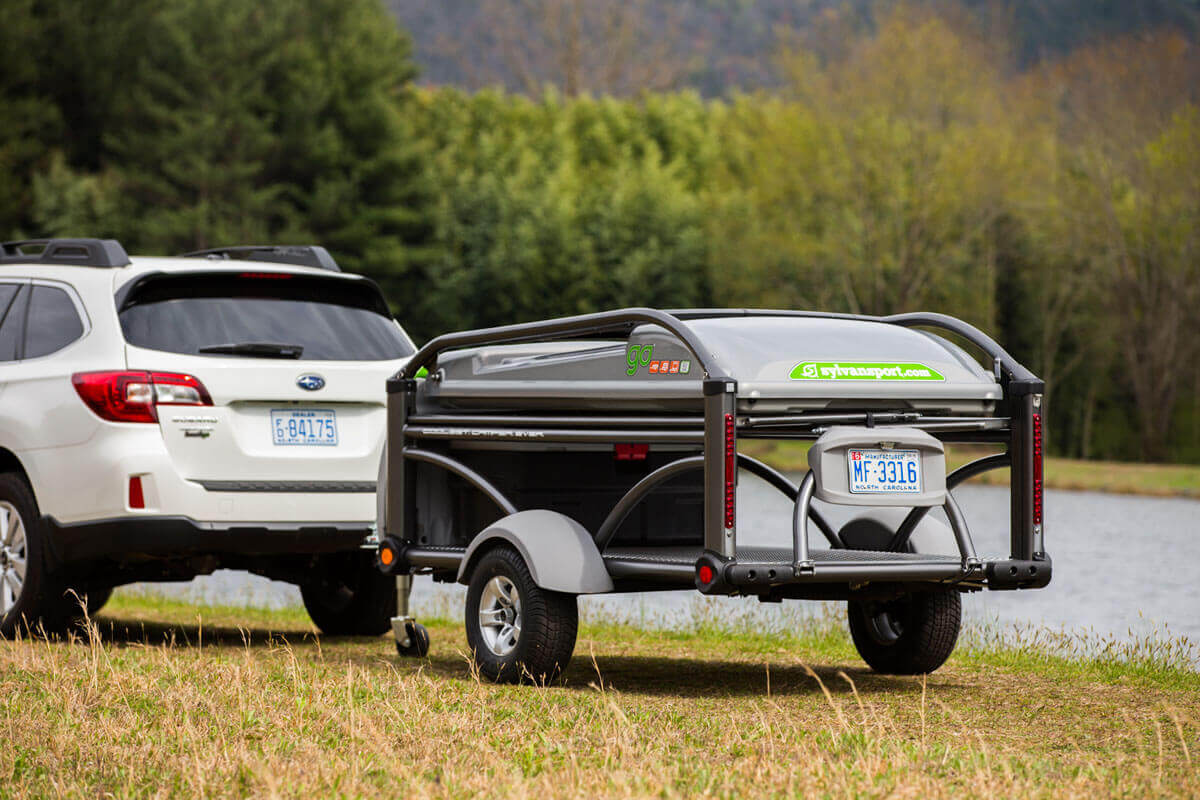 Tow This Motorcycle Pop Up Camper with Just About Any Vehicle
Whether you're hauling your bike to the rally, a killer music fest, or the big race, the GO motorcycle camper can get you there with gusto—no matter what you're driving. It's lightweight,  all-aluminum frame and aerodynamic design mean improved towing gas mileage. And this pop up camper is so light that you can tow it with almost any vehicle—truck, SUV, Subaru, or small car. We designed the GO motorcycle camper to be as universal as possible, so odds are if your vehicle's got a hitch and four wheels, it'll tow the GO. Of course, we recommend that you follow the guidelines from your vehicle manufacturer, making sure not to void your warranty or create an unsafe situation. Learn more about tow-vehicle requirements.
GO Motorcycle Campers: Made in the USA and Built to Last
SylvanSport designed and built our first GO motorcycle pop up camper in Brevard, North Carolina, taking full advantage of the rugged trails and winding mountain roads in the Blue Ridge Mountains to refine the prototype into the versatile, durable specimen you see today. Each GO camper trailer is still built and assembled in our Brevard headquarters—right here in the USA—from the all-aluminum TIG-welded frame to the self-lubricating hubs and waterproof electrical system. Learn more about GO.
Disclaimer: SylvanSport recommends that all GO owners follow the guidelines set forth by their tow vehicle manufacturer. We do not recommend doing anything that would either void a warranty, or create an unsafe or uncomfortable situation. [For more information, refer to Terms, Section 4].