Pull Behind Trailer
Ever want to go on a family camping trip, but don't know how to get all of the equipment up the mountain? The SylvanSport GO is the perfect pull-behind gear trailer to get you to your destination with everything you need. Whether you are carrying bikes, surfboards, snowboards, kayaks, a motorcycle or an ATV, GO is designed to safely haul all of your gear, so that you can fully enjoy your outdoor experience.
Two Pull Behind Trailer Options — Pop Up Camper or Micro Trailer
SylvanSport offers two great pull behind trailers designed for outdoor adventure. GO gives you the full monty, with nearly 1,000 pounds of carrying capacity. Then, when you get there, GO transforms into a cool a pop up camper that sleeps 4+ people. If you're just looking for a simple and versatile pull behind trailer, the GO Easy is a great, budget-friendly option. Despite its compact, streamlined size, GO Easy is a hard core, easy to use pull behind trailer that's great for work or play. Both trailer options are designed to be lightweight enough to tow with just about any vehicle—from an SUV to a small car.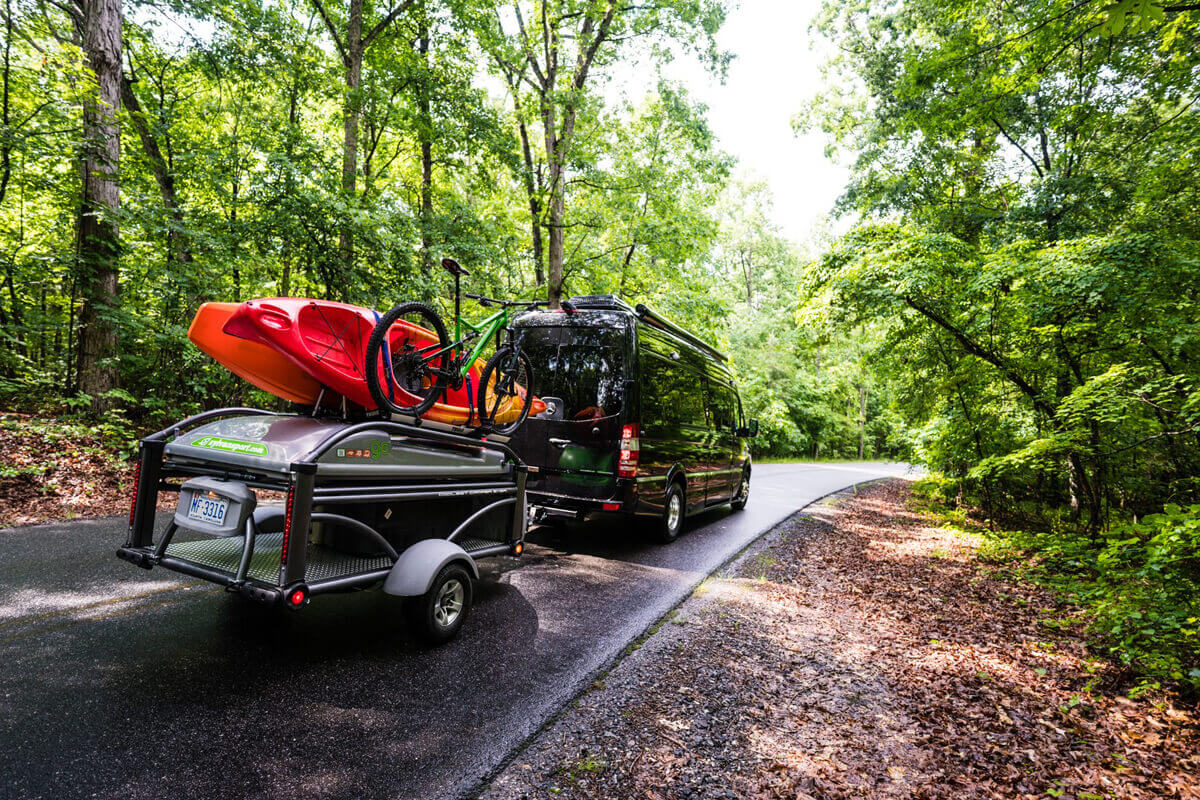 Amazingly Versatile Camper / Trailer Can Haul All Your Adventure Gear!
Have a load of outdoor gear, but don't know how to get it from one place to the next? GO is an amazing pull behind trailer that can carry more than a dozen bikes or kayaks with 39 cubic feet of storage space on the deck. This pull behind trailer conveniently weighs in at a mere 840 pounds and can even carry a motorcycle or ATV. The GO pull behind trailer is equipped to haul anything you have to wherever it needs to go. You even have choices about how you want to haul your gear—in the more compact Travel mode or the expanded Transport mode. When you get there, convert the GO to Camping mode and you're home for the night!
A Kayak Trailer You Can Pull Behind Almost Any Vehicle
The GO is a one-of-a-kind pull behind trailer that is perfect for all kayaking trips.  Not only can GO fit up to a dozen kayaks, but it also includes a waterproof storage box. The lockable waterproof storage box has 9 cubic feet of storage that doubles as a cooler. Load your kayaks, get on the road, and have yourself an adventure! If you're interested in the GO Easy, our smaller pull-behind trailer, you can get it in a Boating Package that's specially designed for kayak adventures.
Bike Adventures? This Easy-to-Tow Trailer Has Everything You Need
Don't let hauling gear be another obstacle that gets in the way of you and your biking adventures. GO can carry up to a dozen mountain or road bikes so that you can head out with full energy and all your friends. You'll appreciate the custom aluminum extrusions, fully tig-welded frames, and an overall sturdy construction. No matter what kind of vehicle you drive, you can easily tow either the full-size GO or the compact GO Easy to your destination and bike your heart out!
So Much More Than Just a Trailer—Ideal for Camping and Hiking Vacations
SylvanSport's GO is a pull behind gear trailer that truly embodies the spirit of the outdoors. GO comes equipped with a comfortable pop-up tent that you can easily assemble in less than ten minutes so it's a breeze to set up your camp. You'll love the self-inflating mattresses, fold-down table, let-the-air-in ventilation, and stargazing windows. Then just hit the trails! SylvanSport GO is a Swiss Army Knife of a pull behind trailer that can transform into whatever you need to suit your camping and hiking adventures.
Disclaimer: SylvanSport recommends that all GO owners follow the guidelines set forth by their tow vehicle manufacturer. We do not recommend doing anything that would either void a warranty, or create an unsafe or uncomfortable situation. [For more information, refer to Terms, Section 4].