Lightweight Kayak Trailer
 The GO EASY is a watertight, lightweight kayak trailer that makes hauling your boats and bikes a breeze. There are countless ways to get outside, but there is only one way to GO EASY—the ultimate way to safely and conveniently transport all your essential adventure gear.
lightweight towable
kayak and bike trailer
up to 4 Boats/Bikes
*optional gear deck & storage box
THE HAULER
YOU'VE BEEN
LOOKING FOR
Low load height
Ultralight maneuverability
Simple click coupler
Multi-sport rack system
Integrated tie down points
Gear hauling cargo space
Powder coated steel
Smooth riding torsion axle
Submersible LED lighting
"My GO EASY has been a great little trailer for me, and have traveled from Windsor, Ontario to Paris Tennessee, in March, and Burkesville, Kentucky, in April. Going to Kentucky Dam Village Resort in two weeks also with the GO EASY. I pull two Hobie Pro Angler 14 Mirage Drive Kayaks with it. I have to look back to see if the trailer is there sometimes it is so light and quiet."
"Well, we have had this trailer now for a couple of weeks, and couldn't be happier. We have taken our 3 kayaks and two bikes out half a dozen times already, and are impressed by how easy it is to load and unload this trailer. It is easy to tow, and has plenty of storage. We have also had people ask us about it virtually everywhere we go. Great buy!"
"The GO EASY is actually the first trailer that I've purchased. I love how versatile it is, although so far I've mainly used it for my kayaks and mountain bikes. I'm sure many of you know the struggle of lifting a fully loaded kayak to the top of your car by yourself, and when I got this trailer it almost seemed too easy! I also like how I didn't need to purchase any new specialty mounts for it, I could just use the ones I had on my car."
"I live in southern Florida. I am retired military/disabled Vet. I research any purchase with extreme thought and detail. I have two fishing kayaks made by Hobie, a Pro Angler 12 ft and 17 ft and are both heavy and large. The GO EASY lets me get them to and from the water with ease. I also really value how easy it is to remove the tow bar the maximize my garage space while having the kayak rest on the crossbars. (The GO EASY) is a truly great design, clearly engineered with great thought & detail and quality materials. The versatility seems limitless, it's so simple. The GO EASY was expertly packed and delivered on-time. To the entire team at SylvanSport "thank you!" A job/product extremely well done!"
Maximize your adventure with the multi-use rack system that lets you customize your kayak trailer to carry boats, bikes, gear…or all of the above!
36″ loading height (optimal for loading boats and bikes)
up to 4 boats/bikes
79″ crossbars and towers
165lb carrying capacity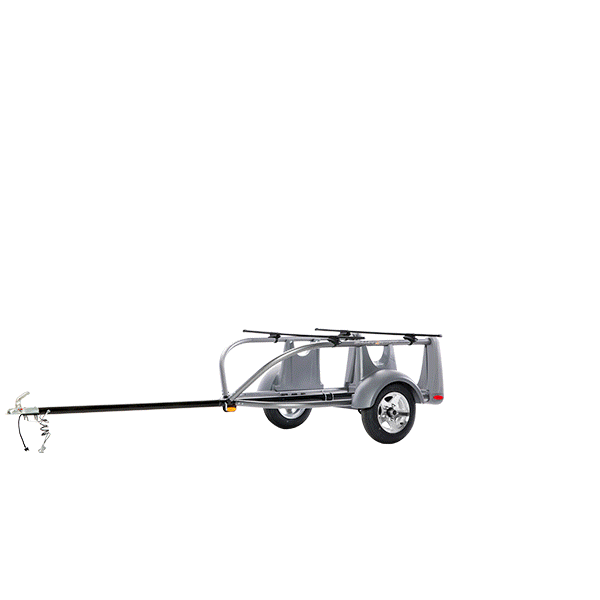 Add the functionality of a utility trailer to your GO EASY kayak trailer. The molded Essential deck provides lightweight versatility that allows you to haul off your gear, too!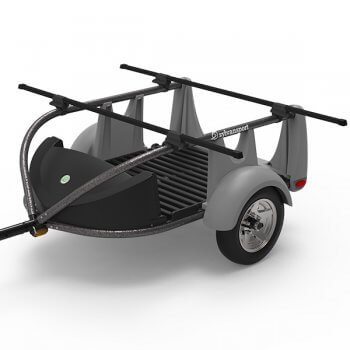 The GO EASY Ultimate features a diamond plated gear deck so in addition to boats and bikes, you can load the coolers, gear, & totes too!
44″ x 43.5″ x 15″ diamond plated deck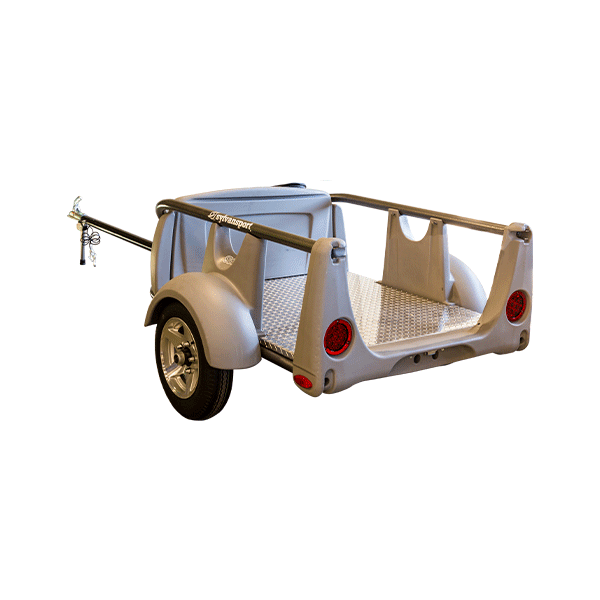 Get 6.2 cubic feet of weatherproof storage with the GO EASY Ultimate. Rotomolded for durability and a kayak-style hatch cover for easy access.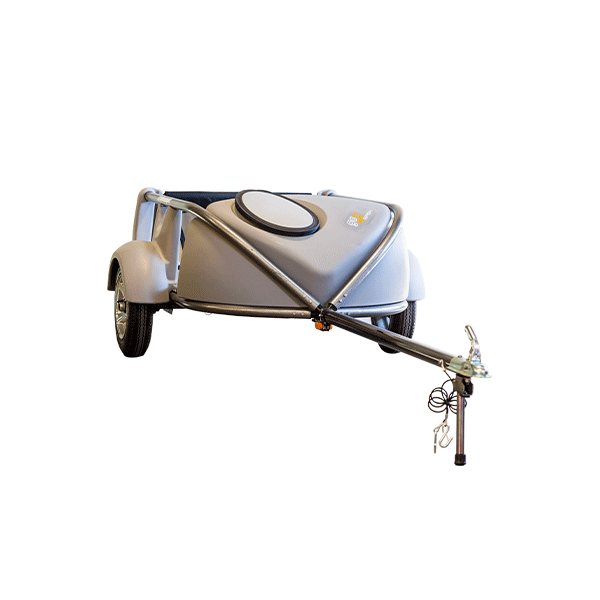 * included with the GO EASY Essential  ** included with the GO EASY Ultimate
The optimal 36" crossbar height helps you load your gear comfortably and safely. Whether you're loading a 100lb fishing kayak or a 16lb road bike onto this kayak and bike trailer, you only have to lift to waist level.
Just about any size and any type of vehicle can tow this ultra-lightweight kayak trailer. Plus, the low tongue weight makes maneuvering a breeze.
The wiring harness and LED lights are completely waterproof so you can back right into the water to slide your boats off and on.
The high-grade steel frame and tongue form a durable, rigid skeleton that is built to last. The heavy-duty powder coating prevents peeling and corrosion. 
The rotomolded components (fenders, rear end, and storage box if applicable) are made from the same material and process as high-end kayaks, for durability you can trust.
Custom-tuned Dexter torsion axles provide a smooth ride, whether you're loaded down or not, unlike leaf spring suspension which tends to bounce while driving.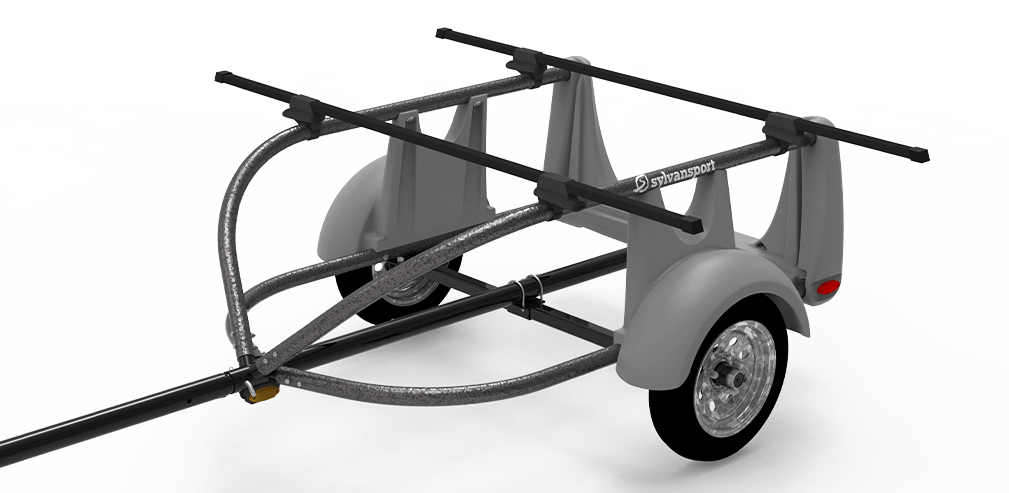 powder-coated steel frame
rotomolded fenders & tailgate
ergonomic coupler with safety cables
waterproof LED lighting system
79″ crossbars & towers
galvanized steel wheels
75″ tongue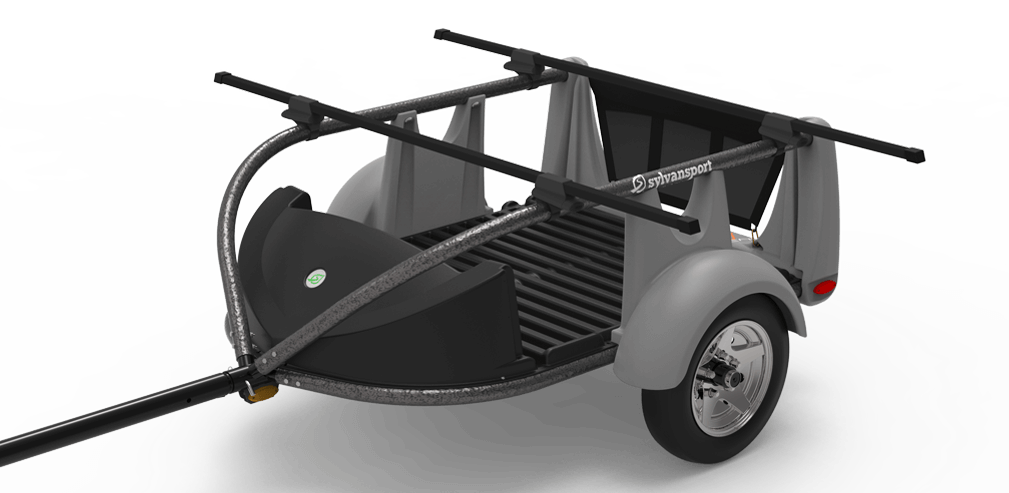 everything in GO EASY, and…
molded polyethylene gear deck
removable mesh tailgate
integrated tie downs
aluminum wheel package upgrade
kickstand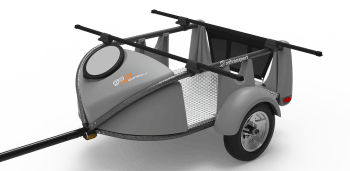 everything in GO EASY, and…
rotomolded, watertight front storage box
aluminum diamond-plate gear deck
removable mesh tailgate
aluminum wheel package
kickstand
mounted spare tire kit
The GO EASY is the most versatile boat, bike, & gear hauler on the market. Plenty of trailers can transport multi-sport equipment, but none can match the GO EASY cargo capacity or its ability to store upright in your garage.
When you compare the materials, craftsmanship, and features of the GO EASY kayak trailer, you'll agree there is nothing else like it out there.
Designed, engineered, and manufactured 
in Brevard, North Carolina.