$2,000 off all 2024 GO campers
offer valid through december 20, 2023
Award-winning, do it all camping trailer
Lightweight & towable by small cars, trucks, EVs, and SUVs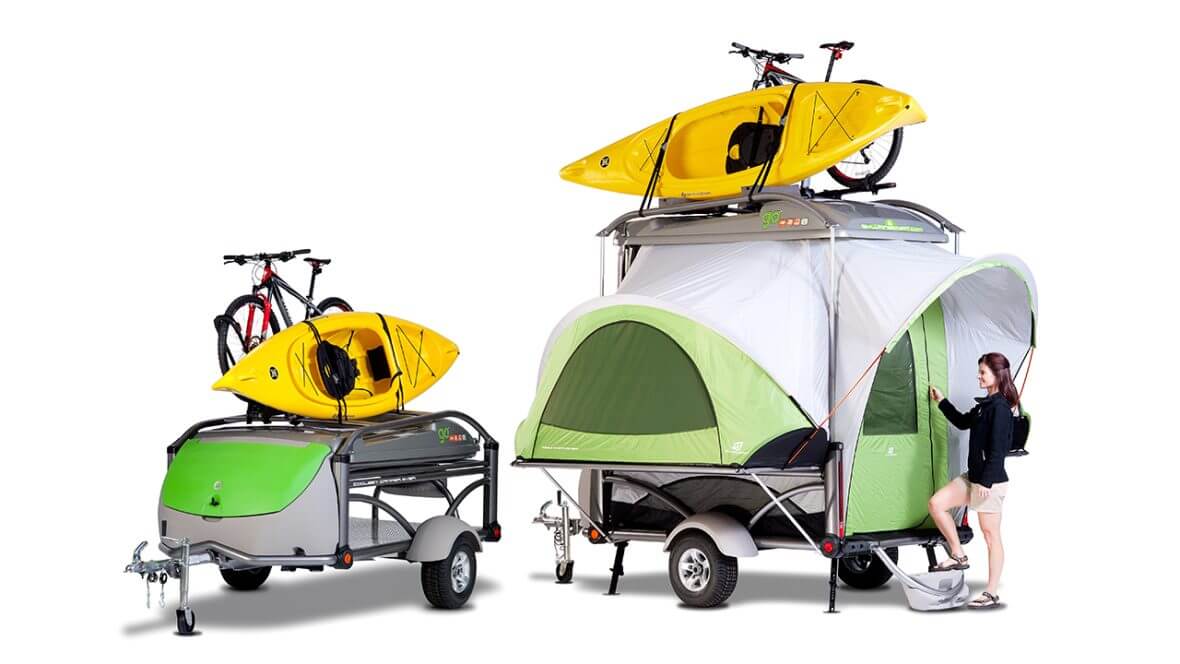 Download the 2024 GO Catalog
Tow with most vehicles and EV-friendly
Best in class cabin space
The Perfect Pop-Up Camper
GO is a comfy, lightweight camper that is also gear & toy hauler and utility trailer! The award-winning design of the GO stores the entire camper in the upper grey tent pod, leaving a versatile cargo area that lets you carry all your gear and toys, and even functions as a utility trailer.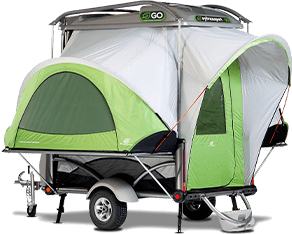 Stretch out & get comfortable.
Sleeps up to 4 adults
Standing room for up to 6' 5"
Fold-down dining table
Multiple interior configurations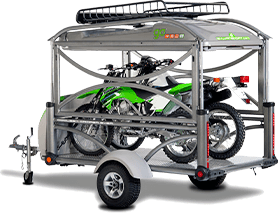 Bring your dirt bikes or ATV...
Carrying capacity: 810lbs

Cargo dimensions: 4' x 4' x 7'
Haul toys, gear, furniture, boxes, etc
Tent is stored in grey pod…camper is always with you!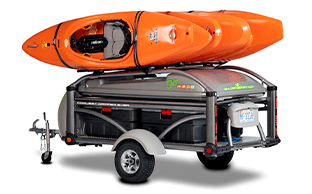 and your bikes and kayaks too!
Low profile, aerodynamic design

Rack system carries bikes, kayaks, etc
Cargo area for bins, coolers, and more!
Optimal load height for your gear…lower than most cars.
THE BEST IN CLASS CABIN SPACE. Multiple configurations let's you customize the interior to fit your needs. A king-and-a-half sized sleeping area fits a family of 4 + Fido and more!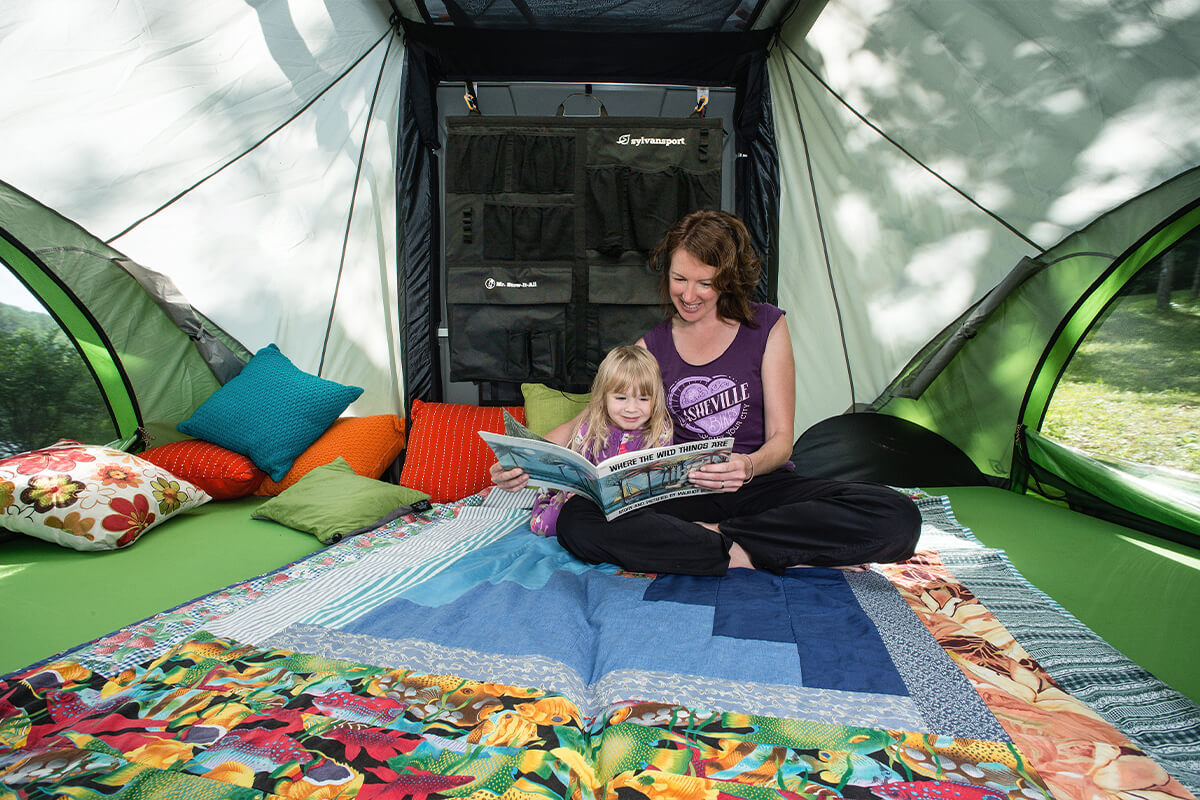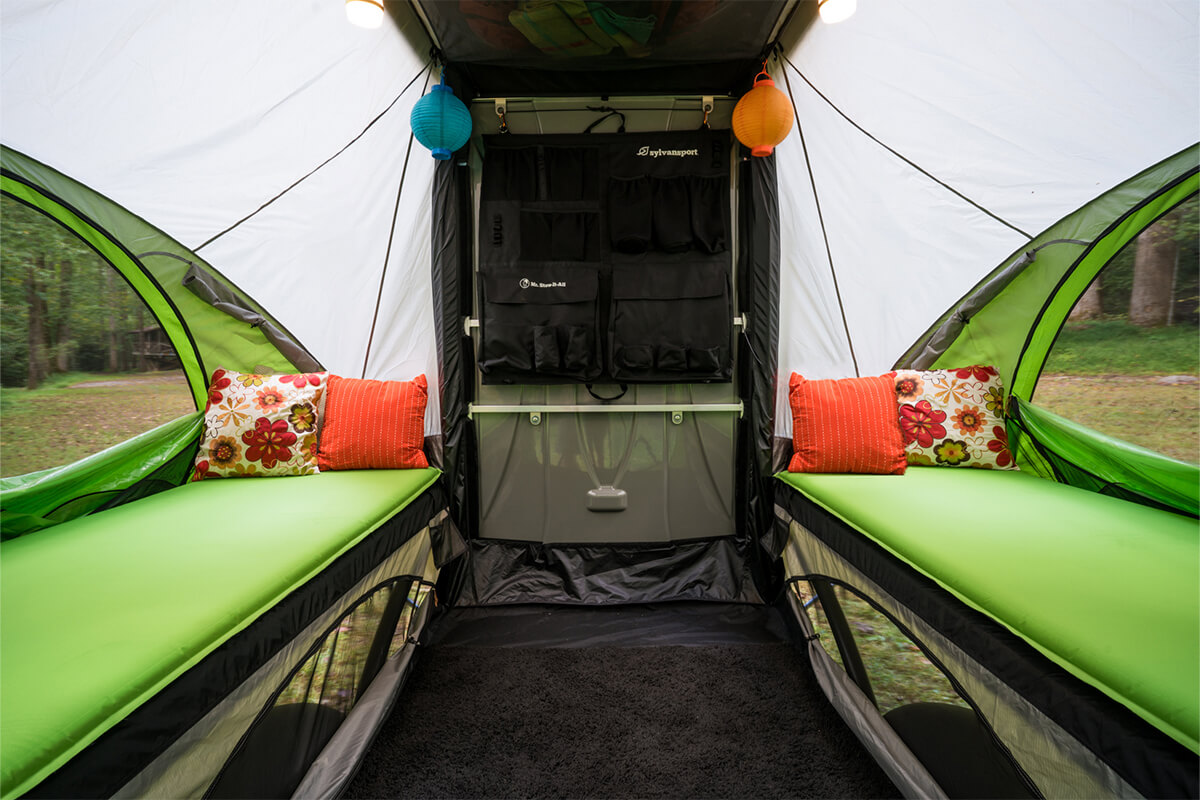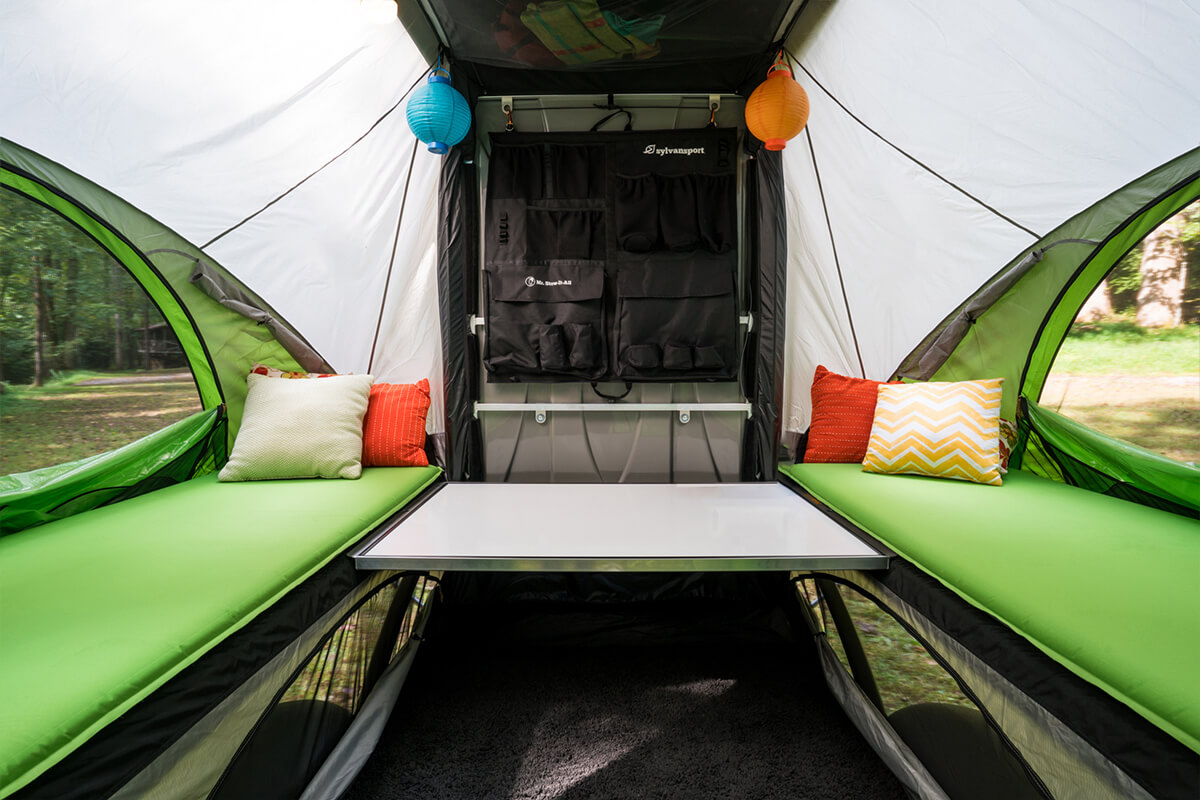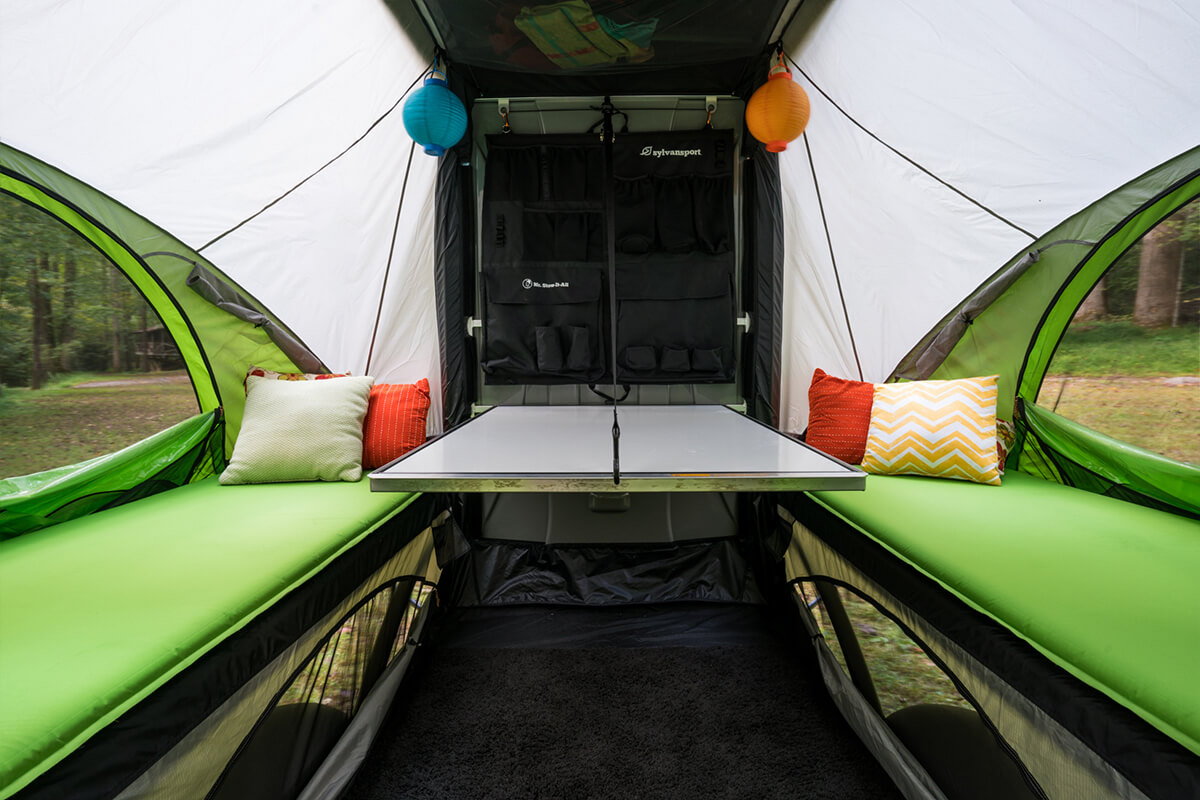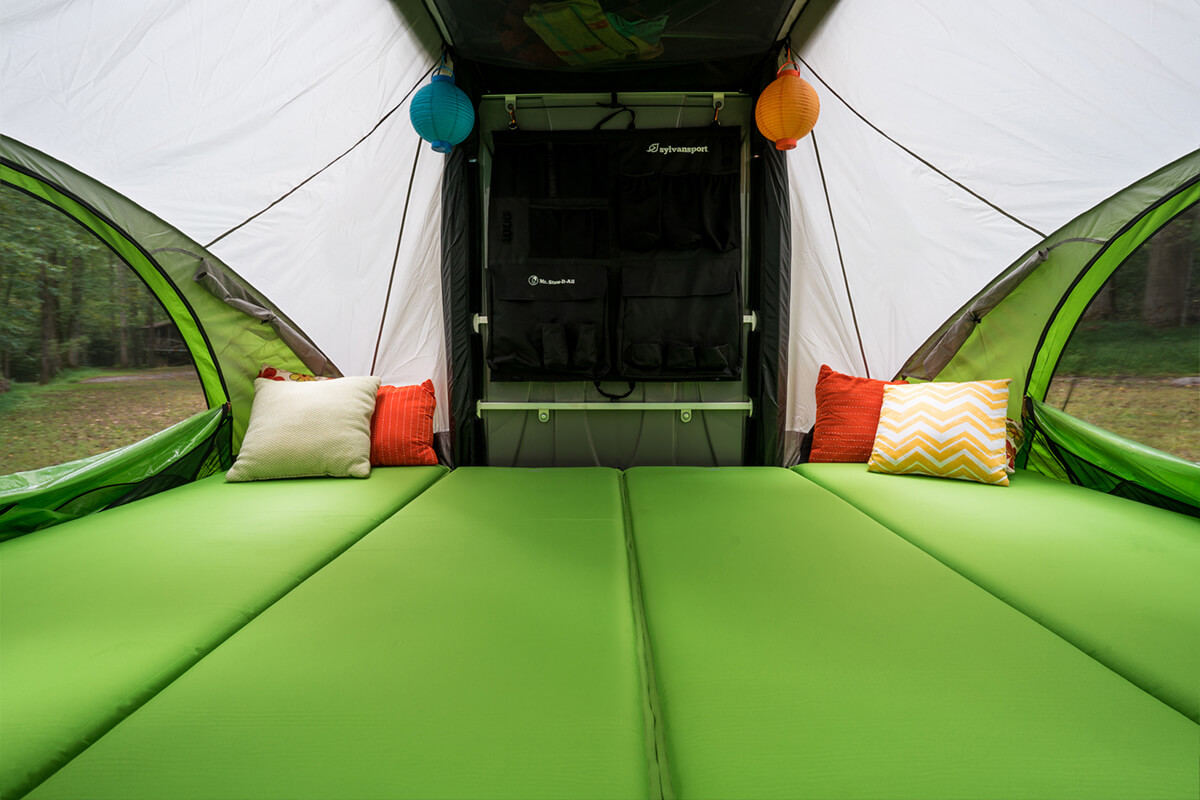 GO-Interior-Configuration-1
GO-Interior-Configuration-2
GO-Interior-Configuration-3
GO-Interior-Configuration-4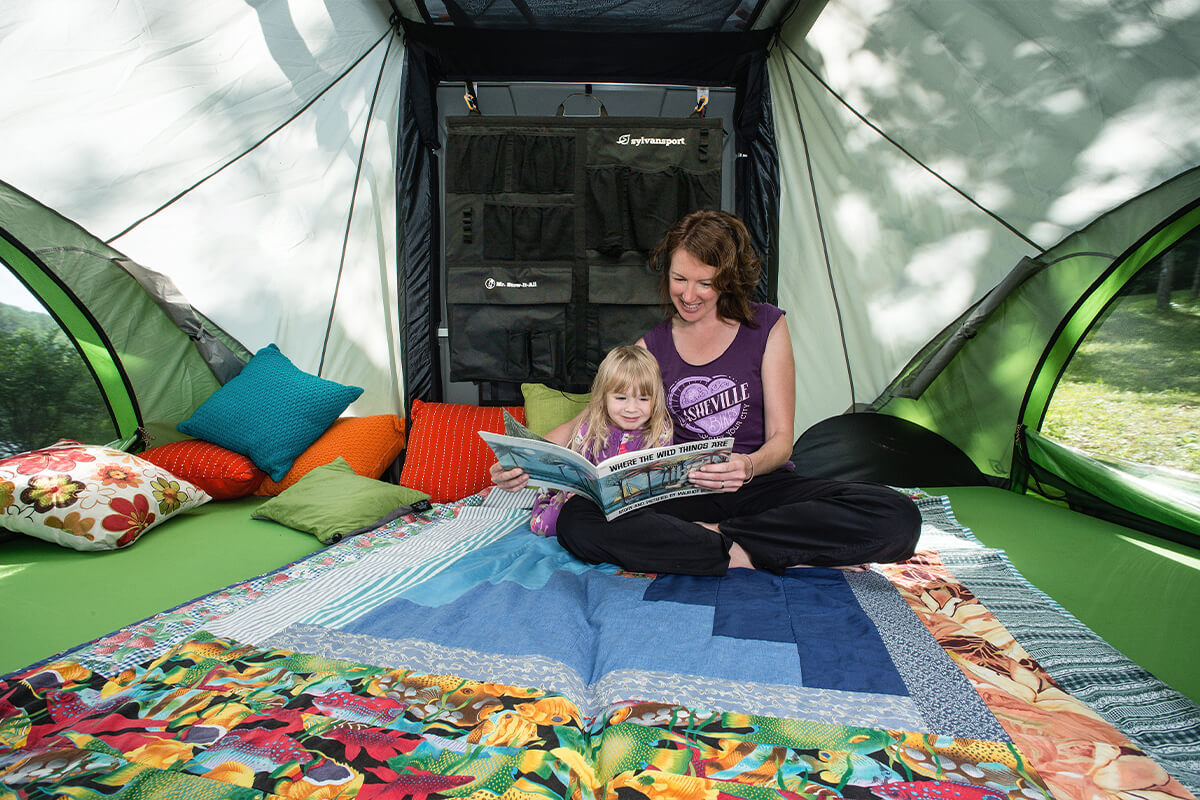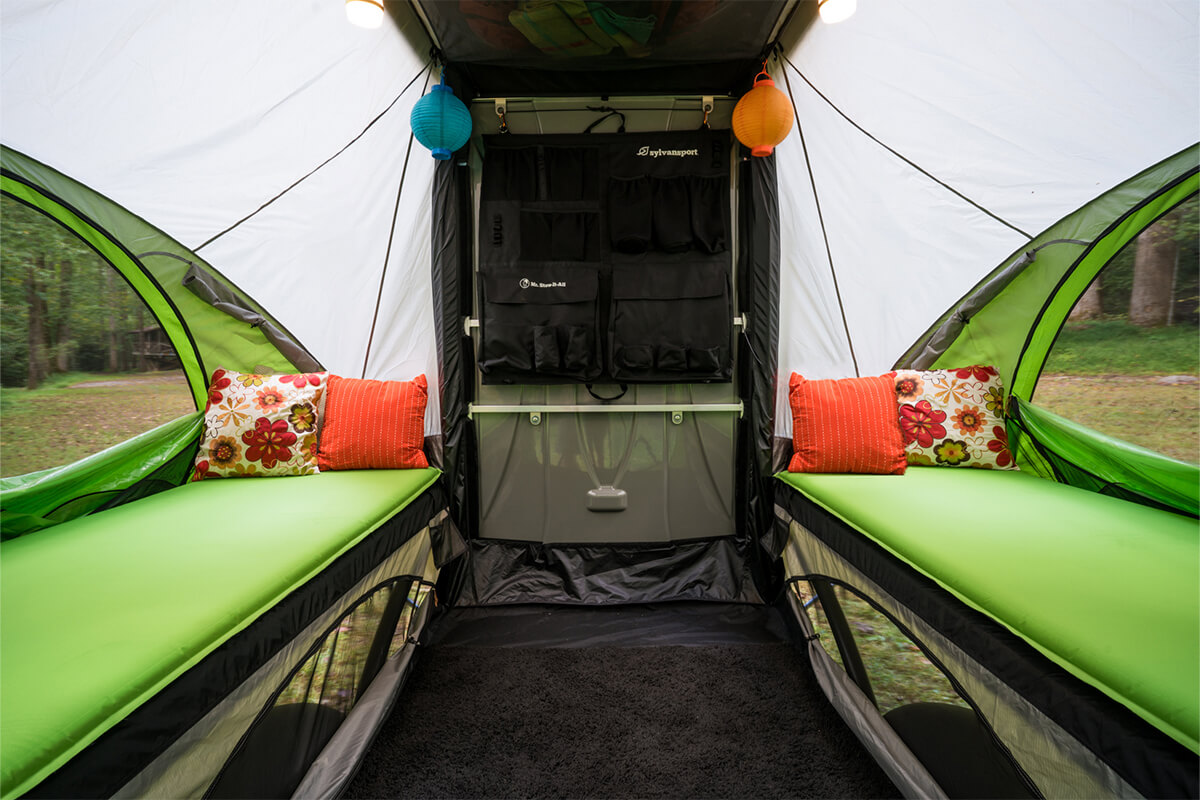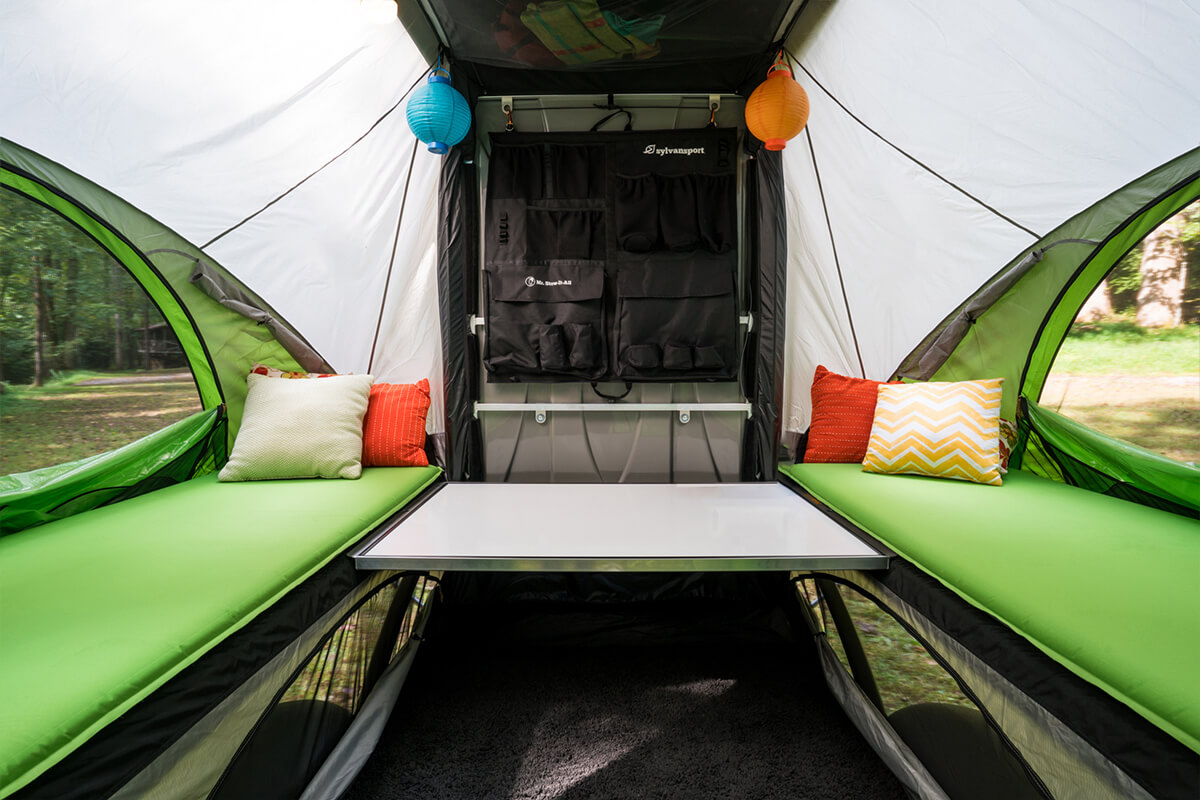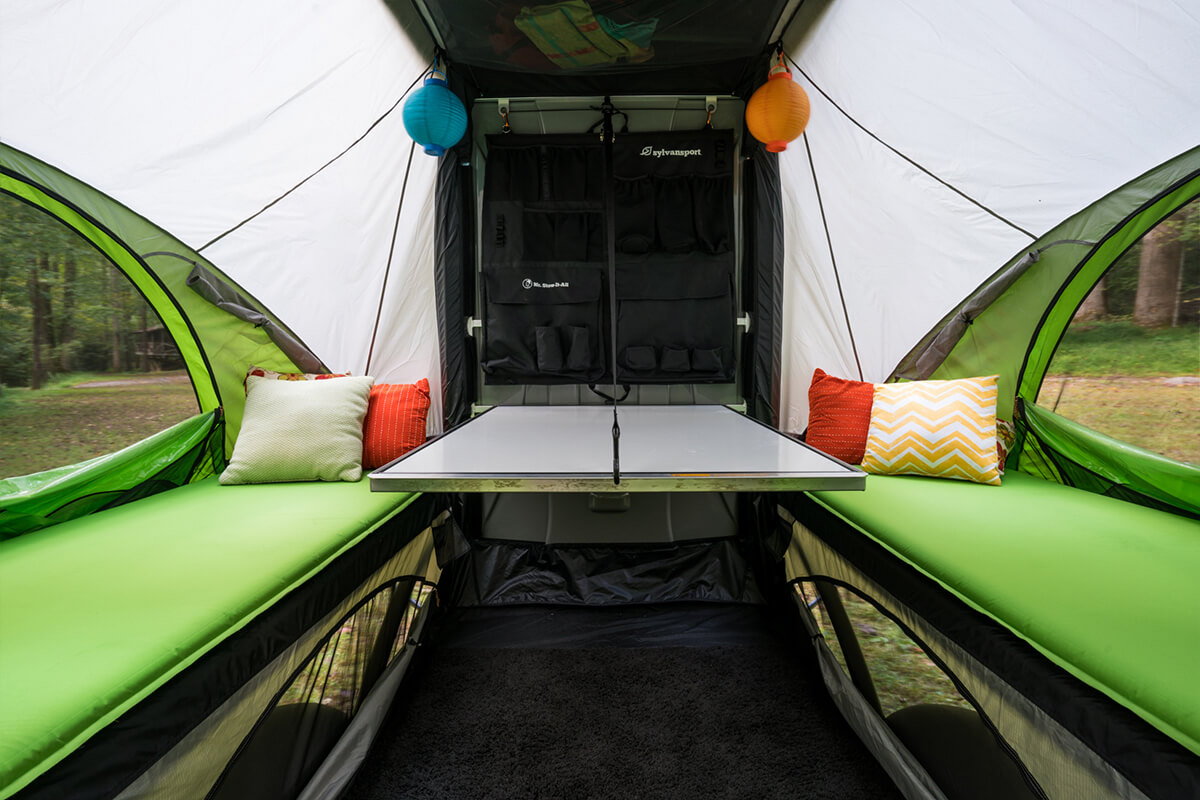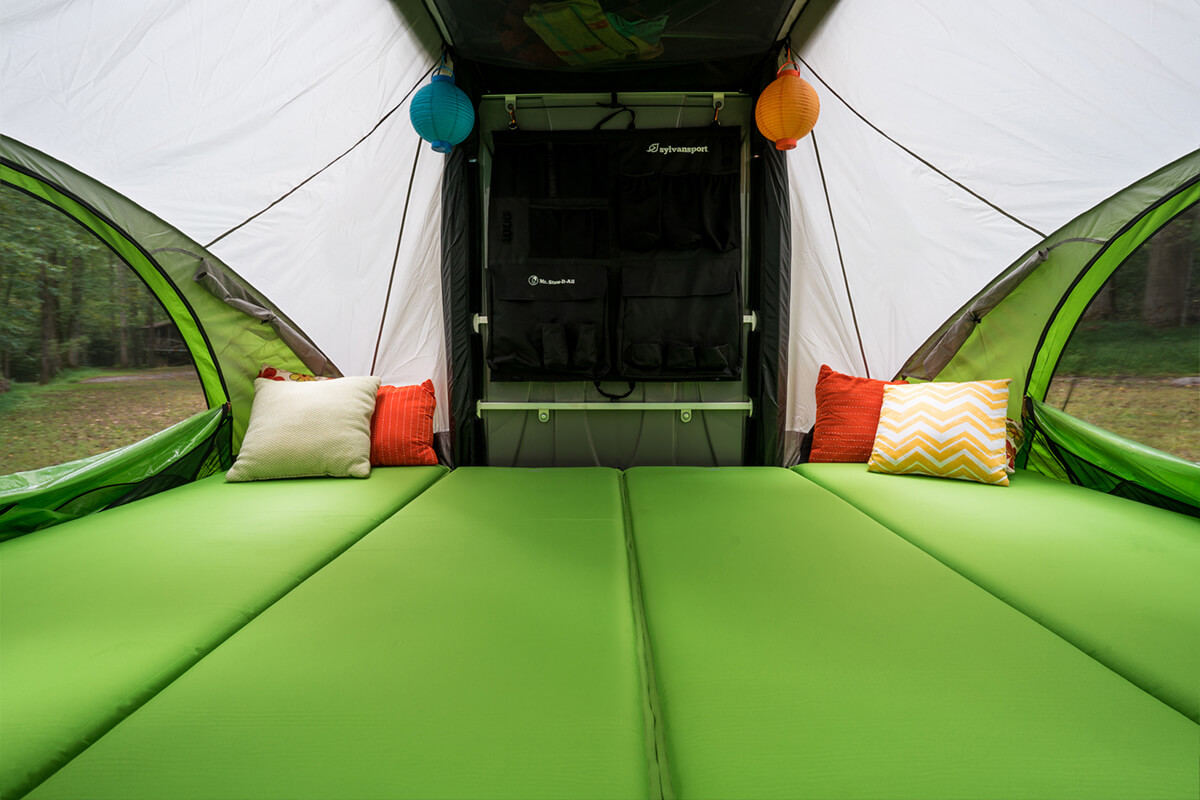 Experience the "Coolest. Camper. Ever." starting at $14,495!
ONE CAMPER. COUNTLESS USES.
Carry, haul, and camp all with the same trailer, without having to unload to sleep!
Exterior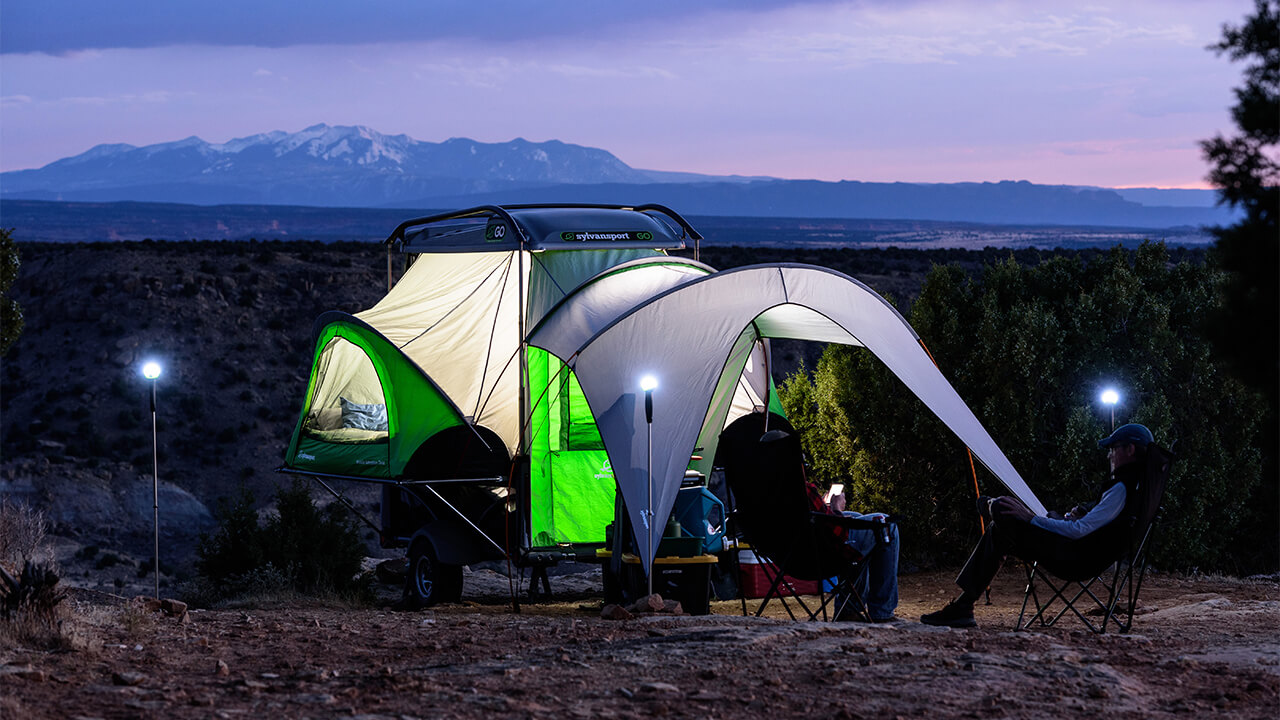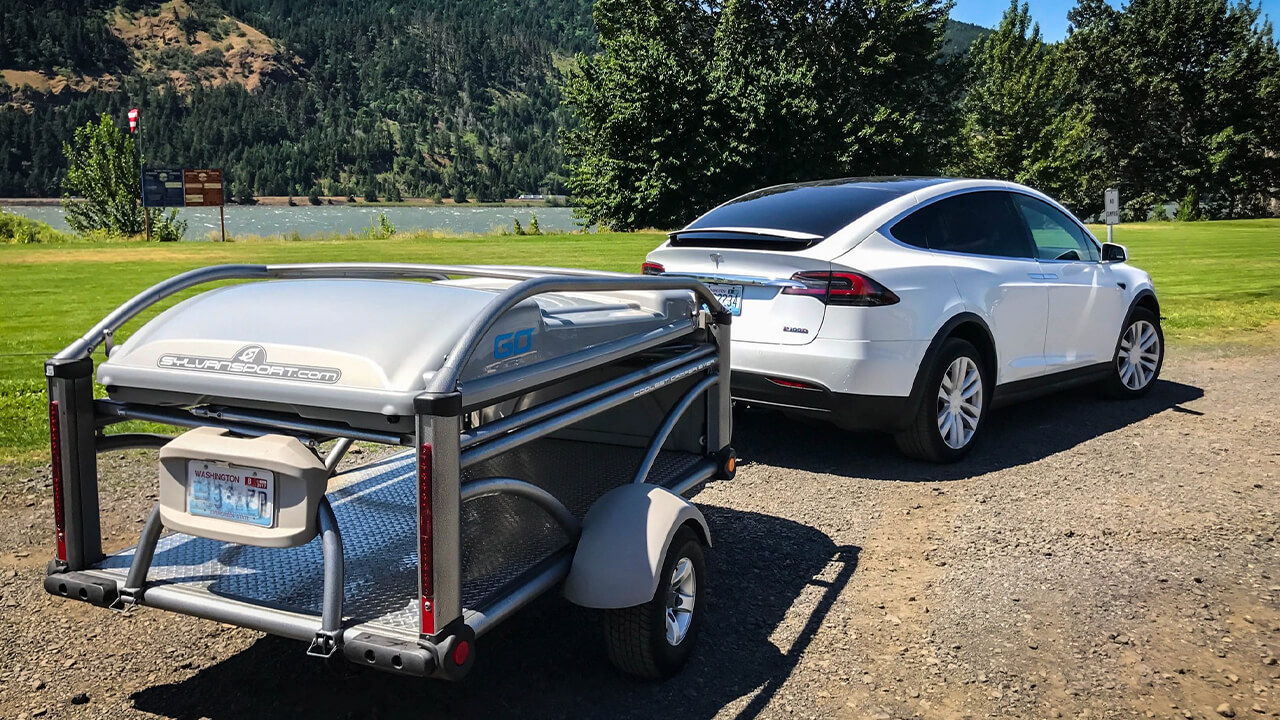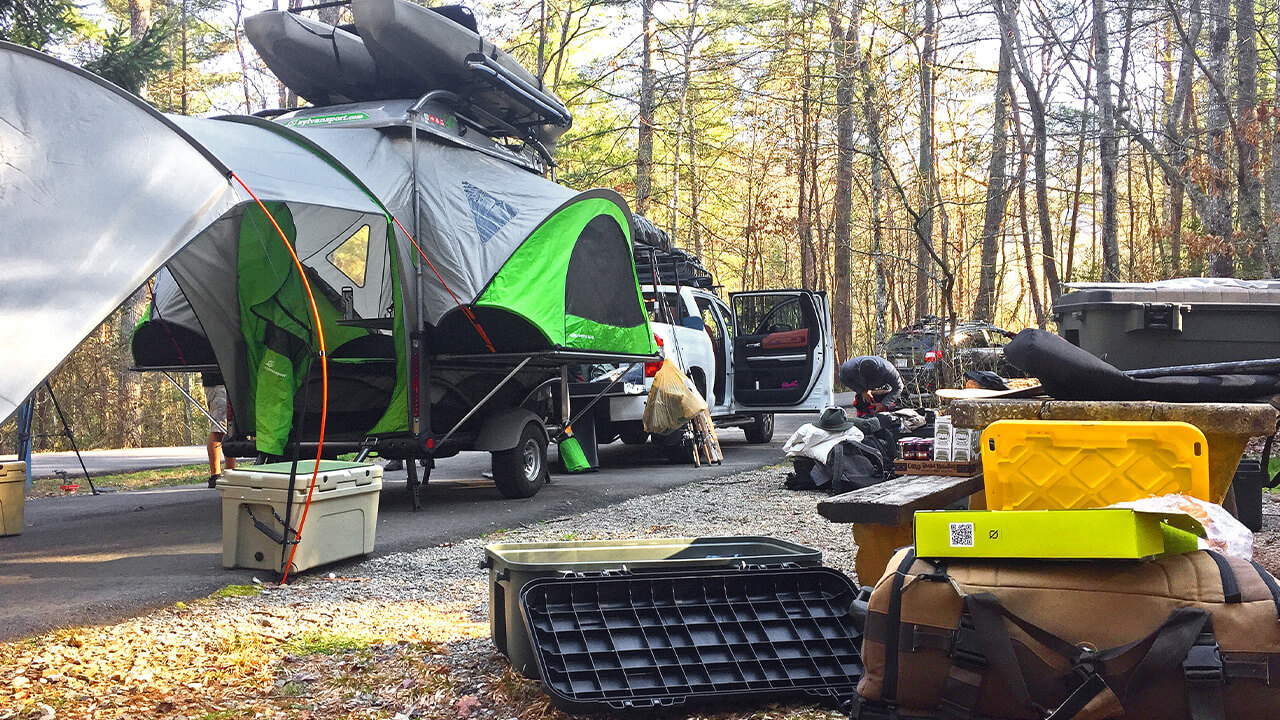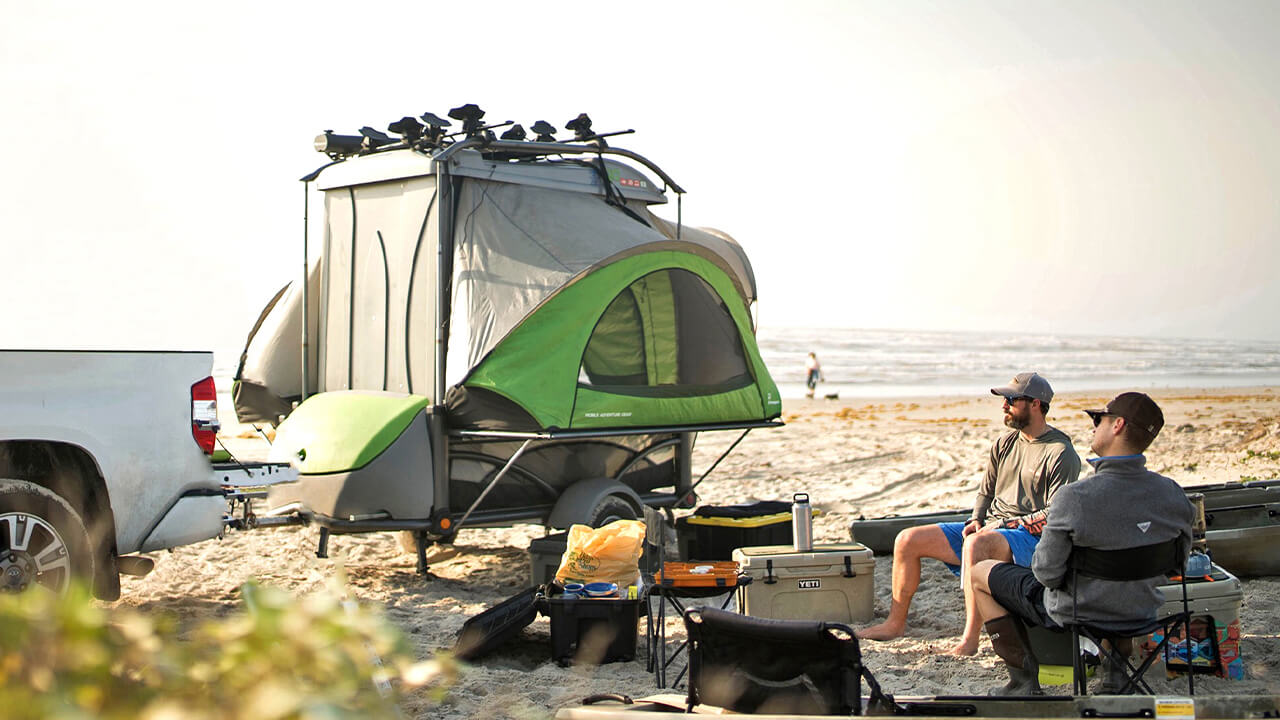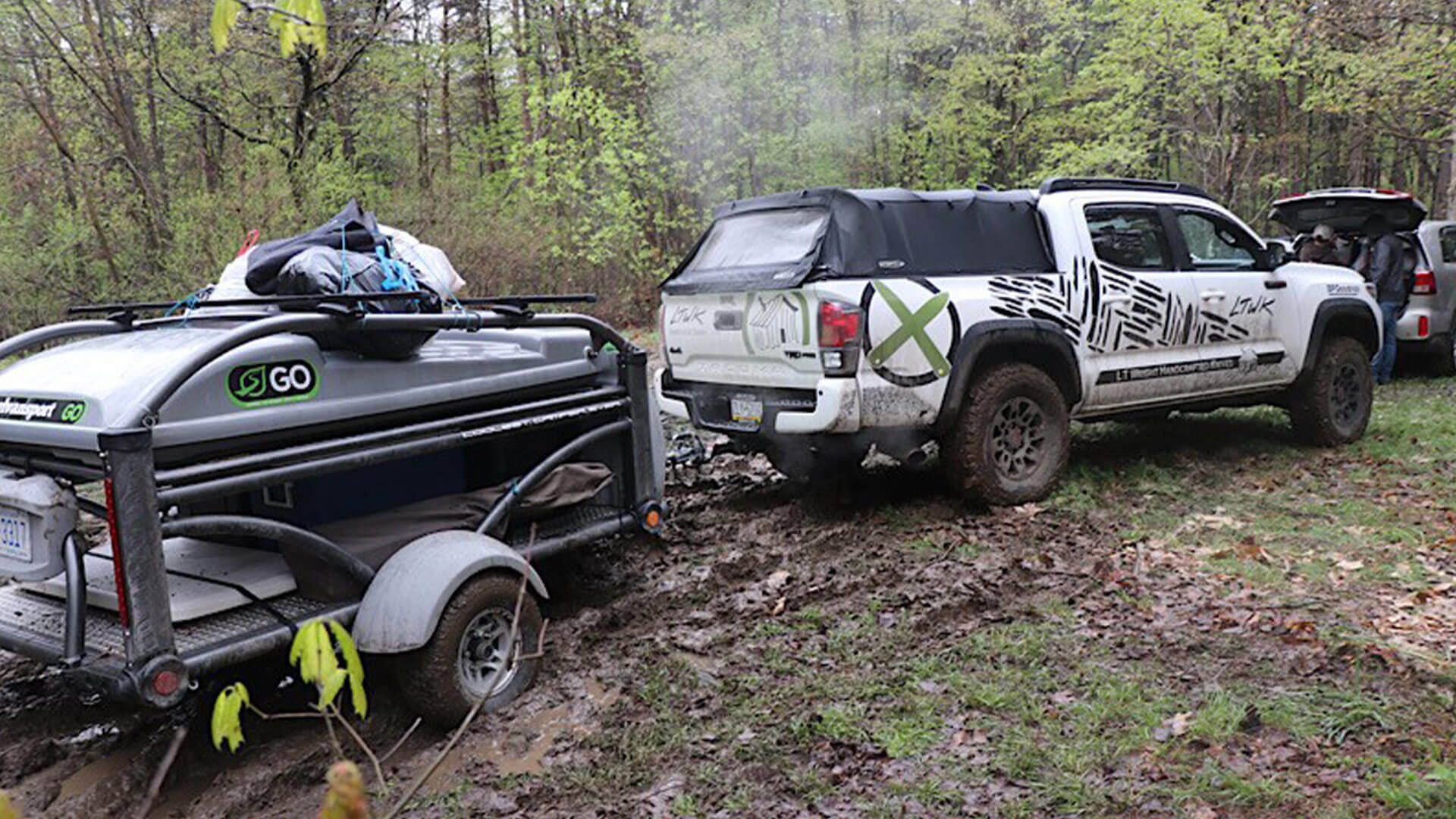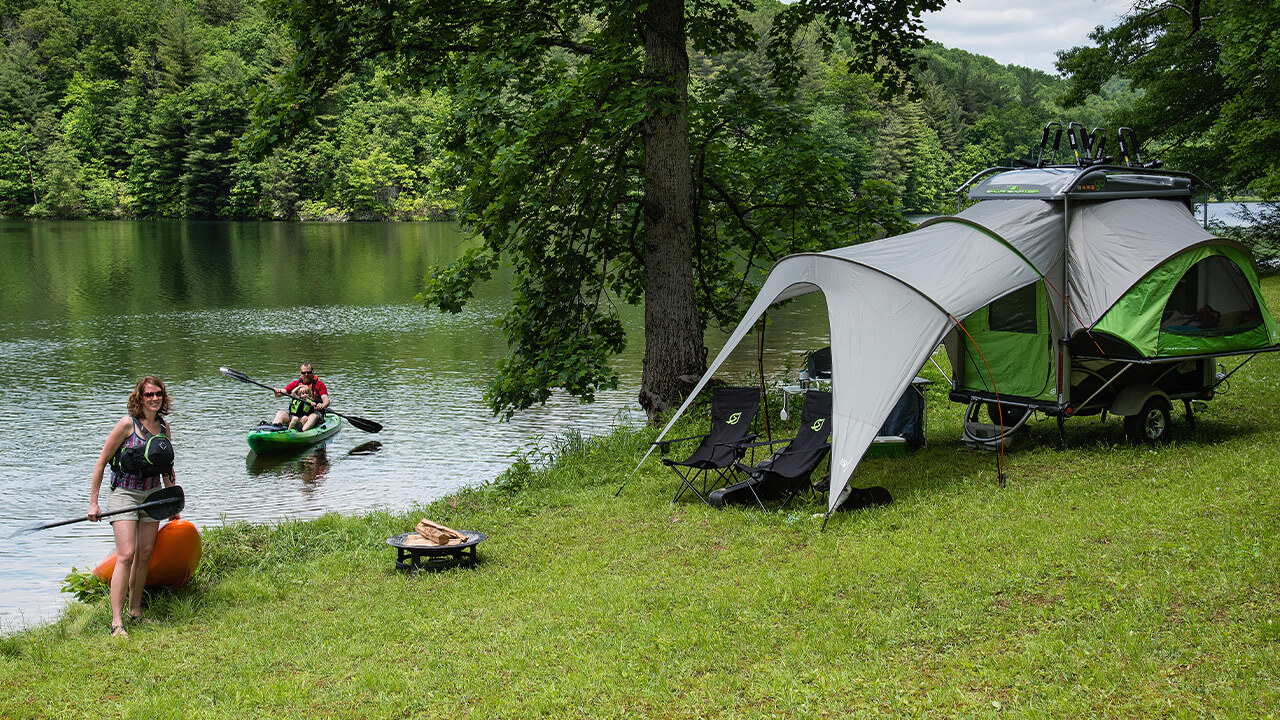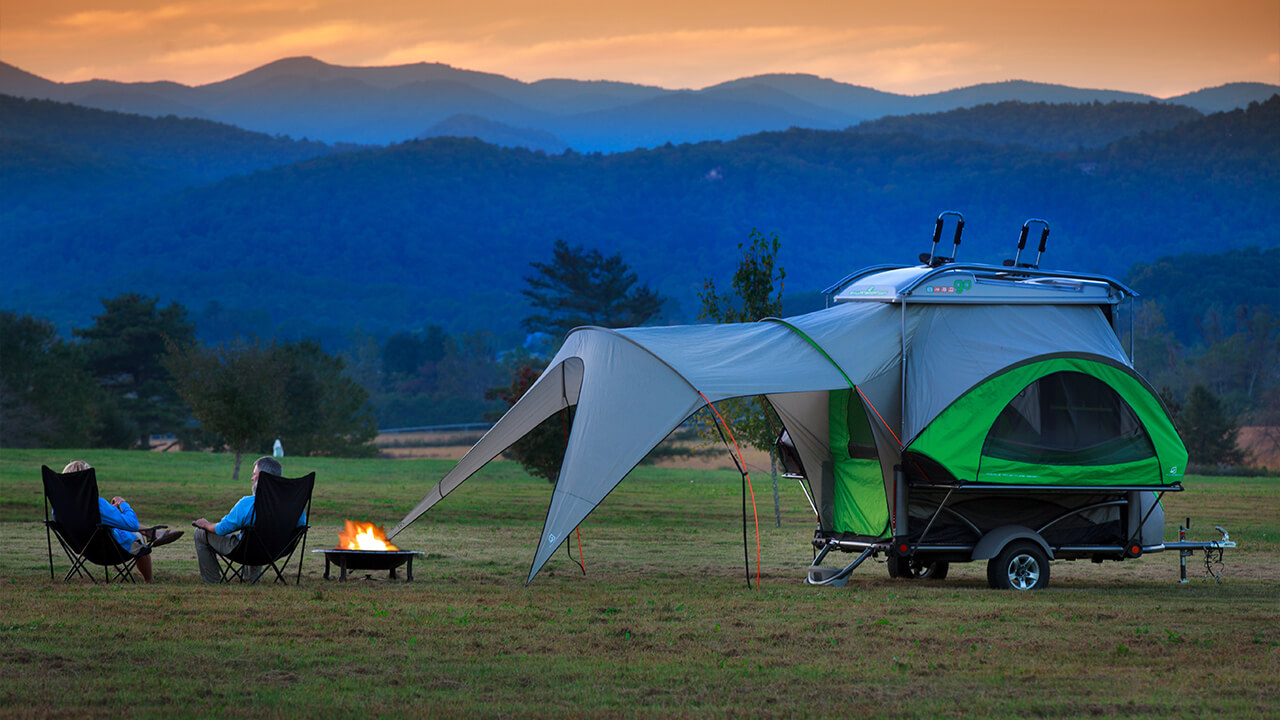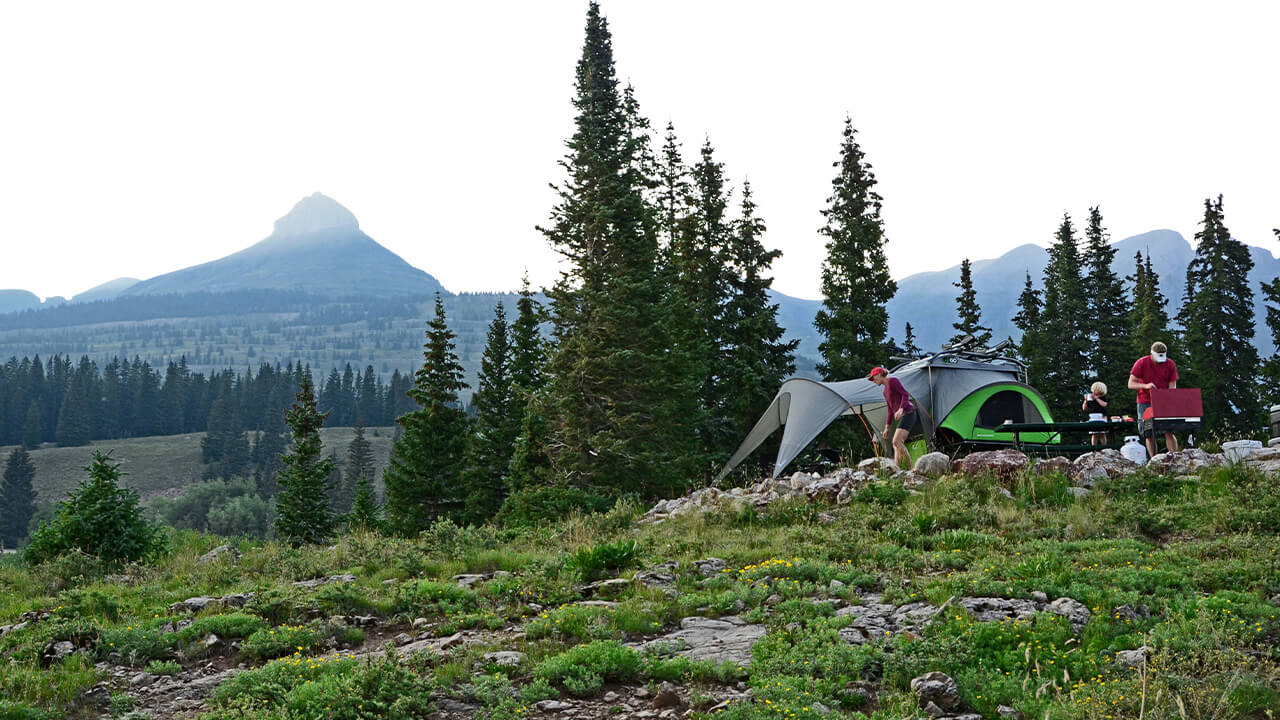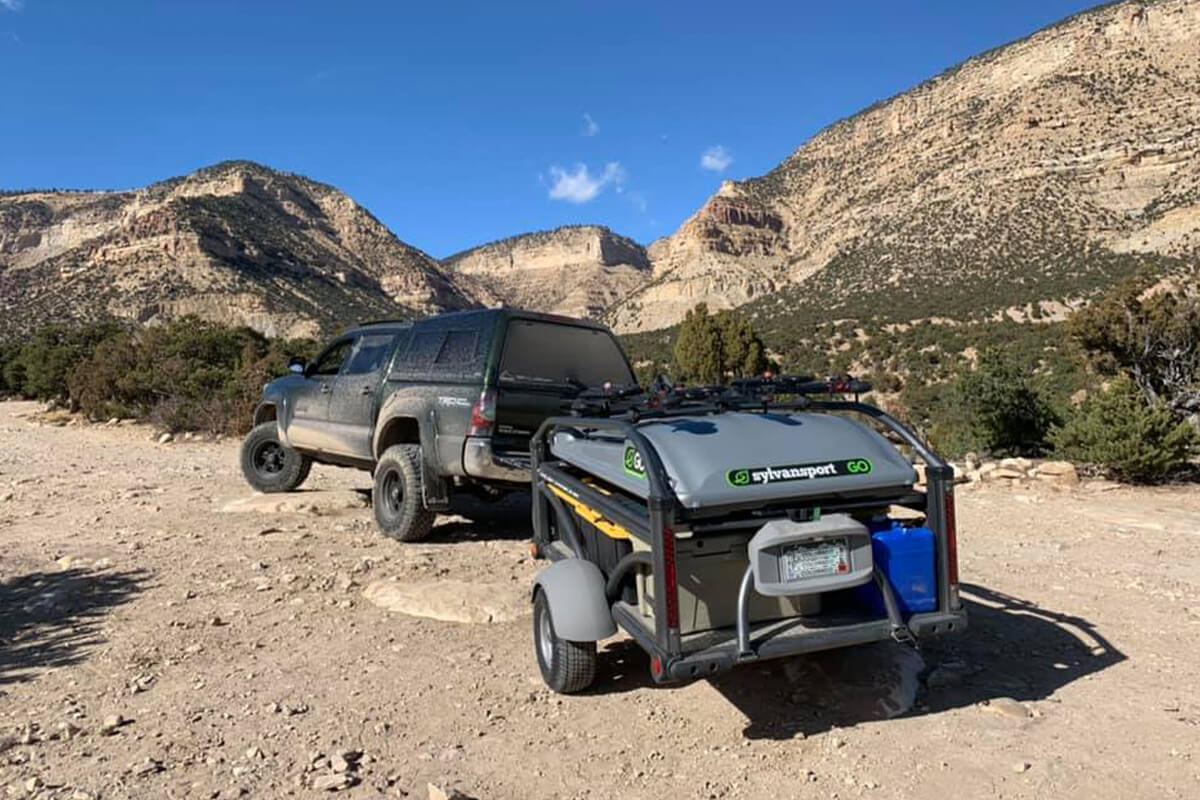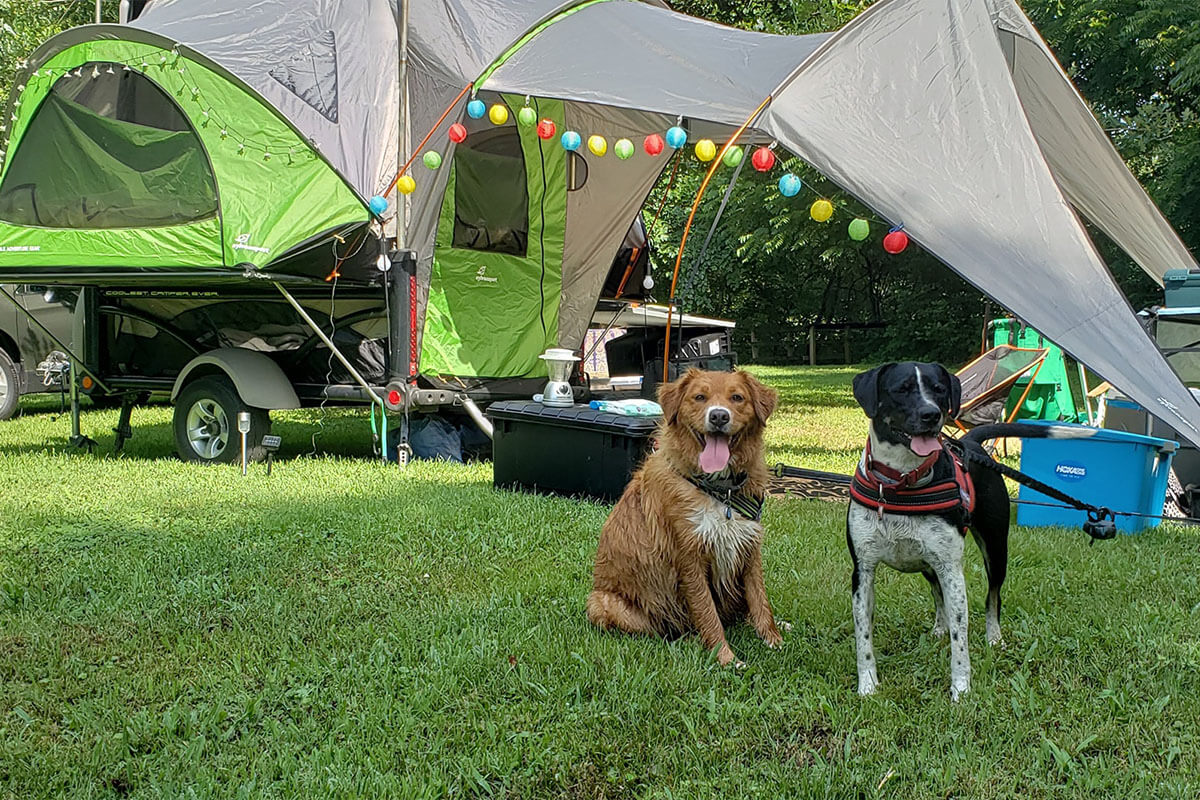 Fuel efficiency Tesla Model X GO trailer
Campground Camping trailer
GO-camping-rocky-mountains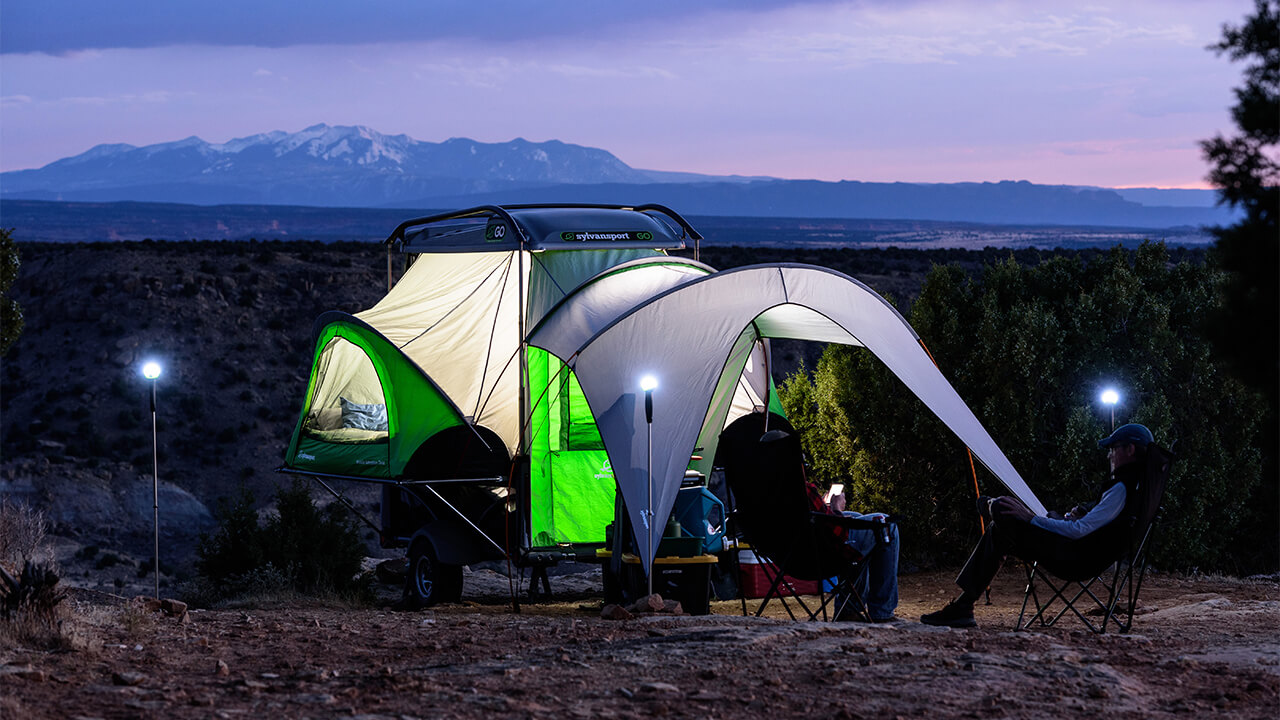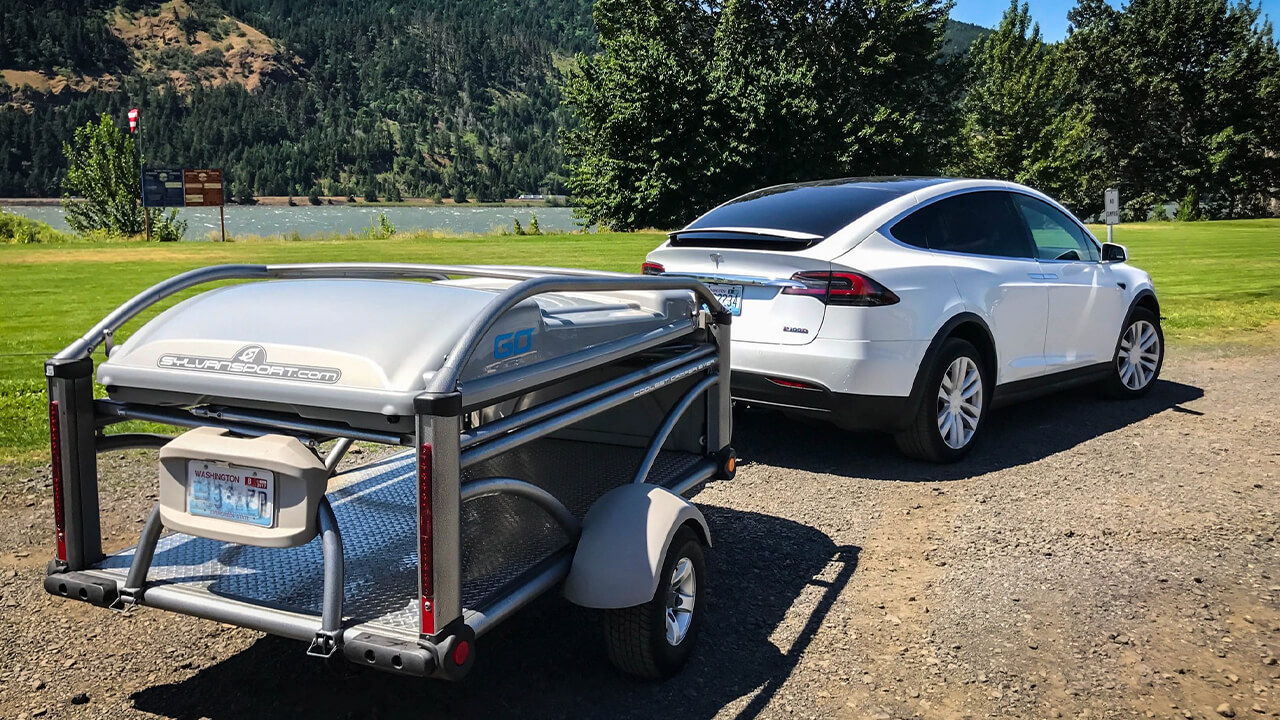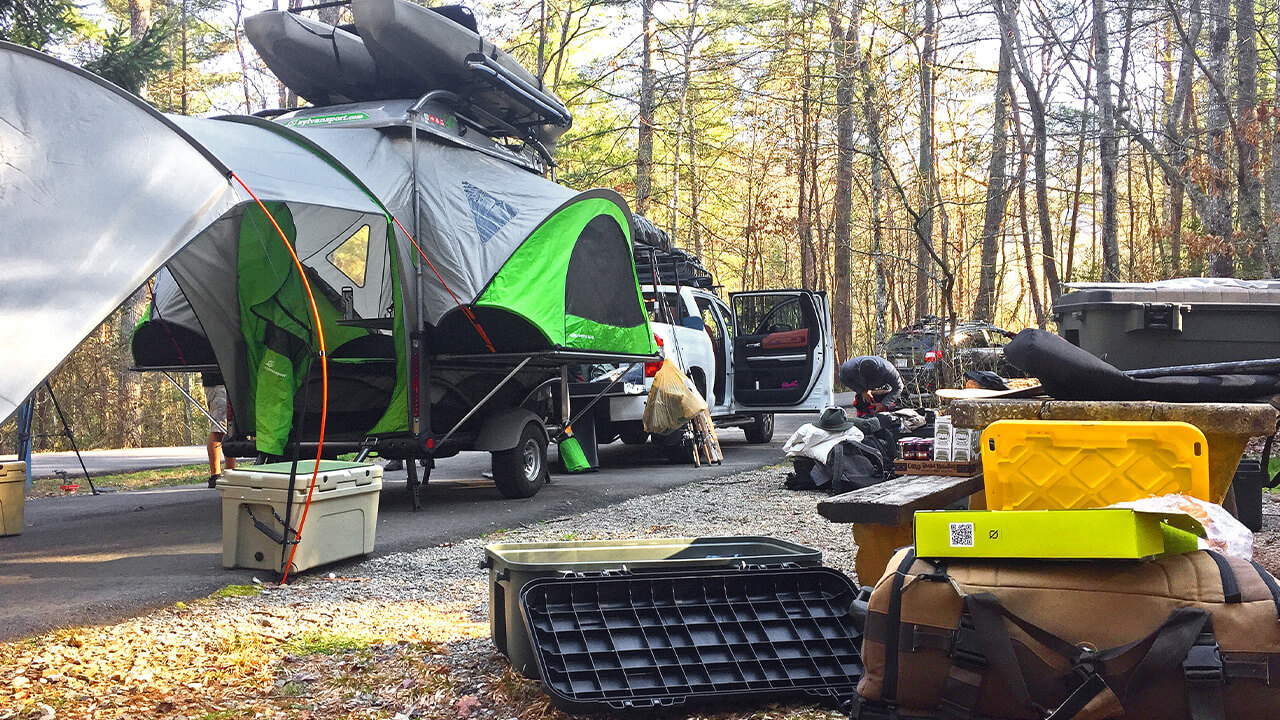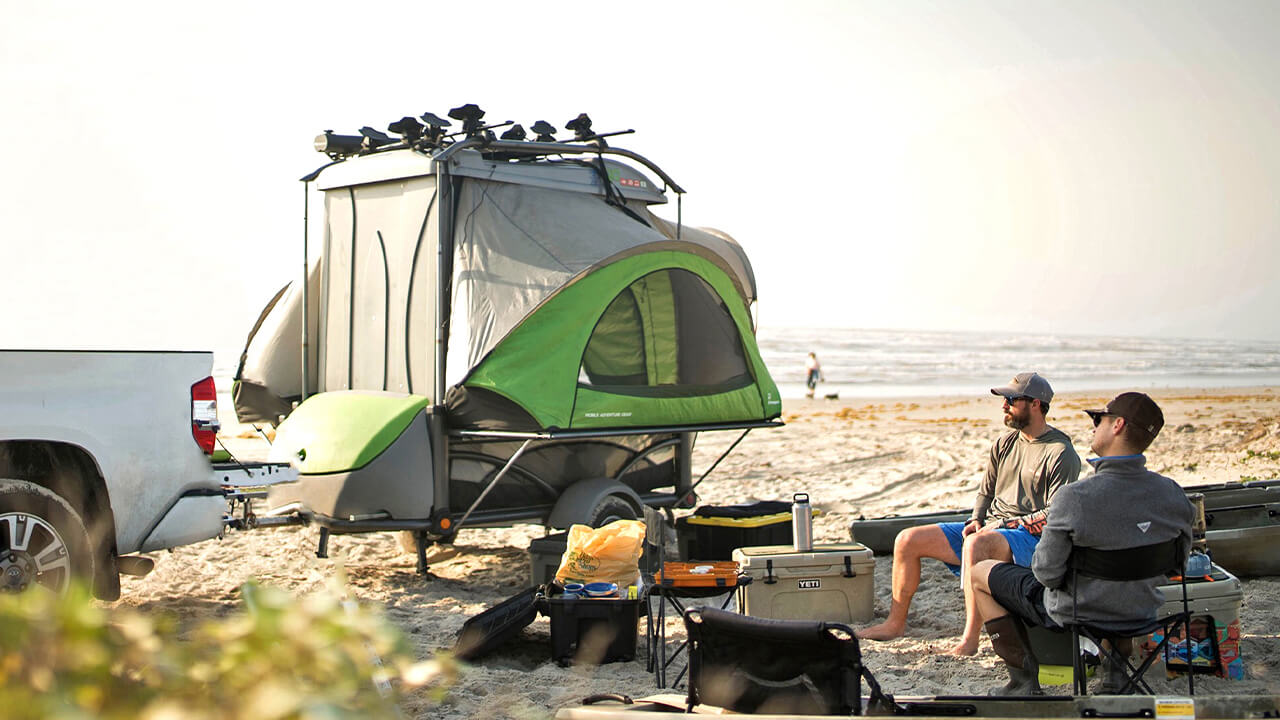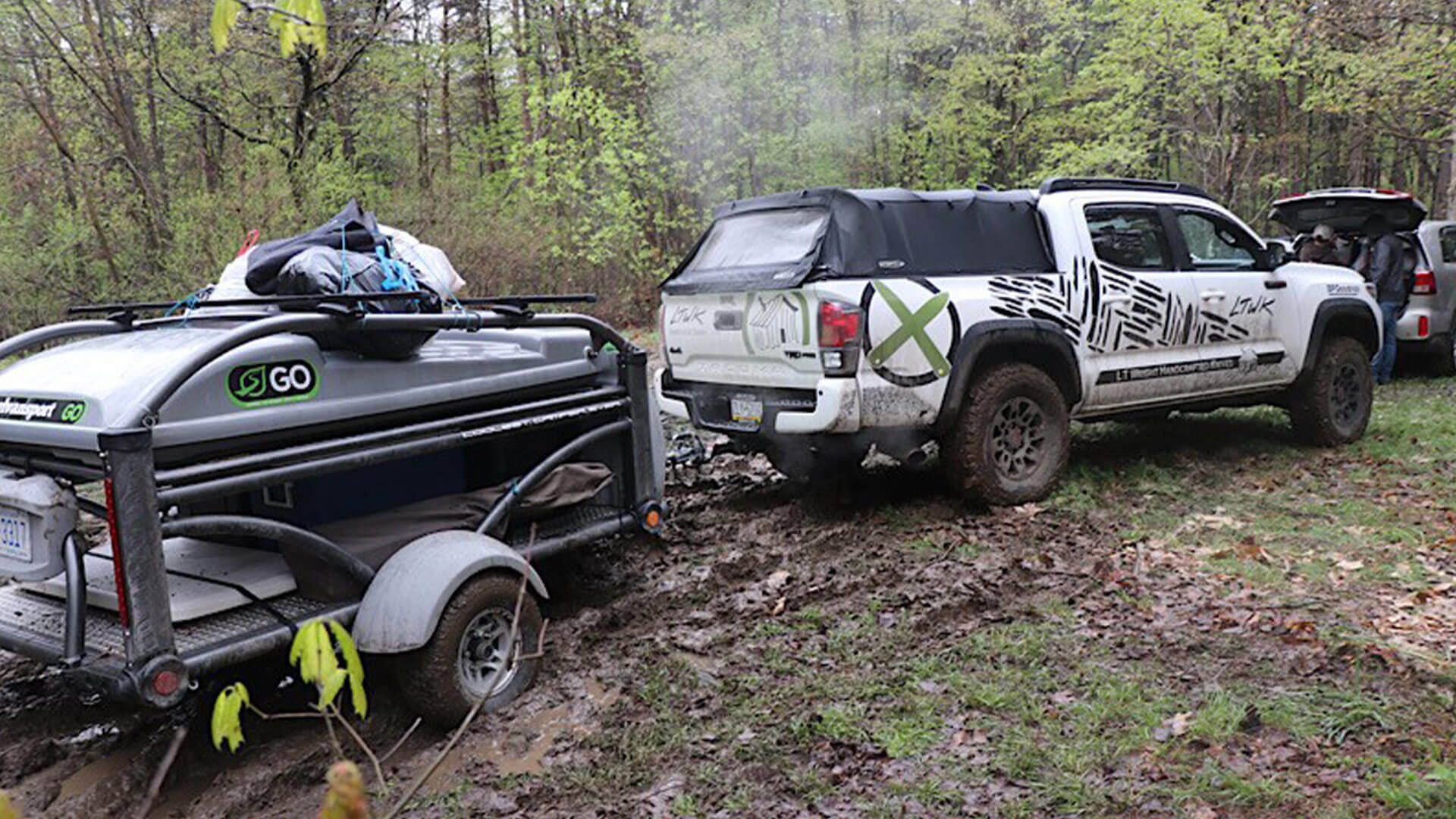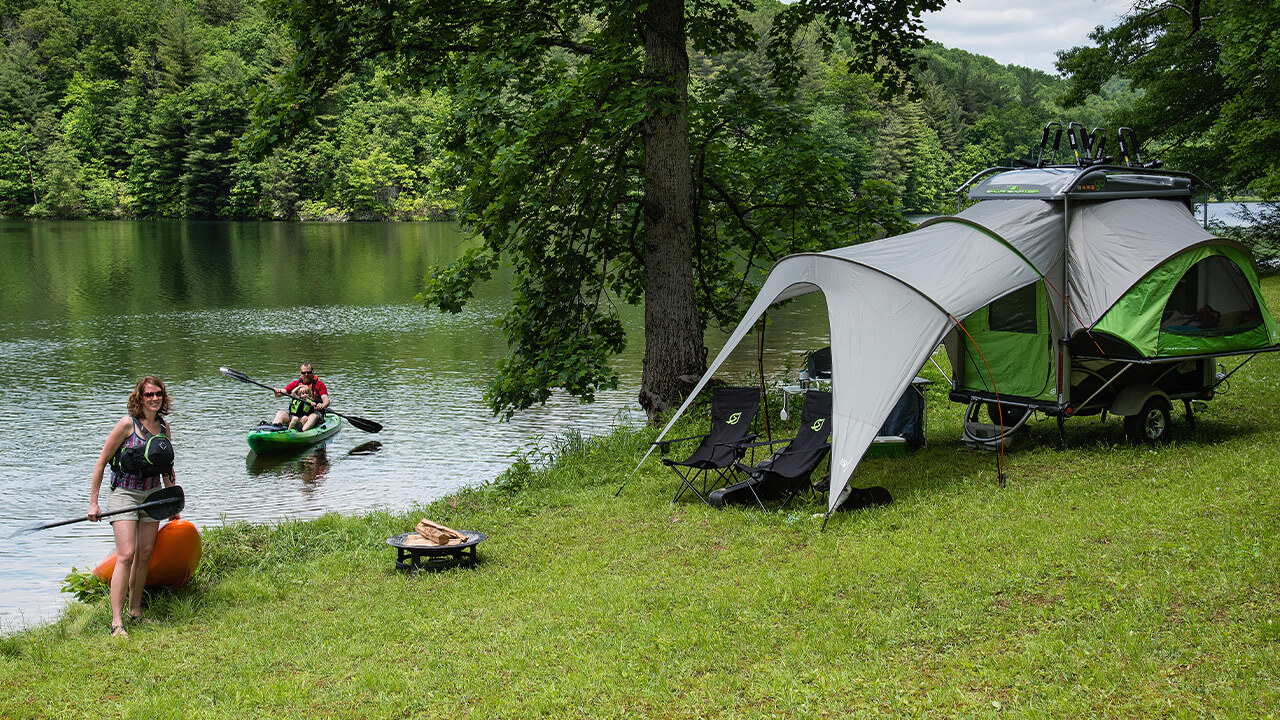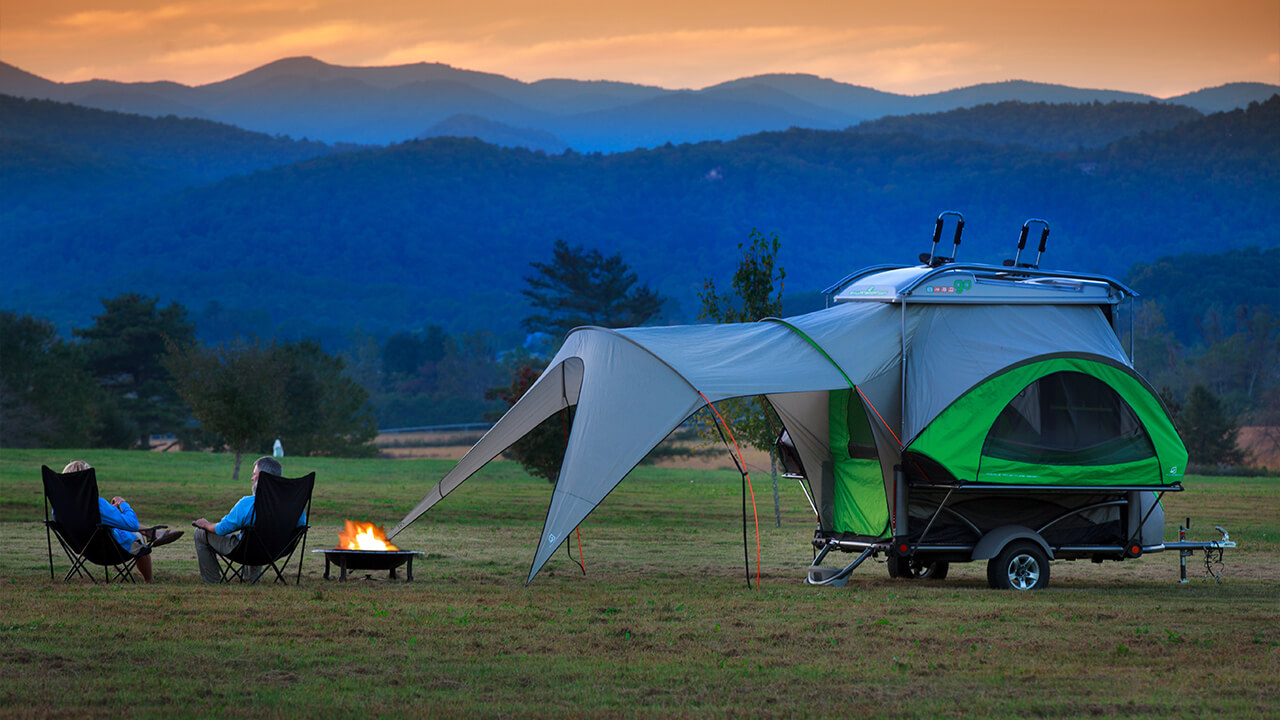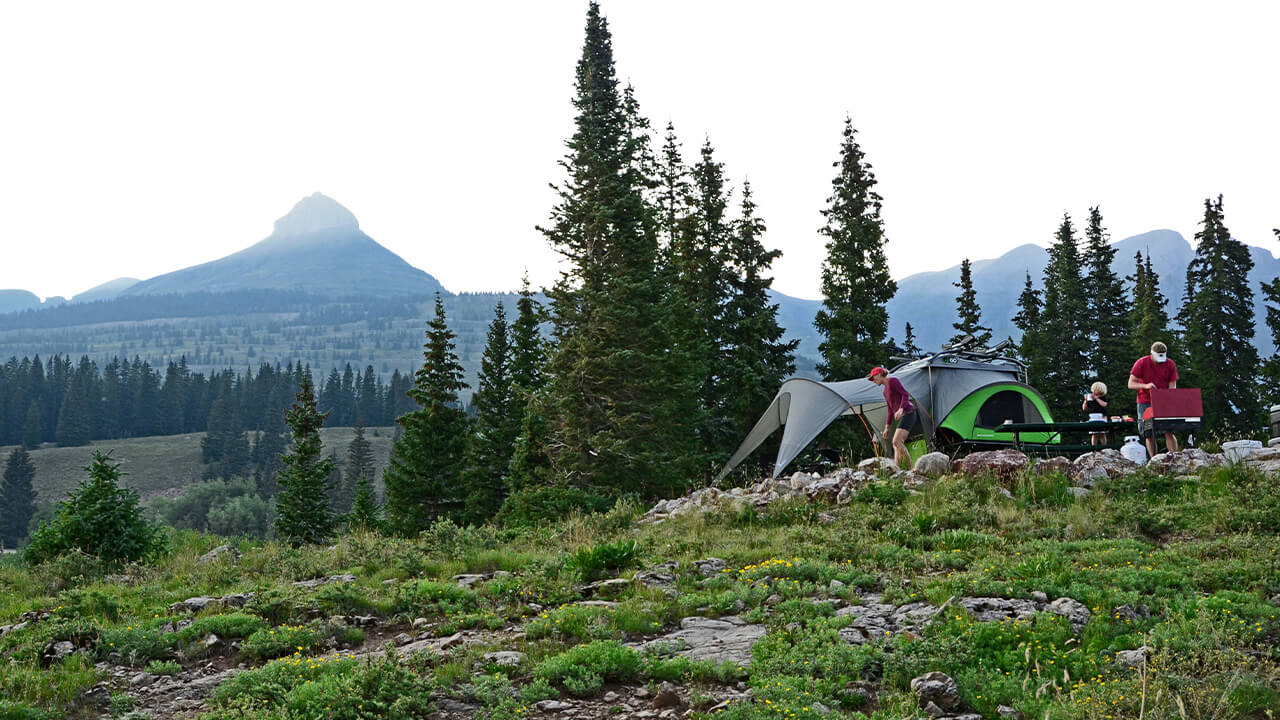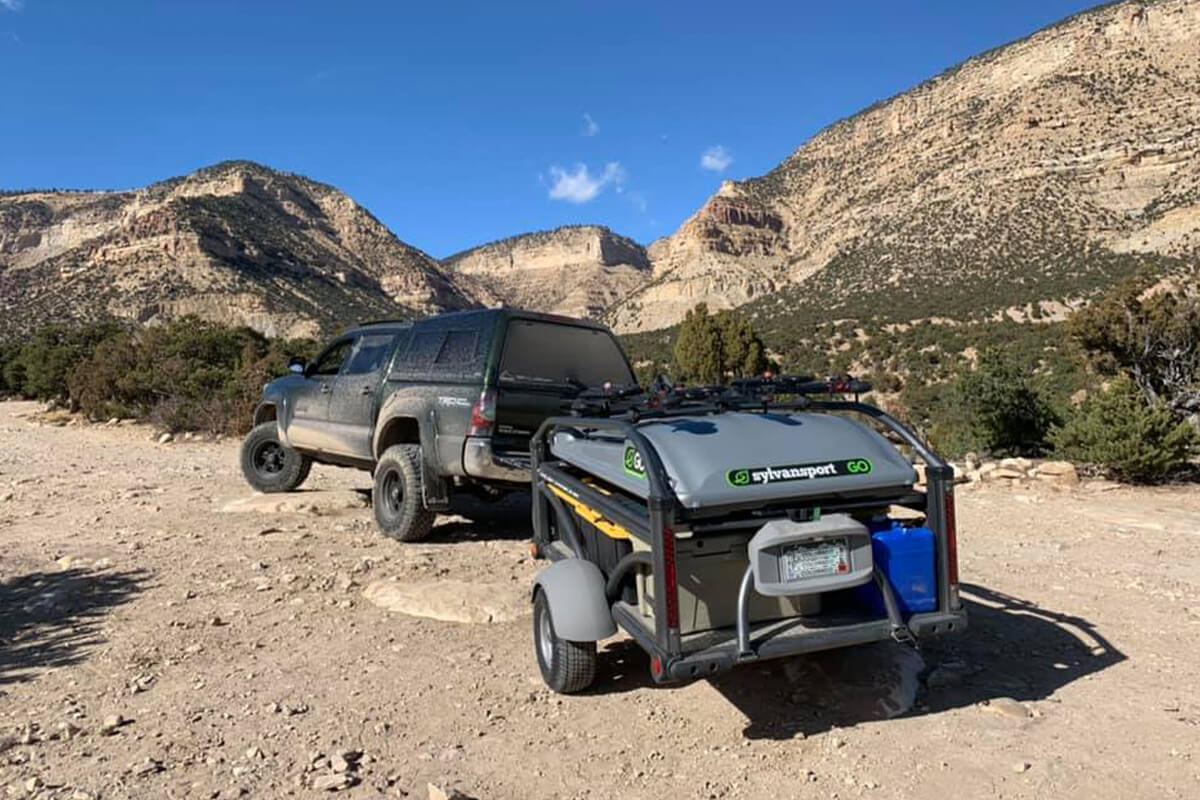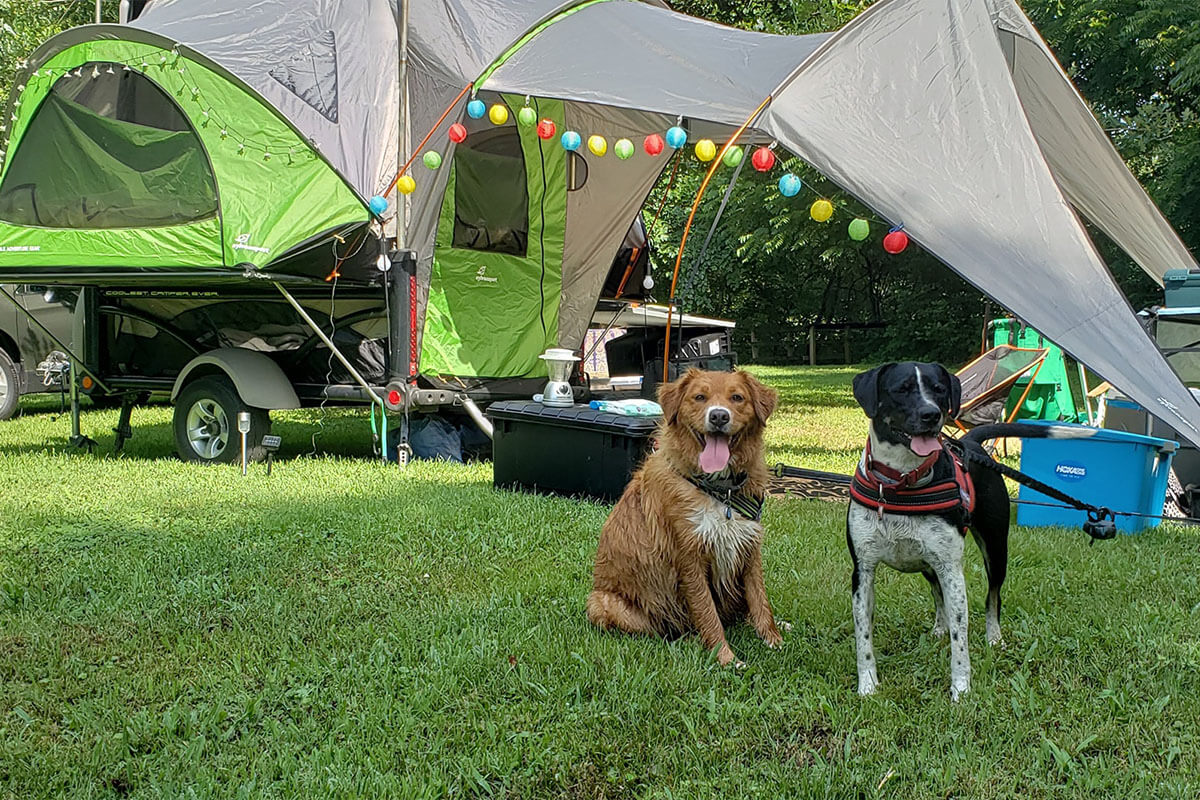 Interior
Overall Dimensions
Ground Clearance
(l x w x h) 140″ x 75″ x 52″
13″ | 33 cm
Weight Dry
Hitch
840 lbs | 381 kg
1-1/4″ or 2″ receiver
GVWR
Coupler
1650 lbs | 748 kg

2″ ball

17″ ball height to center

ergonomic handle with one-step engagement

Carrying Capacity
Electrical

Overall: 810lbs | 367 kg

Rack System: 165 lbs | 75 kg

standard flat 4-pin connector plug

waterproof, marine-grade LED lighting system

Frame
Tongue

6000 series aluminum custom extrusions

tig welded

two-step powder coat finish

Tongue Weight – dry: 85 lbs | 39kg

hardened steel

bolt-on swivel trailer jack, zinc coated with 6″ caster wheel

Axle
Fenders

Dexter torsion axle

self-lubricating hubs

rotomolded polyethylene

tag holder & converts into entry step

detachable for longer cargo

Wheels
Jacks

bolt pattern: 5 on 4-1/2

high quality cast aluminum

four corner mounted stabilizer jacks
Tires

Kenda Loadstar 205/65-10

speed rating: 81mph

load range c (1,100 lbs. per tire)

Spare

Kenda Loadstar 4.80-12

galvanized steel wheel

full-sized, mounted below deck
can my vehicle tow the go?
Most likely! The GO is one of the lightest campers available – basically any vehicle can tow it. We have GO owners that tow it with their Subaru, Tesla, and even Mini Cooper. It is important to check with your vehicle's owners manual to be sure as some vehicles are designated as "non-tow" vehicles and towing anything could void your warranty.
how much does the go weigh?
Only 840 lbs! The GO Big package weighs about 900 pounds total (including trailer and accessories), and the GO All Out package weighs about 1,000 pounds total (including trailer and accessories).
what do i need to tow the go?
The ball for your hitch should be 2 inches. The height of the ball should be 17″ from the ground to the middle of the ball. *Pro tip, if you need a hitch installed on your vehicle, call your local U-haul location – they are usually an affordable place to book an installation appointment.
what about trailer lights?
The GO has running lights and brake lights. The GO uses a standard flat 4 pin connector to connect the wiring harness to your vehicle.
does the go have brakes?
No. It's super lightweight so there are no brakes on the GO.
how long does it really take to set up the go or close it down?
From unhitching the GO to deploying the tent, you can easily be set up in about 10-15 minutes. The first time you set up your GO it may take you a bit longer, but like with anything, the more your do it the better you get.
how many people can sleep in the go?
That's up to you! You can set up the interior of the GO with 2 XL Twin beds on the sides, or as one large sleeping platform that equals the size of a King Bed + XL Twin bed.
how big are the beds?
Each side bed is an XL Twin (34 inches wide by 80 inches long). Or if you choose to set it up as one big sleeping area, the size is equal to a King + XL Twin (116 inches wide by 80 inches long).
what is the weight capacity for the sleeping areas?
Each side bed platform is rated to 500 lbs, and the two center panels are rated at 250 lbs each, for a total of 500 lbs on the middle bed area.
does the go have electricity?
The GO does not have electricity, but you have options. If you are camping at a site with electrical hook up, you can easily run a drop cord inside to add a power strip. We also have a solar kit that is a great option for power as well. Here's more info about our Sunny Side Up Solar Kit.
does the go have air conditioning?
The GO is designed to give you a tent camping experience and connection to nature. It does not have AC, but the tent itself is designed to have various points that allow for more air flow to prevent any muggy feeling inside the tent.
can i add air conditioning?
Sure can! An easy way to keep the GO cooler in the summer is to add a fan to increase air flow. We also have seen GO owners add a small portable AC unit, so you can make that happen.
can i camp in cold weather in the go?
Sure can! Bring your coziest sleeping bags and maybe add in a tent-safe heater to be set for cold weather camping.
so i'm camping and i need to carry all my gear, what are the dimensions of the gear deck?
The Gear Deck is 48 inches wide by 84 inches long. You can expand the interior height from 17″ up to 48″ by raising or lowering the Tent Pod. In the lowest position, the Gear Deck fits most standard coolers and totes.
what if i need to carry something taller than 17″?
Simply raise the Tent Pod to increase the Gear Deck height to 48" inches. You also have the option to mount bike, kayak, or cargo boxes on the equipment rack as well. *You can even remove the Tent Pod if you want to use the GO as a utility trailer instead of a camper.
how much weight can i carry on the gear deck?
up to 810 pounds! *the weight of any gear on the equipment rack should be taken off the capacity of the gear deck.
how much weight can i carry on the equipment rack?
165 pounds!
what rack accessories can i use with the go?
The GO's Equipment Rack fits most standard roof rack accessories by Yakima, Thule, INNO, and others. It's designed to mirror the roof rack on most vehicles so if the piece will fit on a roof rack it will likely fit on the GO.
how many bikes and kayaks can i carry?
This totally depends on your bikes/kayaks and the racks you choose, but we've seen some pretty impressive combinations using both the Gear Deck and Equipment Rack.
can i add cross bars to the go to extend the width of my equipment rack?
Yes! We have the Inno 79" cross bars and foot packs available on our site or you can use any crossbar system.
what is the ground clearance of the go?
The ground clearance is 11 inches and it's 13″ if the spare tire is removed from underneath the deck.
how fast can i drive with the go?
The tires are "interstate safe" tires so you can safely travel at highway speeds. We have many GO owners that have taken cross country trips with their GO!
what is included with the go?
Every GO comes with: 1 crank handle, 2 stabilizer jack rods, 4 ratchet straps, 1 tailgate bungee, 2 storage pod keys, 4 sleeping pads (2 large, 2 small), 1 owner's manual, 4 bed support poles, 3 tent poles, 2 bed panels, 2 table panels, 2 velcro straps, and 8 frame pins. If you choose to upgrade your GO with an accessory package, your GO will include additional accessories.
how do i store the go when i'm not using it?
We recommend storing it in a garage or covered area if possible, but the GO can also be stored outdoors with a cover. We have a Tyvek cover available for purchase on the GO accessories page.
what are the stored dimensions of the go?
It is 6.25 feet wide by 12 feet long from tongue to the back of the GO. The tongue cannot be removed for storage but you can also use the gear deck for storage if space is limited in your garage.
okay, the go is the camping trailer for me. how do i order?
That's easy. You can order the GO online and we will ship it to your driveway ready to roll. We deliver anywhere in the continental US and your shipping rate will be automatically calculated based on where you live. Or you can choose to come pick it up from us in Brevard, NC for no shipping charge!
does the go come with a warranty?
You betcha! Every new GO comes with a 2 year warranty. We stand behind our products. If you have any manufacture-related issues in the first 2 years give us a call or email us and we'll take care of you. Our warranty covers both the trailer and the tent!
what maintenance is required on the go?
Not a lot. That's one really great thing about the GO, unlike many other RVs, there's not much maintain. Once a year you should lubricate the bearings in the tires and the lift system and monitor tire pressure. We also offer a maintenance kit to make it easy!
what maintenance is required on the tent?
Like with any tent, best practice is to keep it clean and store it dry. If you have to pack it up wet, as soon as possible open it up and let it dry out. We recommend using a tent-safe wash after each trip, and a solar spray once a year, to help keep the tent in great condition and maintain the waterproof properties.
what if my go needs repair?
You can take the GO to any RV dealer and they can likely do any repair for you. They do not need to be a GO dealer. The GO is a super unique product, but all the parts are common in the RV industry so repairs are usually simple. We will work with you and the dealer to get them the parts they need as well as determining what labor costs will be covered under our warranty policy. All labor costs must be pre-approved by SylvanSport before the repair.
do you offer financing?
We do! We work with a financing partner to provide you with options. Just add the GO to your cart and click the "payments as low as…" button to see what options are available for you.
Hear what actual GO owners have to say…
Proudly Manufactured in Brevard, NC
Nestled in the Blue Ridge Mountains, the SylvanSport factory and showroom are open to the public Monday-Friday. Schedule a demo with us and enjoy a visit to Brevard or nearby Asheville.