The Perfect Pop Up Camper
The SylvanSport GO is the pop up camper
that's like nothing else you've ever seen.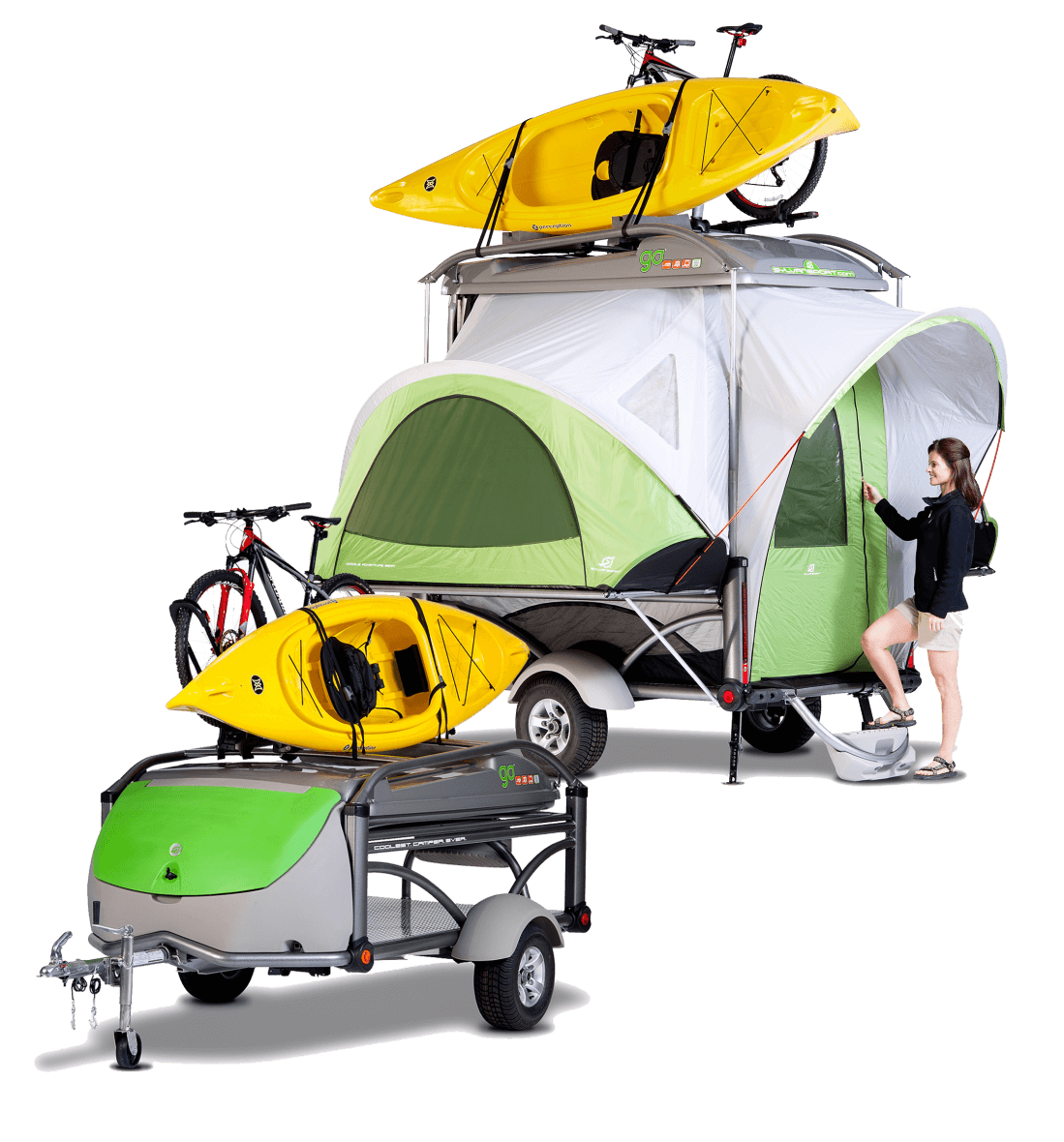 SylvanSport GO Pop Up Camper
The original pop up camper was created to be a small, light and inexpensive way for families to get out, camp and have fun. But over the years, camper trailers have become bigger, heavier, pricier and… less fun. SylvanSport set out to change all that. Designing a camper that puts fun and adventure back in your life is what we're all about.
Coolest Camper Ever
The SylvanSport GO carries all your gear and toys, virtually anywhere, behind almost any vehicle. Once you've arrived, simply unload and set up the spacious pop up tent in just a few minutes. The SylvanSport GO goes far beyond traditional camper trailers. In fact, National Geographic Adventure called it the "Coolest. Camper. Ever."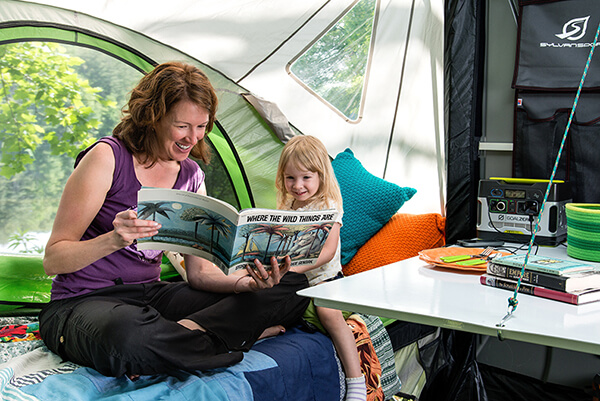 GO is a Pop Up Tent Camper Built for Adventure
GO is so versatile, it's almost limitless what you can do. It's ideal for boating, biking, rock climbing, surfing, motorcycling, hauling, and, of course, camping! Carry whitewater kayaks, sea kayaks or canoes to your favorite waterway. Load up mountain bikes, road bikes and take off for a day of fun. If you have motorcycles or an ATV, drive them right on-board with the control-tilt deck and take them anywhere. Once you arrive, unload your gear and toys and you have a comfortable, spacious pop up tent camper to call home.
Work Hard Play Hard
GO is great for work as well as play. Moving? Yard work? GO is the ultimate utility trailer. You can even remove the top (no tools required) and use it as an open top trailer to haul everything from firewood to a refrigerator to a ride-on lawn mower. No other pop up camper trailer can deliver it all in one package like GO.
A LIGHTWEIGHT, HARDCORE GEAR TRAILER
With three different configurations and unlimited carrying options, GO can get all your gear wherever you need it. In Travel Mode, GO can carry up to 6 bikes or kayaks, plus plenty of gear. In Transport Mode, GO can carry up to a dozen bikes or kayaks, even motorcycles and ATVs.
A SPACIOUS AND COMFORTABLE POP UP TENT
After a big day out in nature, you'll appreciate kicking back in comfort. GO is the perfect place where you can change into dry clothes, hang out with family and friends, and when it's time to turn in for the night, sleep like a baby.
A CAMPER THAT WON'T WEIGH YOU DOWN
Weighing in at only 840 lbs, GO is a lightweight, drop everything, go anywhere camper. While big in capacity, GO is a mini camper trailer that can be towed by nearly any car or truck, without killing your fuel efficiency or putting excessive wear on your vehicle.
TONS OF STORAGE AND UTILITY SPACE
When you carry your bikes on top, you can take advantage of the storage capacity on the deck (39 cubic feet in Travel Mode or 112 cubic feet in Transport Mode). There's also a lockable, waterproof storage box with 9 cubic feet of capacity that doubles as a cooler. Not bad for a mini pop up camper!
LUXURY CAMPING MADE SIMPLE
At your campsite, GO transforms easily into a state-of-the-art pop-up tent with luxurious, self-inflating mattresses that can sleep four or more people. Welcome to your home away from home—so you can rest up for the next day's adventure.
TOWABLE BY ANY CAR
GO is designed to be compatible with small cars that deliver top notch fuel economy. Compare that to your typical RV, which is heavy, inefficient, and expensive. True outdoor enthusiasts prefer the simple, versatile and eco-friendly GO.
All in One
GO is an all new pop up camper—lightweight, versatile, and built for outdoor adventure. The team that built the SylvanSport GO is made up of nature aficionados who put their passion into this innovative, modern, small camper design. GO is manufactured from high-tech materials with superior craftsmanship that deliver performance, light weight and durability unparalleled in any other pop up camper. GO has won many engineering and 'gear' awards for its design and versatility. Simply put, it's the "Coolest. Camper. Ever."