Utility Cargo Trailers
Work Hard and Play Hard with These Quality Built Utility Trailers
Today—lawn mowers, construction materials, appliances, yard waste. Tomorrow—canoes, kayaks, bikes, ATVs, motorcycles. Whether you're working or playing, you've got stuff to haul! SylvanSport utility cargo trailers are the perfect solution for people who love adventure… and also know how to get things done.
If you want a tough, ultralight single-axle cargo trailer that can do all your hauling and so much more, take a look at the GO and GO-Easy by SylvanSport. Both of these cargo trailers are made with SylvanSport's trademark innovative design, attention to detail, and high quality craftsmanship. Here are some of the features that make each of these utility cargo trailers unique.
No Truck? No Problem, with these Lightweight Cargo Trailers.
For those of you who need cargo trailers but don't own trucks, the GO and GO-Easy are for you. Both of these ultra lightweight utility trailers can be pulled behind any vehicle. Even hybrid electric vehicles can pull either the GO or the GO-Easy. The GO-Easy is so light that you can tow it behind a motorcycle. And both of these cargo trailers are built with torsion axle suspension systems that gives you high ground clearance and a smooth driving experience, no matter what type of vehicle you are pulling it with.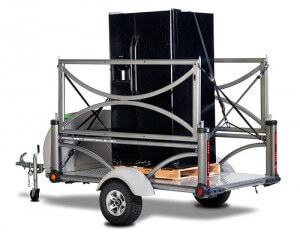 GO: A Utility Cargo Trailer Plus a Pop Up Camper!
The multi award-winning GO is so versatile, we call it the Swiss army knife of utility trailers. You can easily switch back and forth between three completely different configurations. In Travel Mode, it's a compact low-profile utility trailer, for maximum fuel efficiency. In Transport Mode, it's an expanded trailer with 100 cubic square feet of cargo space and a removable top. In Camping Mode, it's a sleek, modern pop up camper.  No matter what mode you use it in, the following features make GO utility cargo trailers an outstanding buy:
Lightweight: Weighs only 840 lbs.
Cargo Capacity: Hauls up to 800 lbs on deck, plus another 160 pounds on the upper racks. Transport Mode gives you 84" x 48" x 48" of space.
Waterproof Storage Pod: Stow smaller items out of the rain with 9 cubic feet of enclosed storage space.
Ramp-free Loading: Control-Tilt deck means you can easily load a riding mower, ATV, or motorcycle without a ramp.
Converts to Pop-Up Camper: Camp with all the comforts of home. Enjoy self-inflating mattresses, star-gazing windows, rear awning, and many more great camping features.
GO Easy Utility Cargo Trailers
The GO Easy is a leaner, more economical alternative to the GO. This is one of the most durable, lightweight, versatile utility trailers you will find anywhere. The custom steel frame is sturdy, yet the whole thing weighs in at less than 300 lbs. Here are some of the great features you'll love about this workhorse micro trailer:
Essential or Ultimate Options: Trimmed down or fully loaded? It's up to you.
Paddling and Cycling Package Options: Get the GO Easy that meets your needs. Both can haul upwards of 325 pounds. The Paddling version comes with a stronger axle, increasing the cargo capacity to 525 pounds!
Optional Front Storage Pod: Add 6.2 cubic feet of weatherproof hauling capacity.
Stores Upright: Tilts so you can save space in your garage or storage space.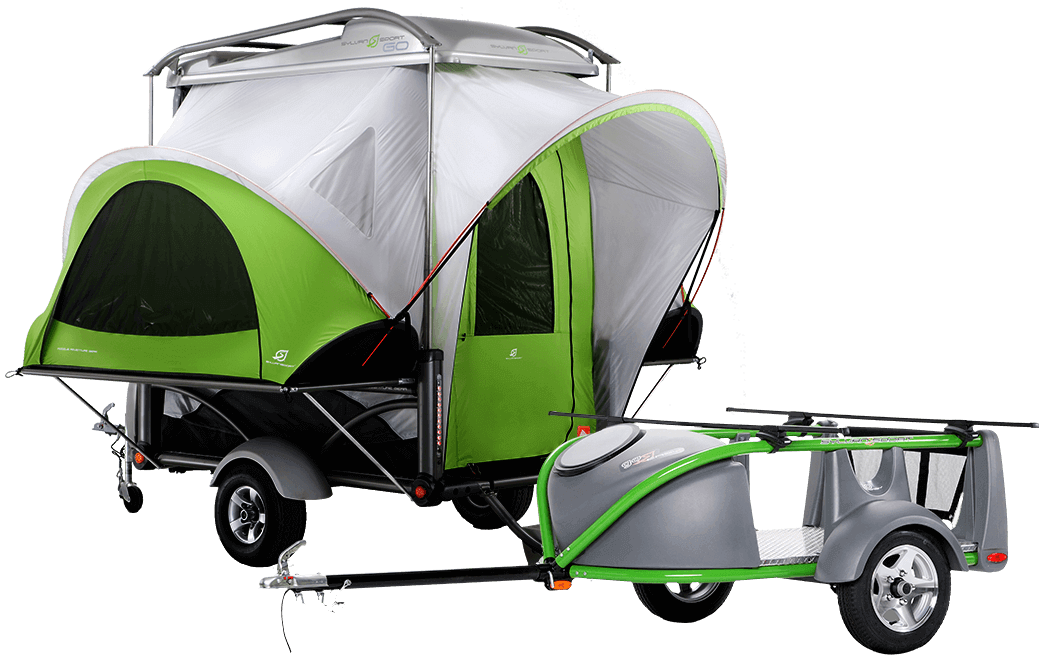 For more information about either the GO-Easy or GO, contact us online or call us at 828-883-4292. Or check out the GO or GO Easy for yourself at your local dealer.