The Ultimate Trailer for Work and Play
The SylvanSport GO was designed for adventure. But we've all got work to do. The great thing about these versatile trailers is they let you do a lot more, on both play days and work days.
GO is designed to be the ultimate gear trailer and adventure camper—but it's not afraid of a hard day's work! GO is designed to be a budget-friendly micro trailer that can haul a prodigious amount of gear, equipment, or supplies. Easily remove the Top Pod (tool-free removal) and you have a true, open topped Utility Trailer.
Whether you drive an SUV, a Subaru, or a small fuel-efficient car, when you hitch one of these lightweight trailers, it's like having a truck. When you're moving, improving your home, or creating a beautiful yard or garden, you can dream big and do-it-yourself with a GO.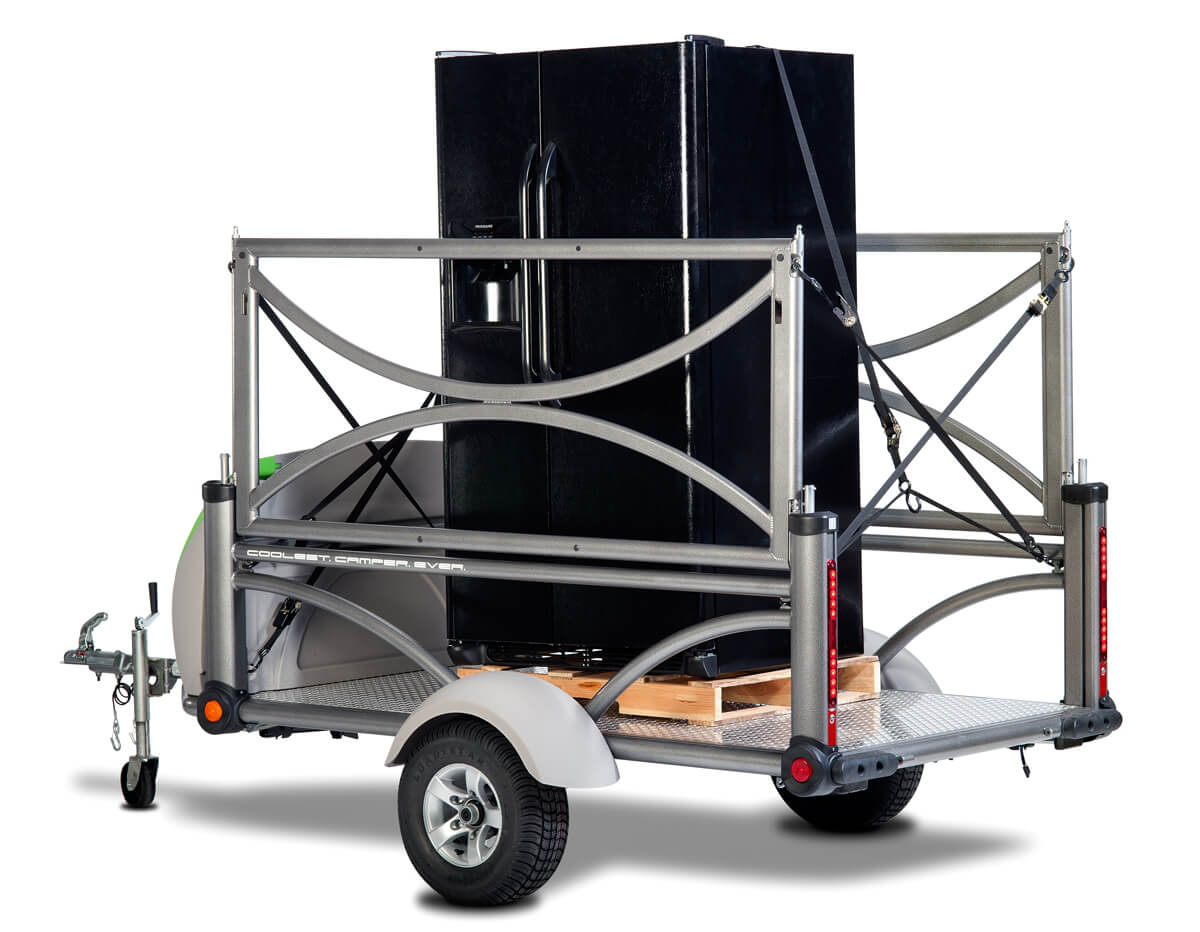 No-Ramp, Rugged, Lightweight, Easy-to-Tow Trailers
Here are five ways that SylvanSport's brilliantly engineered, multi-award winning GO utility trailer stands out from the rest.
No-Ramp: With the full-size GO, you can load a riding mower or other large equipment without a ramp! The Control-Tilt deck slants to the ground, so you can easily roll your equipment onboard.
Rugged: GO is a lightweight trailer built for heavyweight jobs. Manufactured in America, using the highest quality materials and construction—GO is tough and built to last.
Lightweight: GO weighs just 840 pounds, making it light enough to tow with just about any vehicle, even a small car.
Easy-to-Tow: One person can easily hitch a GO to a vehicle, using our unique one-step coupler. GO features aerodynamic design and torsion suspension for a smooth and safe ride.
Versatile: Haul construction materials one day, bikes and kayaks the next! GO is designed to haul way more gear than you would expect from such a compact trailer (amaze your friends!) GO offers three distinct configurations, including a cool pop-up camper!
What You Can Do with a SylvanSport GO Utility Trailer
Hauling and Moving
Moving is a part of life. But expensive truck rentals don't have to be. A full-size GO is bigger than a small U-Haul. GO can carry 800 pounds on the deck, plus another 160 pounds if you're using the rack.
Home Improvement
One of the rewards of homeownership is the satisfaction of doing it yourself. No matter how big or small your vehicle, when you hitch a GO trailer to the back, you're set to haul a load of lumber, tools, equipment, appliances—whatever you need to start creating the home of your dreams.
Lawn and Garden
Mowing day? A full-size GO can easily haul a riding mower—and it's exceptionally easy to load, ramp-free! GO will get the job done when you need to haul nursery trees, potting soil, mulch, hay bales, firewood, and all kinds of equipment and tools.
GO or GO Easy?
Do you need the GO camper-trailer or the GO Easy micro trailer? Depends on what you're planning to do. Here's a snapshot of some of their outstanding features:
Features of GO Utility Trailer and Adventure Camper
Two distinct trailer configurations—low profile Travel Mode or larger capacity Transport Mode
Converts easily into a pop-up tent camper for 4+ people in Camping Mode
Can carry a riding lawn-mower, ATV, or motorcycles
Can carry up to 12 bikes, kayaks, camping gear or any combination
Ramp-free loading
Weighs 840 pounds—light enough to tow with a small car
Features of GO Easy Micro Utility Trailer
Choose from Essential or Ultimate versions
Tailor to your passions with the Cycling or Paddling Packages
Up to 325 pounds carrying capacity with the Cycling Package or 525 pounds with the Paddling Package
Can carry up to 6 kayaks or 7 bikes
Rail slots make it easy to enclose with your own panels
Stores in an upright, space saving position
Weighs as little as 235 pounds—light enough to tow with a motorcycle