The SylvanSport GO is the camper that was built for your Subaru Outback. If you're looking for a camping companion for your Subaru, look no further than the GO.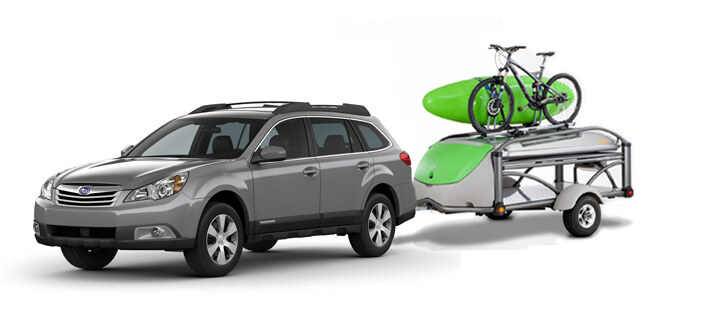 Subaru Camper
Subarus are a natural choice for outdoor lovers the world over. Even if you need to take on rugged terrain and rough weather, your Subaru ensures that you can get out in the great outdoors. Whether you drive an Outback, a Forester, a Crosstrek, or an Impreza, you probably chose your Subaru for its dependability, sure-footedness, sensible features, and style. The SylvanSport GO was created with those same ideals, making it the ideal Subaru camper. And, at 840 pounds, it's lightweight enough to tow behind any Subaru, large or small.
Perfect for Outbacks, Foresters, Crosstreks, and All Subarus
Forget clunky campers and over-sized RVs. Now you can transform your everyday car into a go-anywhere camper. Chances are you've done plenty of car camping out of your beloved Subaru. Now, with the SylvanSport GO you can quadruple your gear hauling ability while seriously increasing your fun capacity! GOs can haul up to 960 pounds of gear. The GO allows you to easily carry up to 12 (count em, 12!) bikes or kayaks, or any other gear that you need for your family trip or outdoor adventure. Subarus are built to handle the toughest of road conditions, so it is only fitting that they should be accompanied by the toughest car camping trailer available.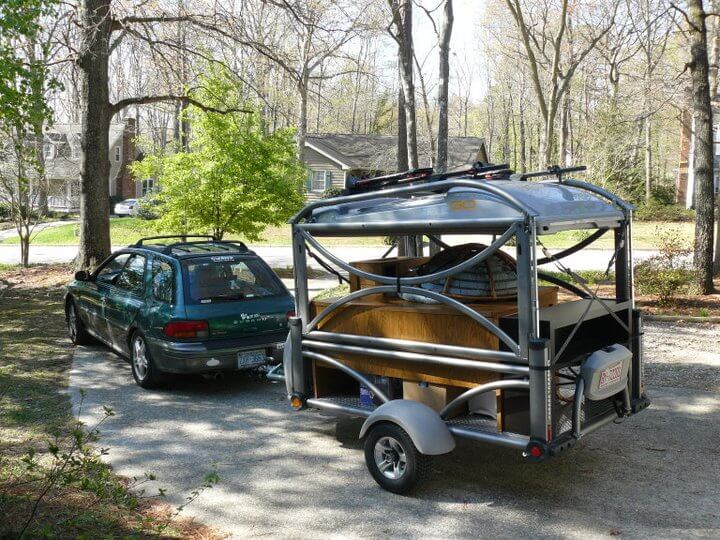 A Camper Built for Fuel Economy and Safety
The GO is a pop up camper that was designed to be towed behind vehicles with impressive fuel economy—like your Subaru. No gas guzzler required! Whether you drive one of the smaller Subaru sedans or one of the bigger models like an Outback or a Forester, you can easily haul a GO camper, fully loaded with all of your adventure gear. The GO was specifically engineered to be compatible with fuel efficient vehicles, with its lightweight, TIG-welded aluminum frame and aerodynamic design. GO's sleek design reduces drag, which is good for your gas mileage, as well as your handling, as you head to your outdoor destination.
Drive in Your Subaru, Camp in Your GO Pop Up Tent
You already know your Subaru can get you to amazing vacation and adventure spots, with its all-terrain, all-wheel drive capabilities. With a GO camper, you can make space in the car for more friends and family, while hauling enough gear for everybody. Then, when you get there, you can camp in comfort and style. Unpack your bikes, boats, and camping gear, and then—in just ten minutes—turn your gear trailer into a roomy pop up camper! The GO camper sleeps four people or more in luxurious comfort. And the tent extends with a weatherproof canopy to create a shelter where you can cook, eat, relax, and enjoy good company. Ride in style, camp in style.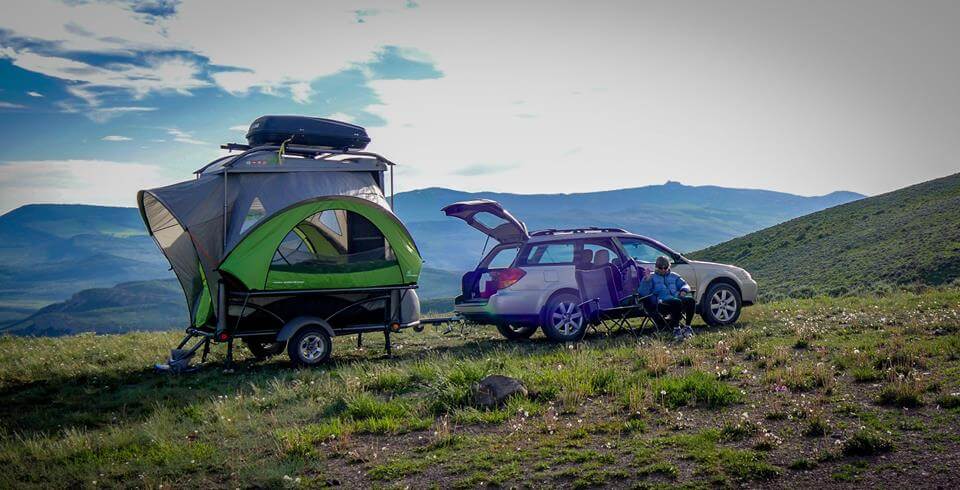 Off Road? All Terrain? This is Your Camper.
If you're planning to take your Subaru off the beaten path, the GO is right there with you. GO is a highly durable, rugged camper and utility trailer that will go anywhere your all-wheel drive Subaru takes it. So, if you're out having fun, use the GO to take your kayaks, canoes, mountain bikes, motorcycles, surfboards, dirt bikes, and even ATVs with you. If it's a roll-up-your-sleeves kind of day, you can use the GO to haul furniture, equipment, tools, a riding mower, mulch, feed, or whatever it takes to get the job done.
Subaru Owner Testimonials
"We shopped for our Subaru Outback 2.5i wagon last spring and coordinated it with the purchase of our GO… We couldn't be more elated…They are like biscuits and gravy, like strawberries and cream, like sauerkraut on your bratwurst, like horseradish with roast beef. Some things just work well together! The Subaru Outback's rear deck complements storage of camping/kayaking/biking supplies with the GO's hauling abilities. Our MPG was hardly affected at all and visibility was not hampered when towing, either in the travel or transport mode.
We took our Go out for the first time this week. It towed like a dream behind my Subaru Forester - I couldn't even tell it was there. We camped for a week with a big group and weathered rain and wind so comfortably, and gave LOTS of tours. 🙂
Lightweight, Eco Conscious, Made in the USA
With SylvanSport, you can go green without skimping on vacation, travel, and outdoor adventure. The GO was designed as an alternative to heavy camper trailers, so you can get out and play without a behemoth dragging down your gas mileage. This combination of ruggedness and fuel economy is a big part of what draws people to Subarus, so why sacrifice it when you're camping or hauling? Every GO camper is made in America, at our factory in Brevard, NC, using lightweight and durable materials, and manufactured to the highest quality standards.
Learn More About the GO Camper