You Can Have It All—Lightweight But Not Too Small
Many outdoor enthusiasts are looking for the perfect towable camper but are frustrated with the industry standard models which are either too heavy and cumbersome or too small, lacking carrying capacity. The SylvanSport GO is the perfect solution— a lightweight camper with enough carrying capacity for big time outdoor adventures. Pack up the GO and head out without a heavy camper slowing you down and burning through fuel. Then, when you reach your destination—presto magic!—turn your camper into a state-of-the-art pop-up tent, an ideal home in the great outdoors.
Light Enough to Tow with Even a Small Car!
If you are in the market for a lightweight camping trailer, look no further than the SylvanSport GO. GO is the most versatile pop up camper on the market. For good reason, it was named by National Geographic Adventure as the "Coolest. Camper. Ever." GO is so lightweight, at just 840 pounds, that it can be towed by virtually any vehicle, including hybrid cars. GO is the perfect lightweight camper for everyone from Subaru drivers to Mini Cooper drivers. And it has all the toughness and performance prized by the serious outdoor traveler.
A Camper Designed For Fuel Efficiency and Ease of Use
No other camper trailer in history has won more design, engineering and gear awards than the SylvanSport GO. While we're proud of this achievement, it simply reflects our commitment to making to make the GO a great experience for you. Numerous innovations make this extraordinary camping trailer easy to use and economical to tow. All of the GO's features are designed to work with minimal effort on your part. For example, one person can easily hitch or unhitch the GO from a vehicle in just one step!  From the lightweight aluminum to the sleek aerodynamic profile, GO was designed to avoid waste, maximizing your miles per gallon. Weighing only 840 lbs and traveling on a perfectly balanced suspension system, GO can be towed by even the smallest, most fuel efficient cars.
This Camper Trailer is Made for Adventure
The SylvanSport GO may be lightweight, but it's up for any outdoor adventure. Load the GO with mountain or road bikes, canoes, kayaks, surfboards, stand up paddleboards, a small boat, an ATV, a motorcycle—whatever says epic outdoor adventure to you. Then, once you arrive, kick back under a Kelty tent. And don't skip the star gazing. Special star gazing windows make sure you can enjoy the wonder of the night sky. GO was designed for the environmental and outdoor enthusiast eager for outdoor adventures. Whether your passion is cycling, paddling, surfing, rock climbing, fishing, off-roading, or simply camping, GO is made with you in mind.
Perfect for Retirement—A Lightweight Camping Trailer
As many active adults approach retirement age, they envision all the great outdoor adventures to come. Some choose to purchase an RV so they can camp in comfort—but these expensive and inefficient vehicles aren't for everyone. Many people would prefer the versatility, simplicity and affordability of a lighter camping trailer. If you're looking for a lightweight camper to carry you into a new era of adventure, check out the GO!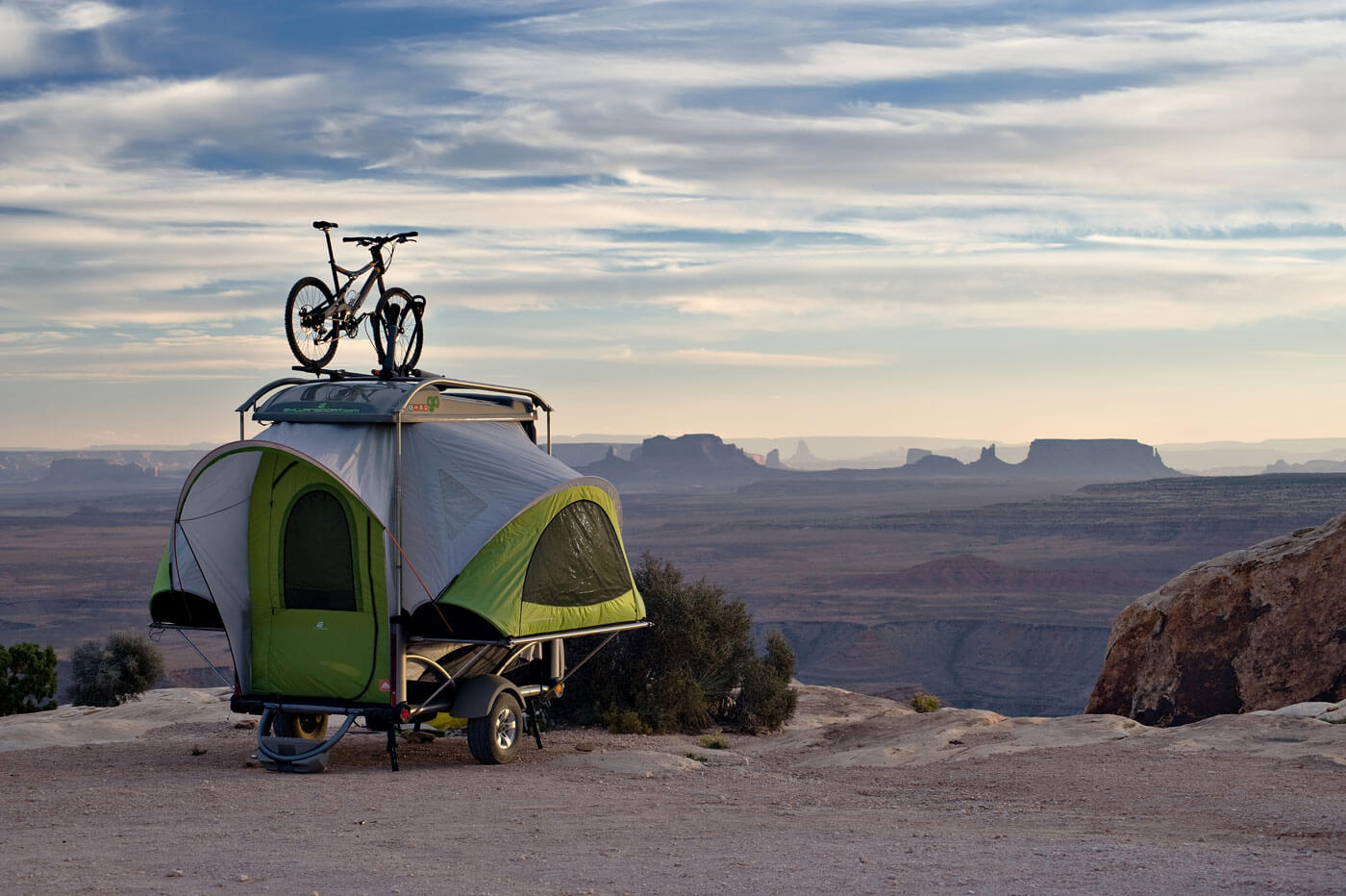 Lightweight Camper Trailer
There are lightweight camper trailers… and then there is the ultimate lightweight camper trailer, the SylvanSport GO. We have worked very hard to turn the world of camping trailers upside down. The development of the SylvanSport GO is nothing less than a complete reinvention of that category. If you are looking for a lightweight camper trailer that can easily haul ALL your boats, bikes, gear, tools and toys… even motorcycles and ATVs, then GO is the one. If you are looking for a cool, spacious and comfortable camper then GO is perfect, it's the Swiss Army Knife of lightweight camper trailers.
Sleep under the stars in GO lightweight camper trailers
Once you reach your destination, it's easy to unpack, set up your GO and camp out under the stars. There is no other lightweight camper trailer that can give you the same awesome camping experience as the GO. From GOs lightweight, Nylon, Kelty tent with perfectly positioned Star-gazer Panels to it's three layer window and door cover system, GO is the ultimate lightweight camper trailer for sleeping under the stars.
Lightweight Camping Trailer
If you are looking for a lightweight camping trailer you have found it in the SylvanSport GO. Like a Swiss Army knife, the GO is the most versatile lightweight camping trailer on the market. Weighing just 840 lbs., the GO can be towed by any four-cylinder vehicle, making it the perfect lightweight camping trailer for small vehicle owners who are serious about their outdoor adventures.
Disclaimer: SylvanSport recommends that all GO owners follow the guidelines set forth by their tow vehicle manufacturer. We do not recommend doing anything that would either void a warranty, or create an unsafe or uncomfortable situation. [For more information, refer to Terms, Section 4].