Surfboard Trailer
Lightweight, Smooth Riding Surfboard Trailer
Carry all your surfing gear securely and in style with this sweet surfboard trailer. You can outfit the GO for everyday surfing or a long trip to remote breaks. Imagine a weekend full of sun, amped surf, camping out on the beach… there's no better way to GO. Getting there can be half the fun, load all your gear, and bikes too… on GO's big open deck, strap the boards to the rack and you are on your way, with the world's coolest surfboard trailer. GO has specially designed, high flotation wheels to effortlessly take you over sand and water to that epic break. GO is not only an awesome surfboard trailer, it converts easily into a pop up camper designed for comfort and style. No wonder National Geographic called GO the "Coolest. Camper. Ever."
Bring All Your Boards and Gear with this Expandable Trailer
Trying to find a way to fit enough surf gear into the car for you and your friends? Or bringing the family? Sounds difficult, but GO has the solution! For lighter loads, you can use GO in low-profile Travel Mode. When you need to carry more, expand it to Transport Mode. In Transport Mode, GO has an 800 pound carrying capacity on the deck, plus an extra 160 pounds of capacity on the rack. Plus, there's the weatherproof storage pod, for an extra 6.2 cubic square feet of secure dry storage. That's easily enough room to securely store and haul your whole crew's wave riding accessories. Whether you ride a short board, long board, or paddle board, GO is the ultimate in surfboard transportation.
Looking for a Surfboard Bike Trailer?
Coastal living just got more laid back, with this super versatile adventure trailer, fully compatible with both surfboards, bikes, kayaks, and the rest of your adventure gear. GO is the ultimate all-in-one conveyance for all your beach needs. Bonus: it's so lightweight that you can tow it out there with almost any vehicle, from trucks and SUVs to Subarus and small, fuel-efficient cars! GO is so versatile, that you never have to choose between your favorite hobbies. Bring all your gear! This surfboard-bike-boat trailer is so easy to use you can take off on adventures with total spontaneity—even with a bunch of outdoor gear to haul.
More Than Just a Gear Trailer – It's a Popup Camper Too!
As a surfboard trailer, GO can haul multiple boards to remote beach breaks—and it doubles as an instant campsite! GO has custom self-inflating mattresses and a sleeping surface equal to a king and a half size bed. Don't worry about making that long drive home after an epic day catching waves. Just paddle in, dry off, and with a few cranks on the trailer it converts into Camping Mode—a beautiful and spacious tent home. Increase the relaxation level of your surfing experience with this great tent camper—convenient, comfy, and cool.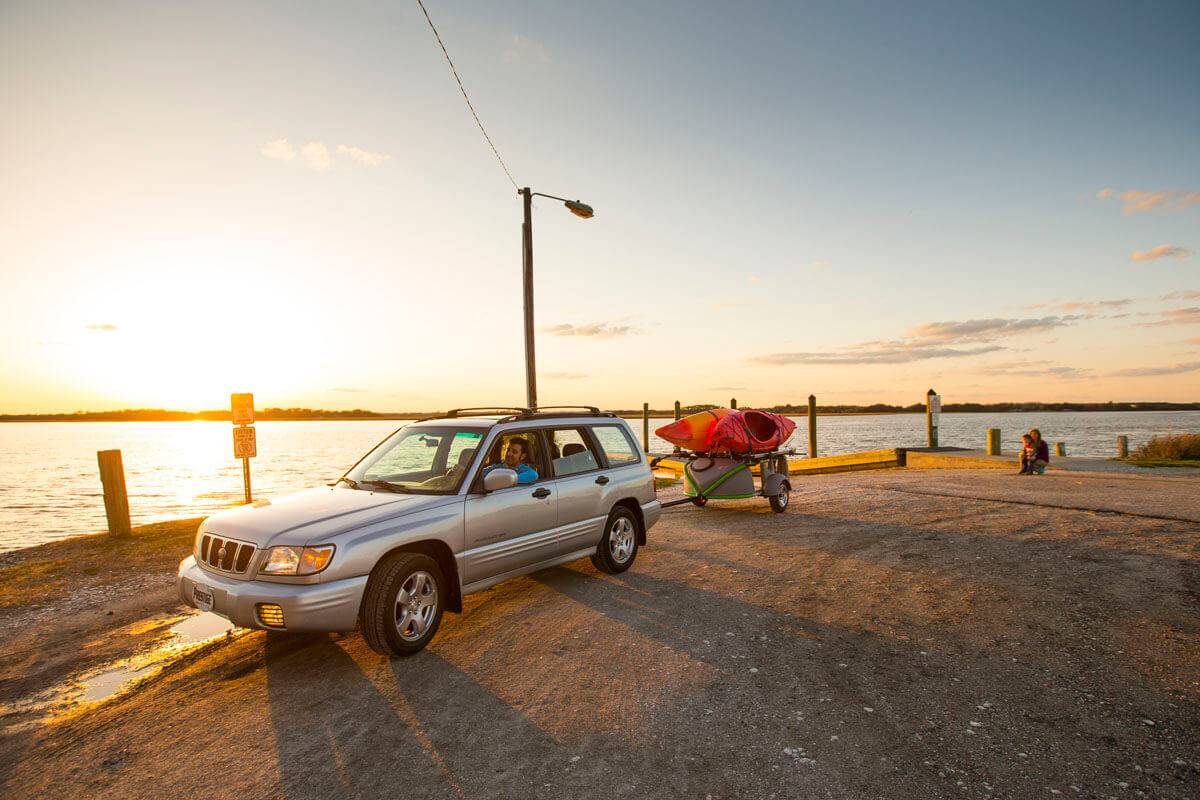 Beach Vacations Are Better with All Your Boards
Prepare to feel the sand between your toes, the wind on your face, and the big blue stretching out before you. Extra surf gear should add to your ideal beach vacation, not become a hassle. GO is an award-winning outdoor gear trailer that doubles as a pop up camper—and can still haul enough surfboards for everyone. Get your boards to remote beach locations, then with the quick turn of a crank set up the pop up tent feature within minutes to establish a comfortable campsite.
Get Off the Beaten Path, Enjoy More Sun and Surf
Getting tired of the same old overcrowded surf spots? Blaze new trails to secluded beaches with your GO! The extraordinary maneuverability, 13" ground clearance, and high flotation tires on this adventure gear trailer were designed so you can wander off the beaten path with all of your toys. And if you get lost? Well, at least you'll still have shelter in the GO camper. Turn an average vacation into an extraordinary and unexpected vacation with the GO surfboard trailer.
Disclaimer: SylvanSport recommends that all GO owners follow the guidelines set forth by their tow vehicle manufacturer. We do not recommend doing anything that would either void a warranty, or create an unsafe or uncomfortable situation. [For more information, refer to Terms, Section 4].