Pop Up Travel Trailer
When you think about camping, do you envision a hotel-on-wheels, or a travel trailer that allows you to get close to nature? SylvanSport feels there is a big difference between camping and RVing, but that doesn't mean that campers have to sacrifice comfort! We invite you to take a look at the next generation of pop up trailers – the SylvanSport GO. With state-of-the-art engineering, GO is the travel trailer that redefines how people play and sleep in the great outdoors. No other vehicle on the market combines durability, comfort, and versatility like the SylvanSport GO.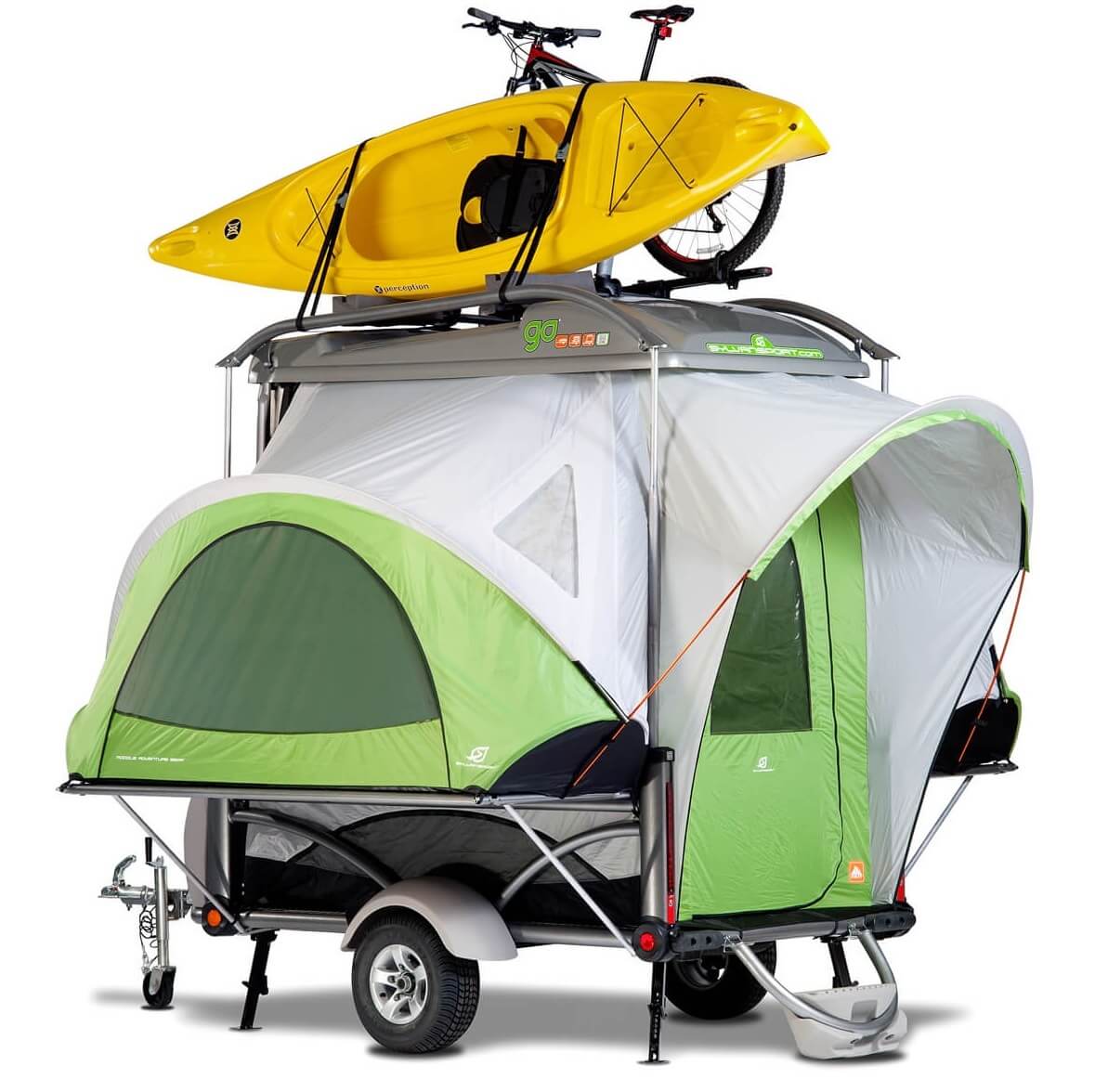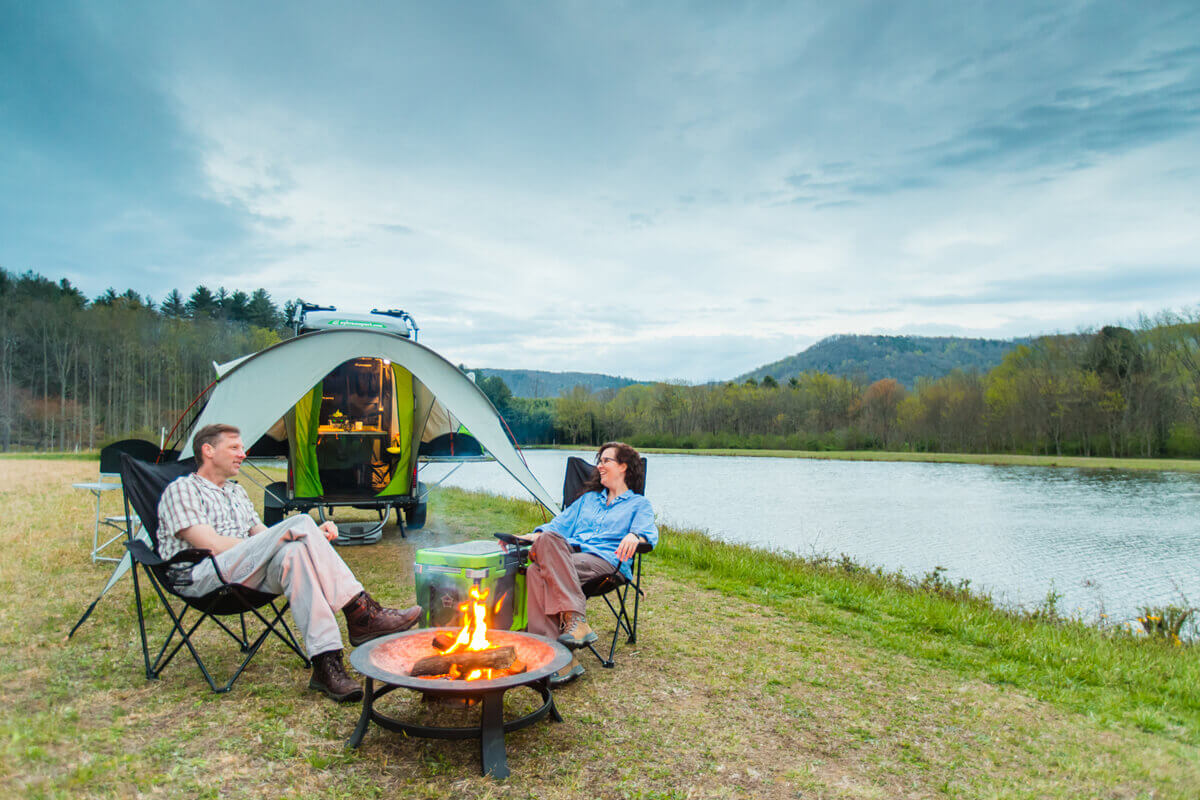 The Swiss Army Knife of Pop Up Trailers
When the first pop up trailer was created, nearly 40 years ago, it was intended to give families and outdoor lovers a way to get out and have fun… easily and inexpensively. Over the years the pop up trailer has evolved into a larger, heavier and more expensive product. SylvanSport set out to change all that by re-thinking the way you camp and carry gear, from the ground up. We created GO, a Swiss Army Knife of a pop up travel trailer.
GO has a ton of versatile features. It's easy to transform into any of three configurations—Travel Mode, Transport Mode, or Camping Mode. The Control-Tilt Deck makes it easy to load. The removable top pod allow you to turn it into an open-topped utility trailer (without any tools!). The front storage box can double as a huge cooler. And there's so much more. The GO can carry all your gear, to any location and unfold into the most spacious and comfortable pop up trailer you'll ever find.
A Mighty Gear Trailer for Bikes, Kayaks, and More
GO was designed to be a travel trailer for the outdoor enthusiast longing for a true adventure. We constantly hear from people who are looking for the perfect lightweight, easy-to-tow pop up travel trailer but frustrated with industry standard models that are short on carrying capacity. The SylvanSport GO was designed with these people in mind. GO is a travel trailer that lets you take everything with you!
GO is an incredibly versatile gear trailer. We designed GO to carry a dozen bikes, kayaks or any combination. Whatever you need to bring with you—bikes, kayaks, skyboxes, surfboards, mountain boards, skis—it's easy to carry on the GO pop up trailer. No other pop up trailer in the world can carry as much gear, while maintaining such a small footprint, lightweight construction, and aerodynamic efficiency. GO transforms your small, fuel efficient vehicle into a mighty gear-hauler!
Your Travel Trailer Pops Up Into a 4+ Person Tent
When you arrive, just unload your gear, and transform the GO into a spacious pop-up tent in ten minutes. There's plenty of room inside for four or more people, plus your stuff and your dogs, if they're traveling with you. The Kelt-made tent system extends into a covered pavilion, providing space where you can cook, eat, and hang out, sheltered from the elements. When it's time for some shut-eye, you can all get a good night's sleep on built-in, self-inflating air mattresses. You've got plenty of choices for sleeping arrangements, from a couple of single beds to a giant mattress the size of a king-and-a-half size bed—so you're rested and ready for the adventures to come!
Lightweight, Easy to Tow, and Fuel Efficient
Even though the GO is heavy on storage and carrying capacity, it in no way requires a cumbersome, fuel draining tow vehicle. In fact, the GO is a travel trailer that any four-cylinder car can tow. Go is crafted with incredible precision, from modern lightweight materials such as custom aluminum (tig-welded) extrusions and molded recyclable plastics.
Load the 840 lb. GO with up to 800 lbs. of toys and leave the truck at home! You'll travel farther and more frequently than you could in an old-fashioned bulky trailer. And because you'll have all your gear with you, you'll have more fun too. Take a closer look and see why National Geographic dubbed GO the "Coolest. Camper. Ever."
Disclaimer: SylvanSport recommends that all GO owners follow the guidelines set forth by their tow vehicle manufacturer. We do not recommend doing anything that would either void a warranty, or create an unsafe or uncomfortable situation. [For more information, refer to Terms, Section 4].