Jim and Robin are off and running in their GO (nicknamed LEO – 'Low Earth Orbiter') on their 5 week Tour of the East! In search for adventure, and some warmer weather ☀️, the Berzowskis are heading south to Florida and following the coast back up to Milwaukee, WI. Along the way, they are stopping at SylvanSport dealers and giving them a little taste of the GO Life. Here is their latest check in after some Florida fun!
After we left Huntsville, we spent a few days in Birmingham, Alabama. We went to the Birmingham Civil Rights Institute, the Skip Barber Vintage Motorsports Museum, and visited with our cousins. Jim and Aidan caught a nice big fat carp in the neighborhood pond!
Then off to Florida! We arrived early evening and set up camp at the T H Stone St. Joseph Peninsula State Park. As usual, someone walked up wanting to see and understand what this thing is that we were towing. She said she thought maybe it was a golf cart of sorts!  On closer inspection, she could see it was a camper! She asked how we liked it, what could we say? We love it!! Of course, we gave her one of the glossies.
Looking forward to walking the beach, kayaking, and riding our bikes here for the next few days…
On Sunday, we left Port St Joe and met up with our friends at Alexander Springs in Ocala National Forest. We camped here over 50 years ago, when my family first decided to venture from NY to FL for camping!
We've been kayaking and fishing and biking, and enjoying great camping meals, beautiful stars, and campfires with wonderful friends of MANY years.
Of course, people ask about our GO, and we explain what it is, what it does, how much we enjoy it, and send them on their way with a glossy handout ☺️
Alexander Springs in Ocala National Forest was really nice, however, the nights were frigid, low 40s!  But the days were beautiful. On Thurs, the chilliest day, we drove over to the coast to visit Kennedy space center. Always a great experience!  On Friday we went to Salt Spring, also in Ocala Natl Forest, for a day of kayaking/fishing (women paddling, men fishing). Unexpected surprise was our encounters with the manatees!! Jim caught a chain pickerel and an ugly catfish, but nothing to compare with drifting with the gentle giants.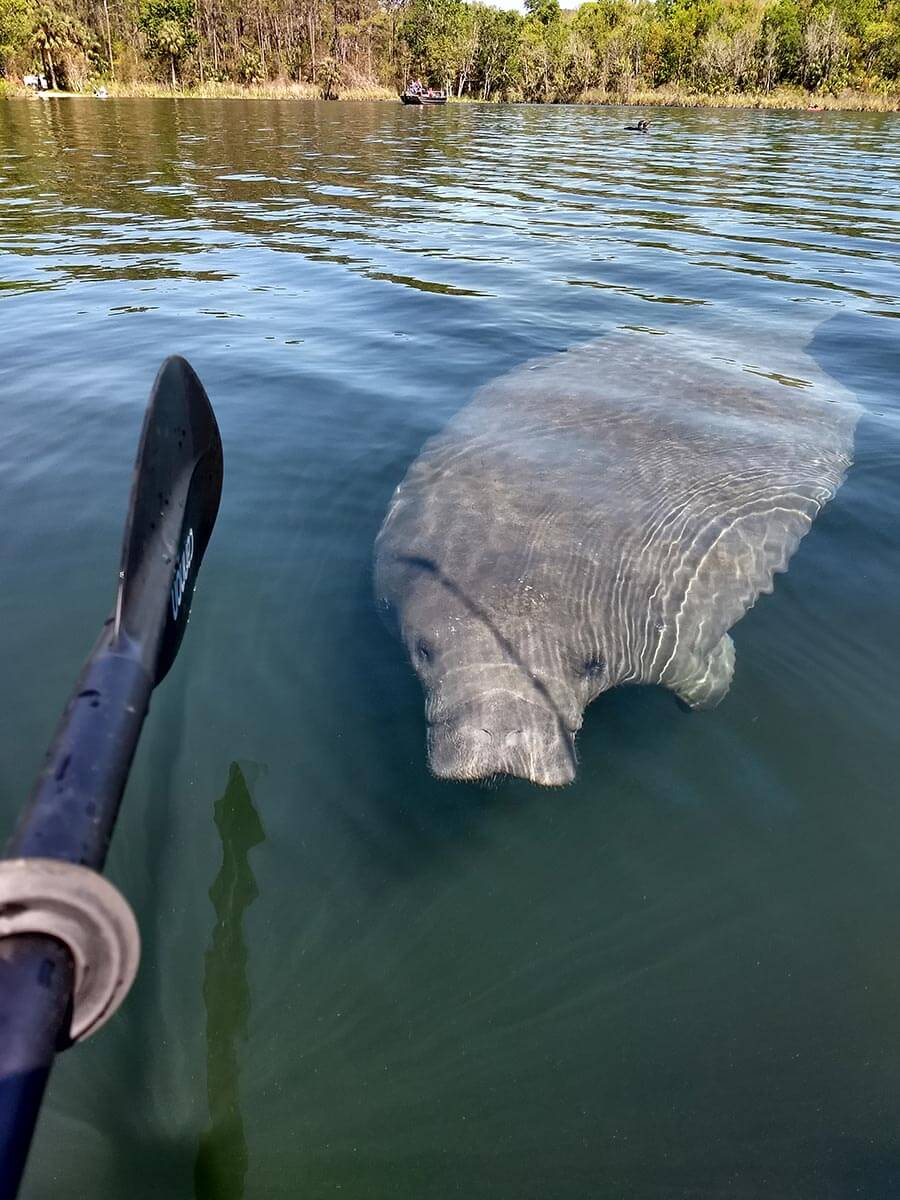 Now we are in the Withlacoochee State Forest at Silver Lake campground till Wednesday. Much warmer today so went for a nice bike ride. Expect rain tomorrow, so staying flexible with our plans. Might get down into the 30s on Tues night – is this really Florida?
A funny GO story: dad and two boys were walking past our campsite and we could hear them saying "what is that?". Dad pokes his head around, so of course, we invited them to take a closer look and see the interior. Jim was explaining the 3-in-1 functionality and I went to the car to get a glossy to give him. He thanked us and asked if it was our company. We then realized that both of us were wearing the SylvanSport sweatshirts that Earl gave us!!  We let him know that we are just very satisfied GO owners. 🙂
And so the adventure continues! Now it's your chance to ask questions to actual GO owners and hear their stories about living the GO life. Meet the Berzowskis at one of their following stops:
Contact us to meet up with the Berzowskis at one of their stops! #HappyGOing info@sylvansport.com or 828-393-4927