Jim and Robin are back on the road again in search of warmer weather. On this trip, the Berzowskis are heading towards Key West in their Honda CR-V and towing their GO! Along the way, they are stopping at SylvanSport dealers and giving them a little taste of the GO Life.
We arrived at our first camping destination, Anastasia State Park in St Augustine, Florida!
[Our original reservation was at T.H.Stone Memorial St Joseph Peninsula State Park, however, it was destroyed by Hurricane Michael.]
It is a wonderful park. Many of the sites are very spacious, although our site was on the small size, especially considering the amount of gear with which we want to populate the site! It was the only site available and we were fortunate to get it due to the park's popularity and the late minute reservation (once we were notified that St Joe was closed).
There was not room on this site to attach the GO and GOzeebo with the breezeway or to put up the fly, but this configuration worked out fine for our needs! This was the maiden voyage for our GOzeebo and for the first few days, we used it as our GOrage: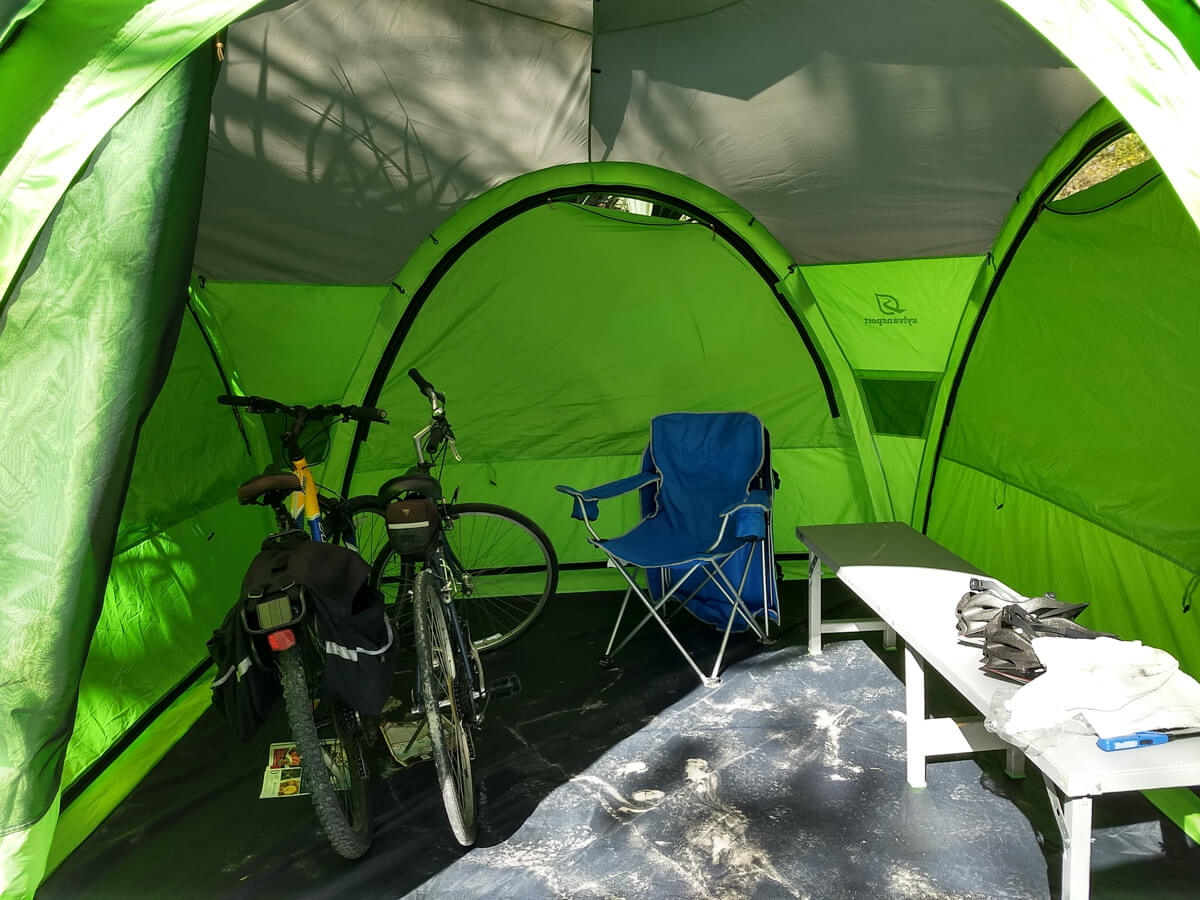 If you recall, Jim manufactured panels/benches for the GO. Just like the GO, they are really multi-functional. We used 2 of them to extend one of the sleeping sides to accommodate both of us, with a nice night stand to hold essentials ?. We use the other sleeping area for our duffle bags and gear.
We joined a group for an interpretive nature walk. Our guide, Jim Gleason, provided information about the geology, history, flora and fauna. We started on the beach which is comprised of sand and coquina.
We continued through the marsh areas, seeing the unique mix of black mangrove and marsh grasses. On our way to Salt Run, we saw a great blue heron hunt and catch a fish!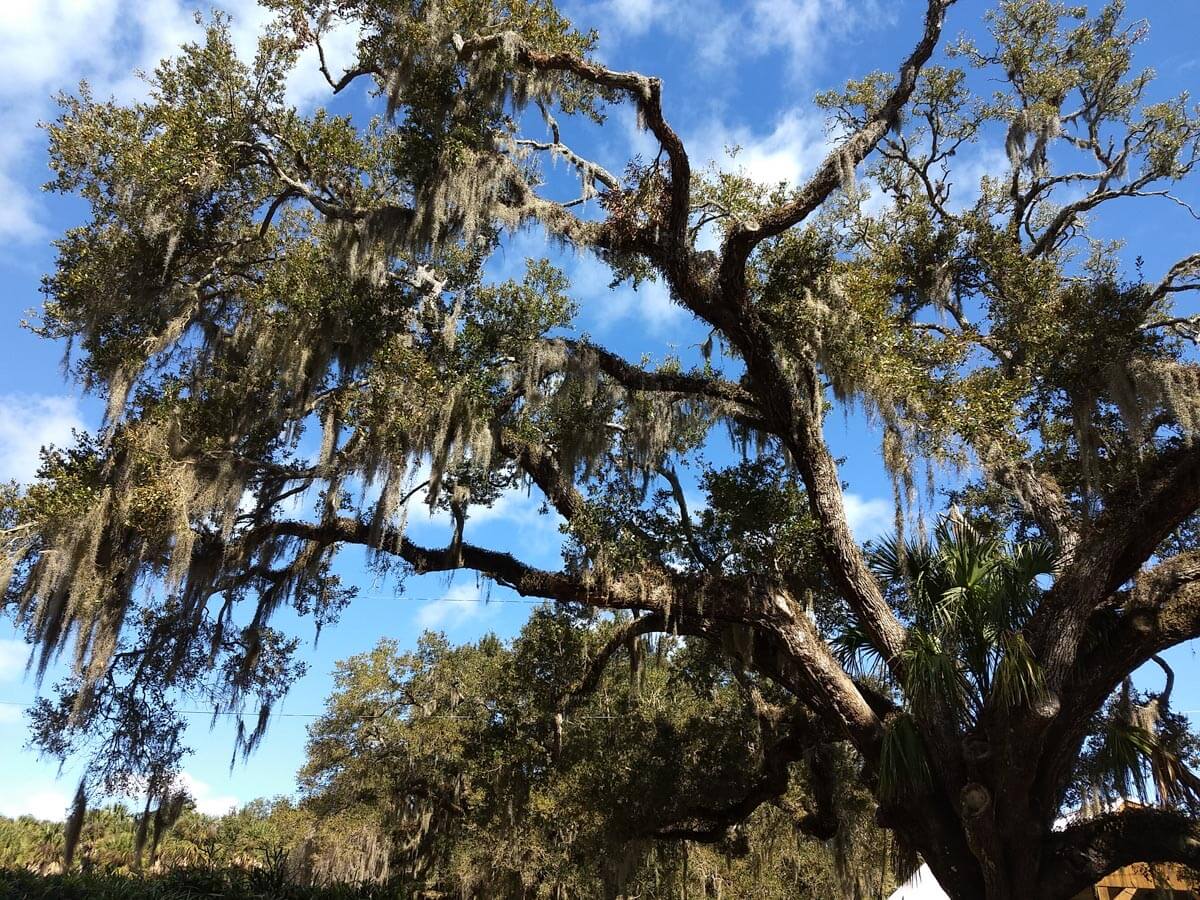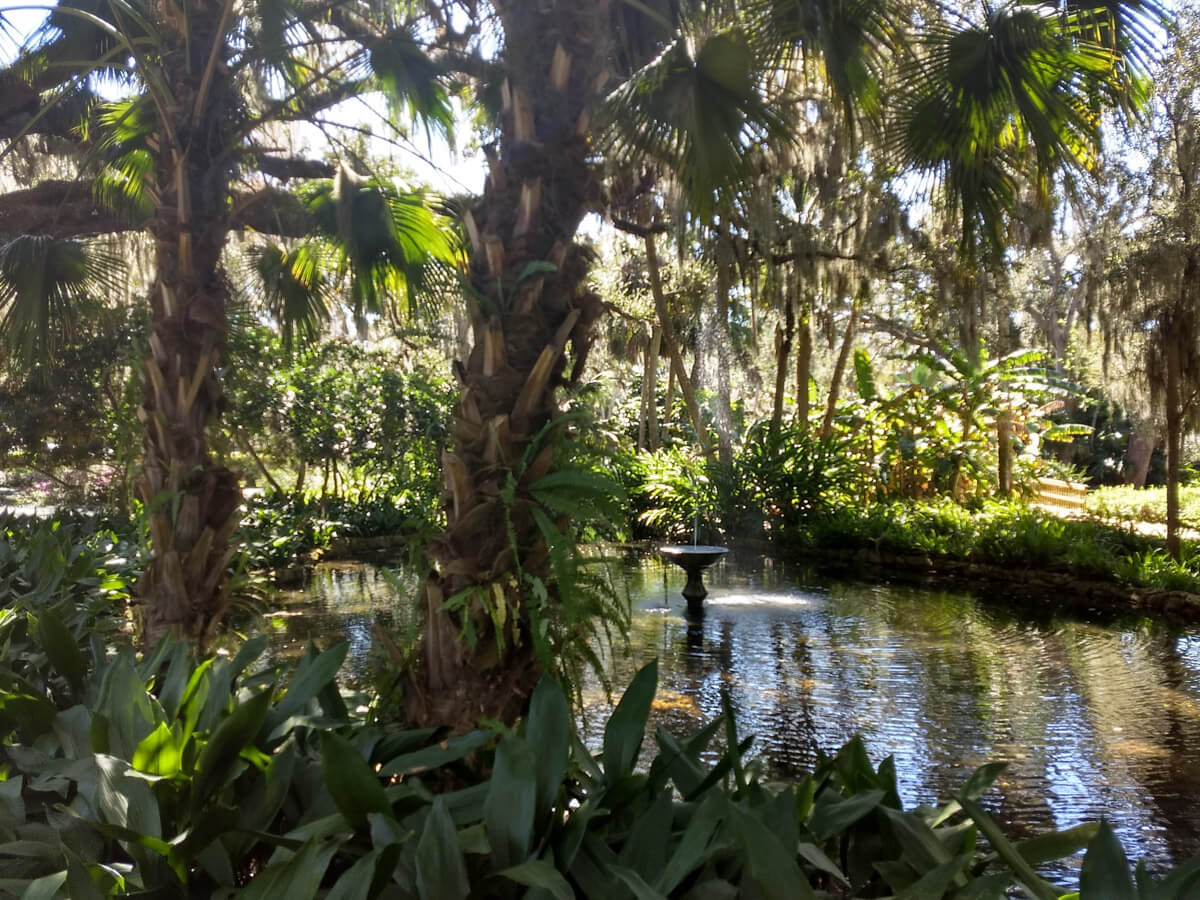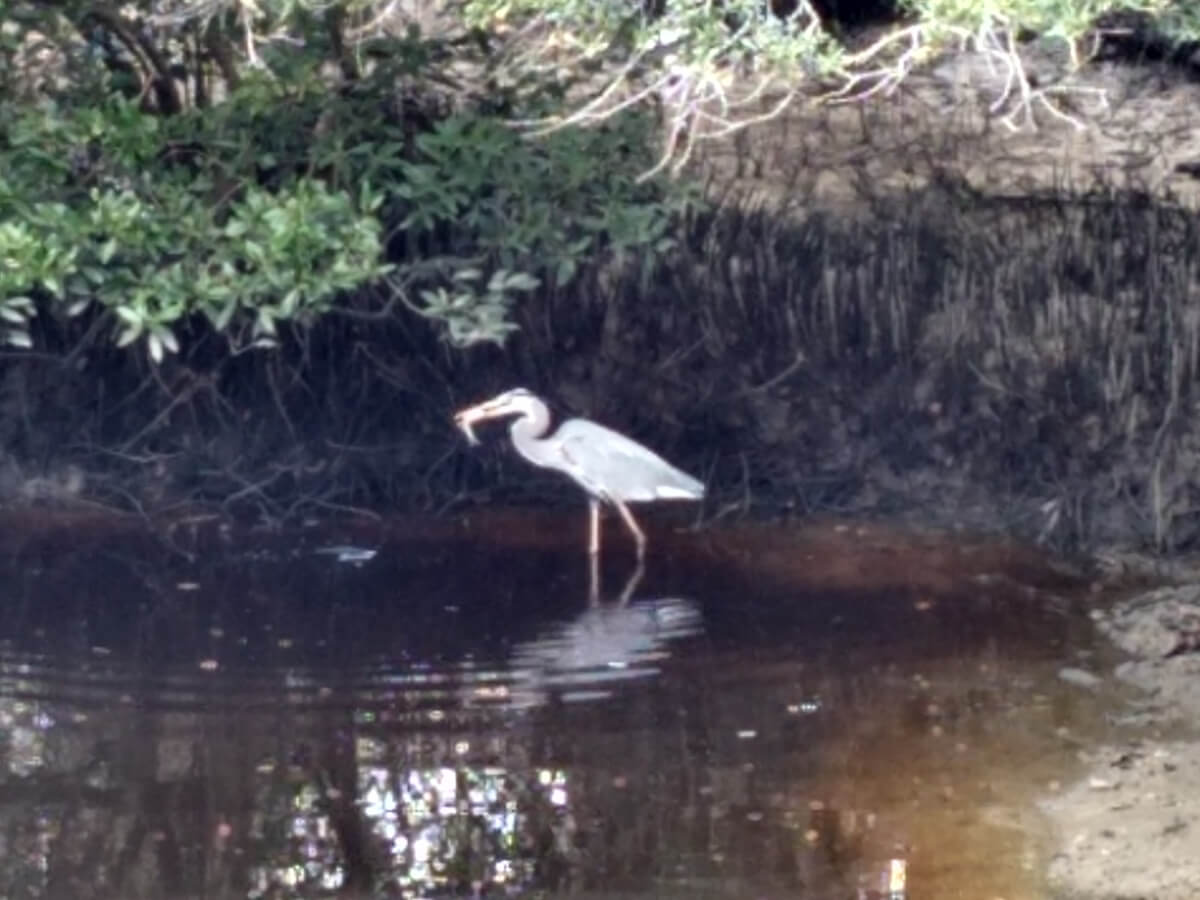 We saw many birds, including wood storks, and learned about the gopher tortoises and their love of prickly pear cactus!
Jim tried his hand at shore fishing, but alas, the heron had better luck than he did. ?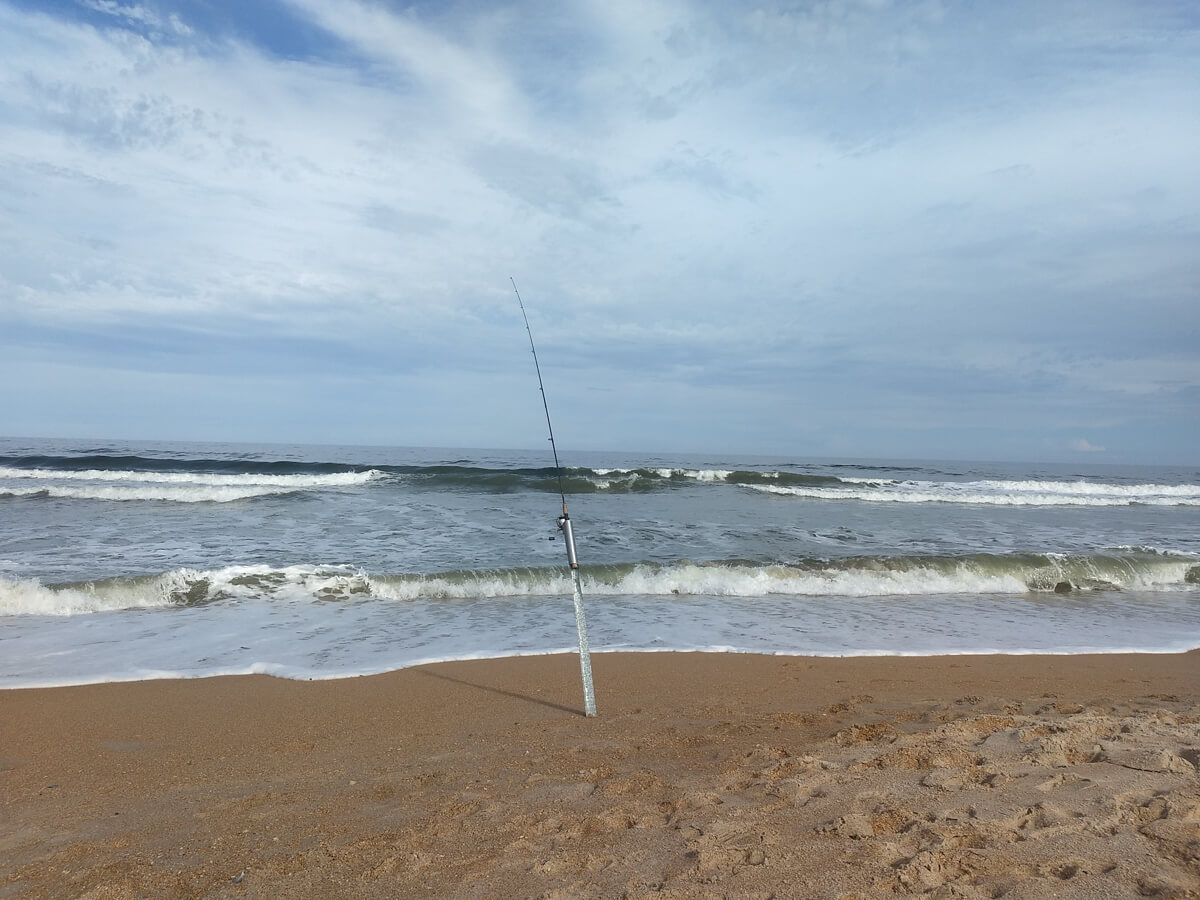 We braved the odds, taking our chances with the intermittent rain, and road our bikes into St Augustine. This is the quicker way to travel, as the traffic is very congested in this popular town.
The following day, we drove down the road a few miles to Washington Oaks Garden State Park. Volunteer Jim Gleason presented another nature walk to highlight the unique coquina rock formations.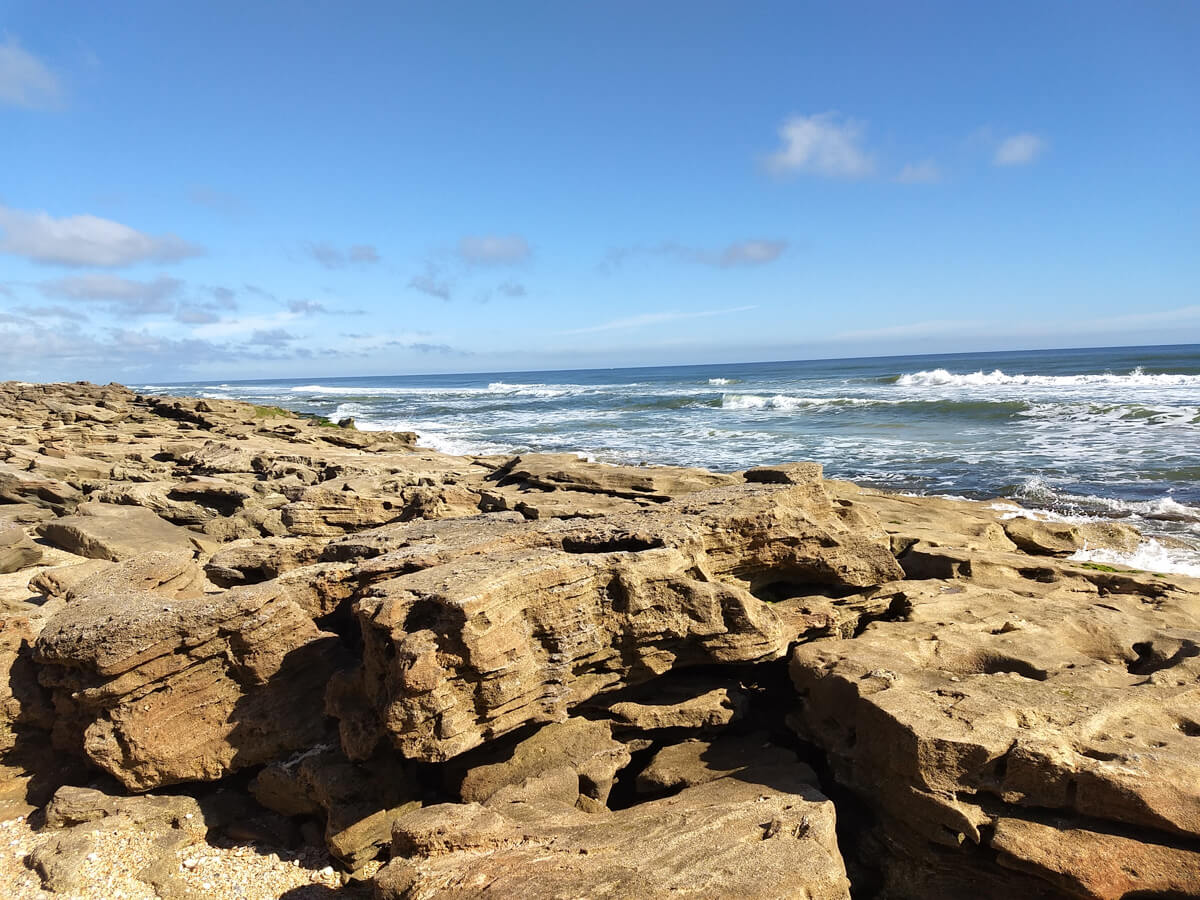 We also spotted our first gopher tortoise.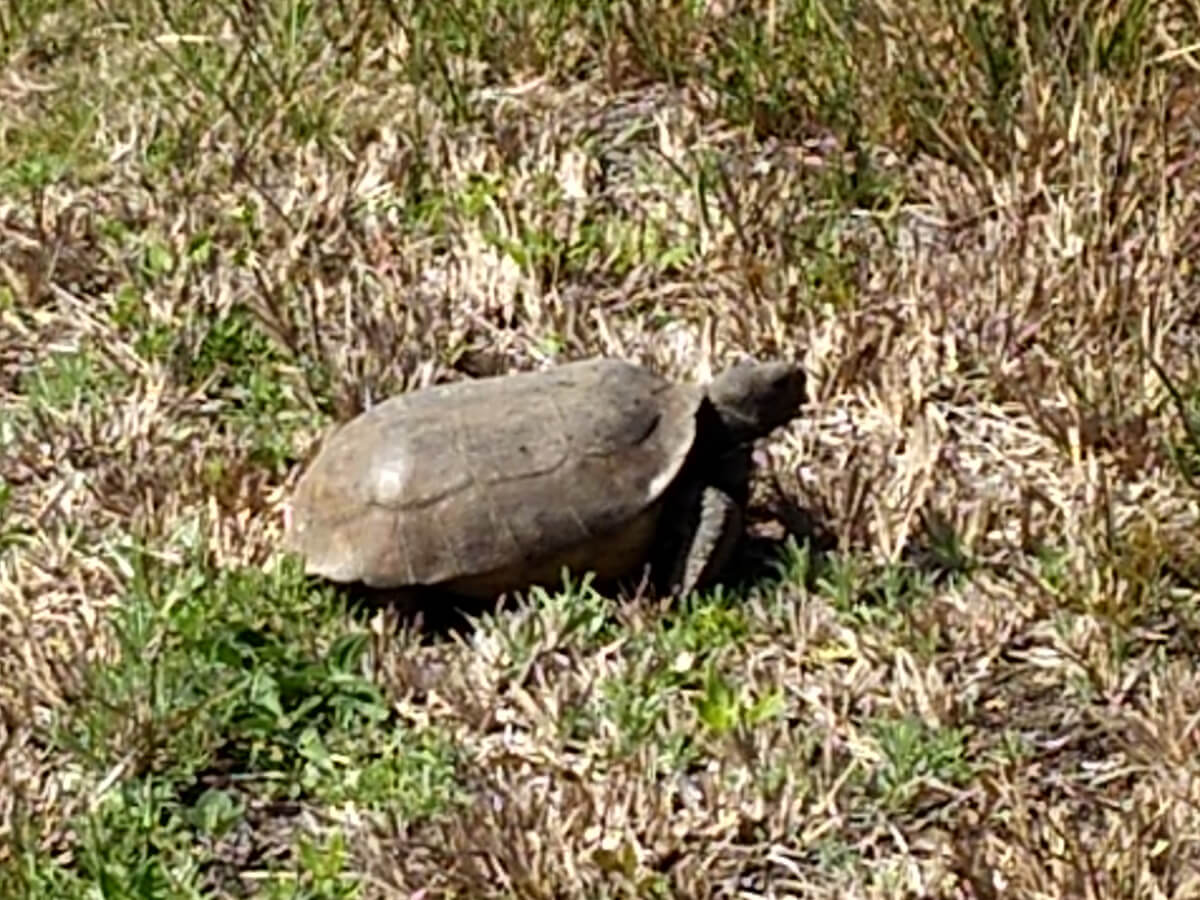 There is a seawall along the Matanzas River, so Jim could get in a bit of fishing. He caught lots of catfish and a sculpin!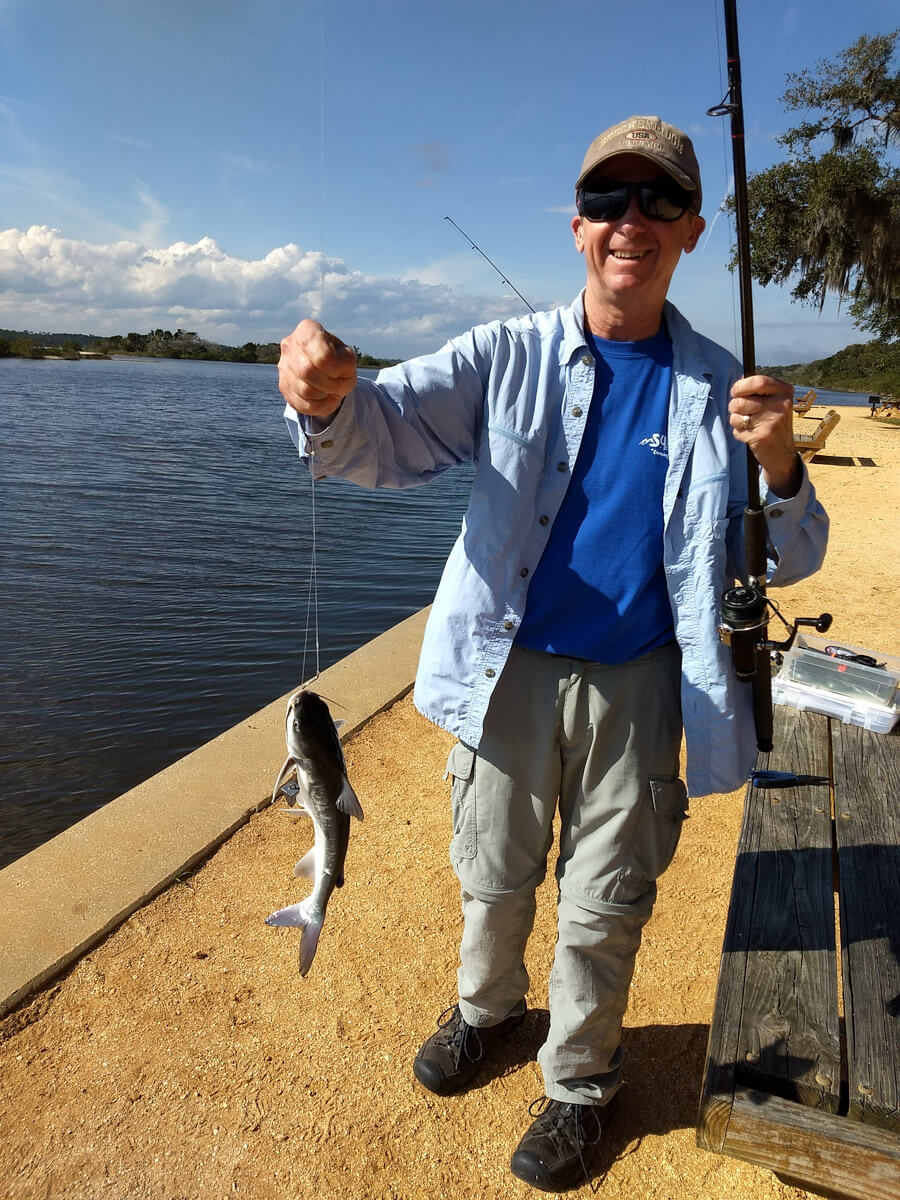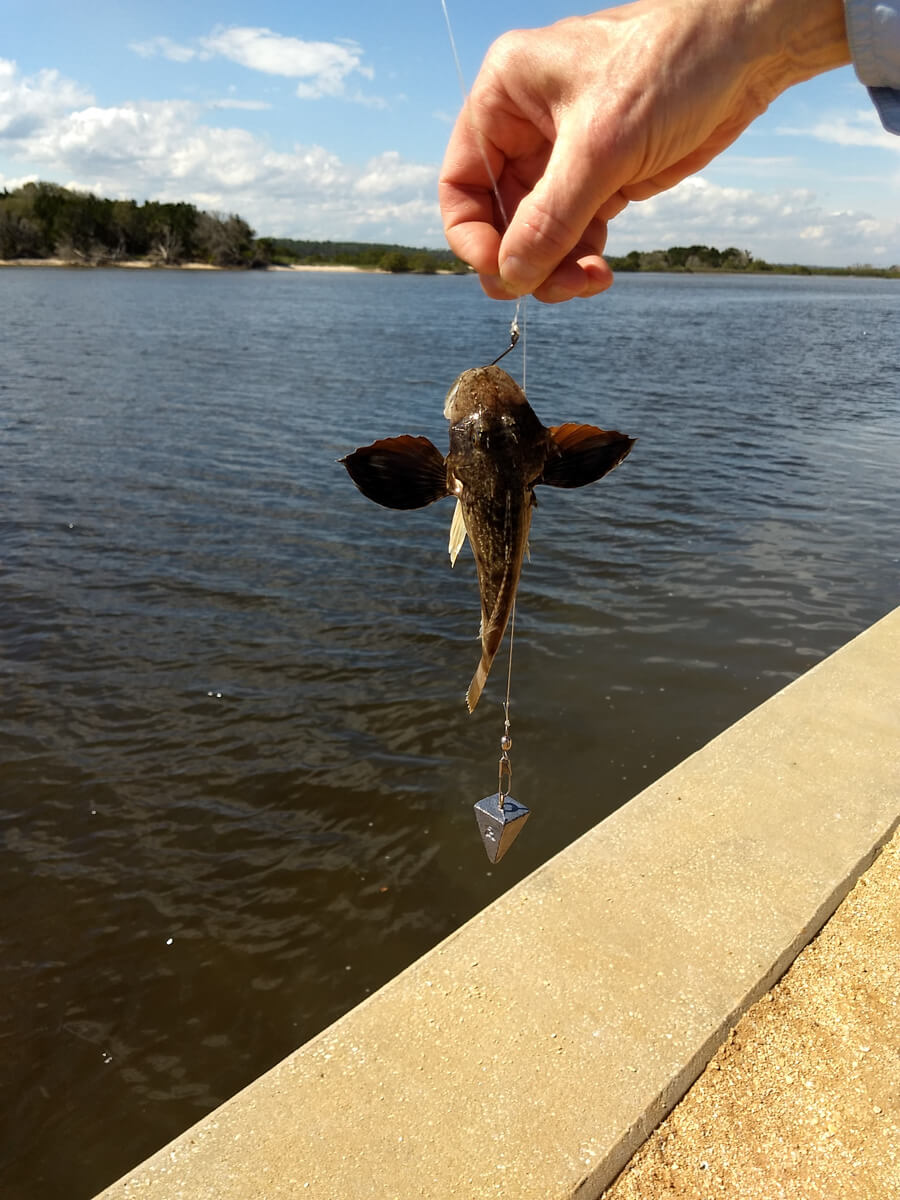 We rounded out our visit on one of their nature trails, learning all about the local animals and trees. Did you know that the red cedar is actually a juniper?
The following day we decided to take the kayak out in Salt Run, right in Anastasia State Park. It was nice and protected so we were only minimally impacted by the tide and wind. I acted as the trolling motor while Jim fished!! He caught a speckled trout right off the bat.
We saw many birds and even followed a pair of dolphin for a while!! We traveled up to the light house, then headed back.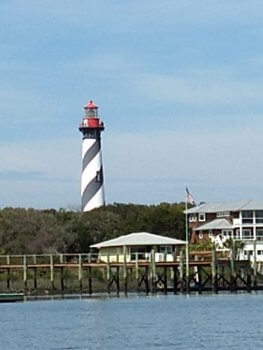 That afternoon, Kathy and Tom completed their drive from NY and arrived to take up residence in the GOzeebo ?. They created a fancy setup, including table and bench, and an indoor clotheslines (we had a lot of rain).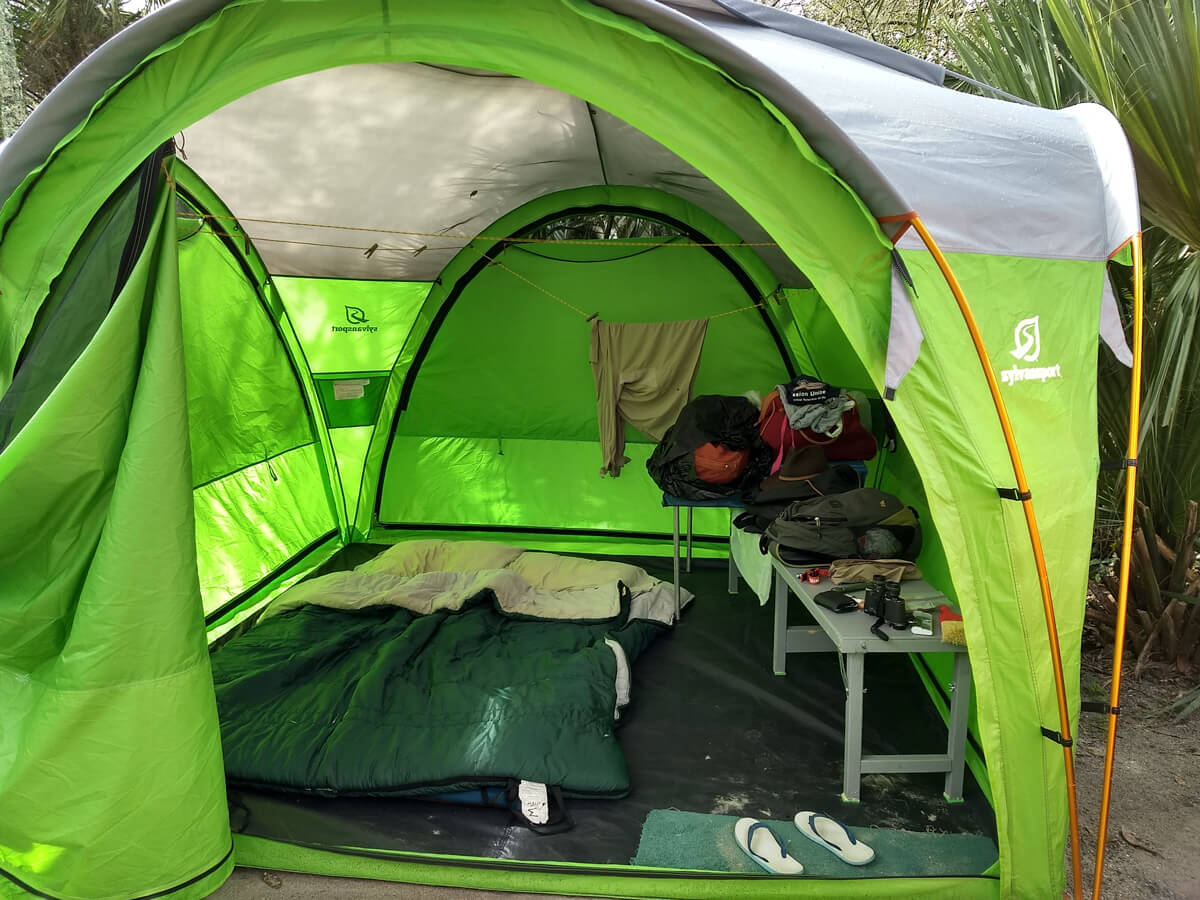 The next day, we walked on the beach in the park and I tried to recreate the nature walk/talk – I think I was able to relay about half the information accurately (the rest, I made up!) I wanted to show them the gopher tortoise hole that had been pointed out to us, and the big excitement was that the tortoise was at home! It's hard to tell from the photo, but this guy was around 12" across and 18" toe to tail!
That afternoon we went back to Washington Oaks Garden State Park. While Jim went fishing, we visited the coquina rocks on the ocean side and the formal gardens on river side. Jim caught many catfish, again, to the delight of everyone who walked past! We spotted a few dolphin – very hard to predict and catch on film!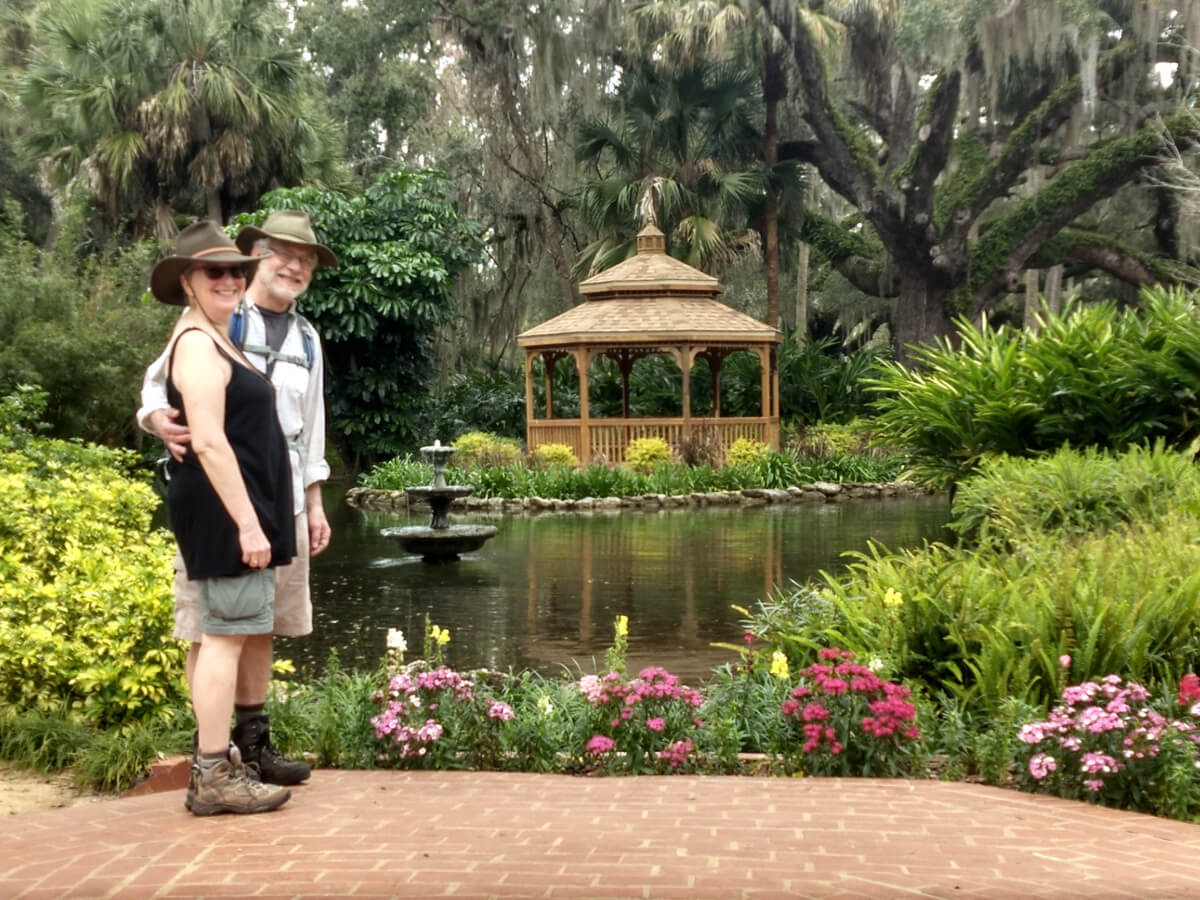 On a recommendation, we ate at Captains BBQ in Palm Coast. It was delicious and plentiful, with really nice outdoor (screened in) seating, located on right on the Mantanzas River. The restaurant is in the midst of Bing's Landing, a truly lovely Flagler County Park on the Intracoastal Waterway.
Backtracking a bit to talk about our actual camping experience. We had a LOT of rain. I am happy to say that our GO performed as usual, kept us totally dry, not a drop of rain entered our domain. Due to the limited space in our campsite, the GOzeebo was perched on a somewhat slanted bit of real estate. Even with that, Kathy and Tom reported that they remained totally dry during the nights when it poured. This is in comparison to when we decided to risk the 50% chance of rain forecast one afternoon to go for a walk, during which we were all soaked to the skin! (but that was outside of the GO and GOzeebo?) Kathy and Tom really enjoyed being able to stand tall in the GOzeebo. It was great to have plenty of room for their gear, setting up a table and one of our 6.5 foot benches for their comfort.
Needless to say, the rain did not hinder our enjoyment of the great outdoors, especially since we were nice and dry for sleeping!
On Sunday, we headed up toward Jacksonville to watch our niece perform in the Civic Orchestra of Jacksonville. We went up early in the day and visited Big Talbot State Park, just north of town. We started at the Bluffs area, had a picnic lunch, and were able to walk on the beach from there down to the Pines area. The beach is known for the driftwood live oaks (not so alive anymore). Some were just stunning and some were almost otherworldly!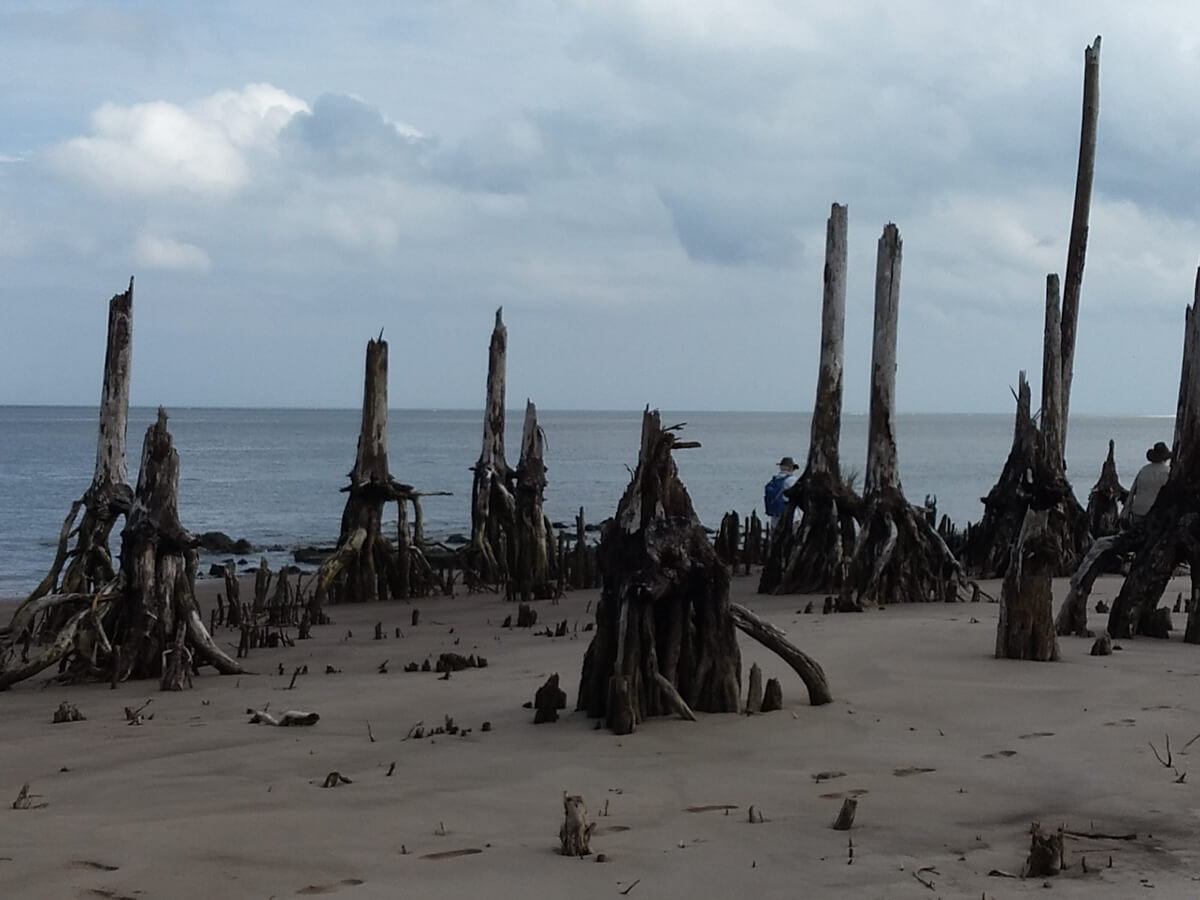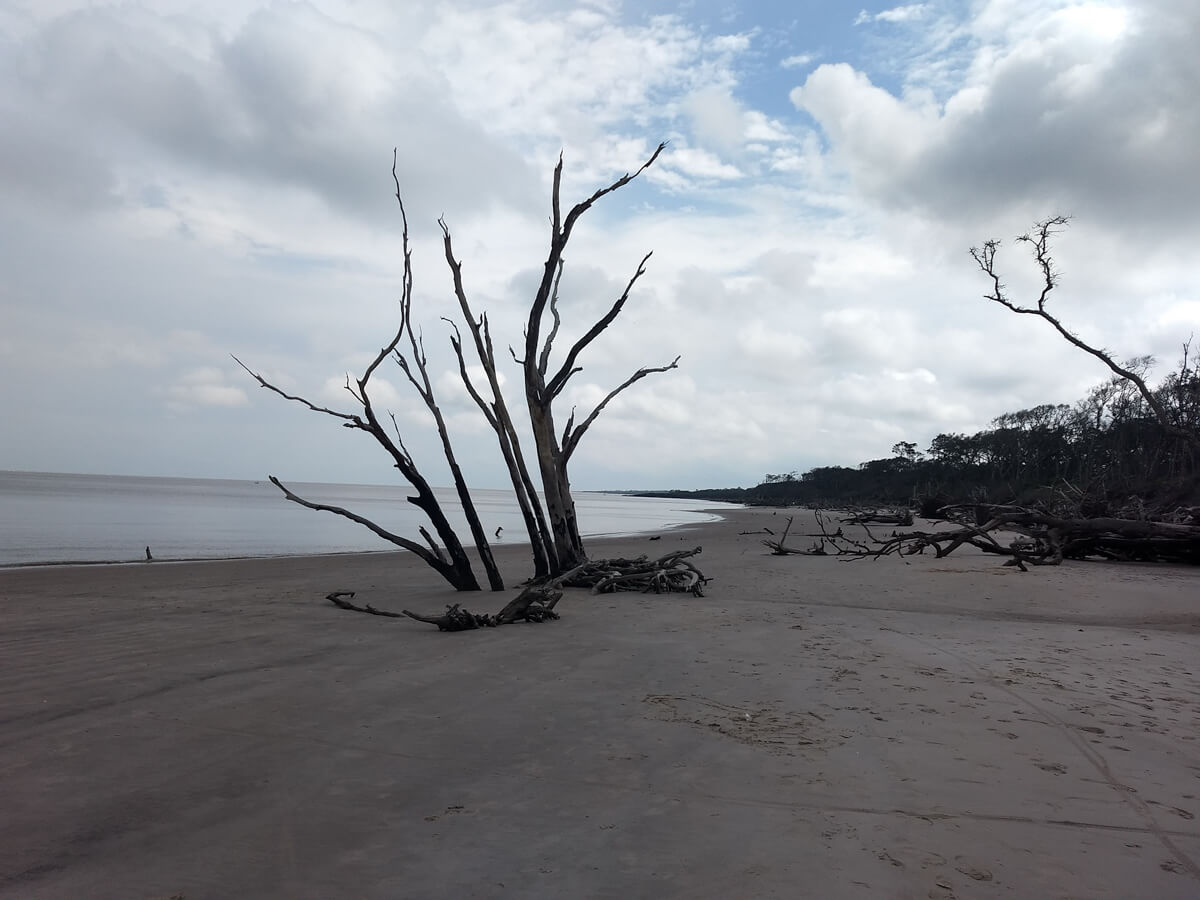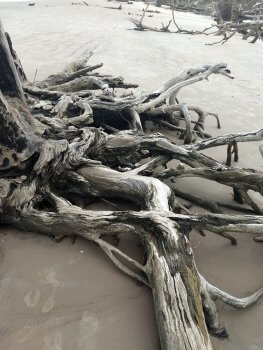 We did the return trip on a very nice walking/biking path through the hammocks.
We had a little bit of time left before the concert, so we drove north to Amelia Island State Park and took a short 4 wheeling jaunt on the beach.
The evening was capped with an absolutely incredible concert:
The following day we rode our bikes into St Augustine again, this time to visit Ponce de Leon's Fountain of Youth! It was a nicely laid out and informative outdoor museum, discussing the history and the archeological site of the earliest continuous settlement in the 'New World'. There were peacocks and white pea fowl wandering around the grounds, which was unique and fun. Of course, we were given the opportunity to drink from the very sulfurous well/fountain (they say: what doesn't kill you makes you stronger!). There were also a planetarium exhibit to explain navigating by the stars and a movie/exhibit that provides the history of the explorers and indigenous people in that area in the 1500s. They had a live blacksmith demonstration along with cannon and musket firing. We climbed the watch tower which afforded a magnificent view of the surrounding area.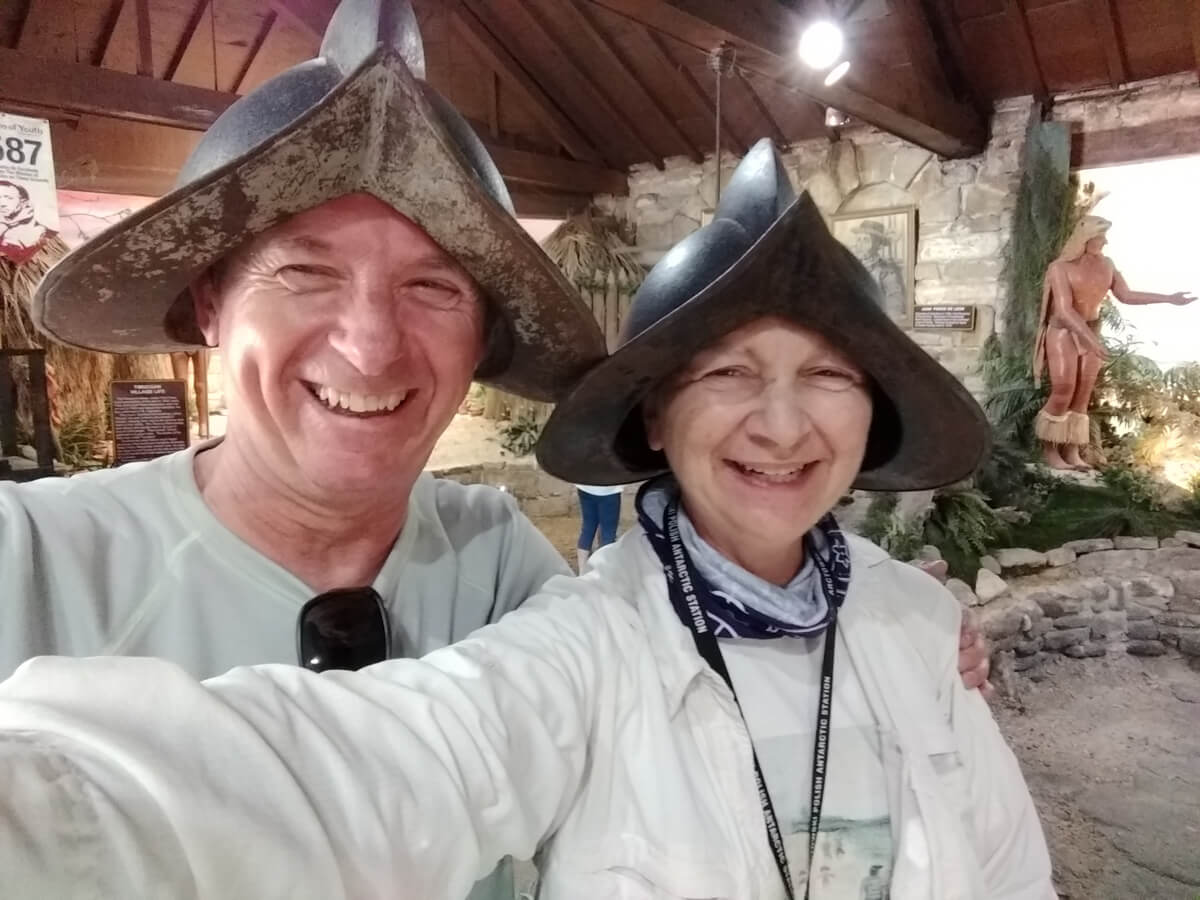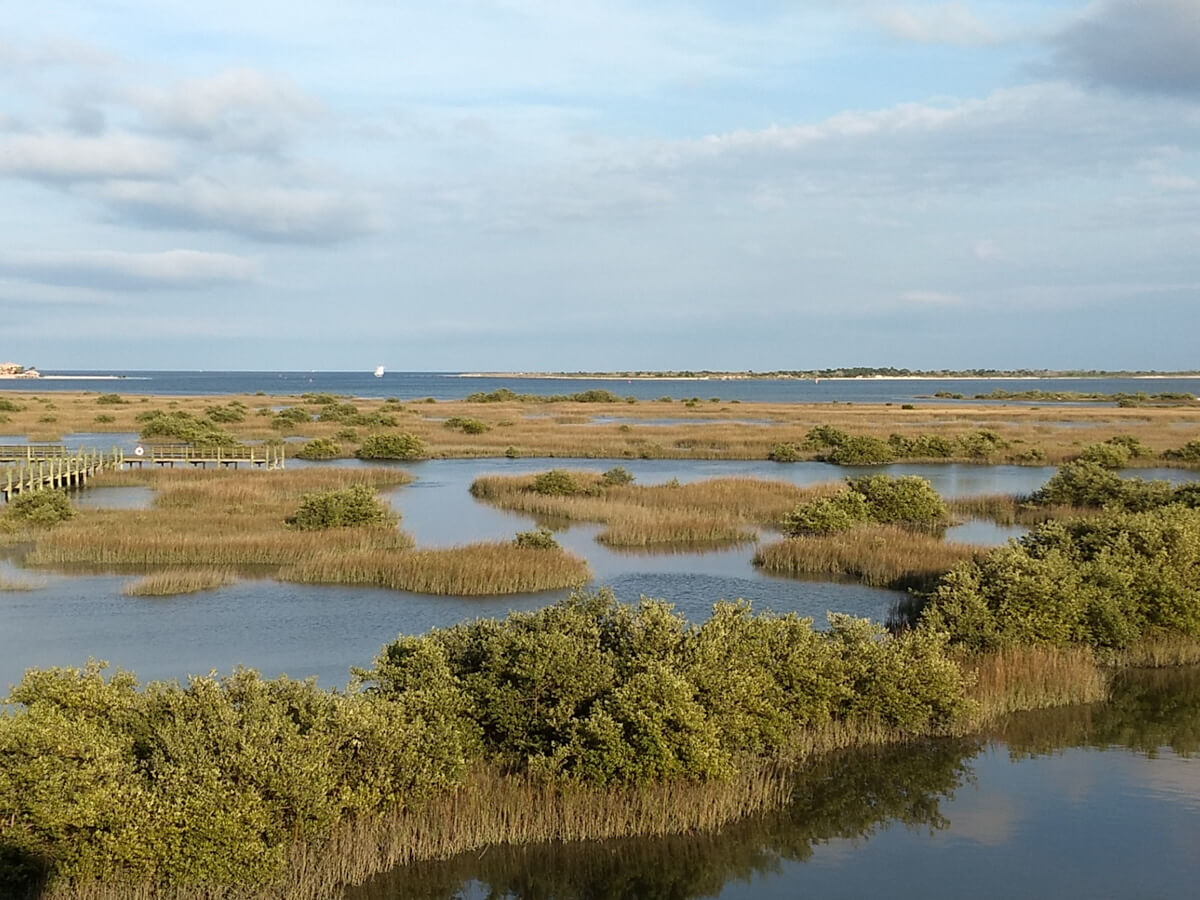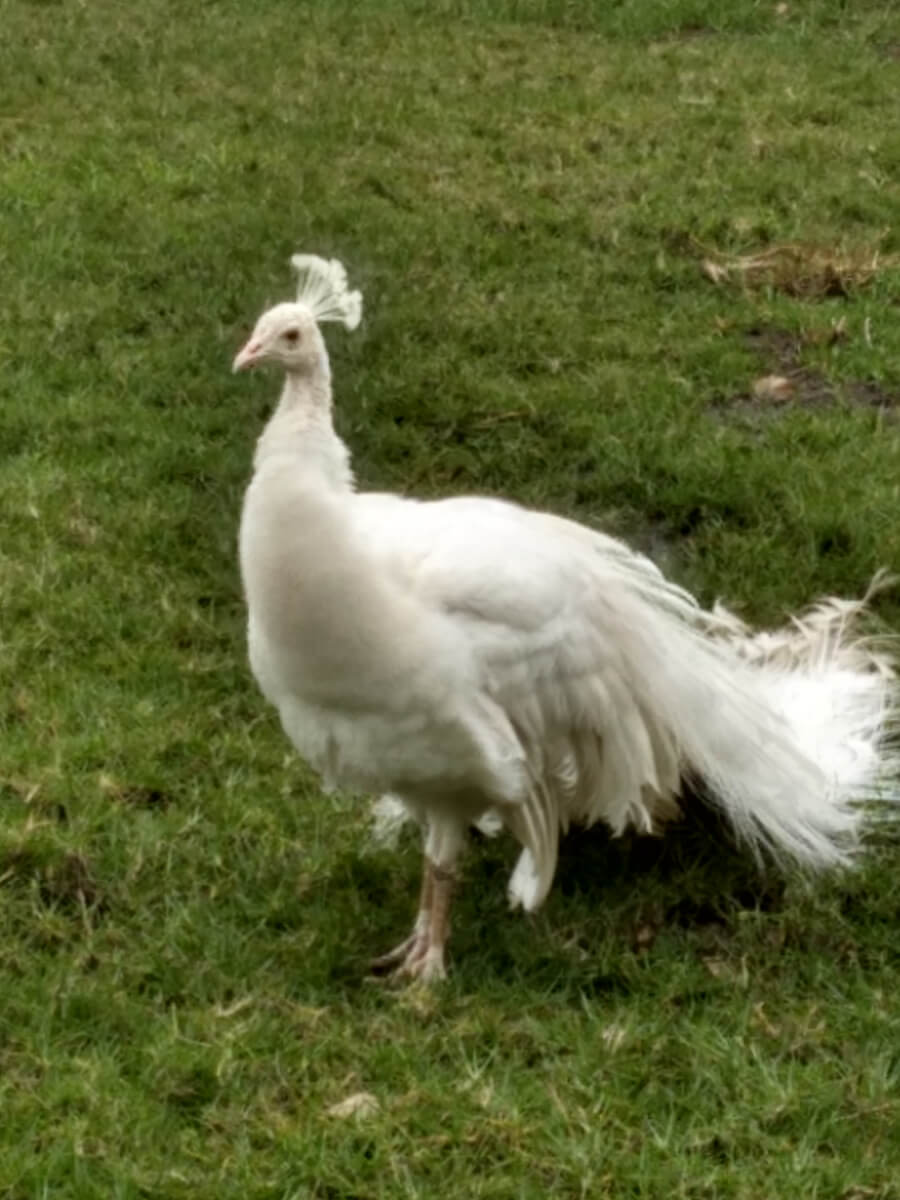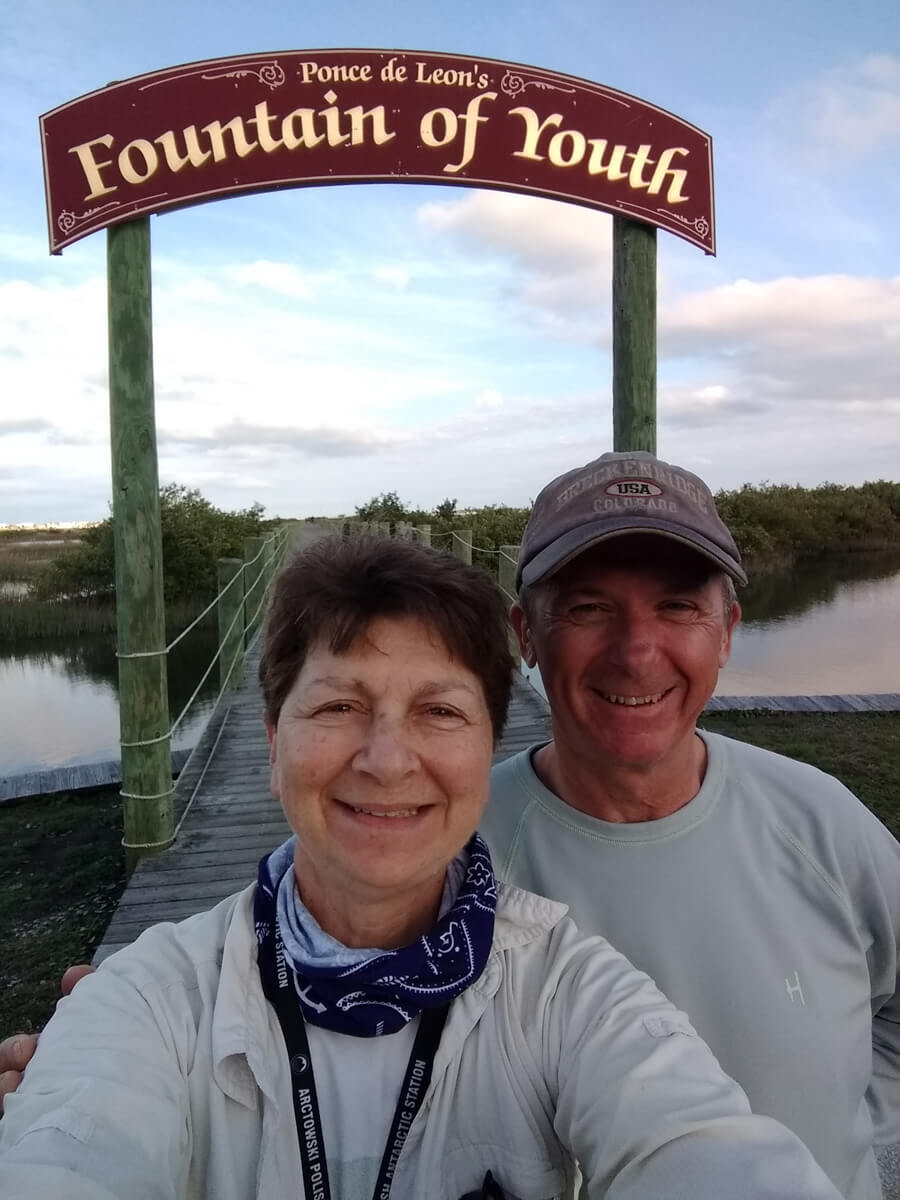 And then the cold weather descended! We've camped in 30 degree weather before when we were expecting it and prepared?. However, the GO is a nice snug tent, so when the temp dropped to 37 degrees for two nights, closing the bottom vents in the GO and adding a layer to our sleep-ware kept us comfortable. Our personal favorite extra layer is the SylvanSport hoodie – it is soft and cuddly warm, and keeps our head and neck covered while we sleep! When we go to Alaska this summer, we will have a small heater with us and wool blankets to augment our sleeping bags.
This area of Florida has so much to offer. In addition to the beauty and the birds and animals, there is a plethora of historical locations. We visited Fort Matanzas National Monument. It is a free park and they take you on a ferry ride (also free) across the river to the fort. In addition to being informative, our park ranger was extremely entertaining – history made real! After the tour, we went on the self-guided nature walk, then walked along the shore up to the bridge and across the highway to the ocean side of the park. Another wonderful day in paradise!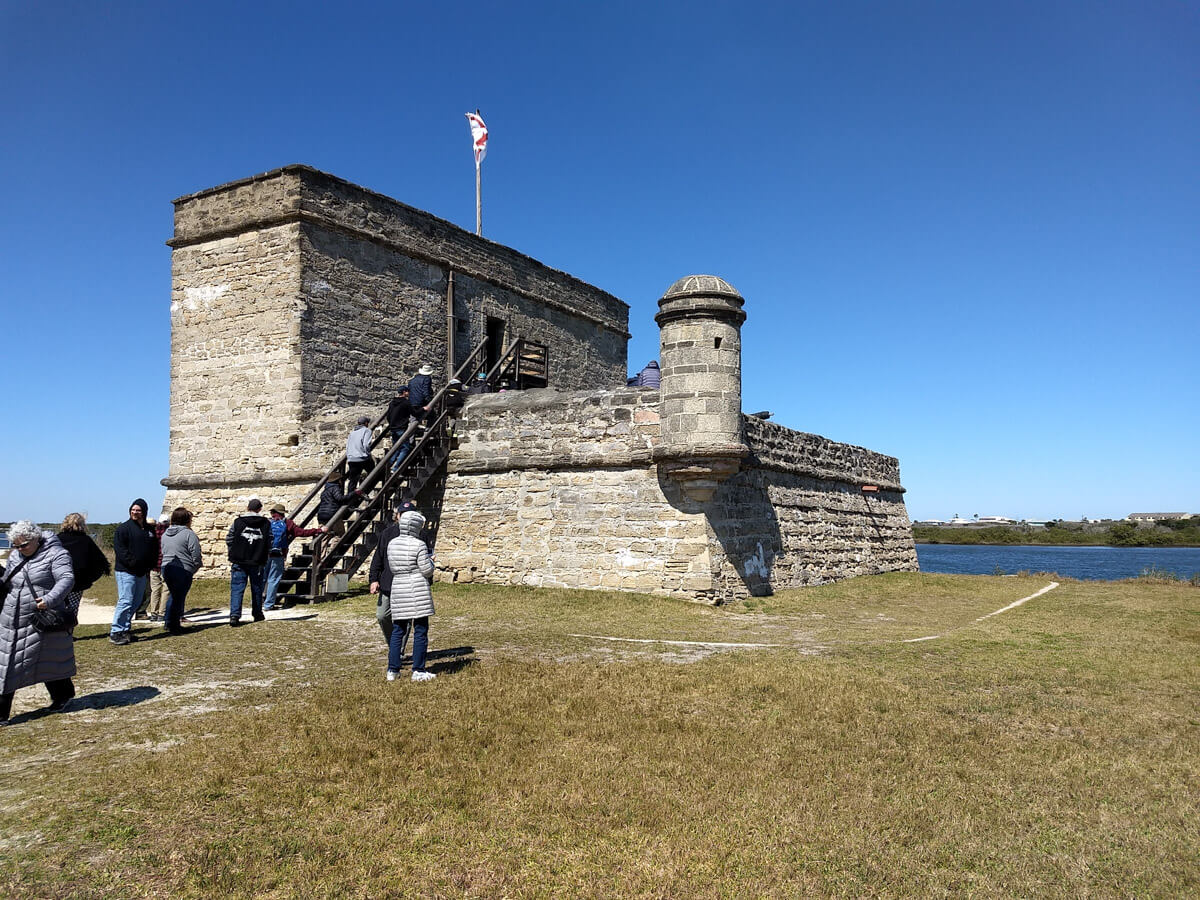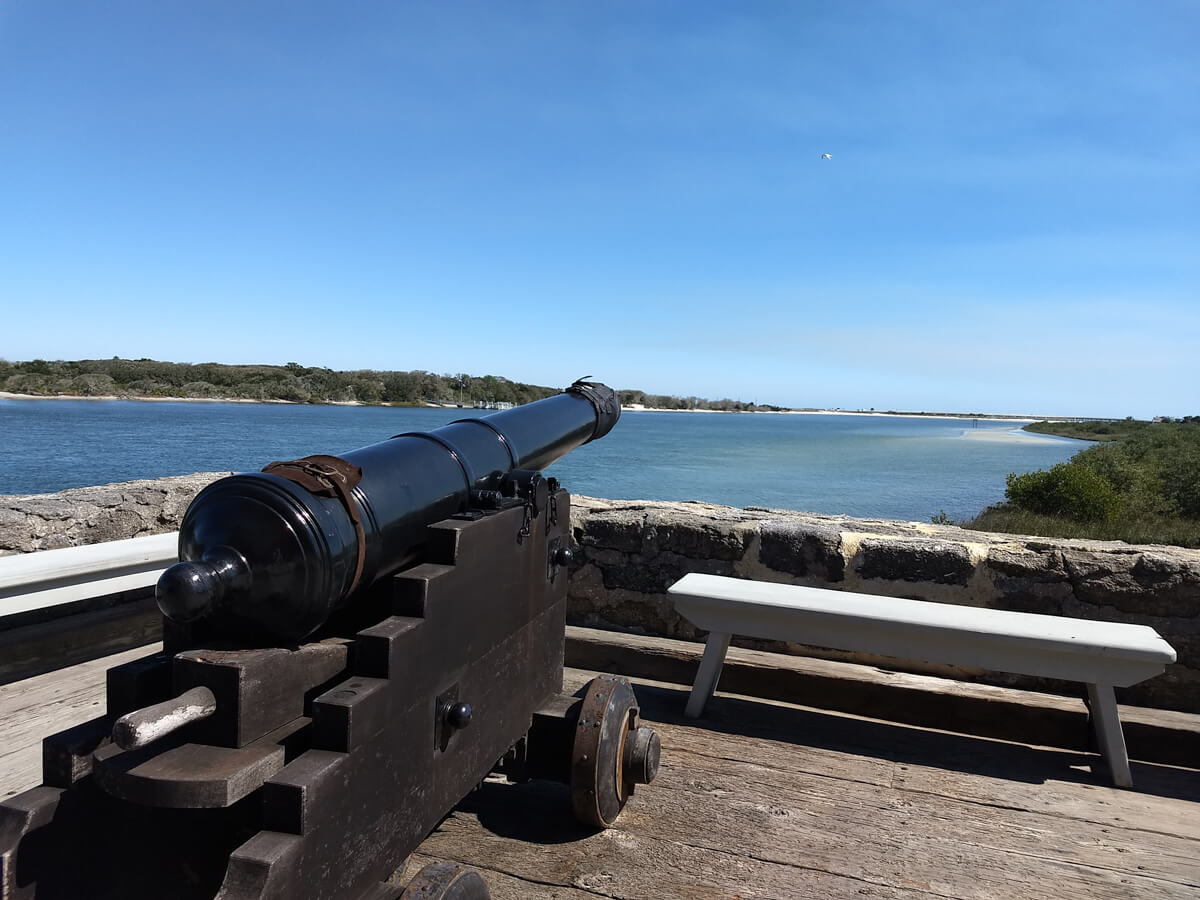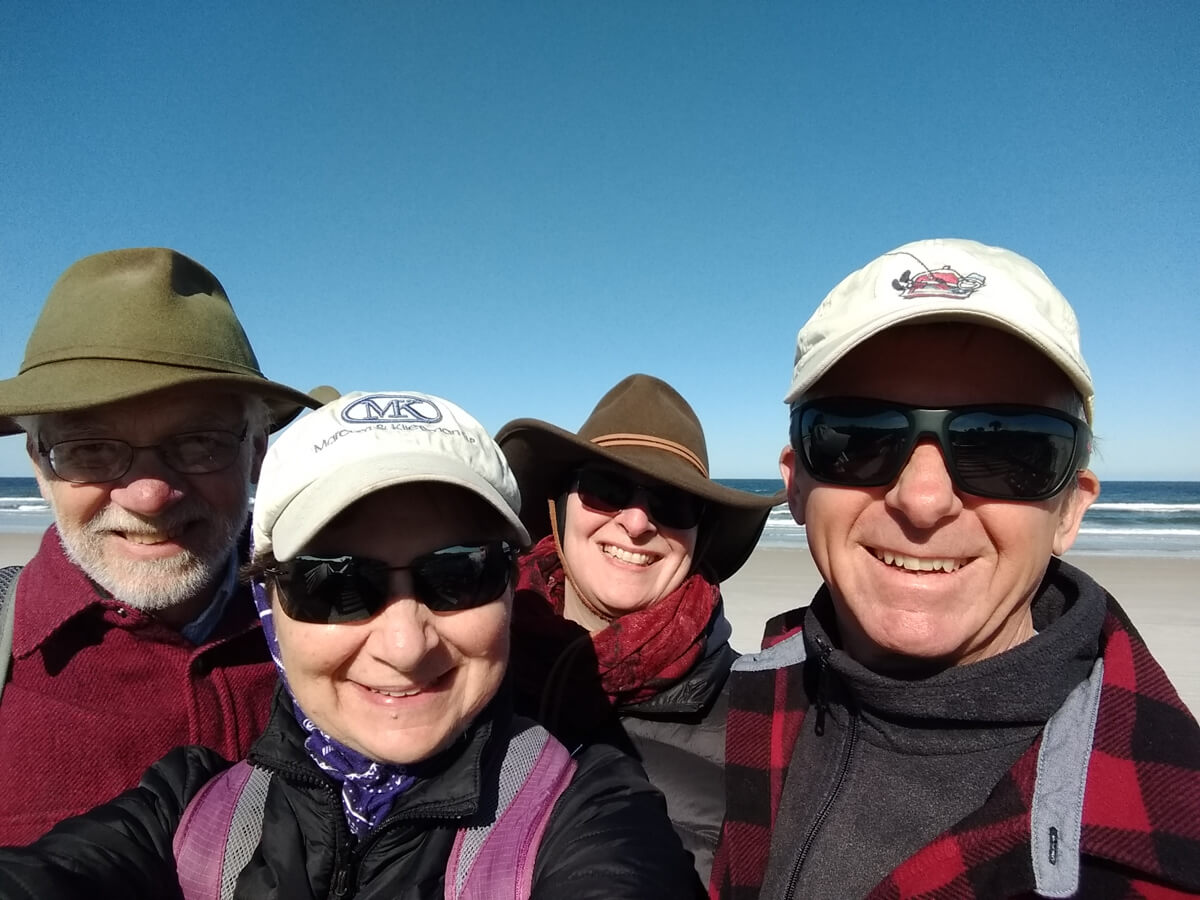 Taking advantage of the sunny day, Jim and I rode our bikes south a bit to the St Augustine Veterans Memorial Park and Sculpture Garden. In the adjoining lake, we saw turtles of every size – varying from inches to around 2 feet nose to tail!! We also watched osprey fishing – they are majestic. The garden was populated mainly with stone statues and one metal sculpture.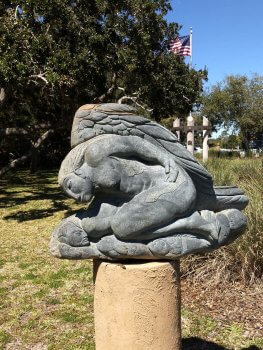 After a MUCH warmer night (50s), we woke to our first really warm day, and proceeded to pack up! It was nice that the GO and GOzeebo had dried out, as our next few days would be visiting with friends and family, not camping. We gave out quite a number of glossies to people who were interested and amazed at our versatile GO. Even my sister and brother-in-law became proficient in answering questions and pointing out the great features of both the GO and GOzeebo!!