Jim and Robin are back on the road again in search of warmer weather. On this trip, the Berzowskis are heading towards Key West in their Honda CR-V and towing their GO! Along the way, they are stopping at SylvanSport dealers and giving them a little taste of the GO Life.
We had a lovely visit in Naples with Jim's sister and brother-in-law and their dogs ?. The rain did not dampen our good time as we enjoyed good company and food! Kathy and Frank made sure to make a nice fuss over Jim's birthday.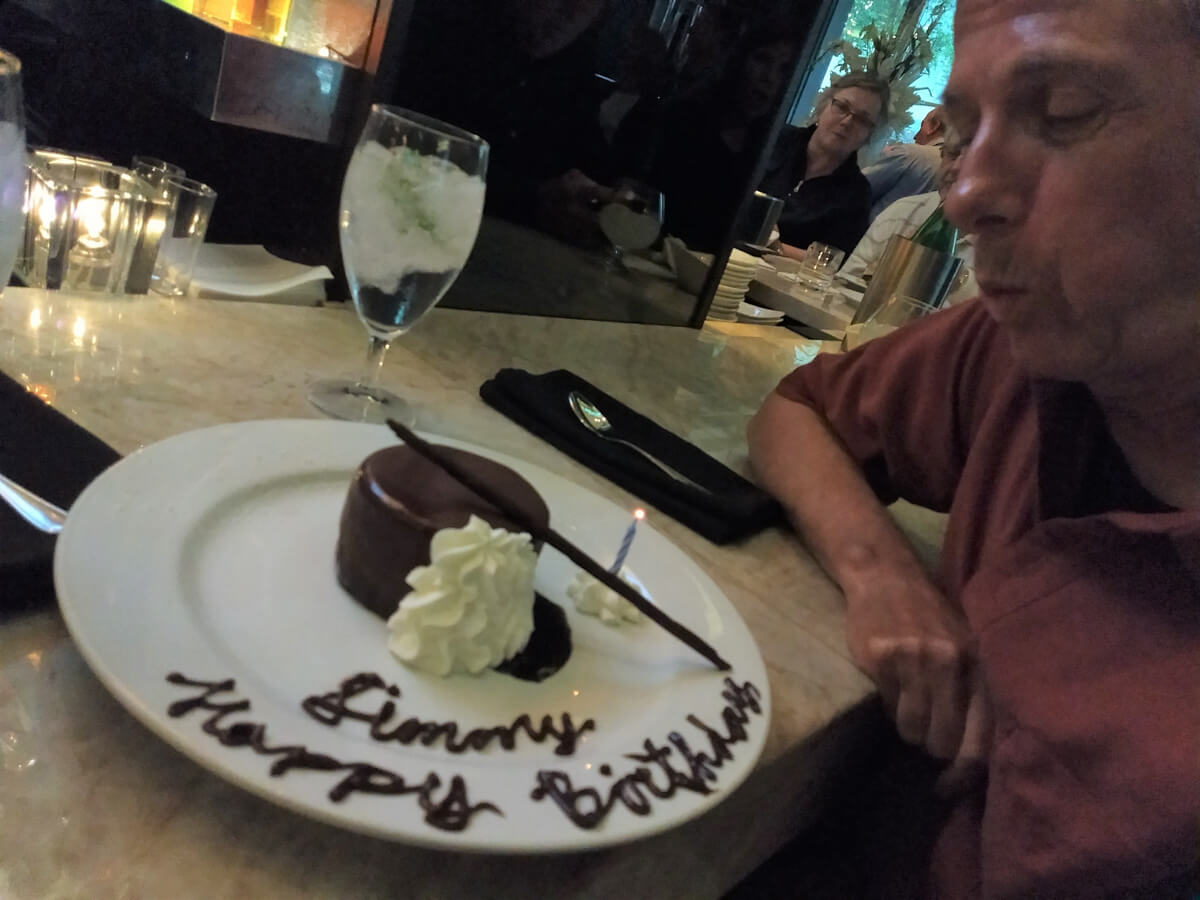 The rain let up on Wednesday and we revisited the lovely Naples Botanical Gardens. There was a special exhibit of Frabel glass artwork throughout the gardens, very whimsical.
As you leave the gardens, there is a phenomenal display of orchids – so many colors, sizes and shapes.
It was an uneventful drive up the west Florida coast that afternoon to New Port Richey to join my cousins for dinner. It was great to reminisce and catch up over Mexican food!
The GO is now offered at some Gander Outdoors locations. On March 21st, we visited Gander Outdoors – Ocala and talked to Ronnie and (perfect) Jack about the GO. They have a GO set up in the RV section of the store. Ronny said that everyone asks about it! They came outside to see our GO, LEO.
Ronny asked if we really love our GO – so we explained the many reasons that it is perfect for us!!
They asked about the tires; yes, these are the originals, with tens of thousands of miles on them – the key is making sure they are properly inflated. Ronny wanted to know if we ever use the king size bed configuration and about the weight capacity for each of the sleeping sides. Although we have tried the super king set up, and know that many people use that setup (sometimes with children or dogs underneath), we had been using the separate bed sides until this trip. We showed them pictures of our new set up, using the new panels/benches that Jim made to augment one side of the GO for a larger bed for us.
And, by the way, the capacity for each side is 500 lbs.
They also asked what we do to keep warm or cold. We explained that we typically camp when and where the temperature is moderate, and mainly use different layers of sleeping bags/sheets/blankets, depending on the temp. We are considering bringing a small electric heater/fan on future trips, if we expect more extreme temps and if we'll be at campgrounds with electric hookups. On the SylvanSport Owners Facebook group, there are many recommendations for heating and cooling options, including solar, battery, electric, and propane.
Ronny and Jack agree that some of the highlights are the GO's towability (because it is so lightweight), sturdiness (due to the quality construction), versatility, and the ability to haul all our adventure gear!
While we were at Gander Outdoors, we had the pleasure of meeting John, a local GO owner.
He purchased his GO a few months ago, but is waiting for warmer weather before GOing – that got a huge laugh from me and Jim, coming from Wisconsin ?. John had a list of questions about set up, towing, and maintenance. He looked over our GO and we showed him pics of configurations from different trips of ours. He has plans to travel up the east coast to visit the Adirondacks, the St Lawrence area, and over to Maine to eat lots of lobster! Then he'd like to travel the southwest. John's biggest concern was about setting up by himself, especially if the weather is inclement. We suggested that he practice at home, taking it slowly. Then start with a short trip close to home, to get comfortable with towing, backing up into campsites, and setting up the GO, including leveling (the set up time improves with practice). And then get GOing!! Maybe we'll see him on the road one of these days?!
We continued our drive north and stopped in Fayetteville, NC. After dinner, a gentleman walked up to us asking how we liked our GO! He had seen one at Gander Outdoors and was intrigued. Of course, we waxed eloquent about it, and how much we love it for camping and other uses. We gave him a glossy and suggested he go back to Gander Outdoors to take a closer look!
And that is exactly where we went on March 22nd – we stopped in to meet the folks at Gander Outdoors – Fayetteville. Right as you walk in the door, there is a GO loaded with fun gear, so adventurous customers can see the potential to travel and camp with their 'toys'!
Mark and Brandon showed us the GO they have set up right as you enter their RV section of the store.
Next to it, Mark set up to run the SylvanSport mobile adventure gear video on a loop, so people can get a feel for the GO's versatility. We also met Amber, Marty, and Phil.
The sales team feel comfortable with the GO's features and set up, after excellent training from Super Earl, SylvanSport's VP of Sales! It sounds like Earl mesmerizes anyone he talks to about the GO, with his high energy and enthusiasm?.
Mark came outside to see our GO, LEO.
He was impressed with the condition of our GO, considering how old it is and how many miles it's travelled! It is such a solid, well-built piece of equipment ?. Phil joined us and asked about the panels we added. We explained that, like the GO, they are very versatile! We showed him pictures of how the panels unfold to convert to benches and explained that we use two of them to expand the sleeping area of one side of our GO (see photo above).
Phil told us that he has new owners coming to pick up their GO this week! We talked about tips to share with them. Mark stated that people that come to purchase a GO seem to be very well-informed consumers! We suggested that they let the new owners know about the SylvanSport Facebook Owners Group, to connect with other owners and learn about innovations and great camping experiences.
The Gander Outdoors locations seem to be a great venue for the GO, located with all kinds of outdoor adventure gear and equipment!
We are continuing our drive north, seeing spring in reverse! From the lush gardens of Florida, to the blooming flowers and trees in Georgia and the Carolinas, to the very beginning of trees budding in Virginia. We are looking forward to spending time with family and friends in the Washington, D.C area.