Jim and Robin are back on the road again in search of warmer weather. On this trip, the Berzowskis are heading towards Key West in their Honda CR-V and towing their GO! Along the way, they are stopping at SylvanSport dealers and giving them a little taste of the GO Life.
So happy to be back in Northern Virginia! We lived here for many years while the kids were young. It is still the home of family and friends, making it a favorite area to visit. We were able to celebrate birthdays, do a little shopping and hang a new lighting fixture for my daughter. We had delicious food prepared by family and friends, and even got in some nice walks through wooded parks. We love seeing the vestiges of spring beckoning – daffodils, forsythia, and magnolias are the standard bearers; the cherry blossoms are thinking about it, but we'll miss them by a week!
It was 24 degrees as we left Leesburg, reminding us that it is still winterish, and we should prepare for Wisconsin! On this final leg of the trip, we had the good fortune to re-visit some of the RV dealerships that carry the SylvanSport GO!
Our first stop was at Beckley's Camping Center in Thurmont, MD.
We were greeted by Charlie and Dan, sales managers, and Paul (The Air Force Guy) who we met last year.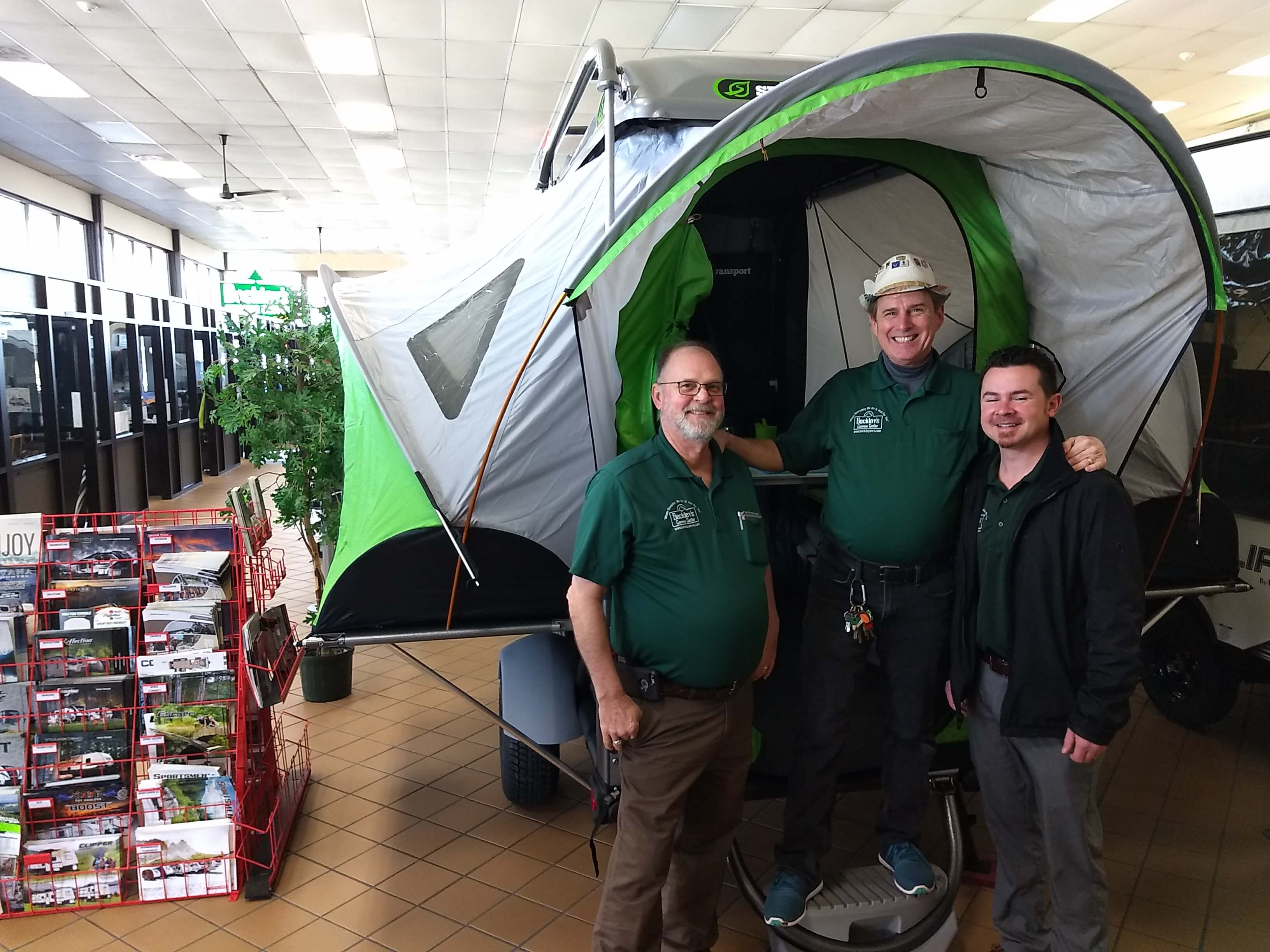 The Beckley's team are great GO enthusiasts and enjoy their partnership with SylvanSport; they appreciate their excellent sales and customer support ?. Beckley's has super salespeople. They are the #1 RV Dealer in Maryland and excel at selling GOs – including some of the Limited Edition Platinum GOs!!
While we were at Beckley's, we had the opportunity to talk to Brian, a recent retiree! He is looking into his options – maybe getting ready to GO!! He was interested in the construction of the GO and roadworthiness – it shines in both categories. He would like to bring along his toys, such as an ATV. Jim showed him how the GO can be tilted for loading an ATV by removing the pin on the tongue. Brian looked over LEO, our GO, to see how we load it up and travel. In the showroom, he was able to experience the sturdiness of the GO and the capacity of the beds. We wish him the best for his retirement and happy trails!
We turned our CRV west, for the final leg of the trip.
It was great to re-visit All Seasons RV in Streetsboro, Ohio! Last year we visited on a very rainy, gloomy day, but very productive because they mounted bike racks on our GO!! This year was bright and sunny and we were greeted again by Mike.
It was wonderful to hear that all the folks we met last year are still at All Seasons and doing really well. They have a bunch of GOs set up in their showroom, in various stages.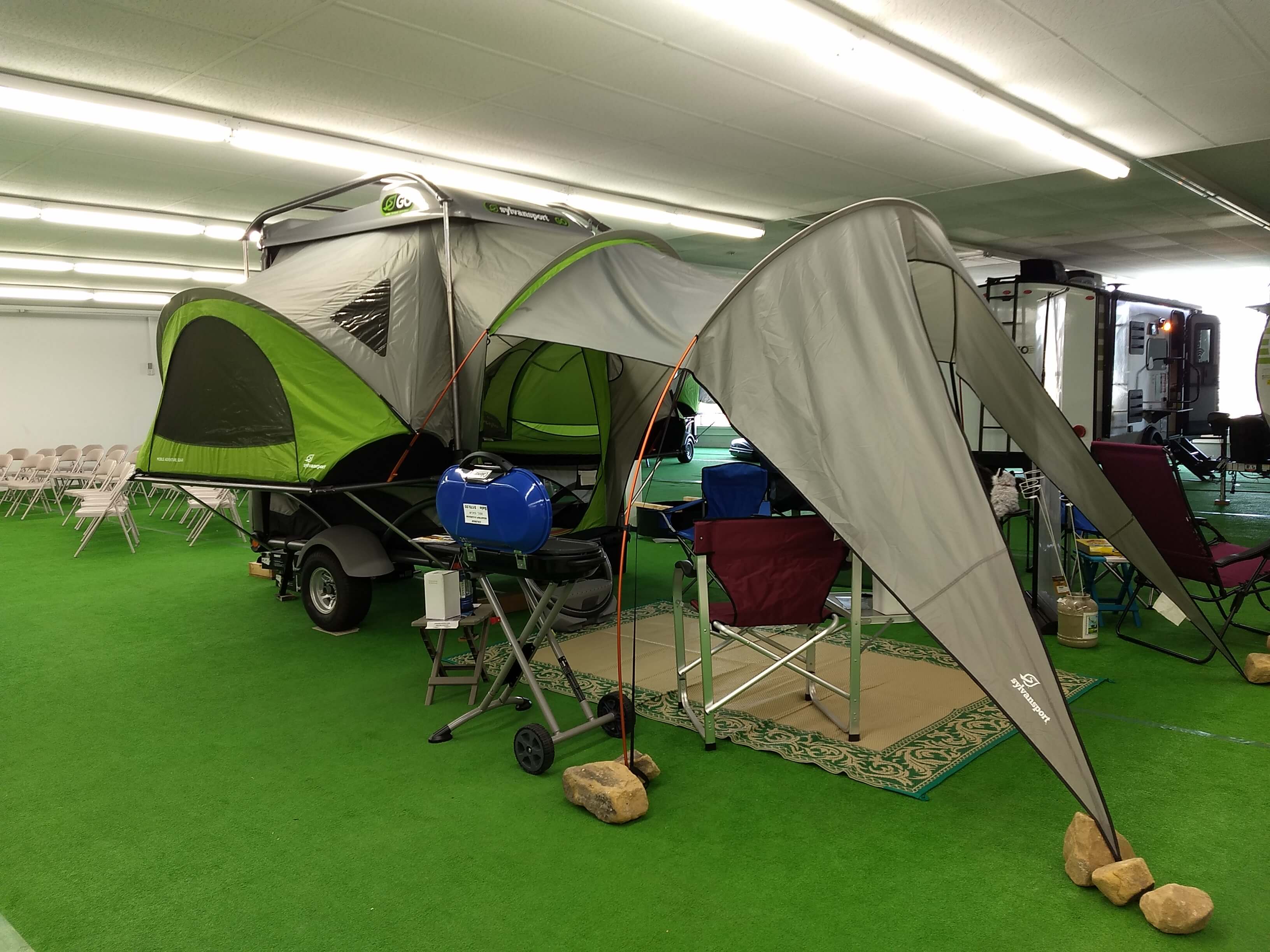 We talked to Dan, the sales manager – they have been so busy that they added a new lot and barely had time to get away. We found him, at the end of the day, in a rare moment of relaxation!
In June, we'll head out on our next adventure: Alaska ?