Jim and Robin are heading to Alaska! The Honda CR-V is packed and their trusty GO, L.E.O. (Low-Earth Orbiter), is ready for adventure. Follow along and get a taste of #myGOlife…Berzowski-style!
Back to civilization! Anchorage is a nice-sized city, with the Alaska Mountain Range on one side and the Cook Inlet on another. We were welcomed to stay with new friends, Joni and Rick (they are old friends of our friends Cindy and Fred, who also happen to be Tanner's [see Denali post] parents!) They have a lovely house, in which they made us feel right at home. They prepared a superb dinner of fish tacos – it was a feast!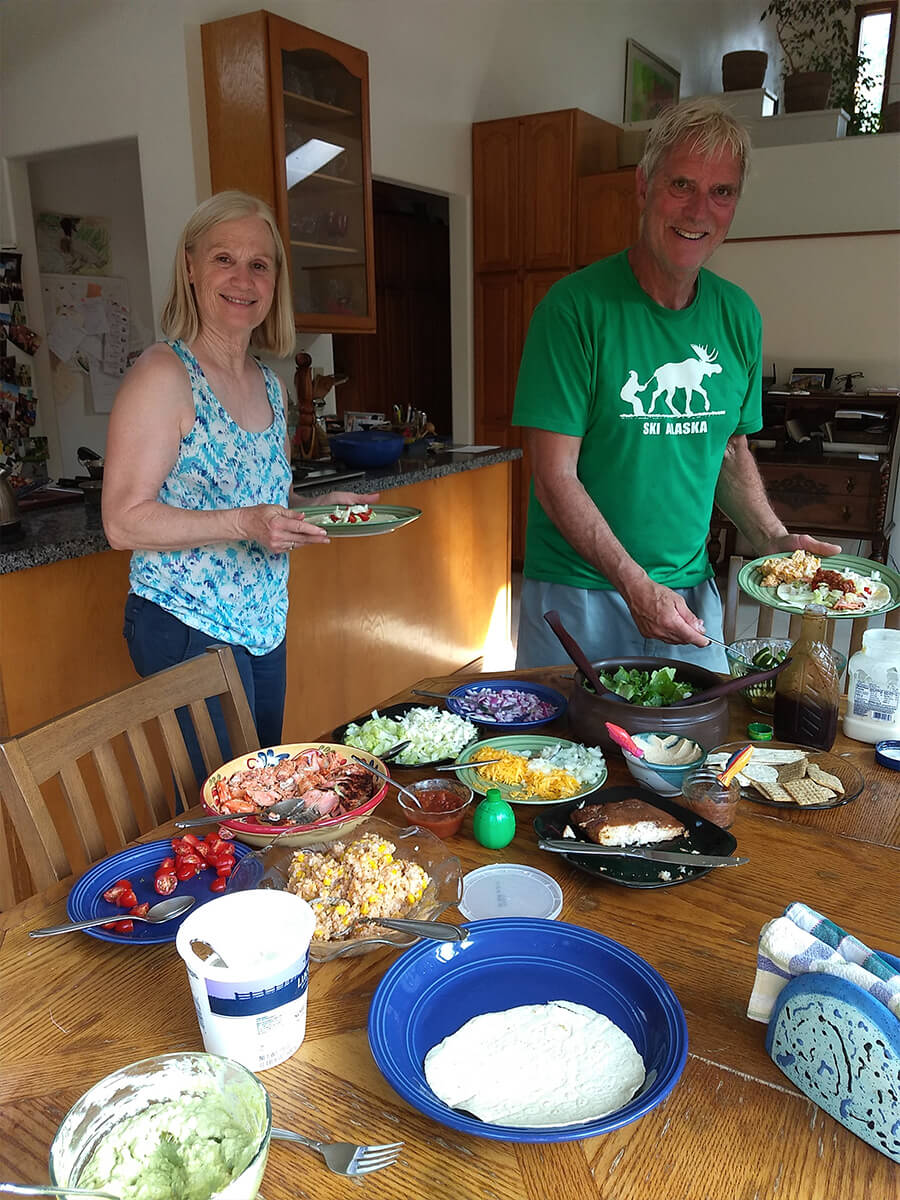 We ate dinner sitting on their deck, overlooking their beautiful gardens. I asked why they have vegetable planters on the deck, instead of in the garden. The answer is moose! The next morning, we observed first hand. Unfortunately, the moose do not take direction for what to trim and what not to trim!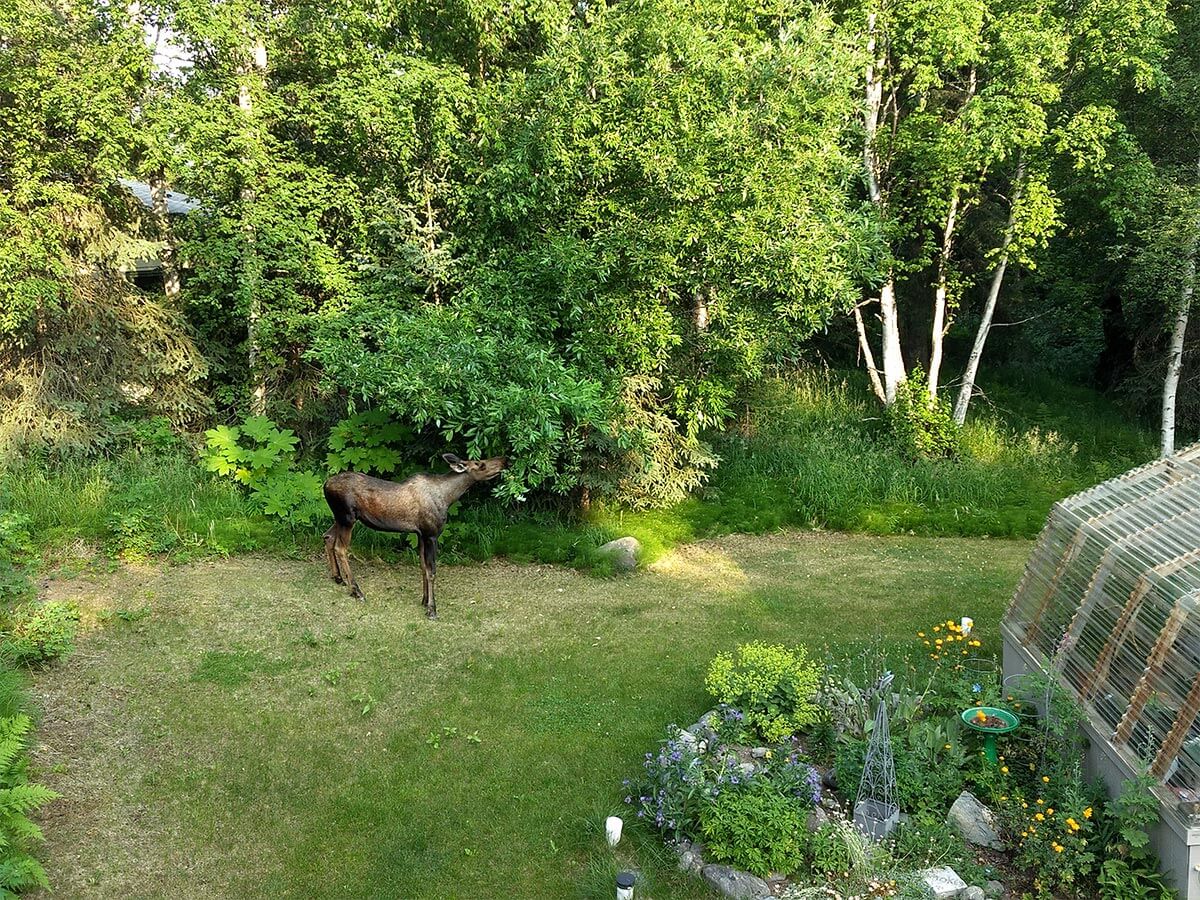 Rick and Joni showed us around the city a bit and we took them out for ice cream – a luxury of civilization. We took advantage of their hospitality offered, to do laundry (and, of course, take showers) – more luxuries of civilization ?
The next day Jim and I hiked Flattop Mountain trail. It's a nice hike (although tricky at the top), which provides a great view of the mountains, the city, and the harbor – that is, if it is clear. We had pretty good views, somewhat obscured with haze due to smoke from fires.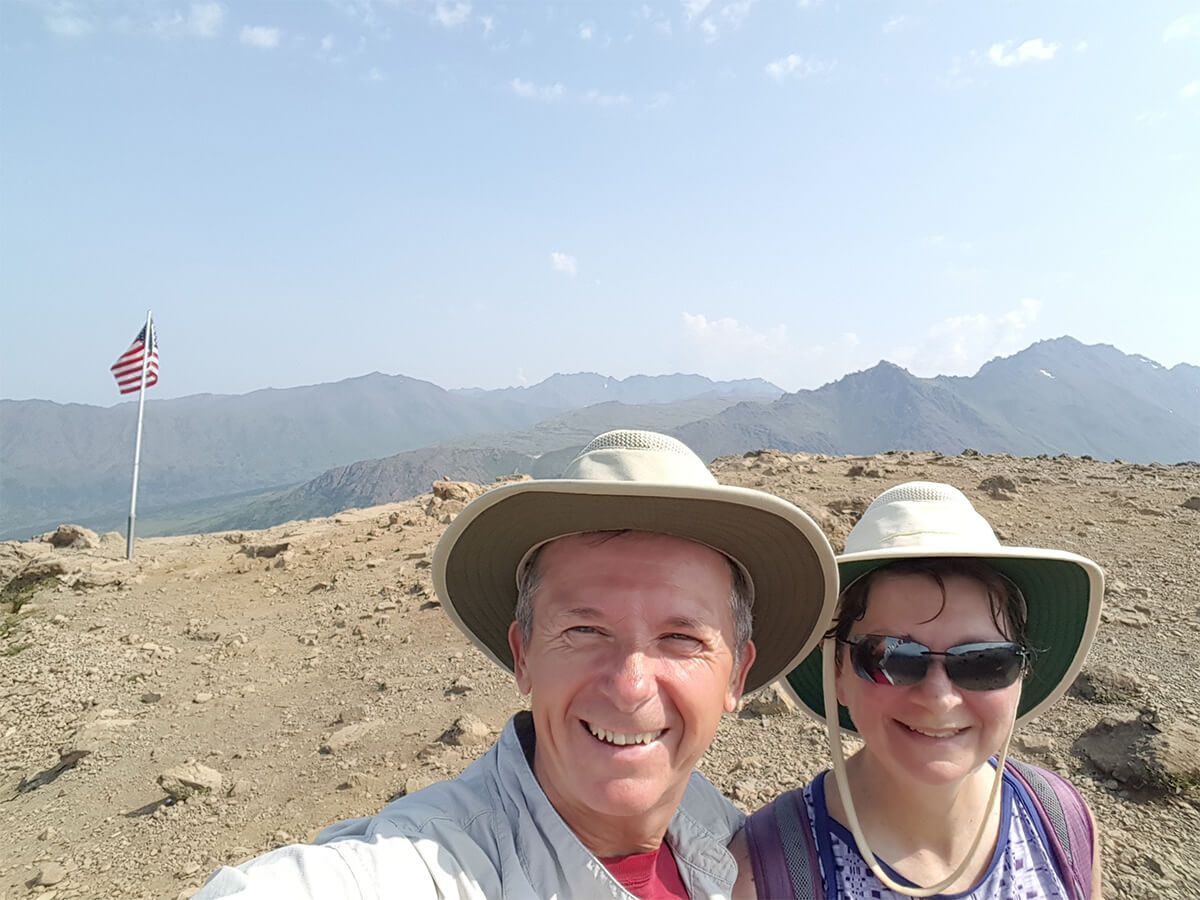 We took off the next day for Homer, on the Kenai Peninsula. We made a quick detour down the Alyeska Highway to Girdwood and then down the Sterling Highway. The drive down was somewhat smoky, but the beauty was undeniable. We stopped for a picnic lunch at Soldatna Creek Park and strolled along the metal boardwalk to the Kenai River. The water was running very high and fast. There were many people fishing and the gulls were also lined up looking for lunch.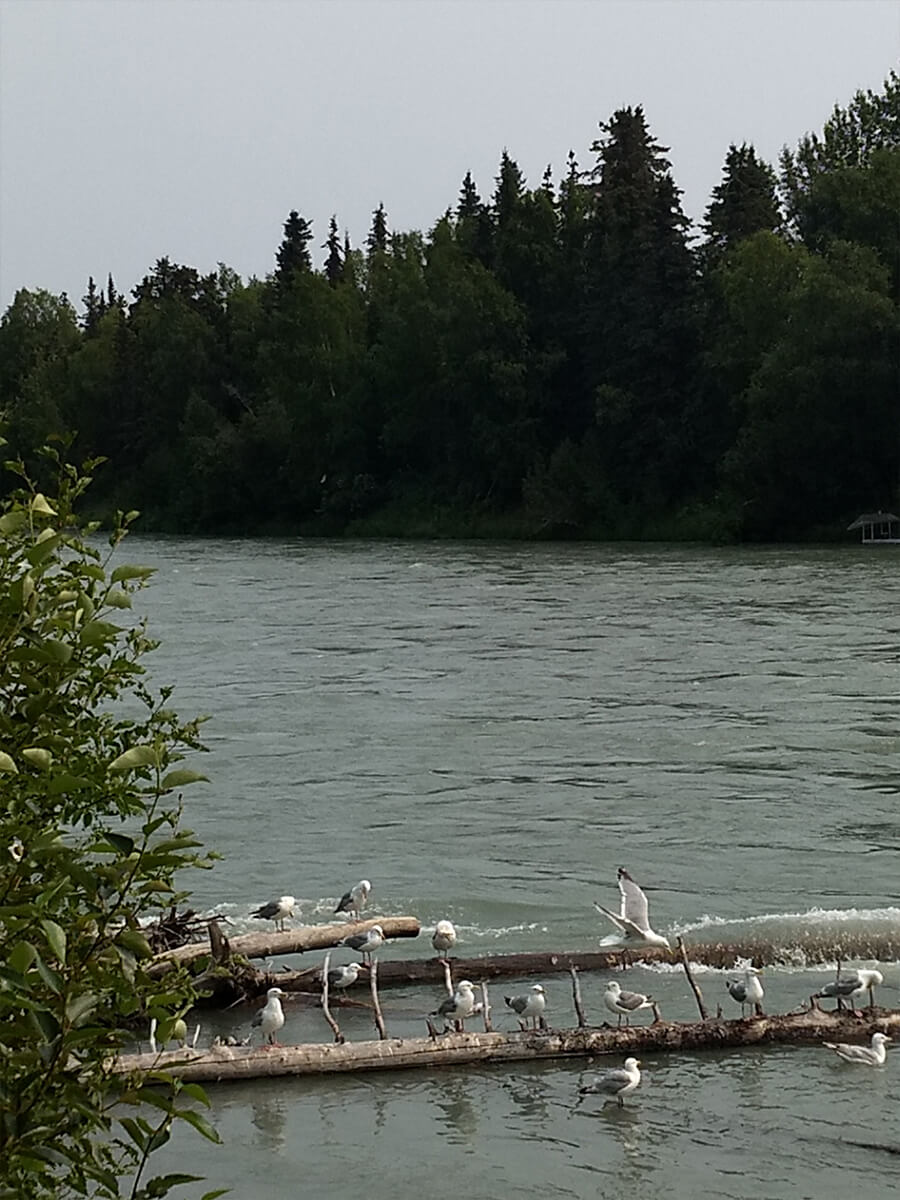 The end of the road is the Homer Spit, the thin peninsula that is the 'end of the road'.
We were generously offered to stay at the 'Hutte' cabin, more friends of Cindy and Fred, Bruce and Toni. After 6,000 miles, our GO, LEO, got a break, resting in this magical vortex of a hillside overlooking the Kachemak Bay.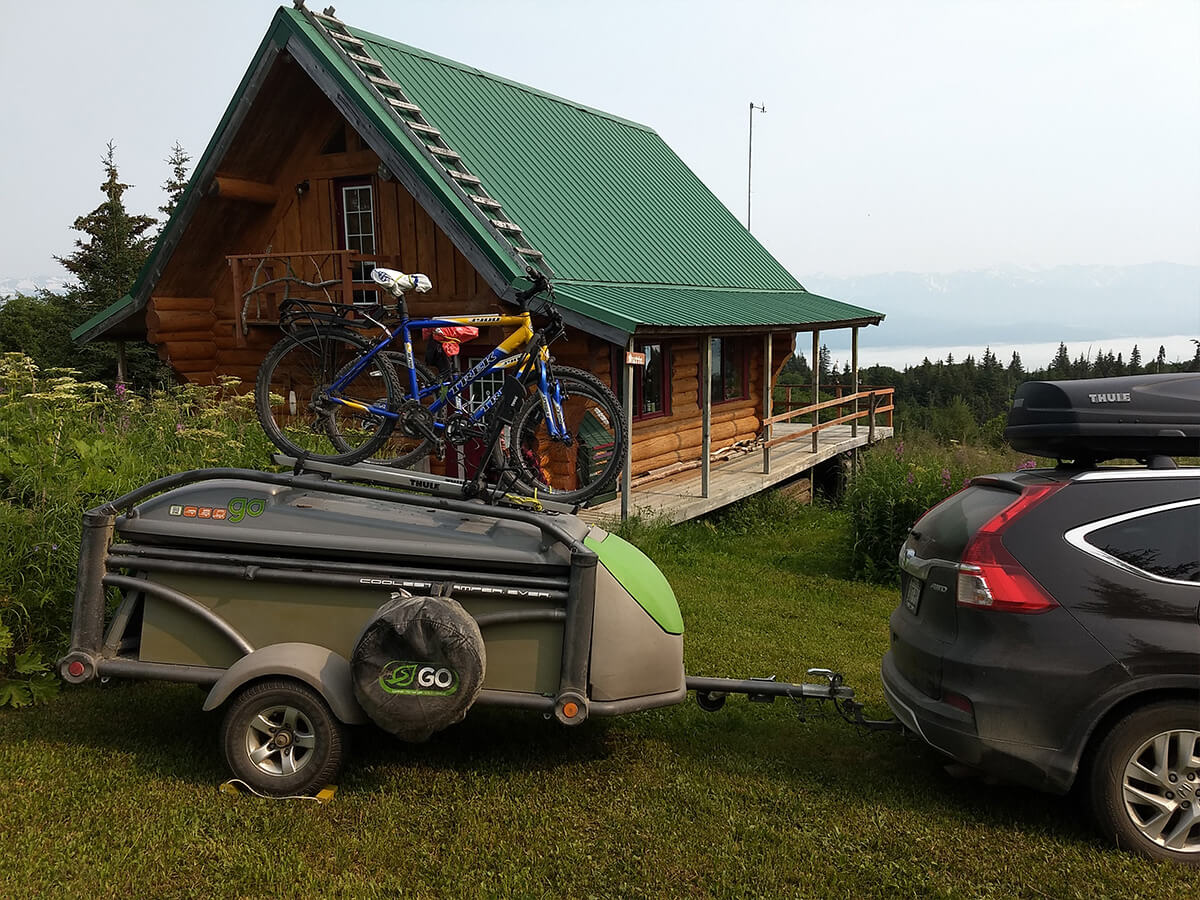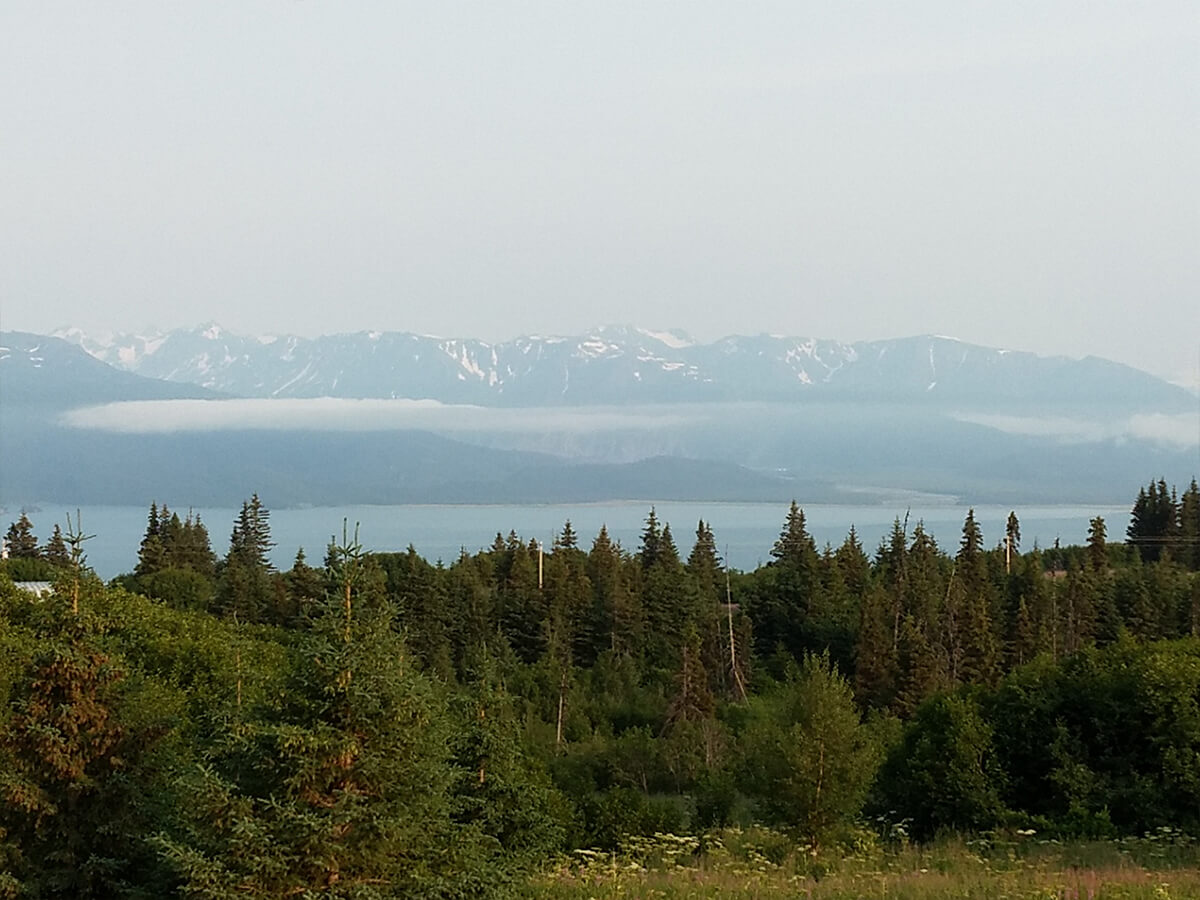 If you can imagine taking a vacation while you are on vacation, this was it! For our first full day, we booked a kayaking trip with Rick and Dorla of Sea Adventures, friends of Bruce and Toni. This was not your average kayak trip. They arranged a water taxi to take us across the bay to their home. We loaded up the 3 kayaks (in addition to me and Jim and Rick and Dorla, there were 2 student helpers). Their philosophy is 'the slower you go, the more you see'. It was phenomenal. We observed otters swimming, resting, and eating (they cracked clam shells to open them!)…and they watched us ?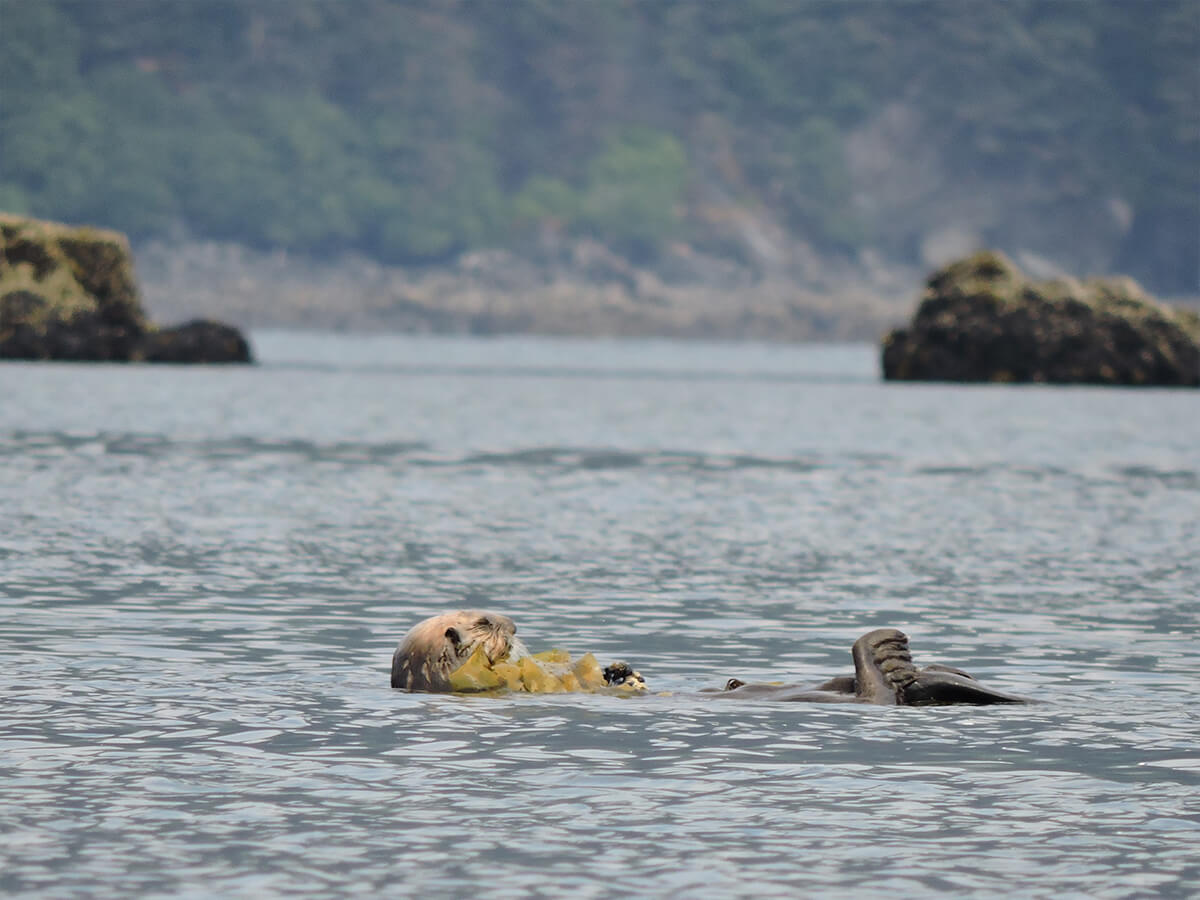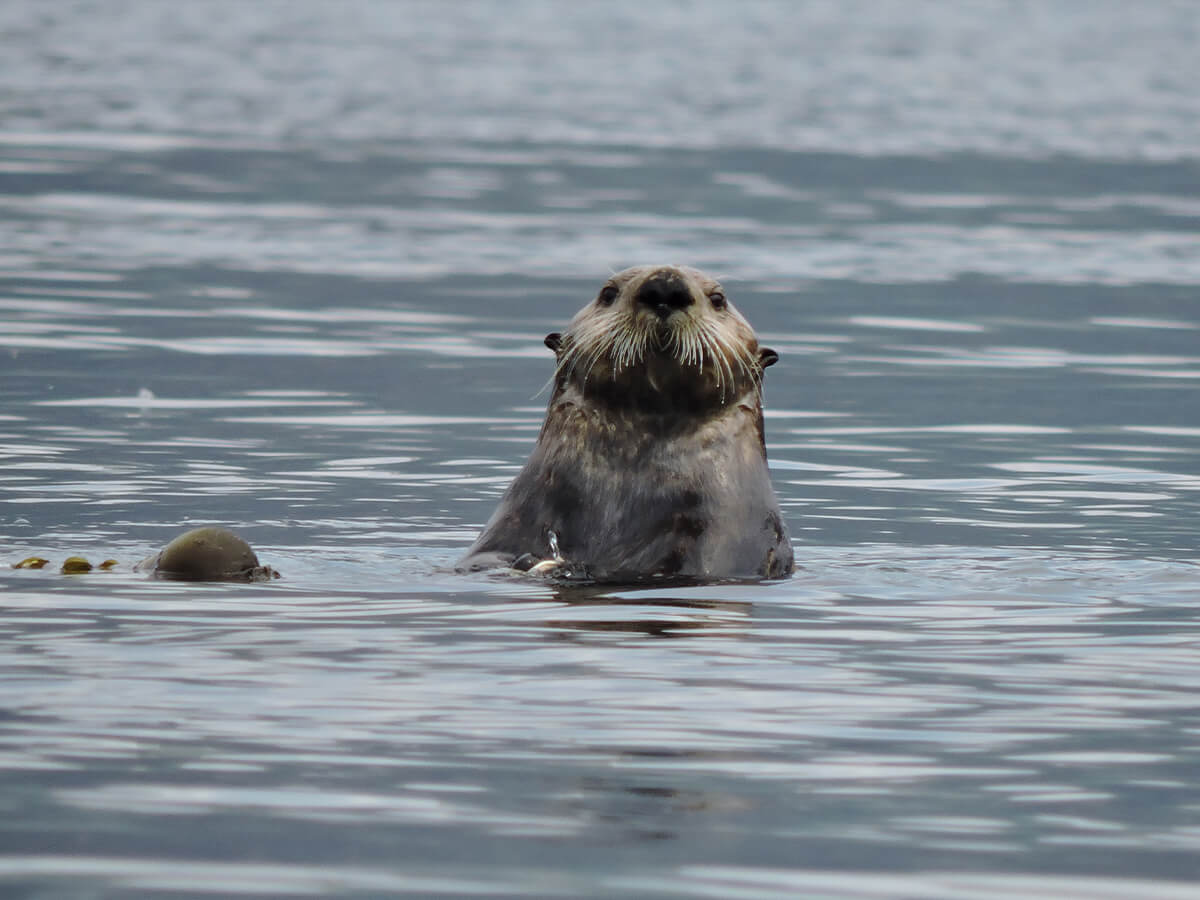 Bald eagles soared around us and posed majestically…and we were able to see 2 eaglets in their nest (no pics).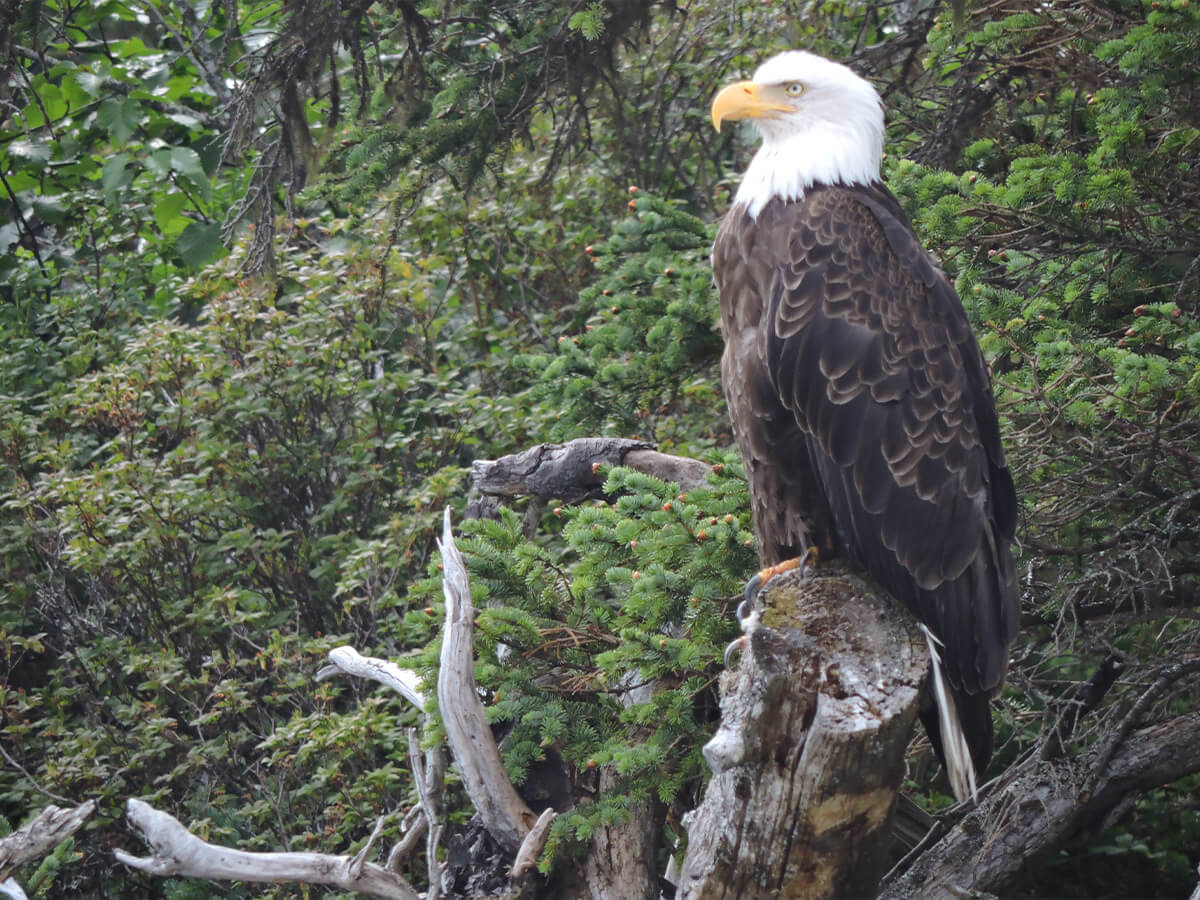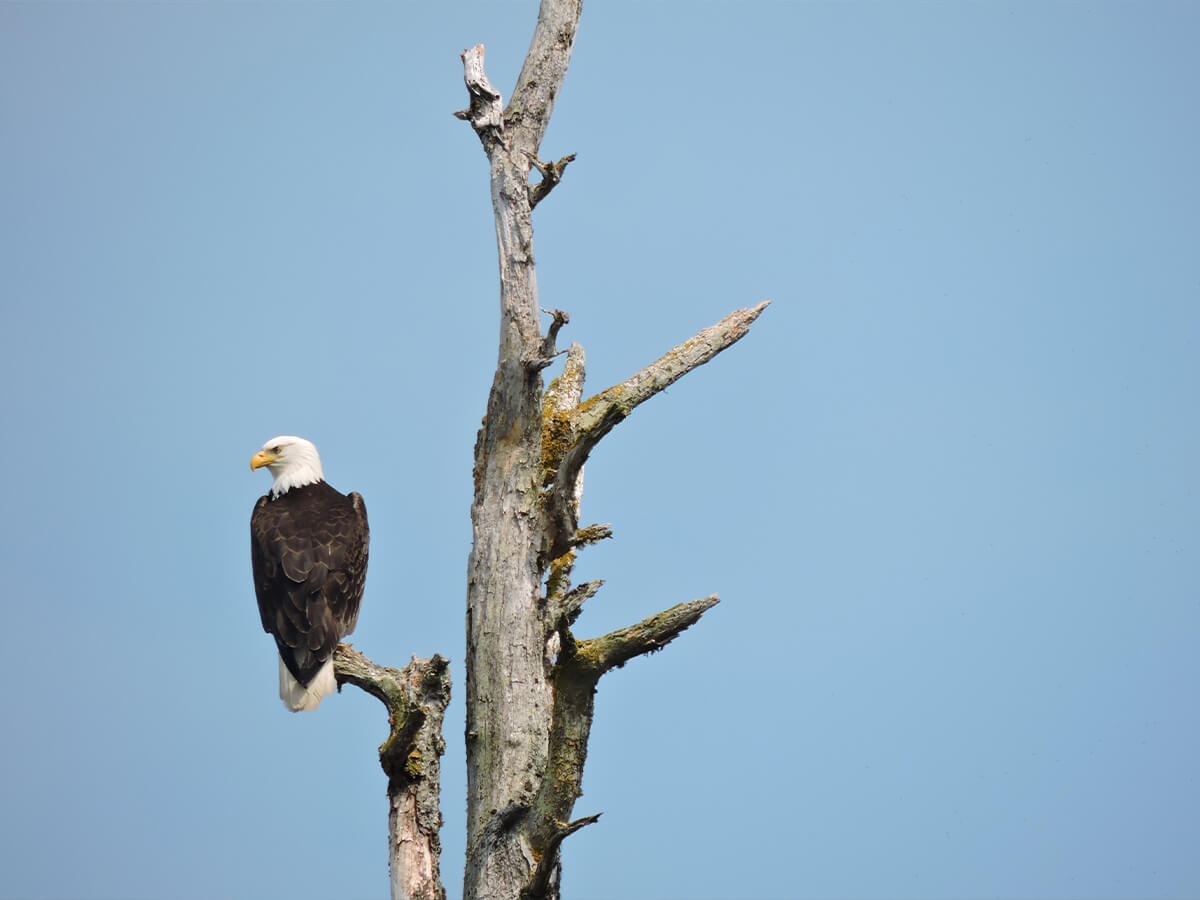 We visited a sublime grotto and some peek-a-boo rocks.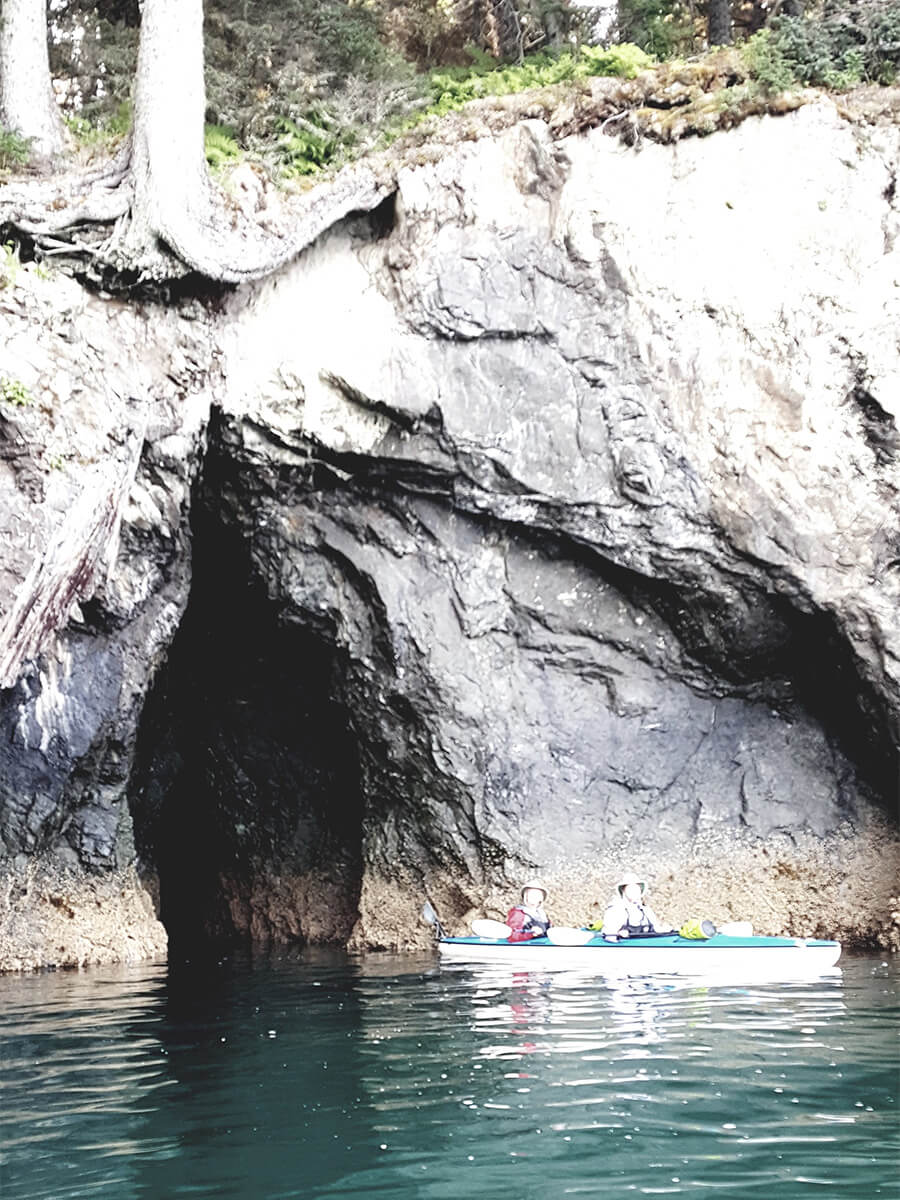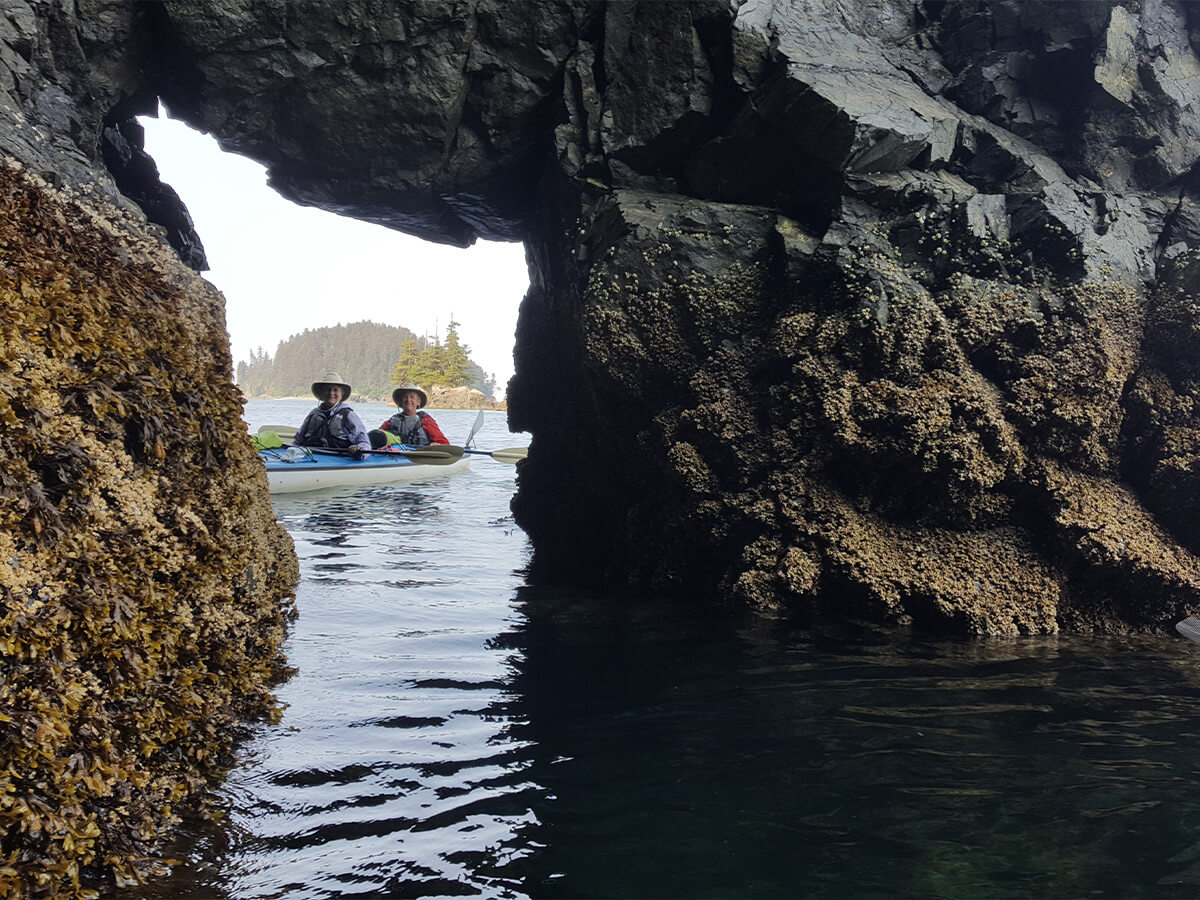 There was a very calm little bay that was our lunchtime destination. Dorla made a fish (salmon) soup to which she added different seaweed picked up as we kayaked and land plants from our picnic beach. Rick showed us how the seaweed changed color from brown to bright green when added to the hot soup.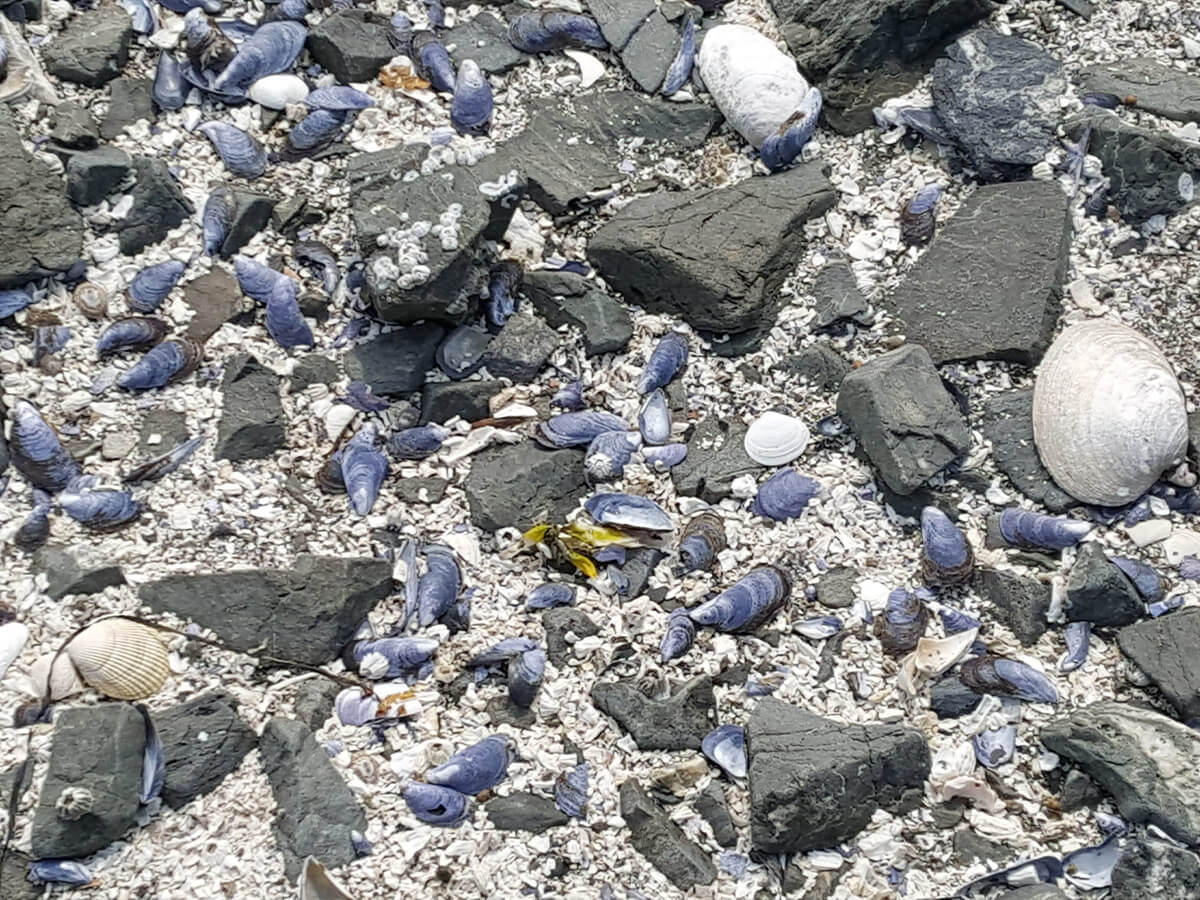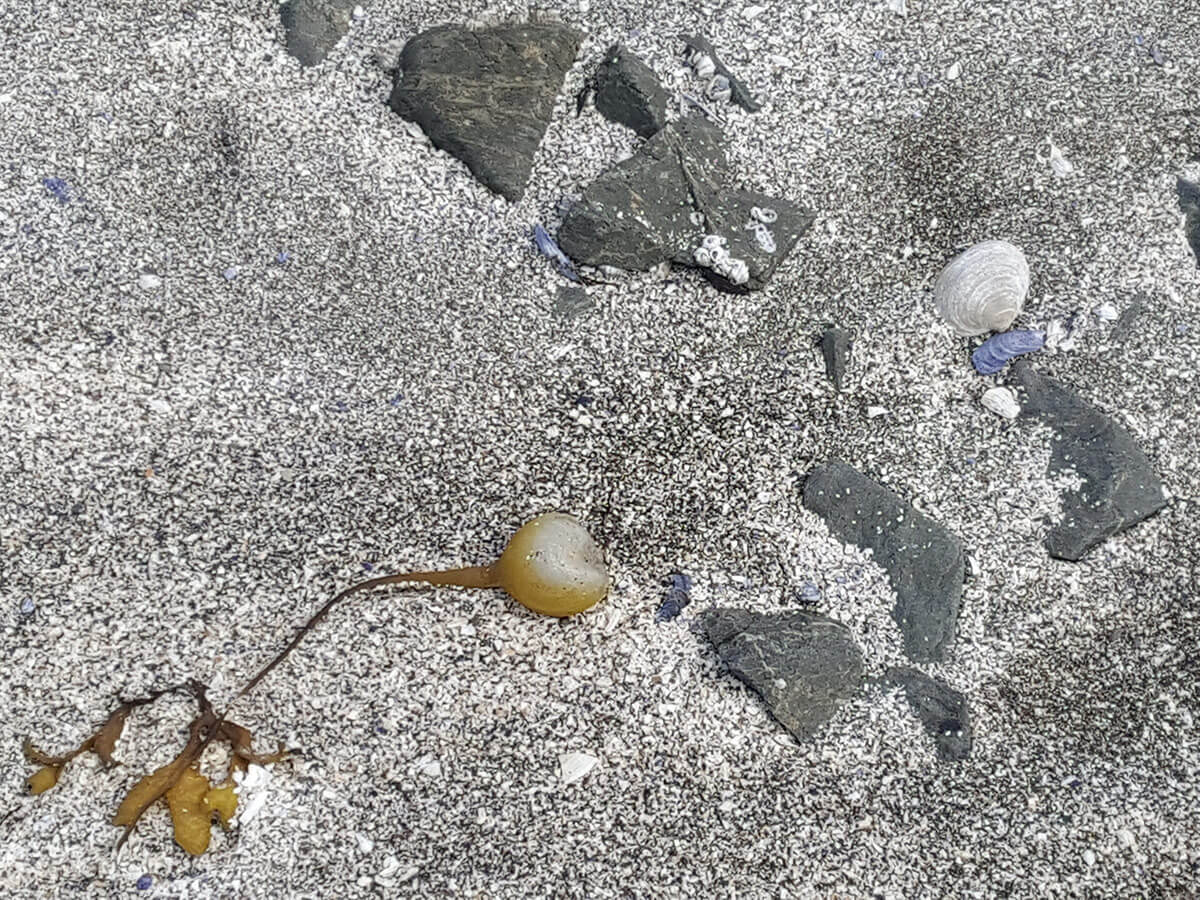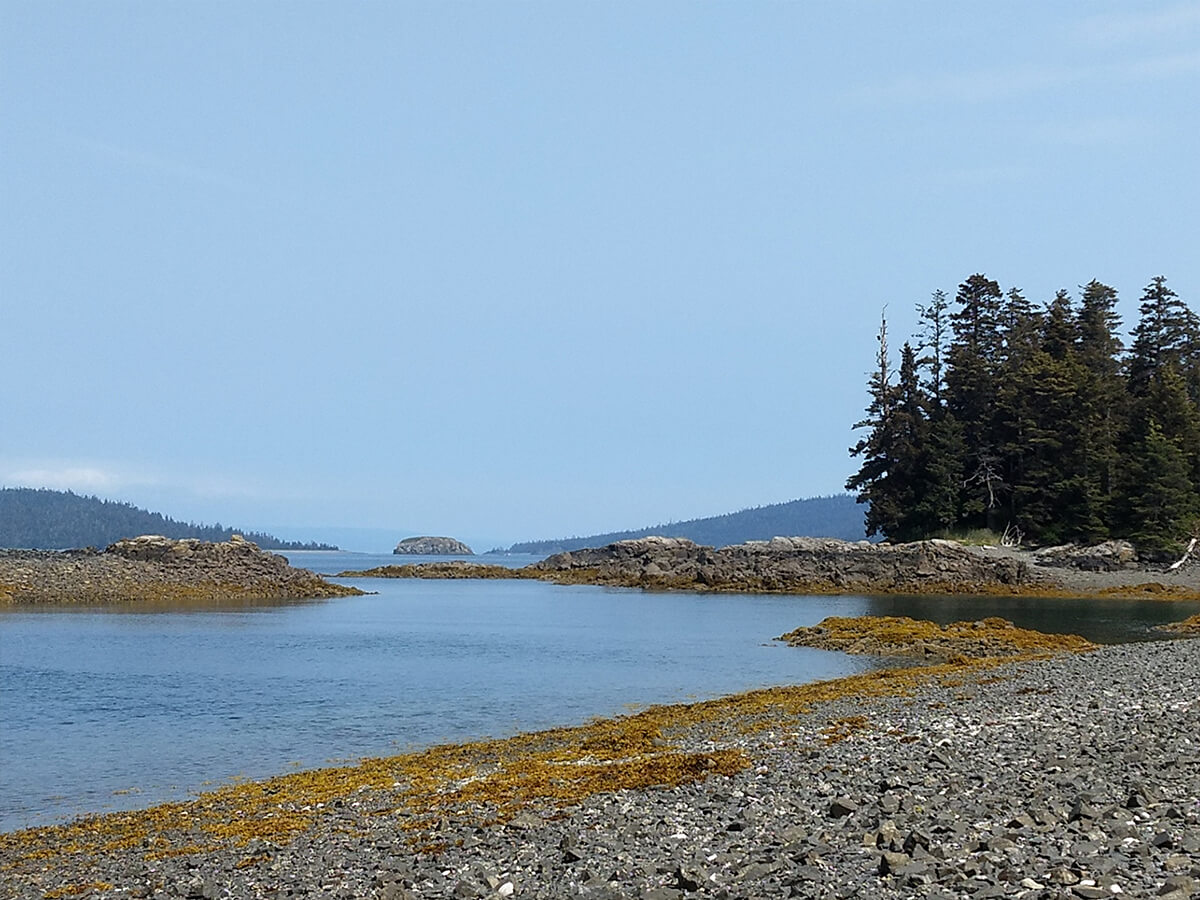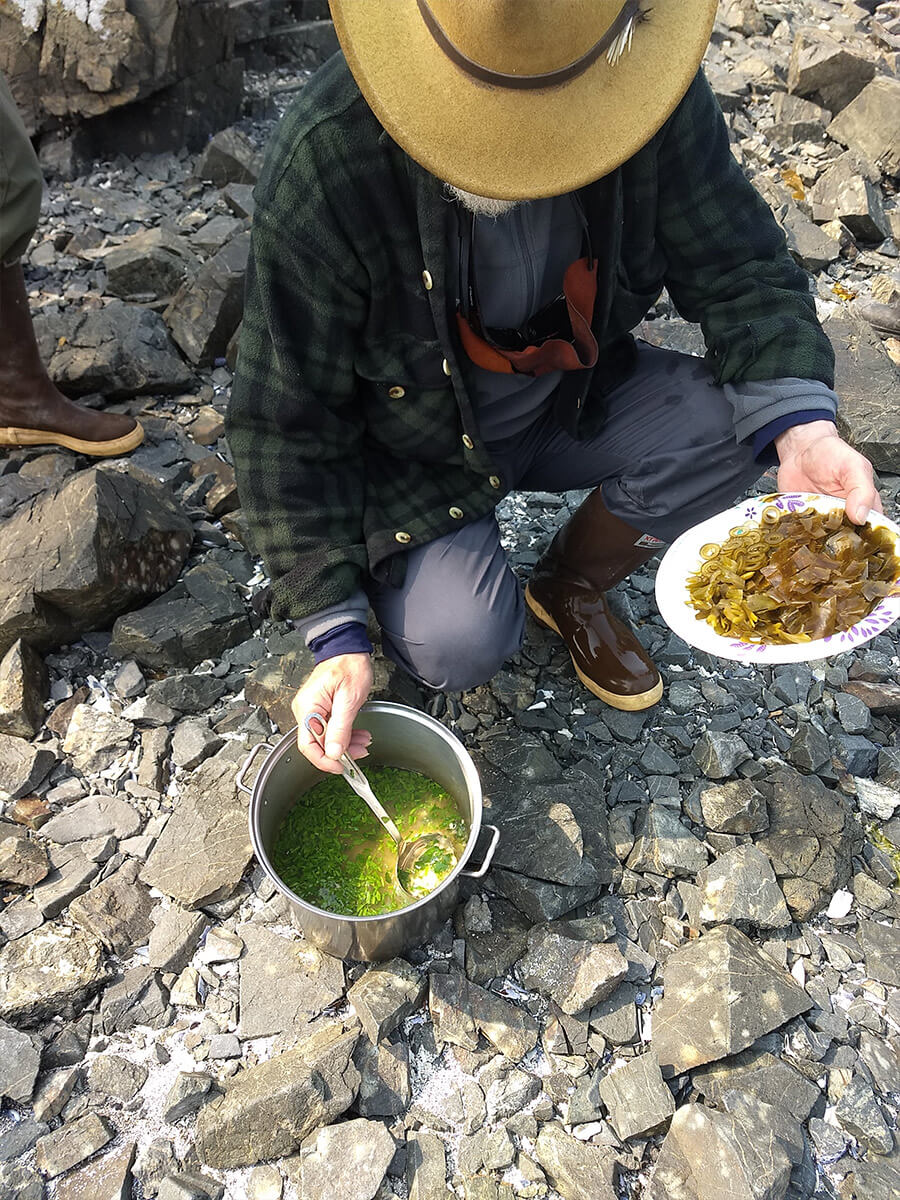 At the end of the day of paddling, we were excited about all that we saw and learned, yet calmed, as if we had been meditating. It felt that we had met new friends and kindred spirits.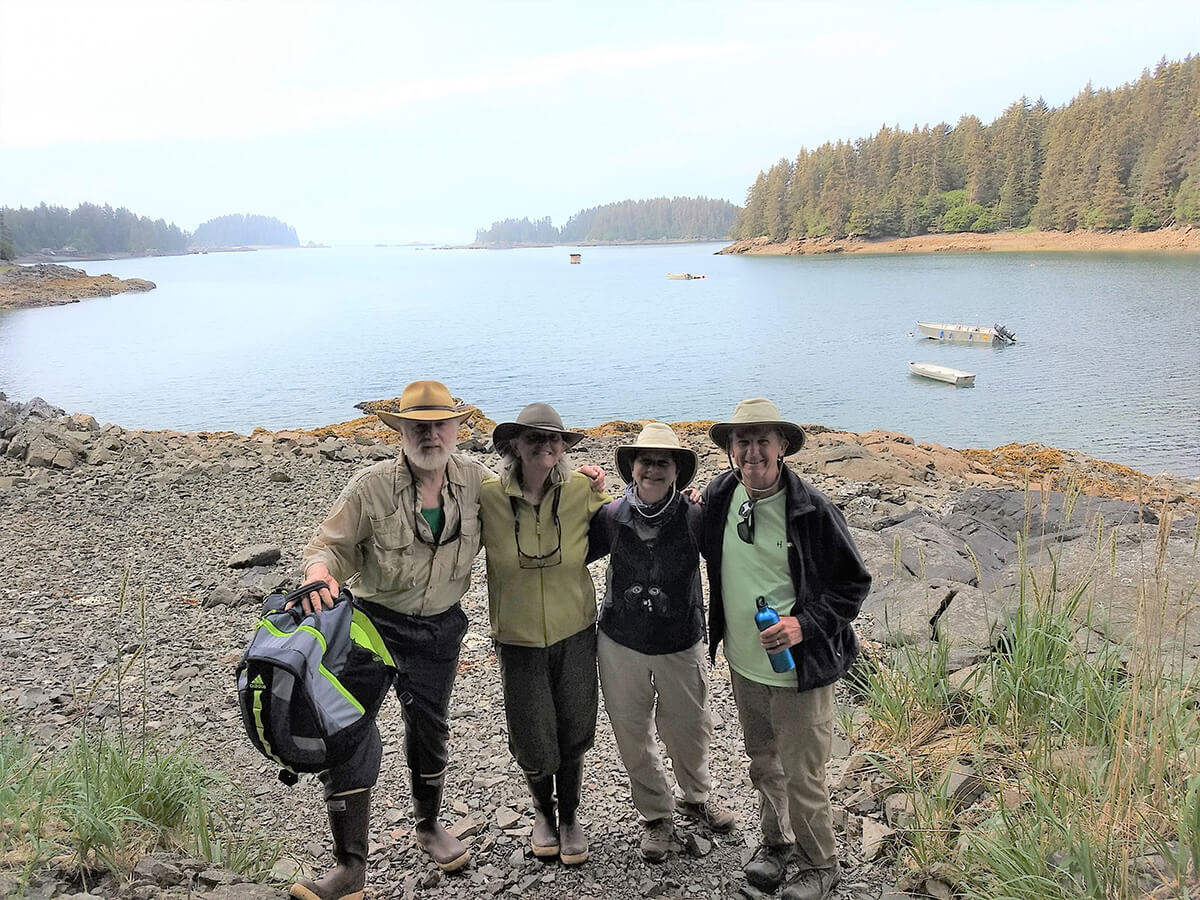 We started the next day with a very early flight with Sasquatch Air.
On our way to Katmai National Park, we flew around several volcanic mountains. It was eerie and beautiful because we were on top of a very thick layer of clouds, flying (very close) around the peaks of these majestic mountains.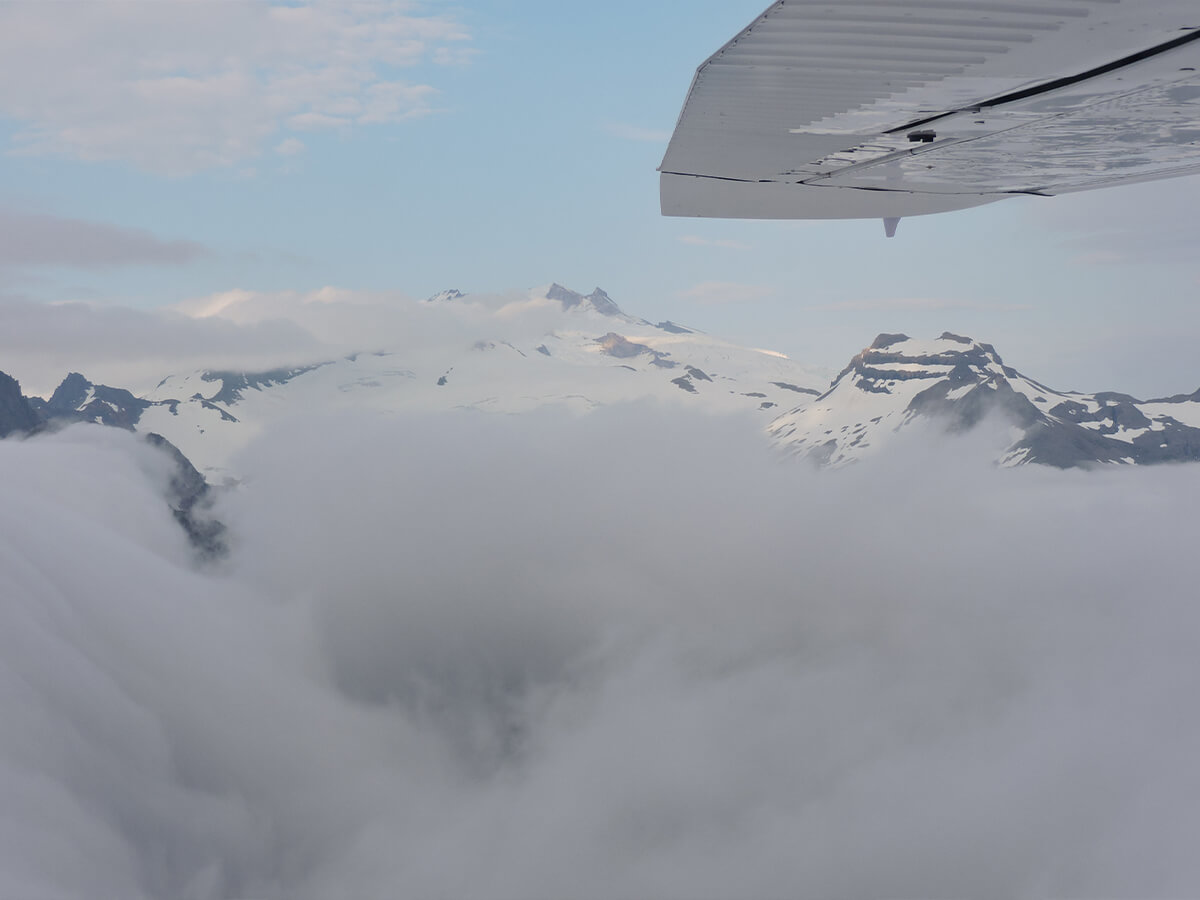 Then, after finding a gap in the clouds, we landed on a beach in the northern section of the park.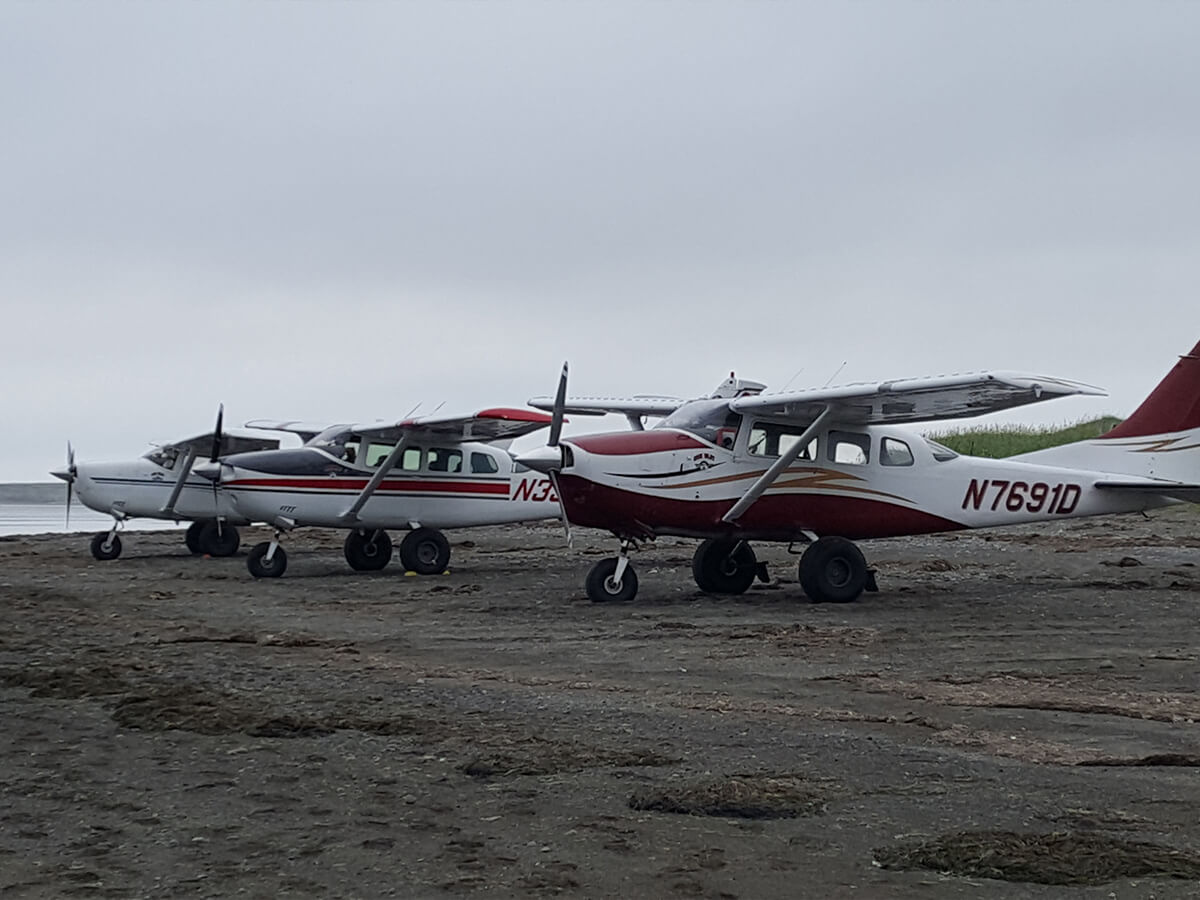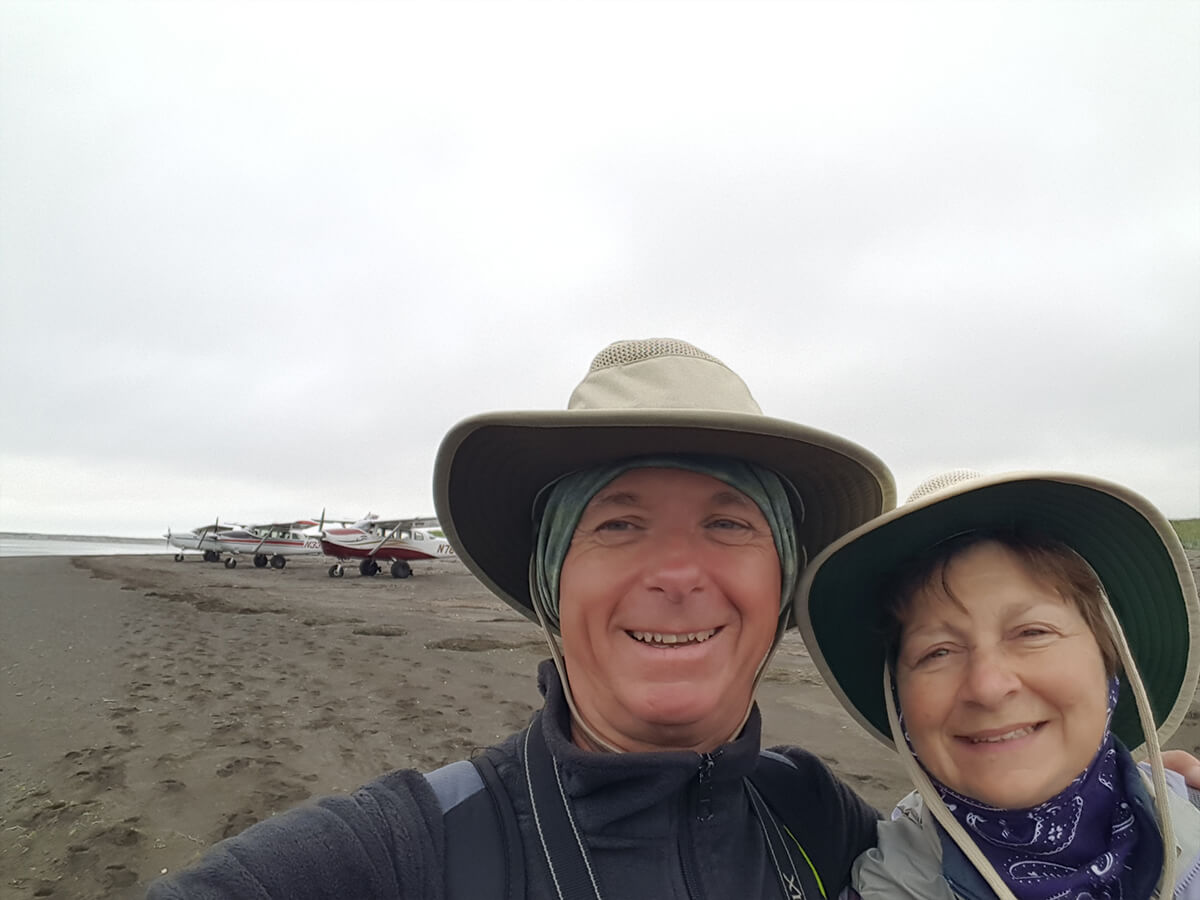 We walked across the delta area where bears were looking for fish in the streams. We watched grizzly bears in their natural habitat, as they fished, ate, scratched, and lounged!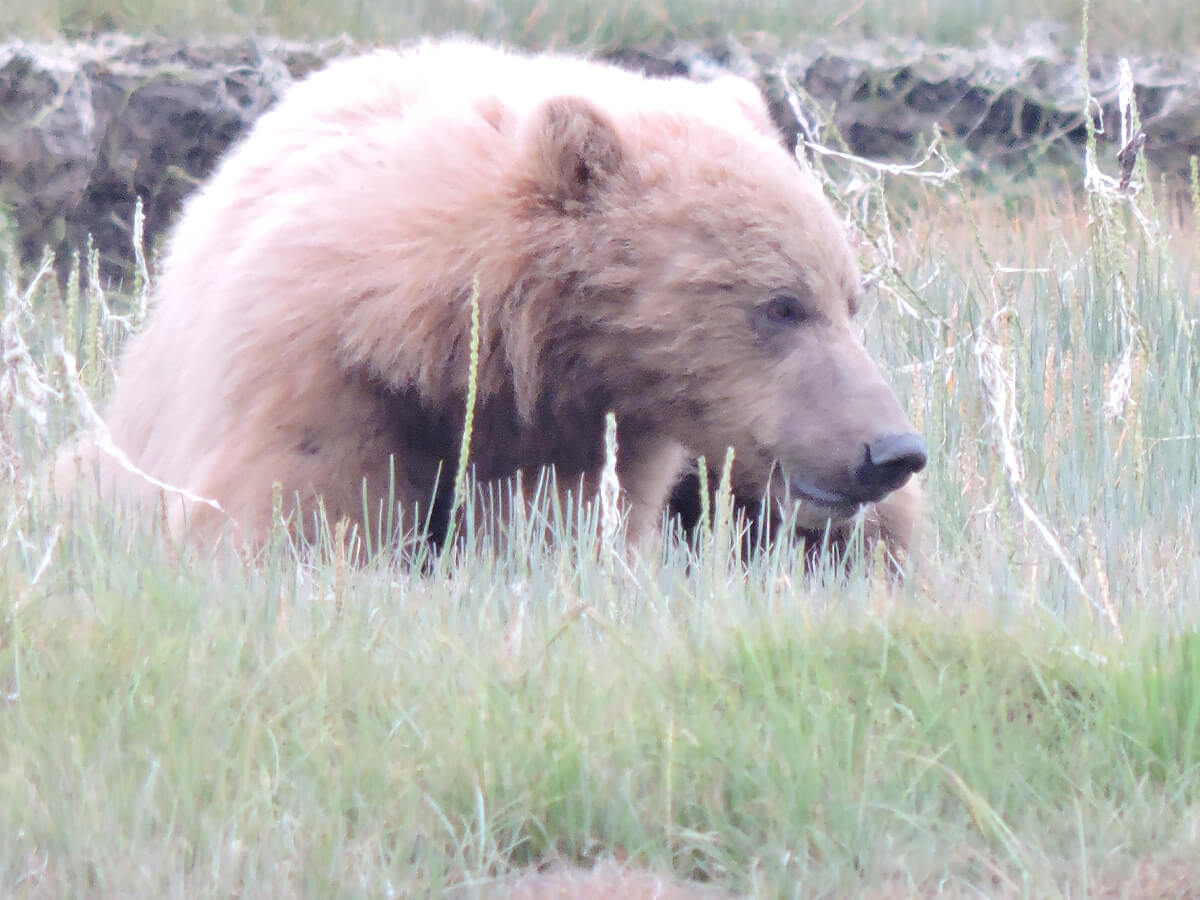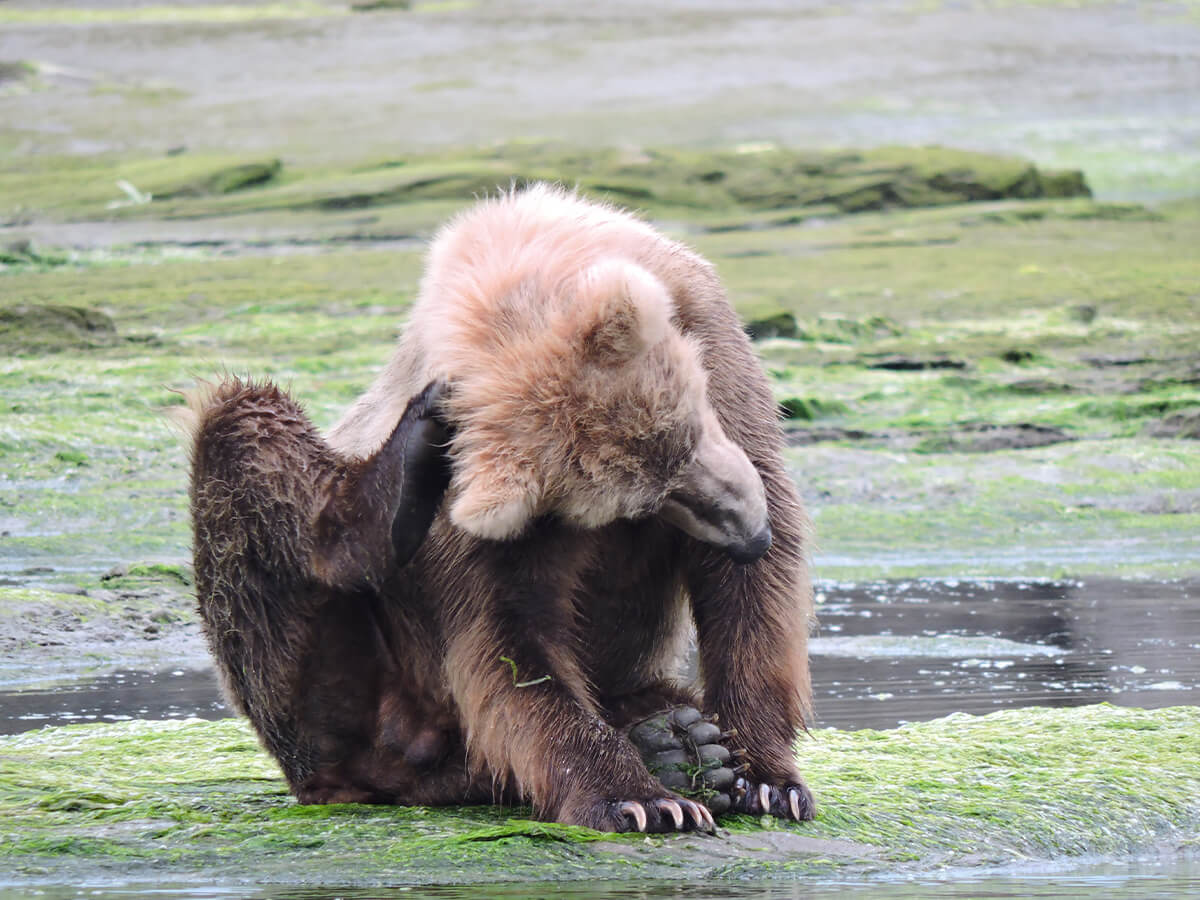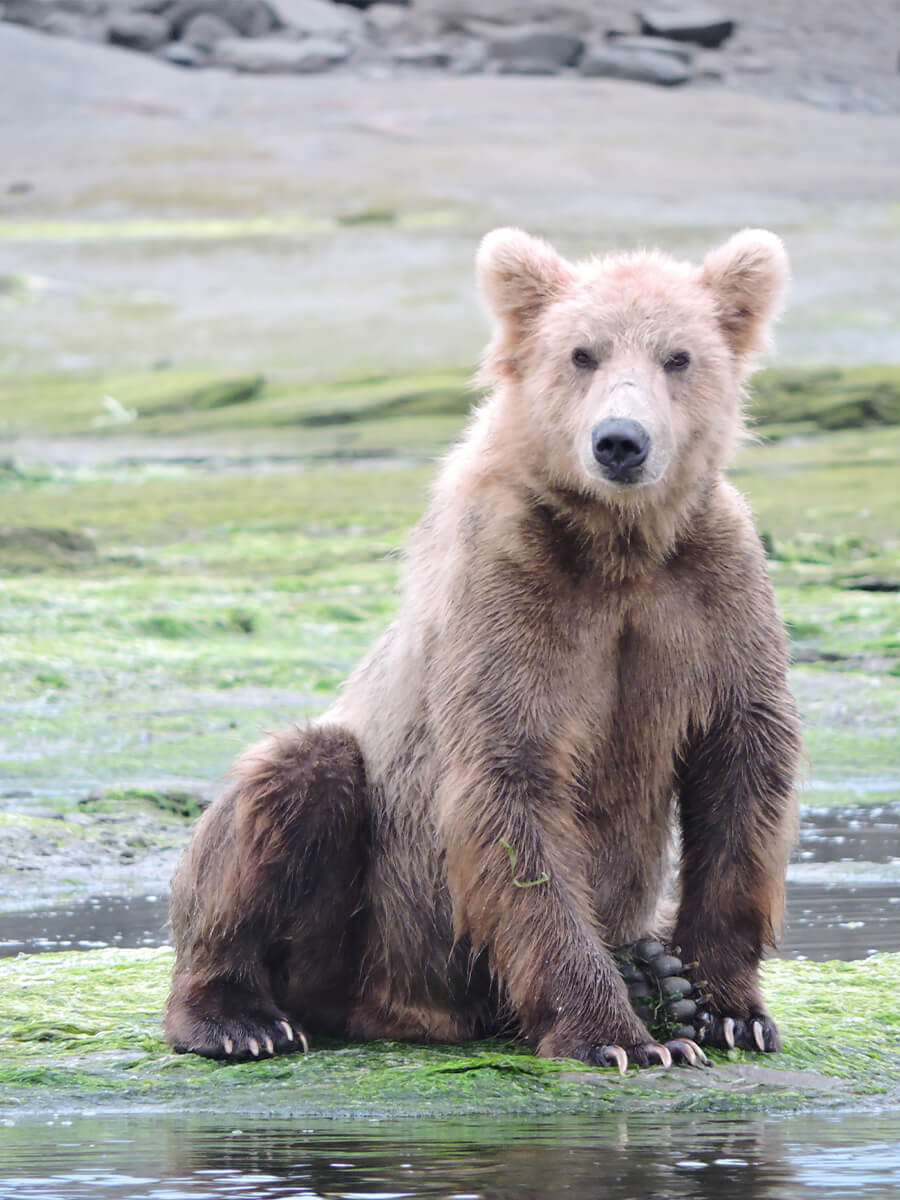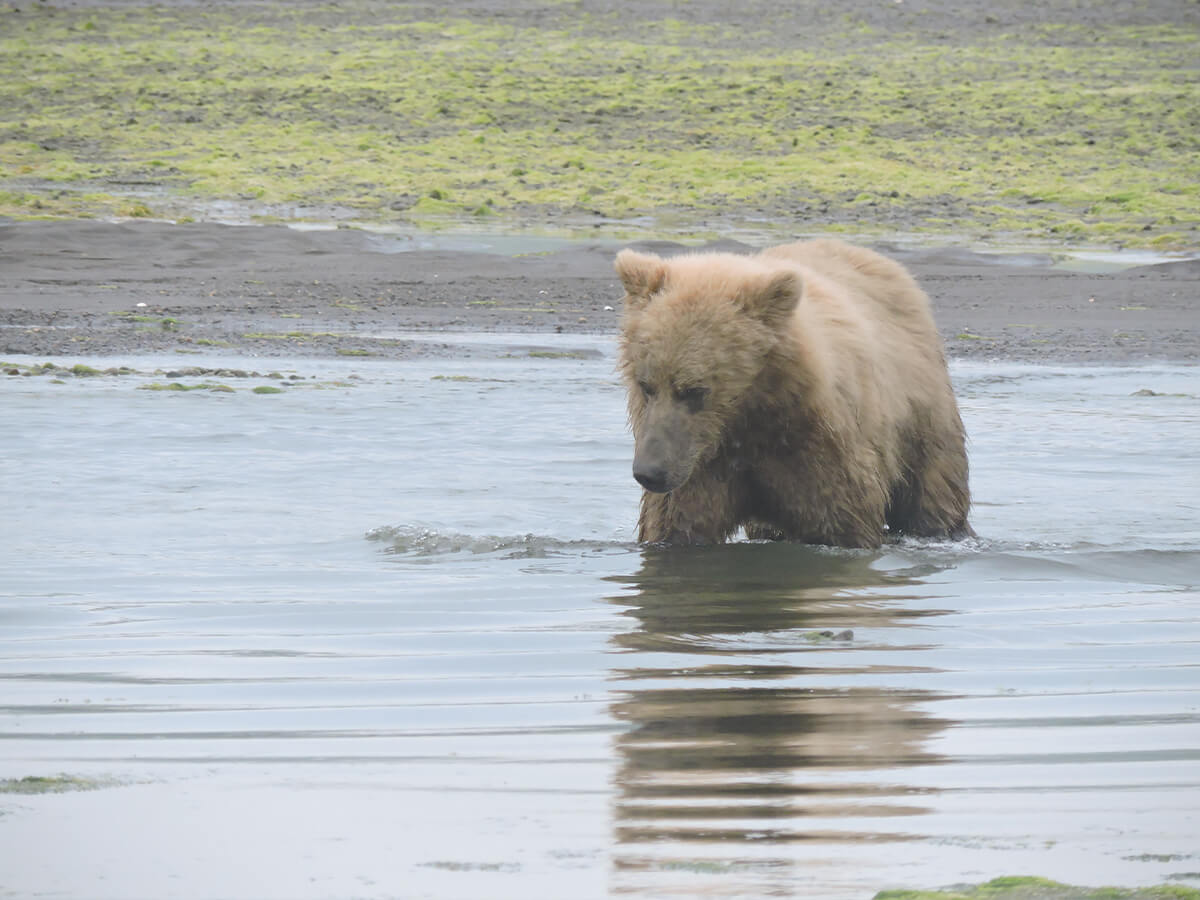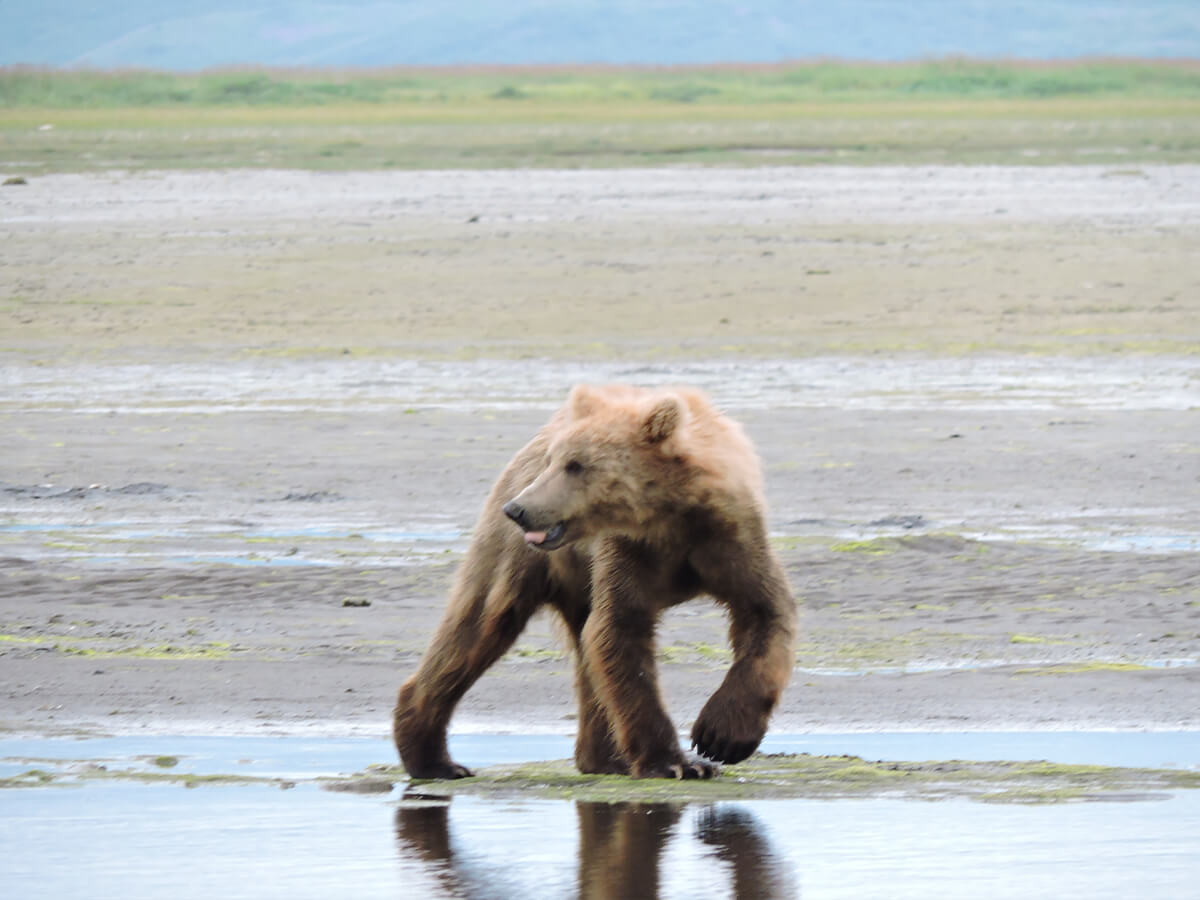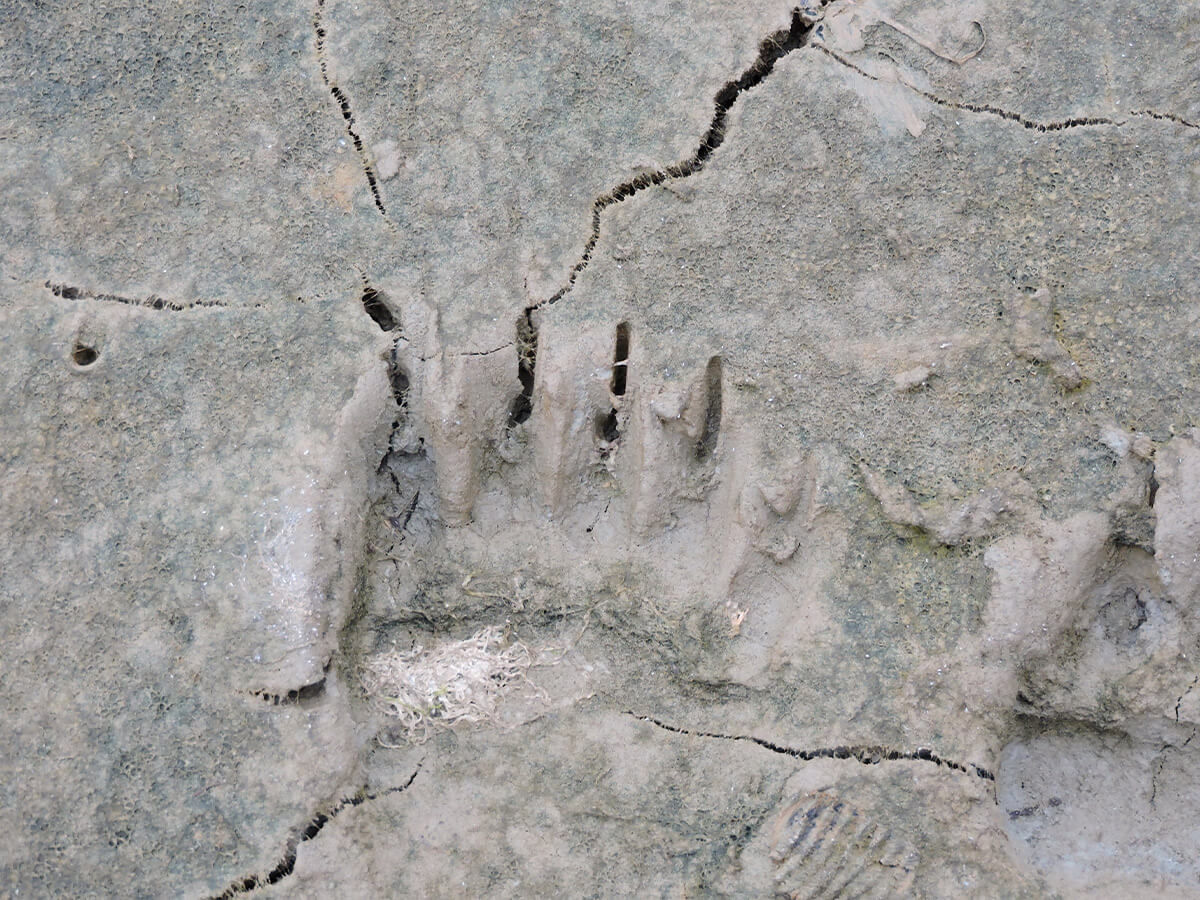 After that, Jim was inspired to go fishing himself! He caught his Dolly Vardin in Anchor River.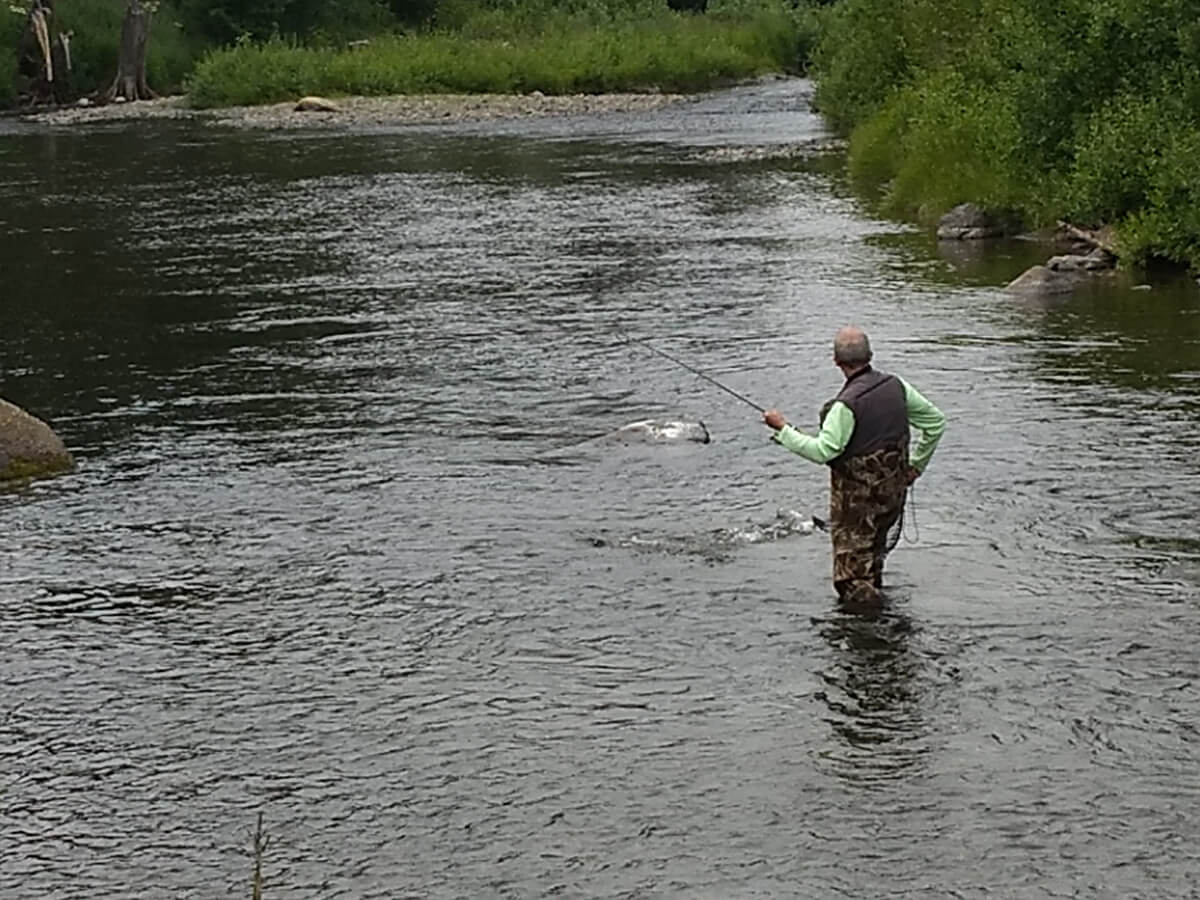 We had another early morning for a day long halibut/salmon fishing charter. Personally, I think I needed more prep time at the gym, because it is a real workout to pull up line from 200 feet deep with a 4 lb weight – and that's just to check the bait; when you hook something, it is REAL work!!
Jim caught 2 nice halibut and I caught an octopus! We each caught a shark and 4 salmon.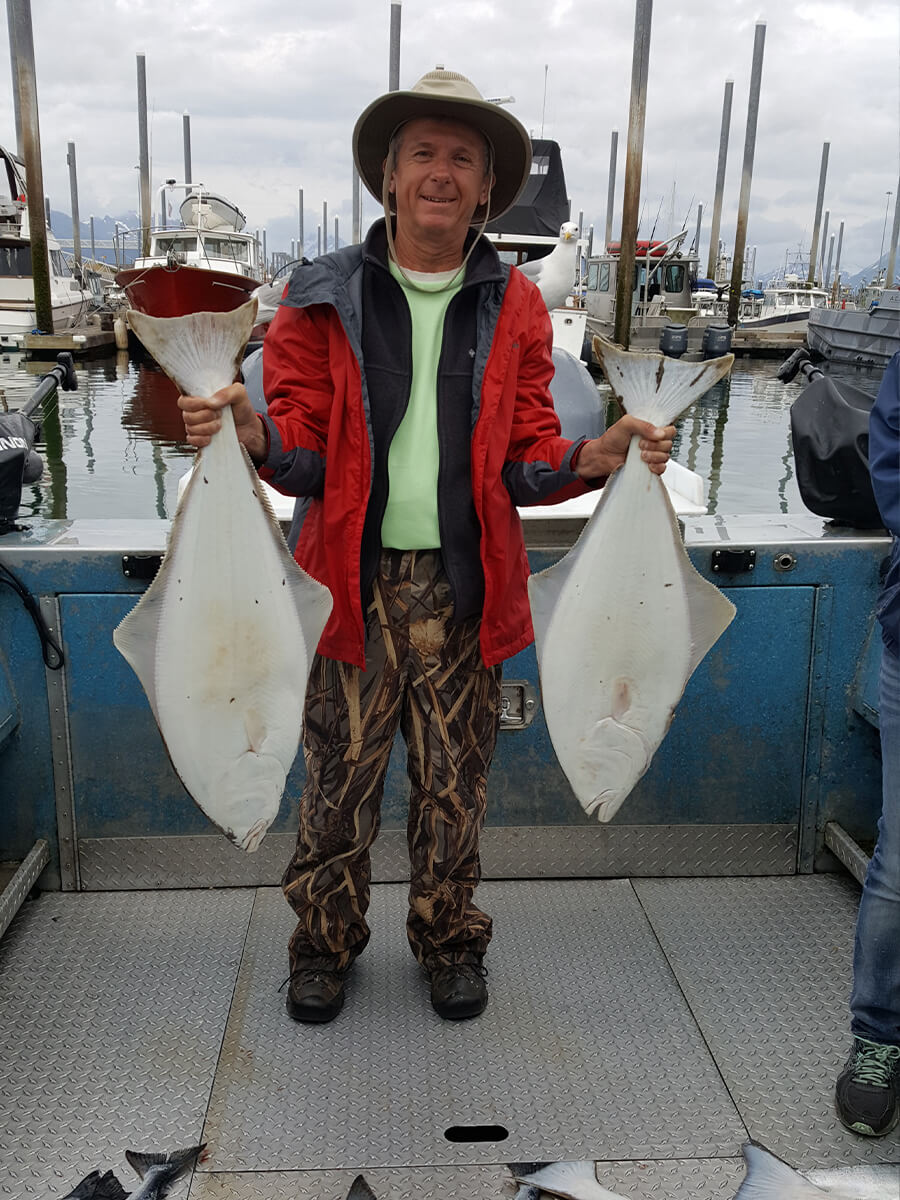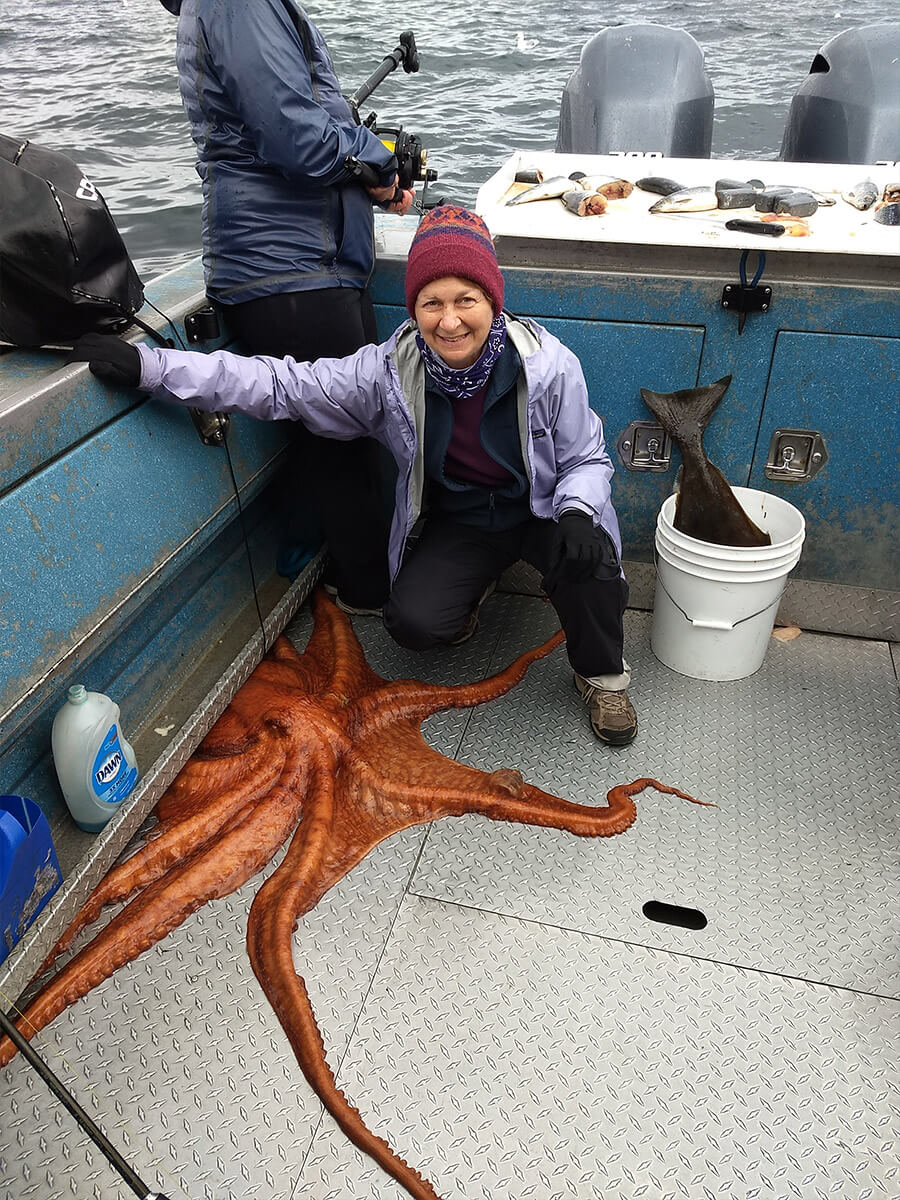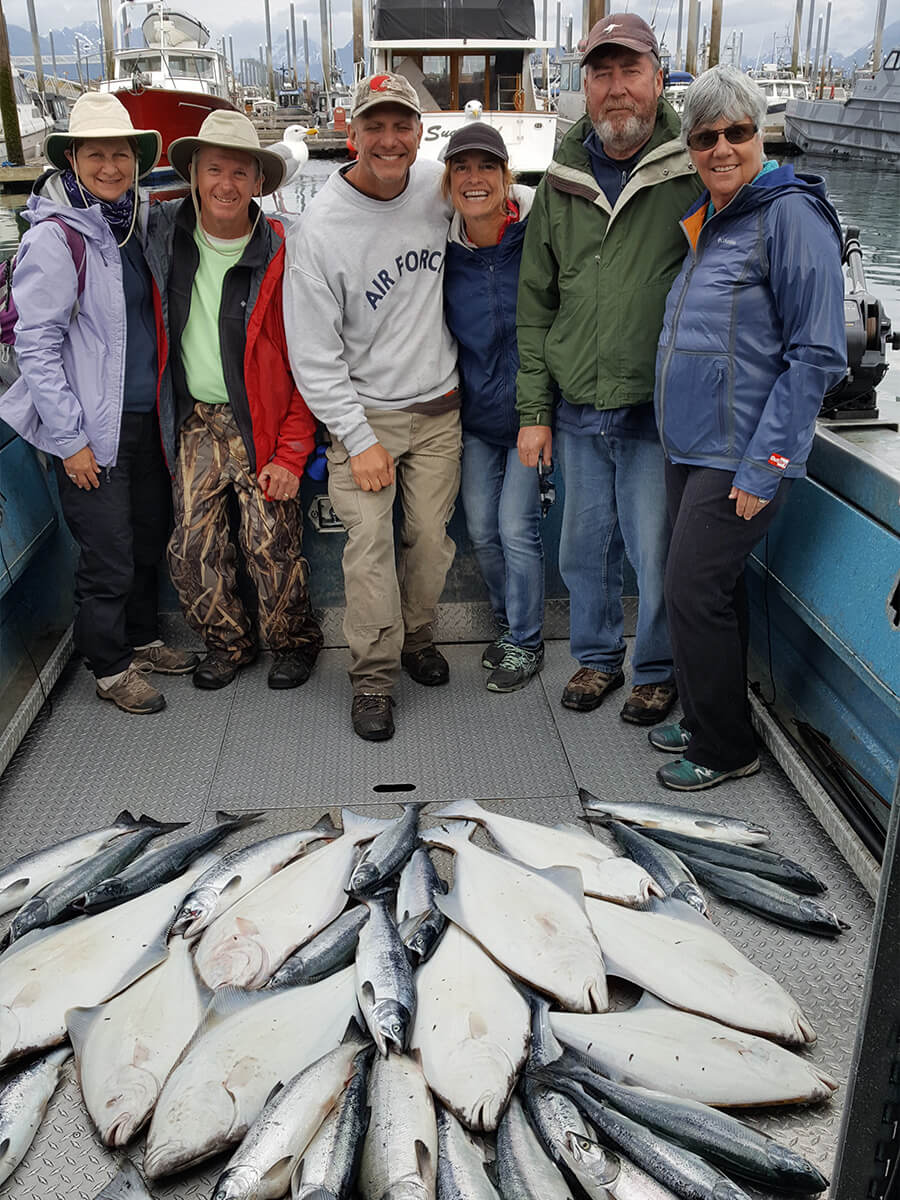 We slept in a bit on Sunday and enjoyed the view from the deck.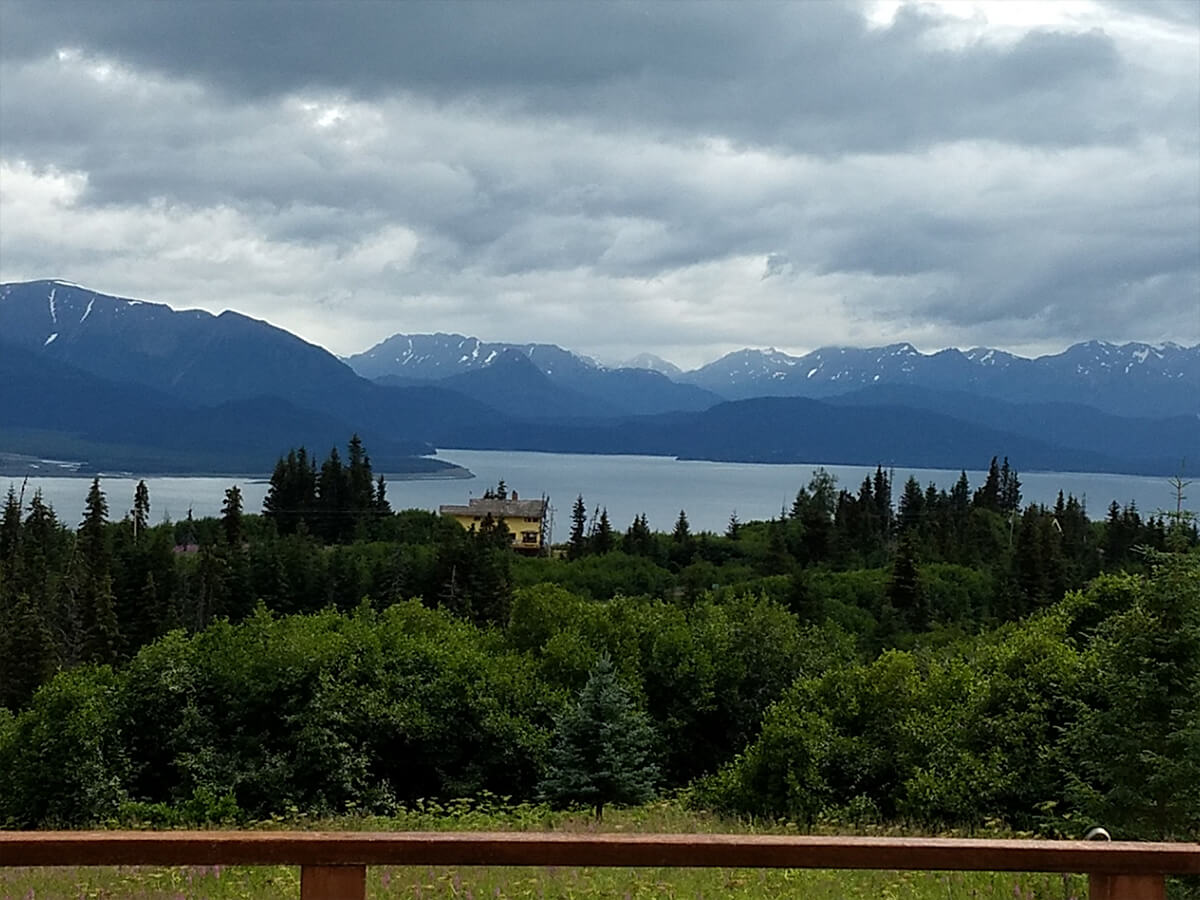 Jim wanted to make a fish buffet for dinner for Bruce and Toni, who were coming down to the cabin that night, so in addition to halibut and salmon from the charter, we went back out to Anchor River for some beautiful Dolly Vardin.
We had a wonderful dinner with Bruce and Toni, and were joined by their neighbor, Fred. It was like being with old friends. After a delicious salmon frittata the next morning, we left our friends and our Homer home, the 'Whiskey Shack', guest cabin of the 'Hutte'.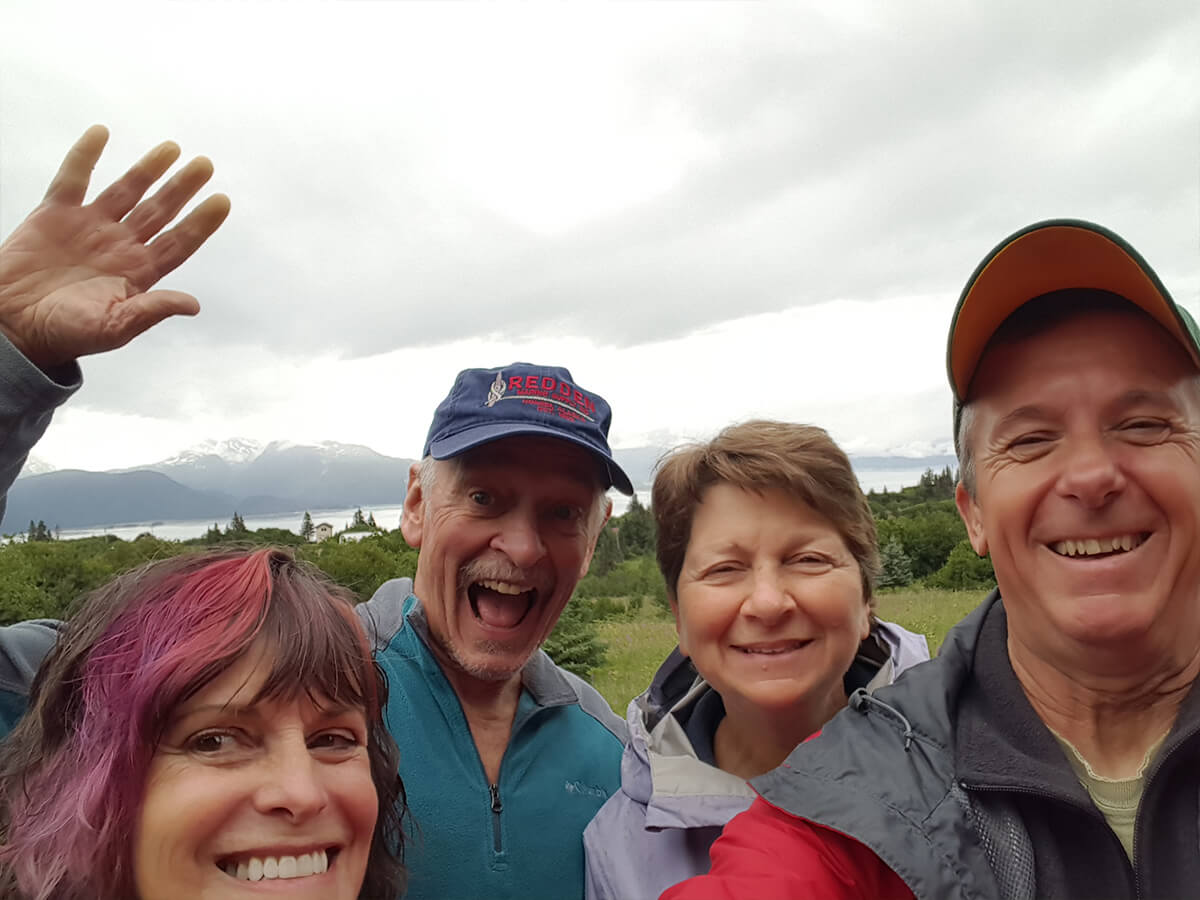 As we drove back to Anchorage, along the Sterling Highway, we again passed areas of forest burns and could see smoke from active fires. Fortunately, rain is in the forecast.