Jim and Robin are heading to Alaska! The Honda CR-V is packed and their trusty GO, L.E.O. (Low-Earth Orbiter), is ready for adventure. Follow along and get a taste of #myGOlife…Berzowski-style!
After the 'side trips' to Valdez and Wrangell-St Elias, it was time to resume our journey on the Alaskan Highway and travel the sections that we had not yet covered!
We followed the Richardson Highway back up to Glennallen, and took the Glenn Highway Tok Cutoff to Tok where we picked up the Alaskan Highway. We had planned to travel the Nabesna Road into the northern section of the Wrangell-St Elias National Park, but the weather was very cloudy and rainy – not conducive for gravel/washboard roads.  So, after a nice lunch chatting with the ranger at the entrance station, we continued on. Due to the weather and smoke (which was quite heavy to the west), we were not really able to see the Wrangell-St Elias ranges or the Mentasta Mountains. We did see trumpeter swans in Mineral Lake outside of Tok and magnificent views, complete with expressive clouds!
Our night in Tok was rewarded with nice hot showers and we started off refreshed on the Alaskan Highway to Haines Junction and Kluanne Lake region.
Along the way, we stopped at the Tetlin National Wildlife Refuge visitor center.  They had wonderful views, a great display, a very interesting movie about the Native Americans and the whitefish, and they had grass roofs!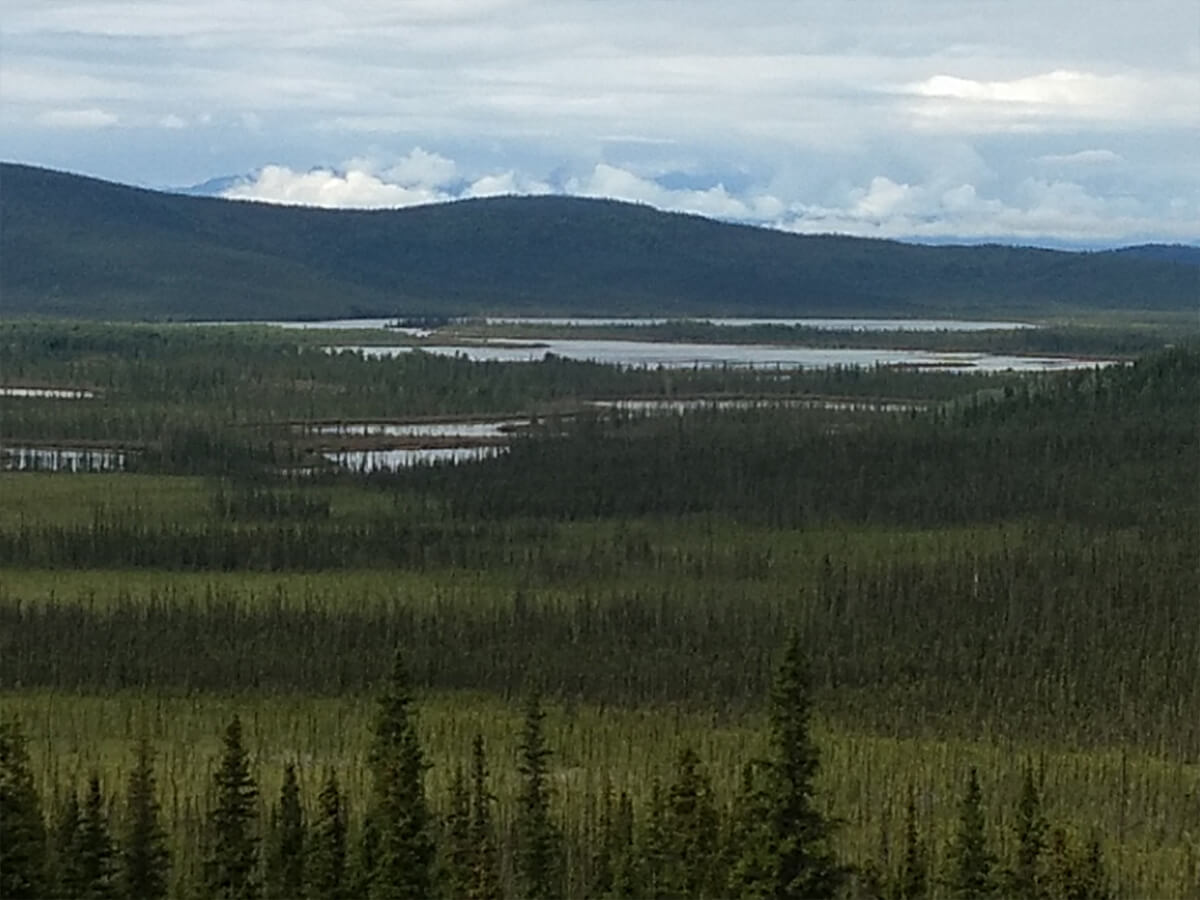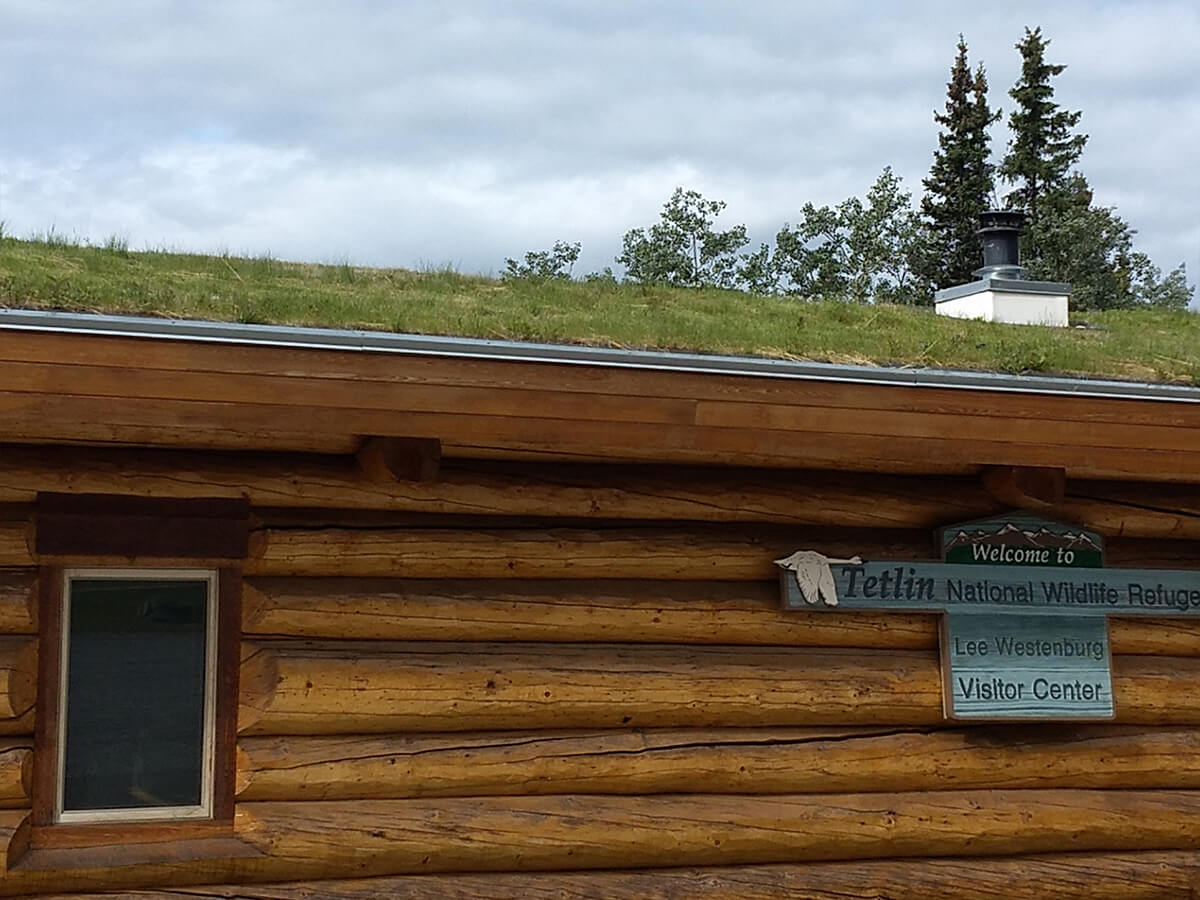 At the Beaver Creek Canada Customs Station, we crossed back into the Yukon Territory. We stopped at Buckshot Betty's for some homemade bread and continued on.  The roads need yearly repairs and are very rough due to the frost heaves. We passed a permafrost research project, as the governments try to figure out how to reduce the impact on the roads.  Reflection Lake, was true to its name, mirroring the Kluane Range.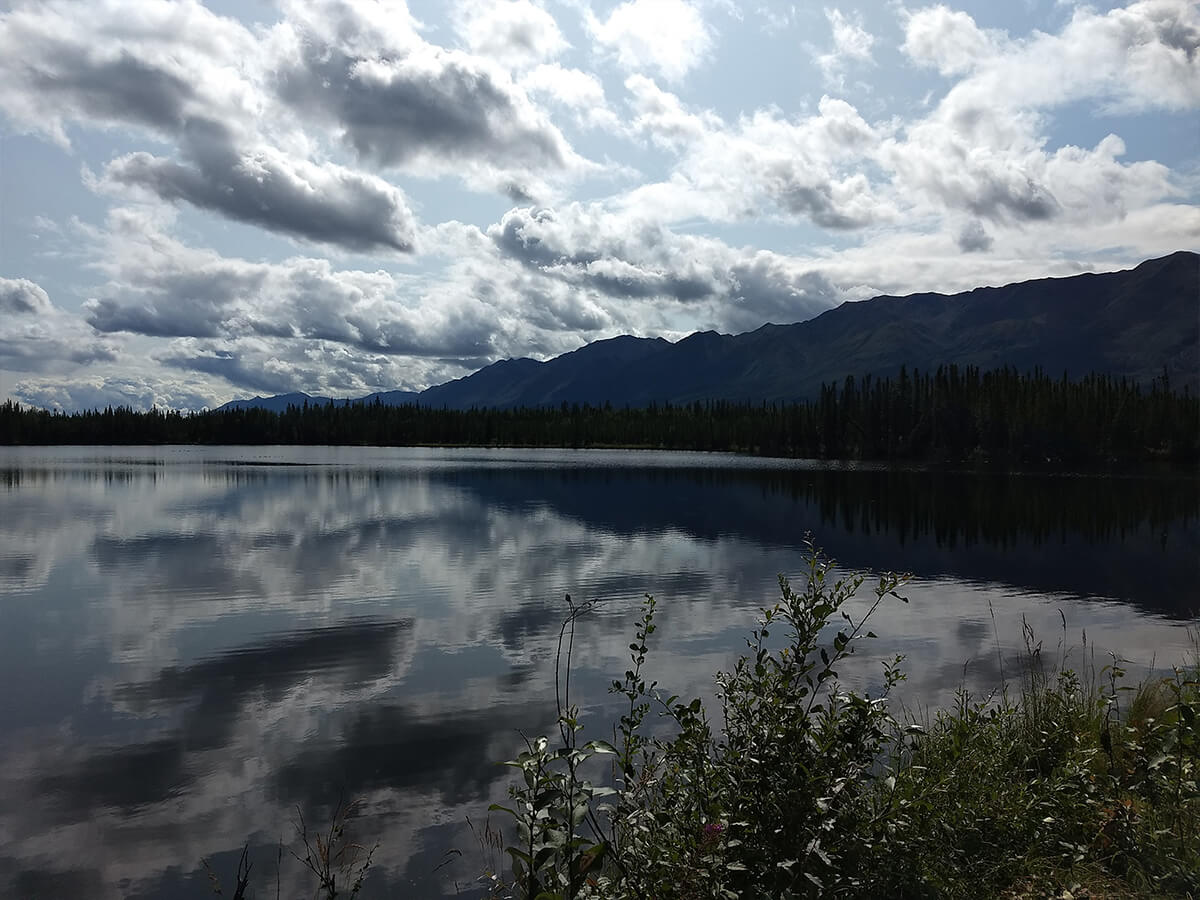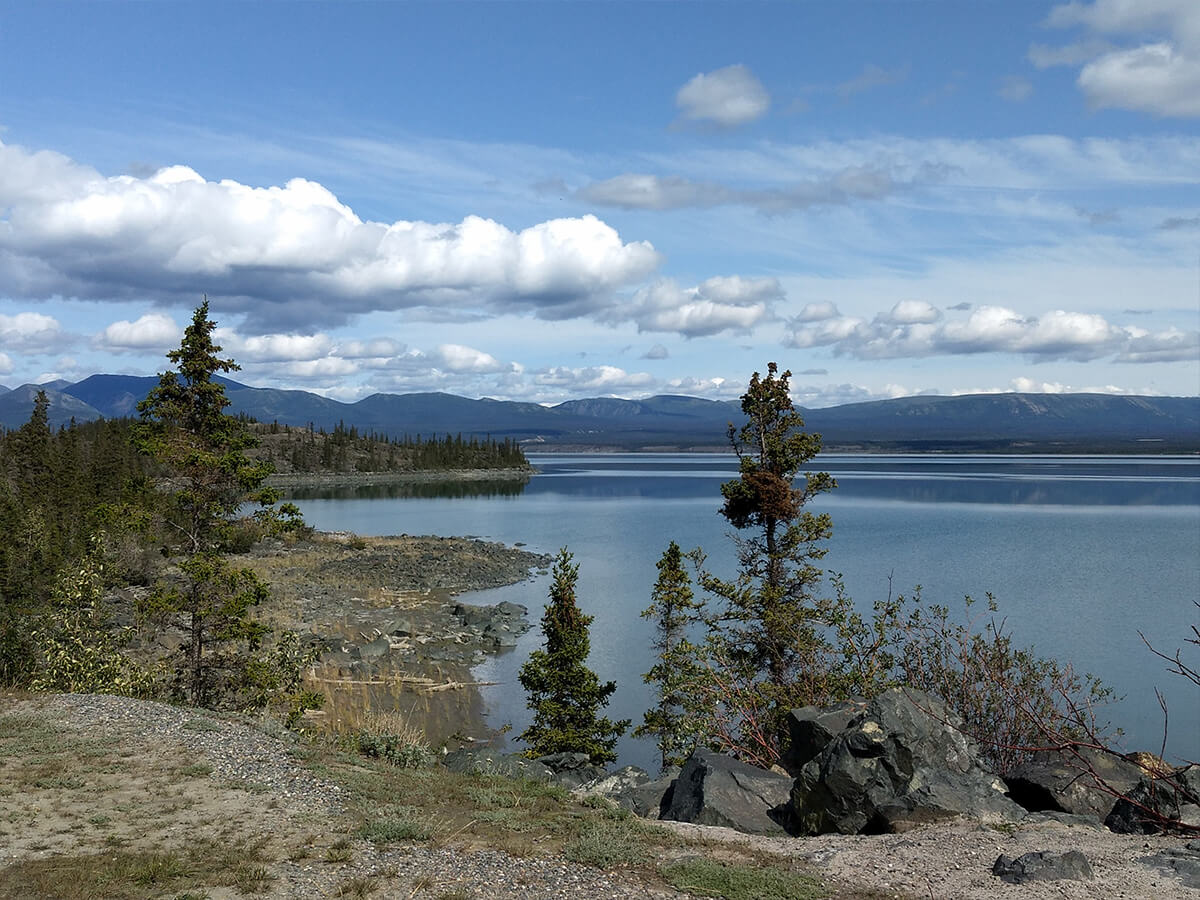 As we continued east, we were able to look back and see the Icefield Ranges of the St Elias mountains.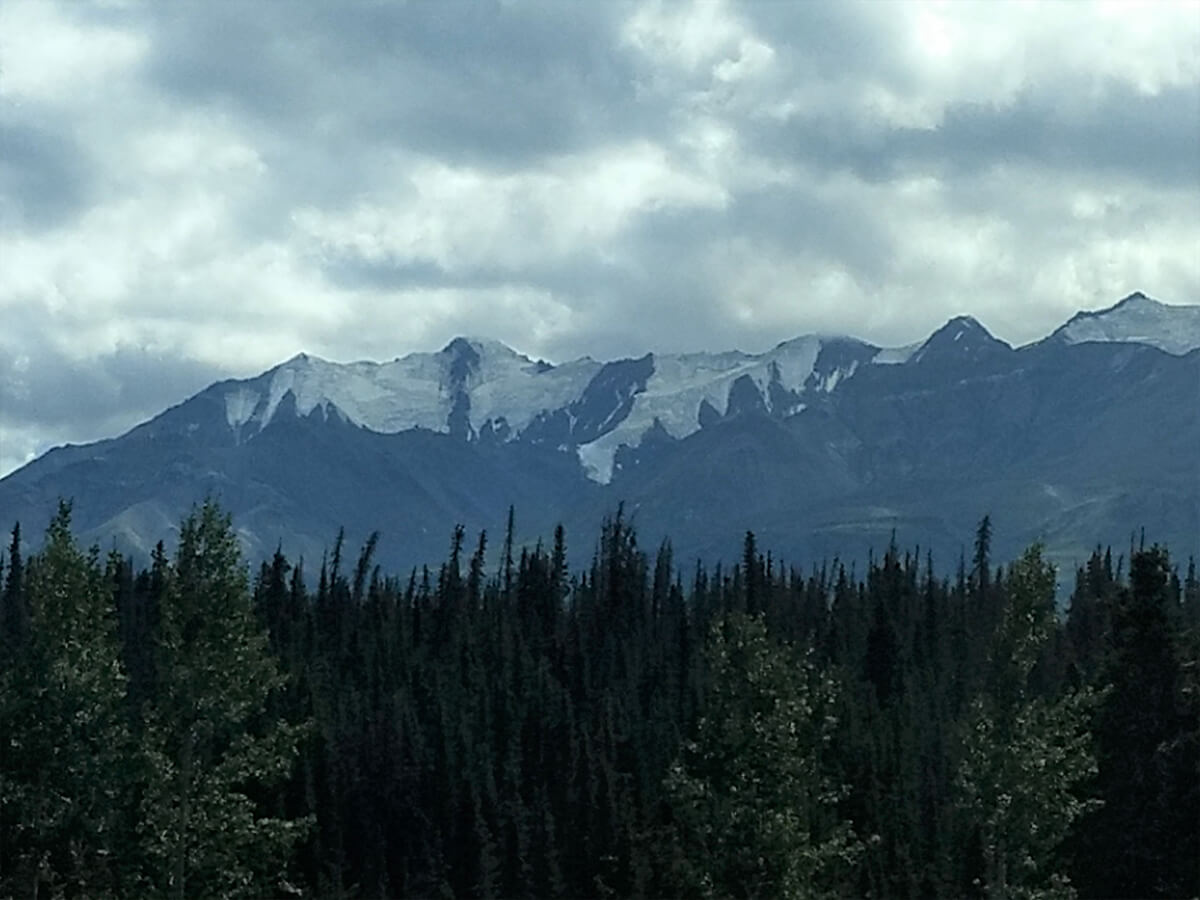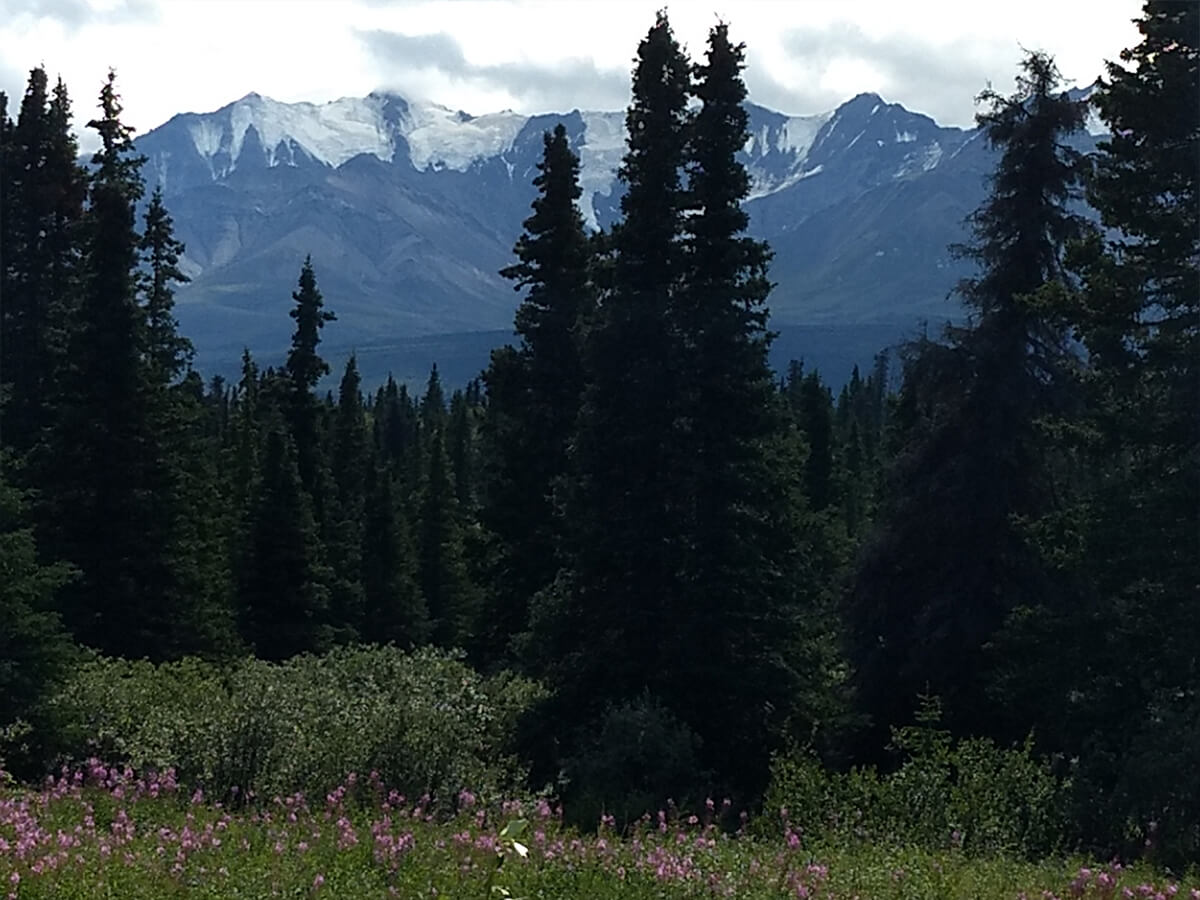 Then the drive brought us alongside Kluane Lake, the largest lake in the Yukon (154 sq miles). Great photo op at Horseshoe Bay.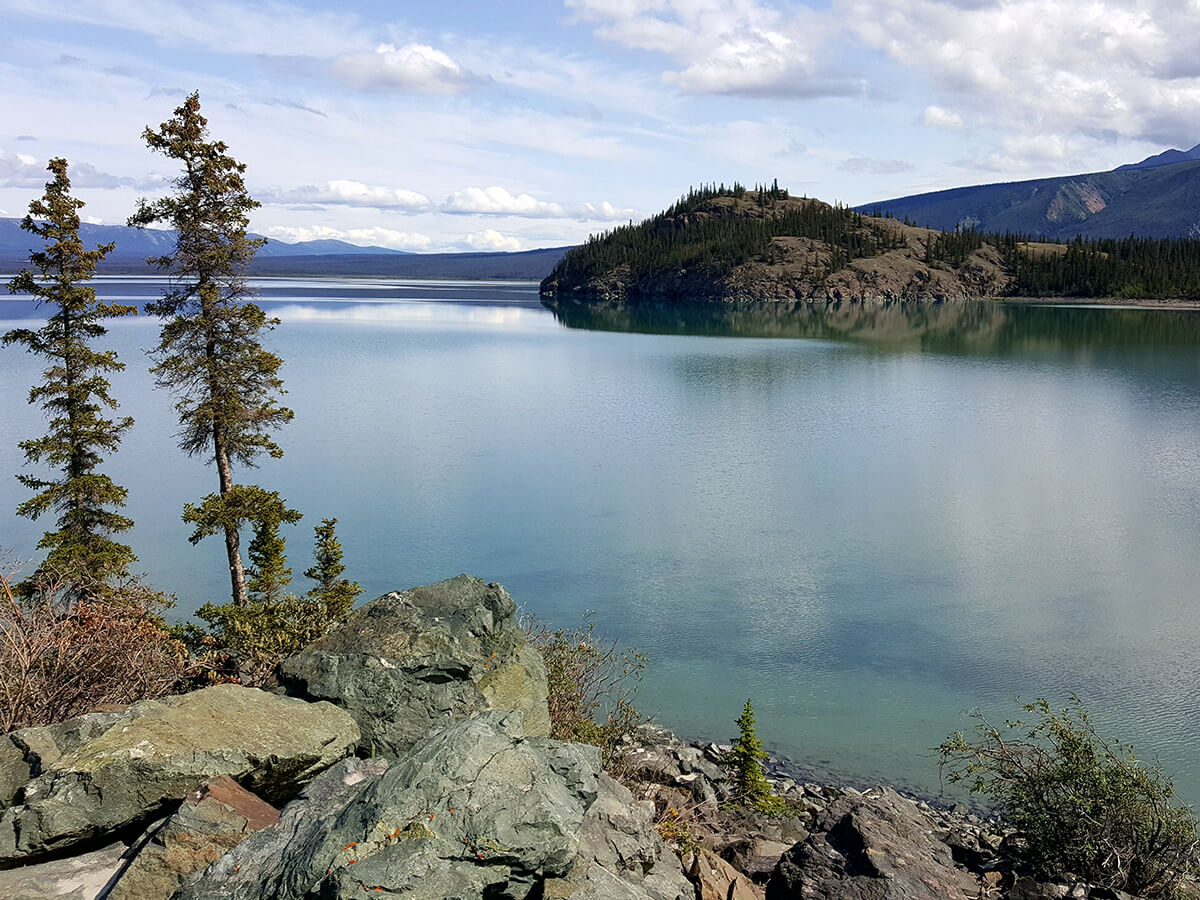 We found that as we headed more south and east, more of the campgrounds were filled earlier.  Our intention was to camp at Pine Lake Yukon government campground, just outside of Haines Junction, but alas, as we arrived, someone was registering for the last site.  So, we drove 15 miles south, to Kathleen campground in Kluane National Park, and to our dismay, they were also filled! So, back to Haines Junction, where we parked our GO and set up our GOzeebo in an actual RV park!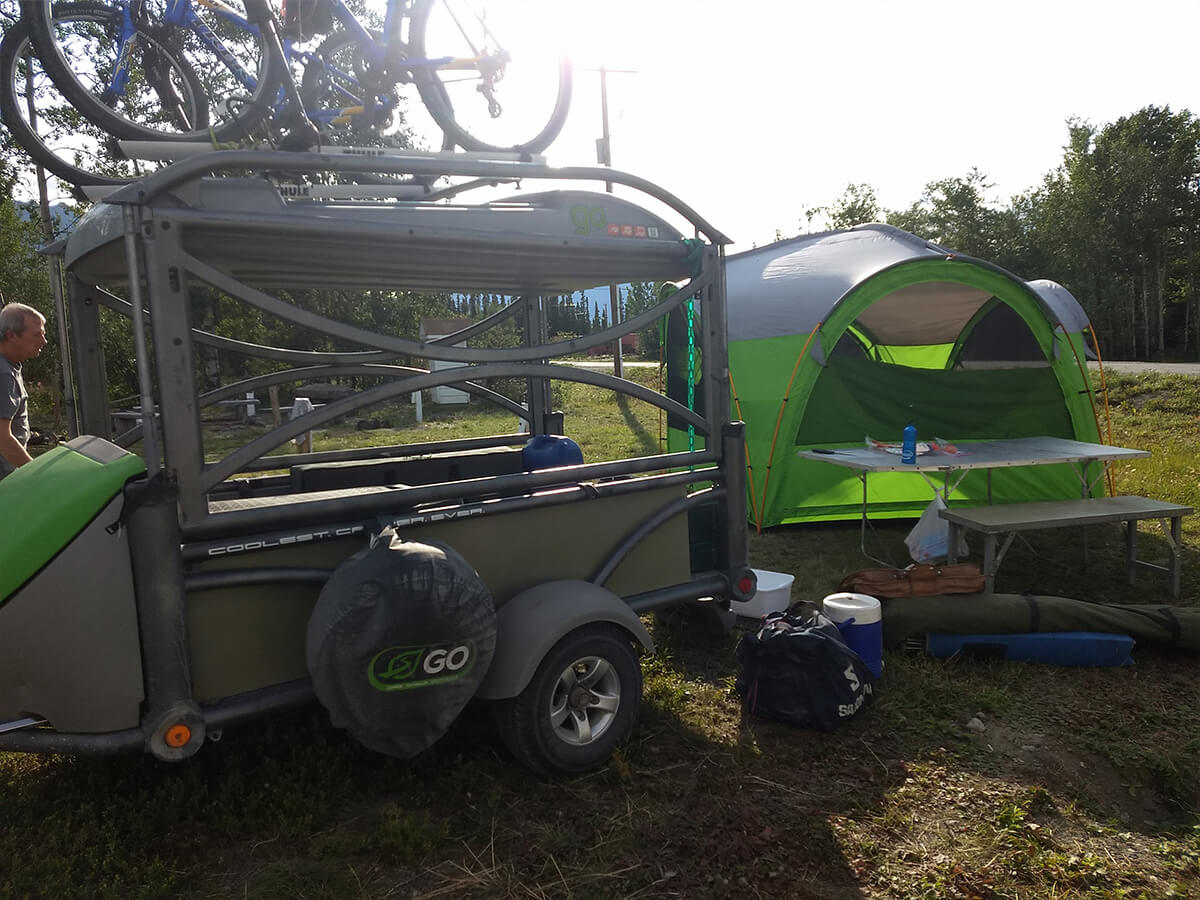 Before you knew it, we were surrounded by big rigs!!  It was an interesting experience. We had very nice conversations with our neighbors. The woman and her husband live in their RV and work for Good Sam's, reviewing campgrounds.  A friend who was with them, had previously lived in her RV and was looking to downsize, but with quality and efficiency. Of course, we showed her the video of the new SylvanSport VAST – it seemed to check her boxes!
The next morning, we headed back to Kathleen Lake and were rewarded with a beautiful site.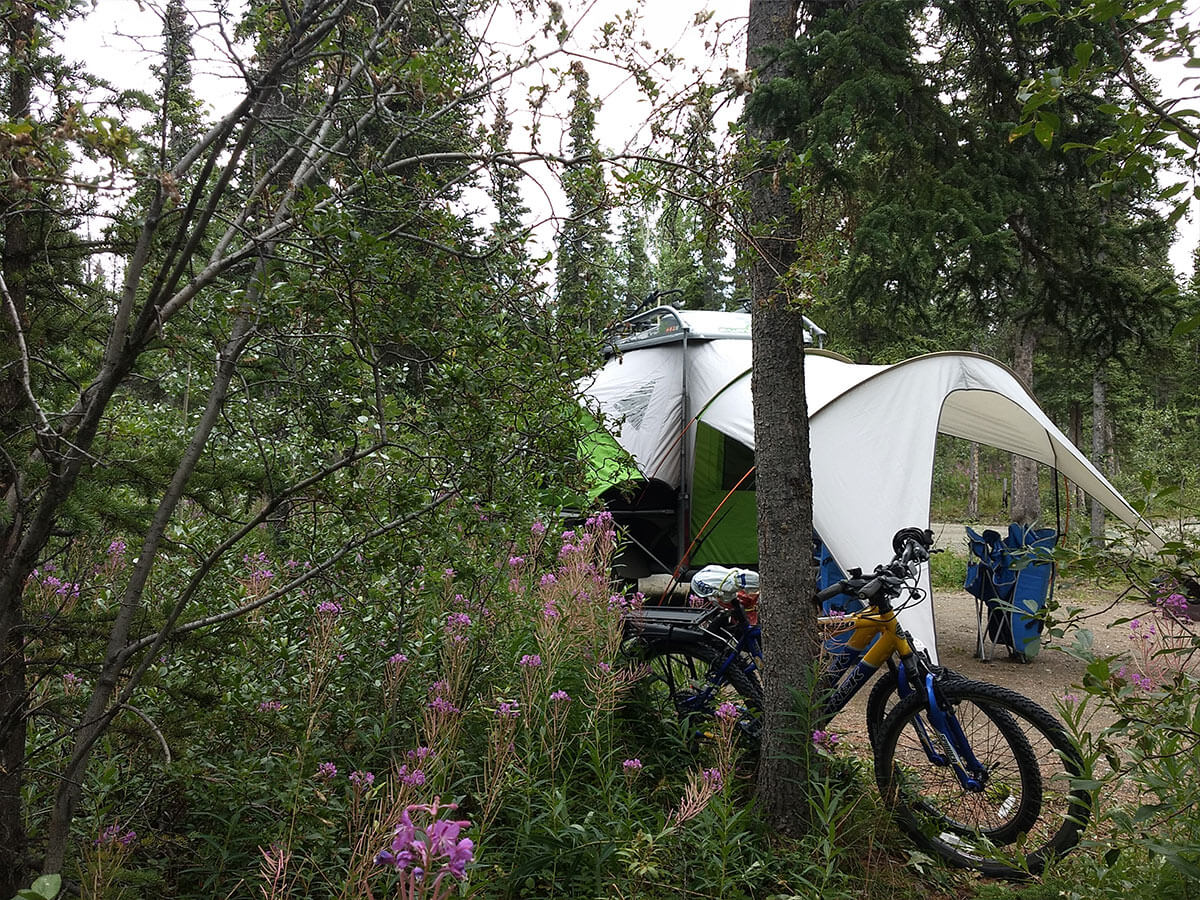 We pumped up our inflatable kayak and took to the lake for some grayling fishing.  It is a good-sized lake, and as the afternoon progressed, so did the wind – we prudently paddled back to shore, as the waves were beginning to crest at around 2 feet!
Not to be put off the objective, we headed to the river!  You need a National Park fishing license for the lake and the river west of the bridge, but a Yukon license east of the bridge.  Jim got both!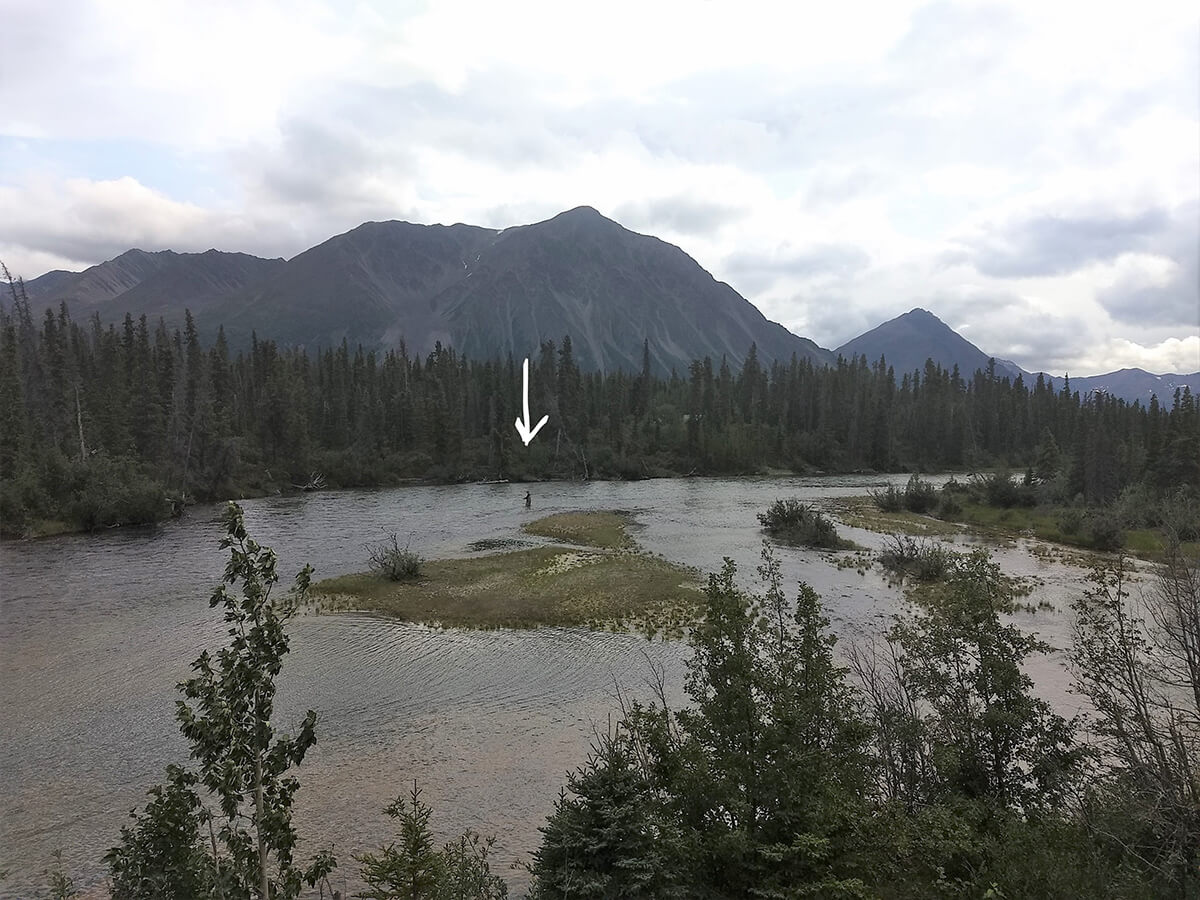 He was rewarded with the object of his desire – grayling, a very pretty fish. He kept the legal limit of 2.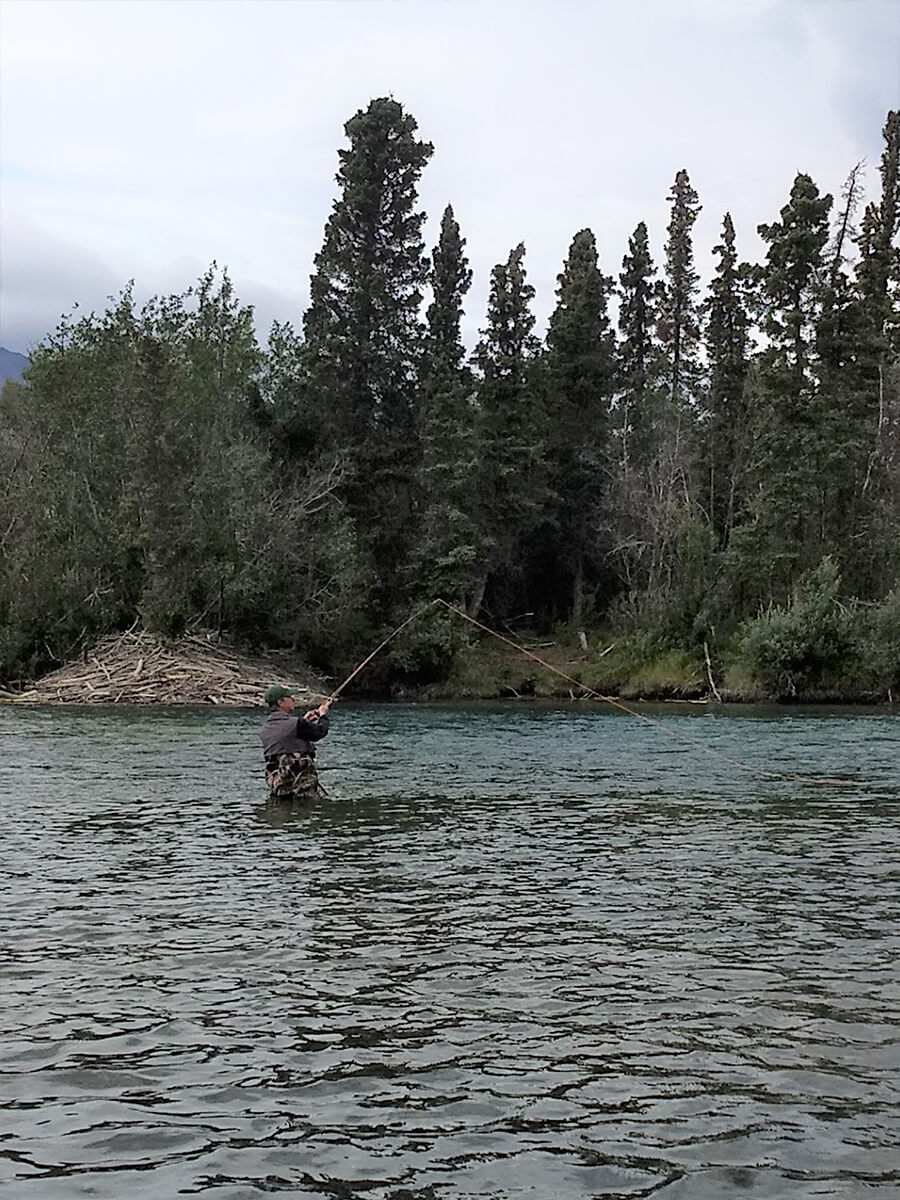 This trip was not JUST about fishing…we spent some time in Kluane National Park, checking out waterfalls and driving a bit of the way on the Haines Highway toward Haines!  We had a nice picnic lunch at Dezadeash Lake Campground, then down to Million Dollar Falls Campground to hike and see the falls, and then down the narrow, winding, dirt road to Dalton Post, for, yes, more grayling fishing!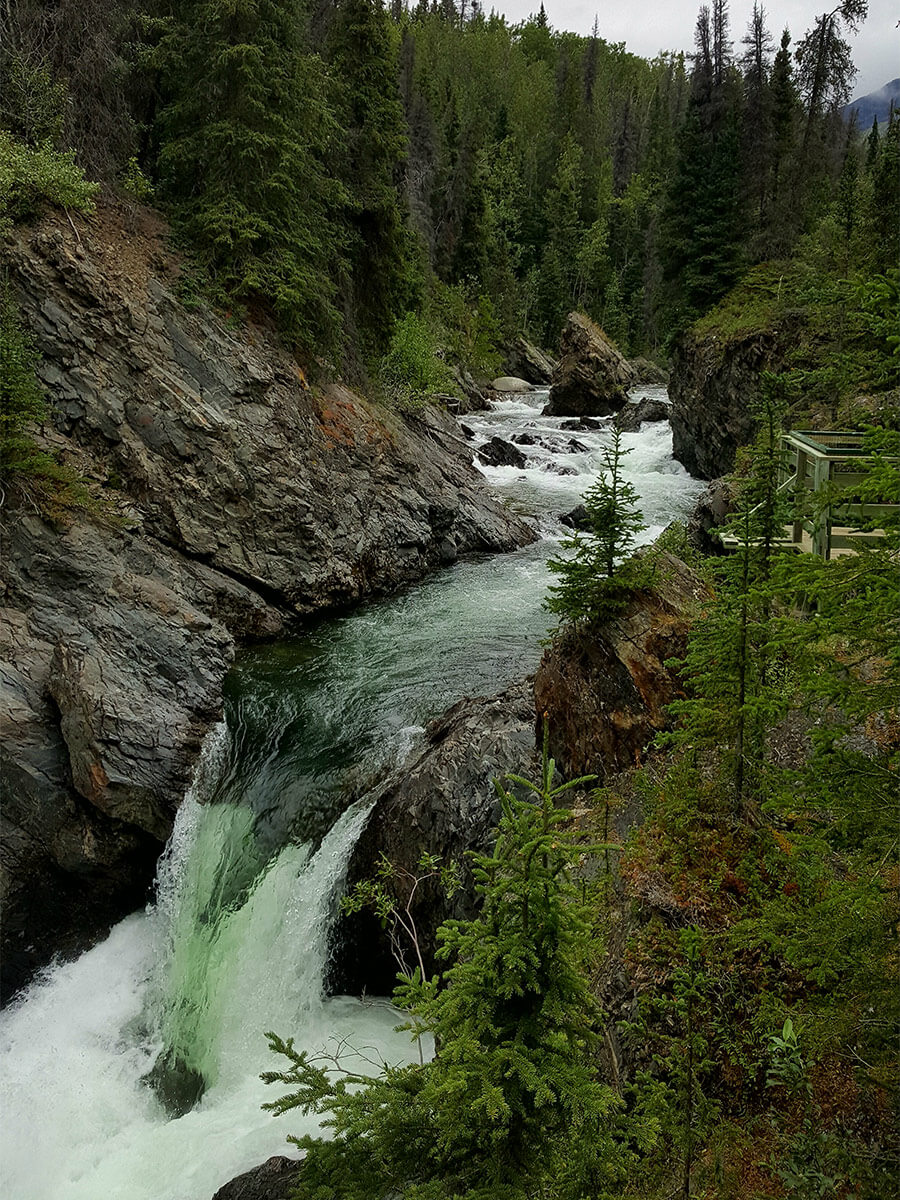 We crossed the Yukon/British Columbia border at the Blanchard River and turned back. We passed 8,000 miles on our trip odometer!  It was such a lovely day?, culminating with a delicious dinner of fish and pasta primavera, cooked up in our handy, dandy Over Easy Camp Kitchen!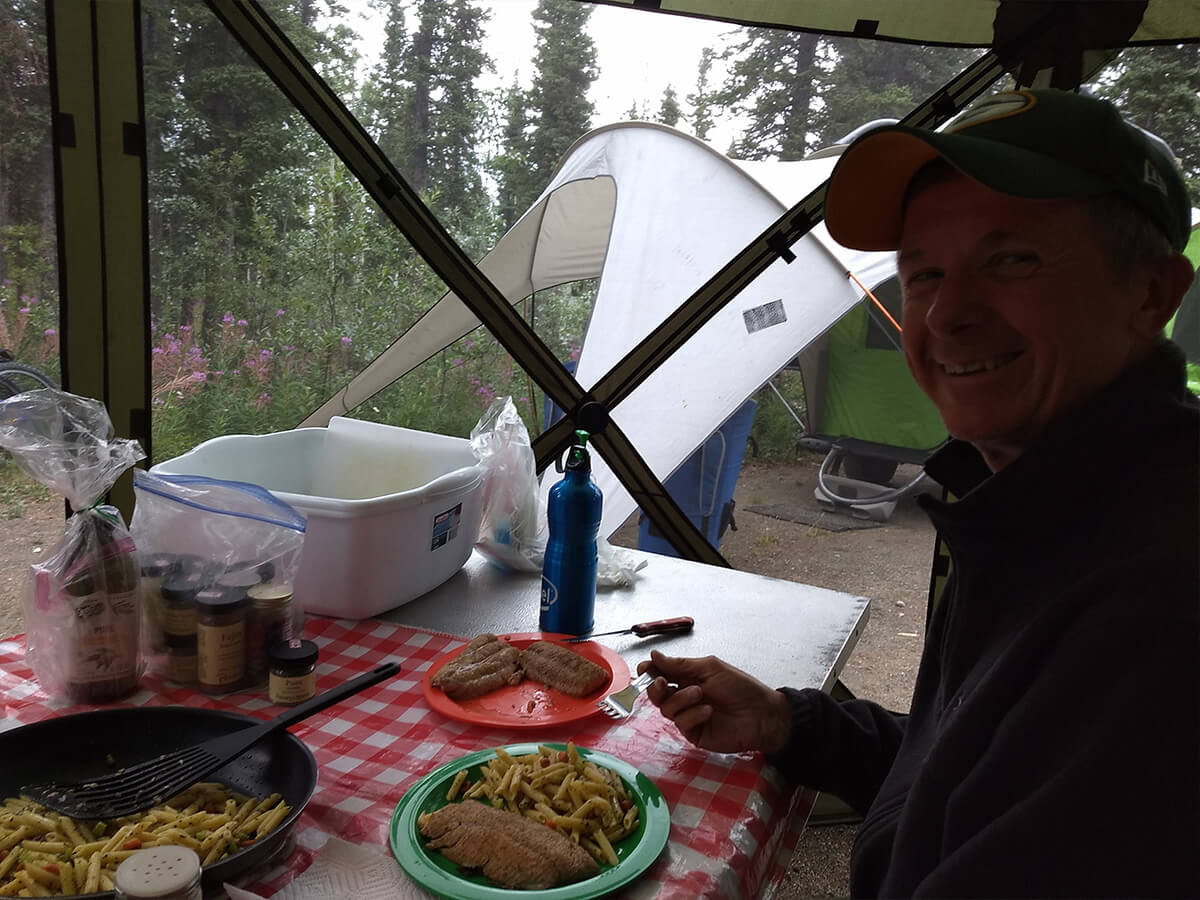 We went to the ranger talk that evening to learn yet more about grizzly bears!  It was held in the pavilion by the lake because the weather was looking questionable.  Sure enough, it got somewhat stormy out. When we left and looked up at the Kluane range surrounding the lake, you could see that it had snowed up in the mountain tops!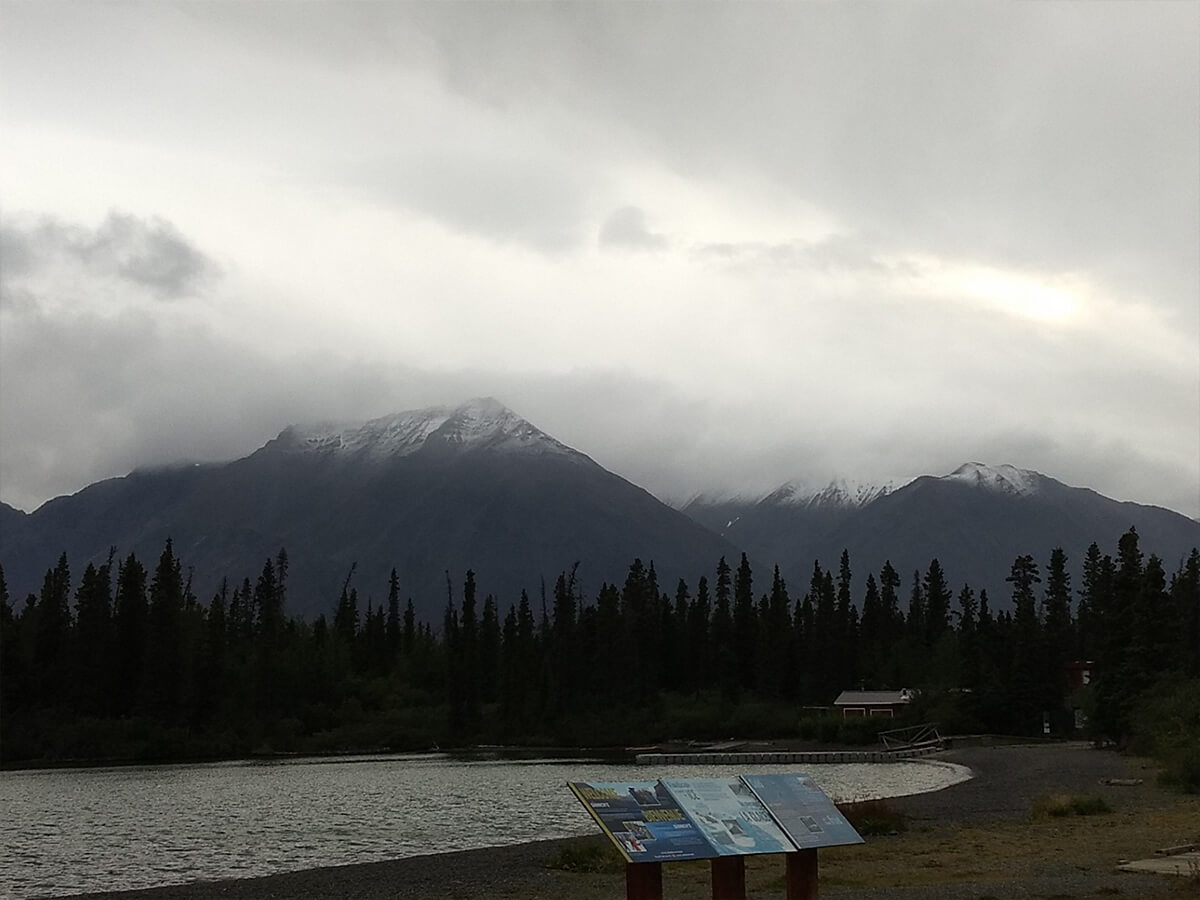 The next morning, we were off to Teslin.  We stayed right next to the Nisutlin Bay bridge.  At this point, there is no longer 24 hour sunlight, and while the days are still super long, we got our first hint of future sunsets.
While we were there, we met a group of college students who were riding bikes from Austin, TX to Anchorage, AK to raise money and awareness for cancer research.  They were an impressive group doing a wonderfully good thing, and having the adventure of a lifetime! The picture of their support truck contains contact info for anyone interested in contributing.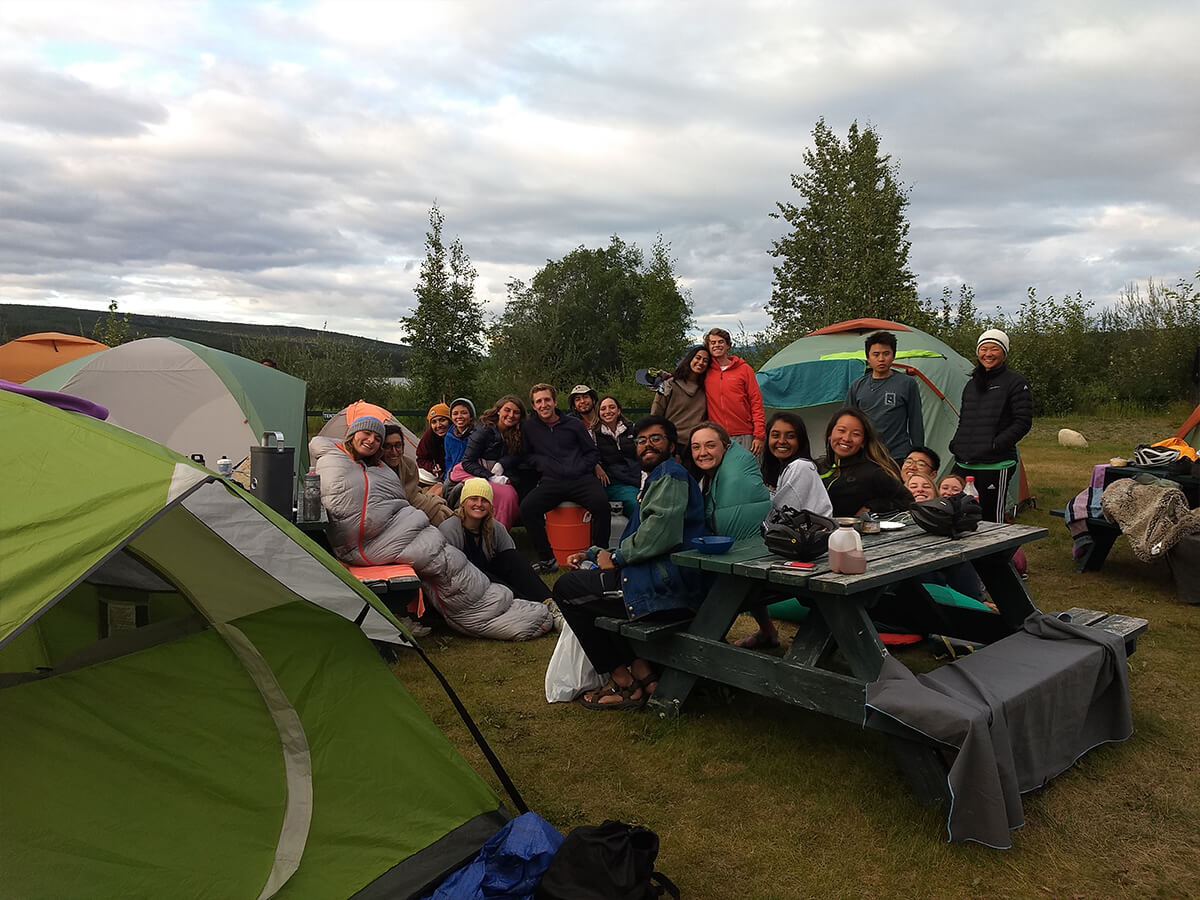 The drive brought us snaking in and out between Yukon and British Columbia (whose slogan is: Super, Natural).  Both were stunning, with views of Simpson Peak from the Swan Lake rest area and following along the Rancheria River. 
Watson Lake has a very unique "Sign Post Forest".  They say there are over 88,000 signs – and we believe it!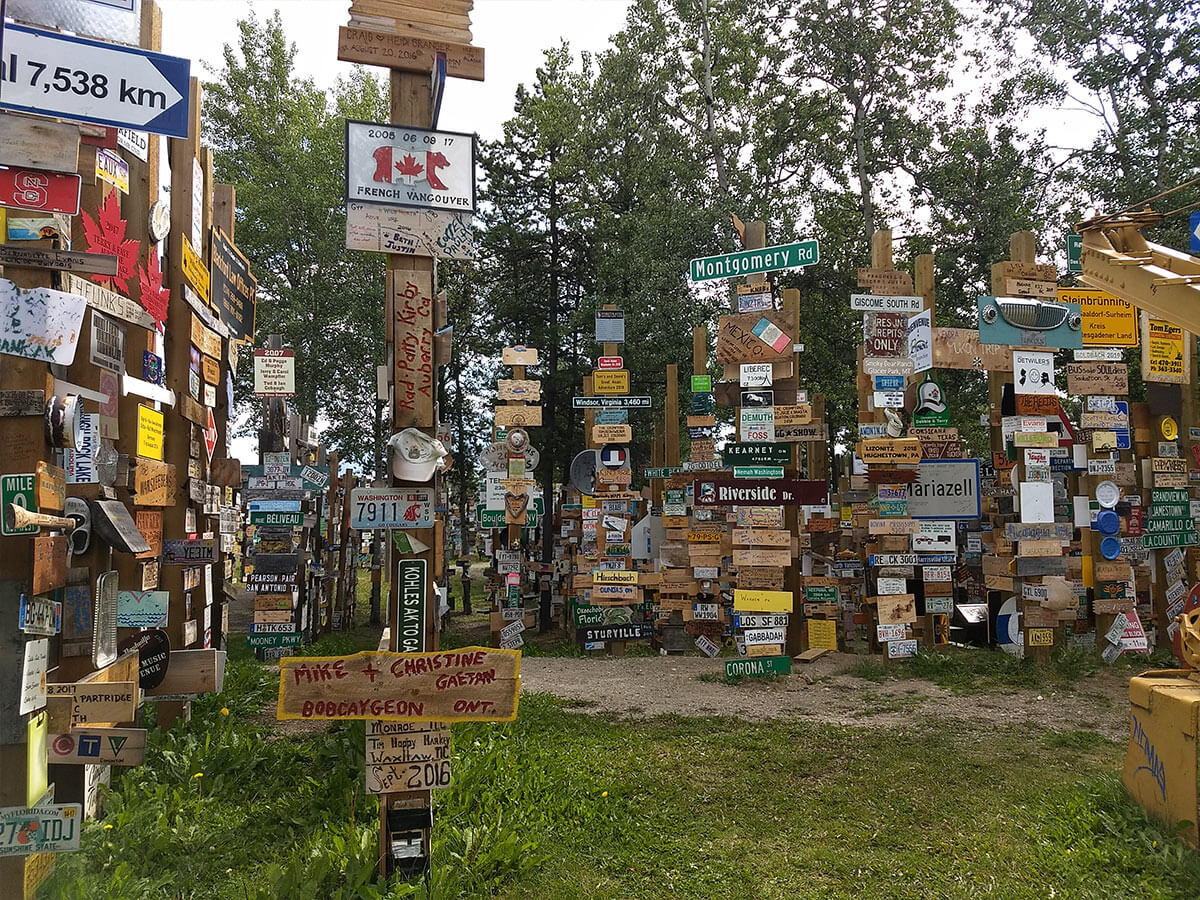 We found an appropriate place to put a SylvanSport sticker – zoomed in to see it in the center.
Continuing south toward Liard Hot Springs, we saw several large herds of wood bison (where they live, not what they're made of!), including very young calves, and a black bear.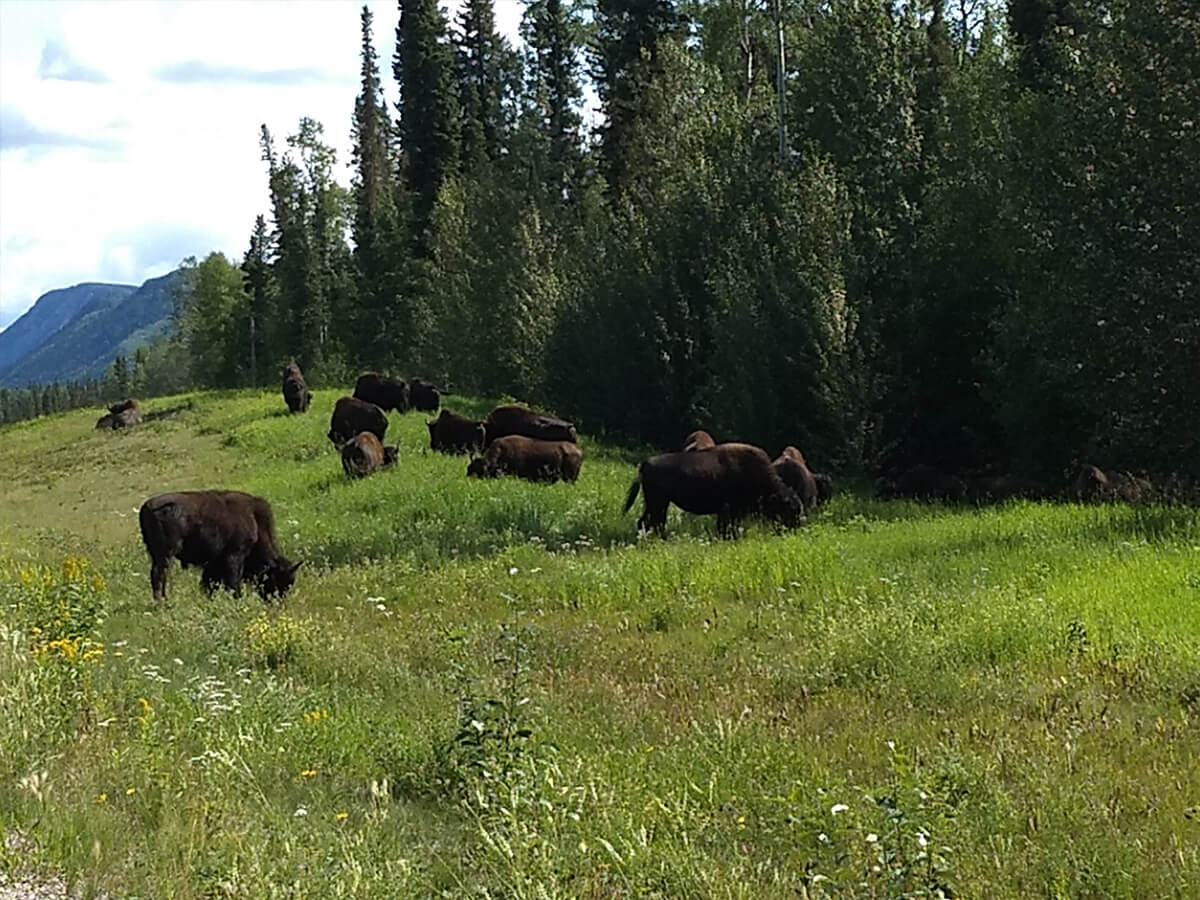 Our plan was to camp at Liard River Hotsprings Provincial Park, but it was full when we arrived in the afternoon.  To our delight, just a few miles north was the tiny Mould Creek private campground. They have less than a dozen sites, but they are all very large and there is an adorable little stand-alone bathroom, with running hot/cold water, toilet, and shower!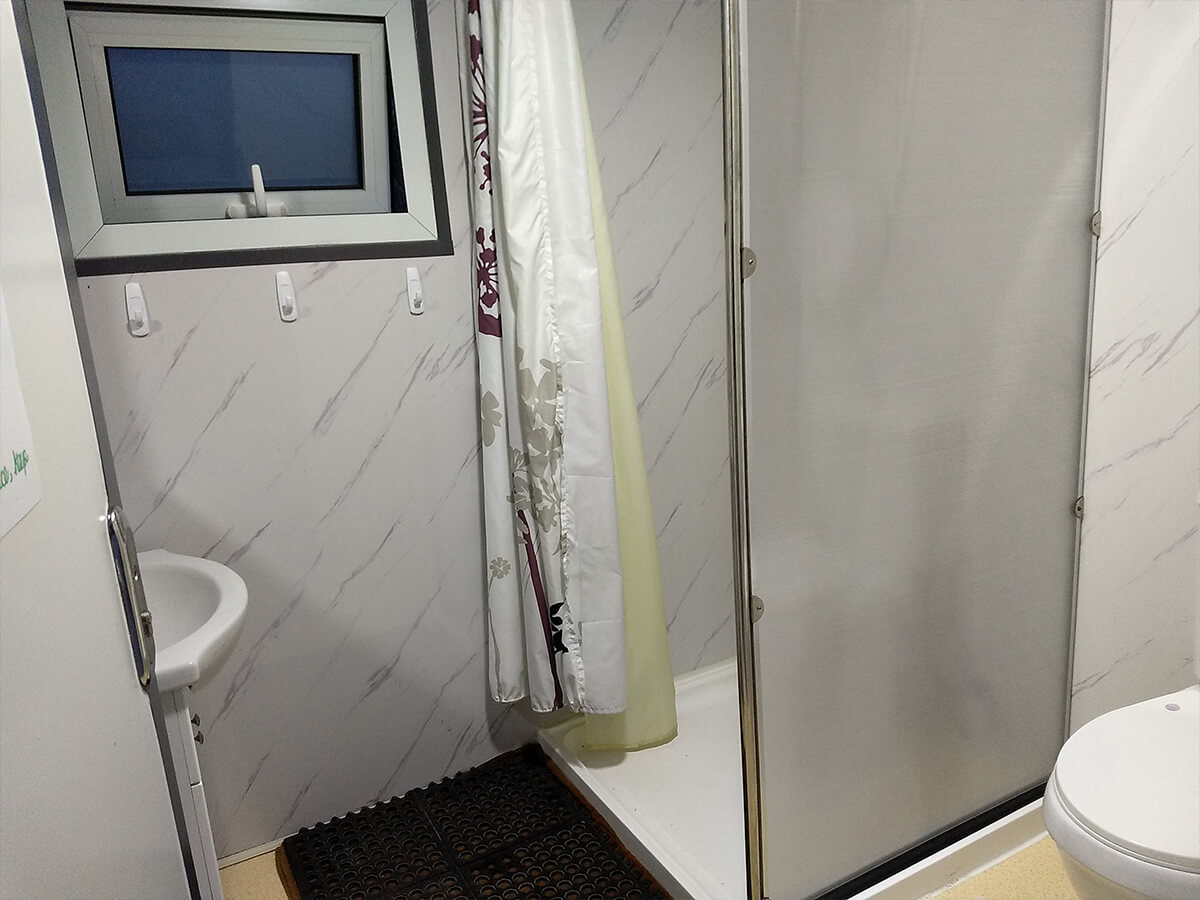 It was a wonderful campground, with lots of raspberry bushes – perfect addition to our breakfast cereal.  I happily picked, with a very watchful eye out for bears. The bison walk right by, but they don't seem to have any interest in the raspberries.  Jim saw another animal that puzzled him – seemed like the size of a squirrel or weasel, but seemed to have a large white head. After quietly observing for a while, he solved the mystery:  it was indeed a squirrel, but in its mouth, it was carrying a very large white mushroom – all the way up the tree to its nest!!
The campground owner gave Jim a tip for a nice spot on the Liard River for grayling fishing.  It was just lovely and Jim caught and released a number of graying (they really are beautiful fish).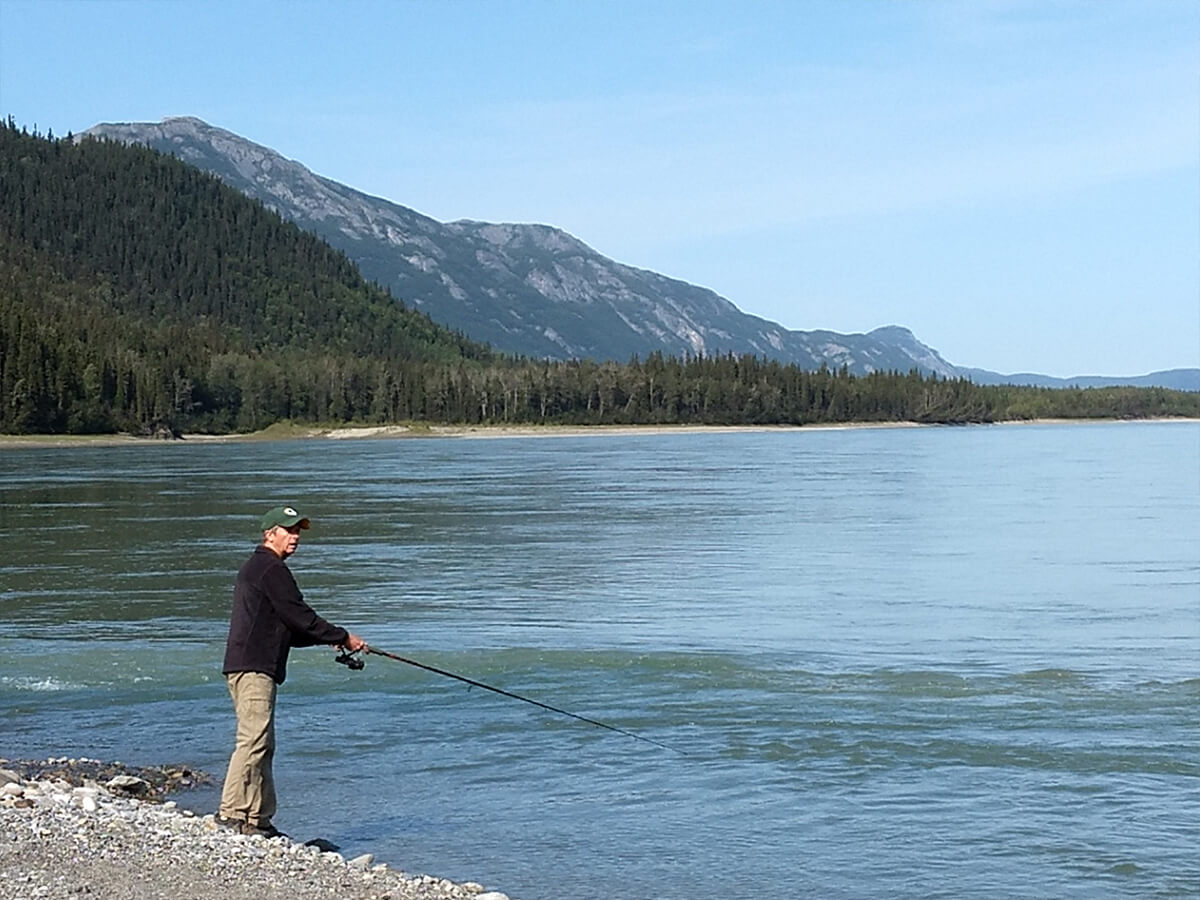 Of course, we visited the Liard Hotsprings.  A short (.4 miles) boardwalk brought us to the springs.  There are changing rooms and stairs into the spring's pool, but otherwise, there is a very natural feel to it.  The closer you get to the source, the hotter (very hot) the water is.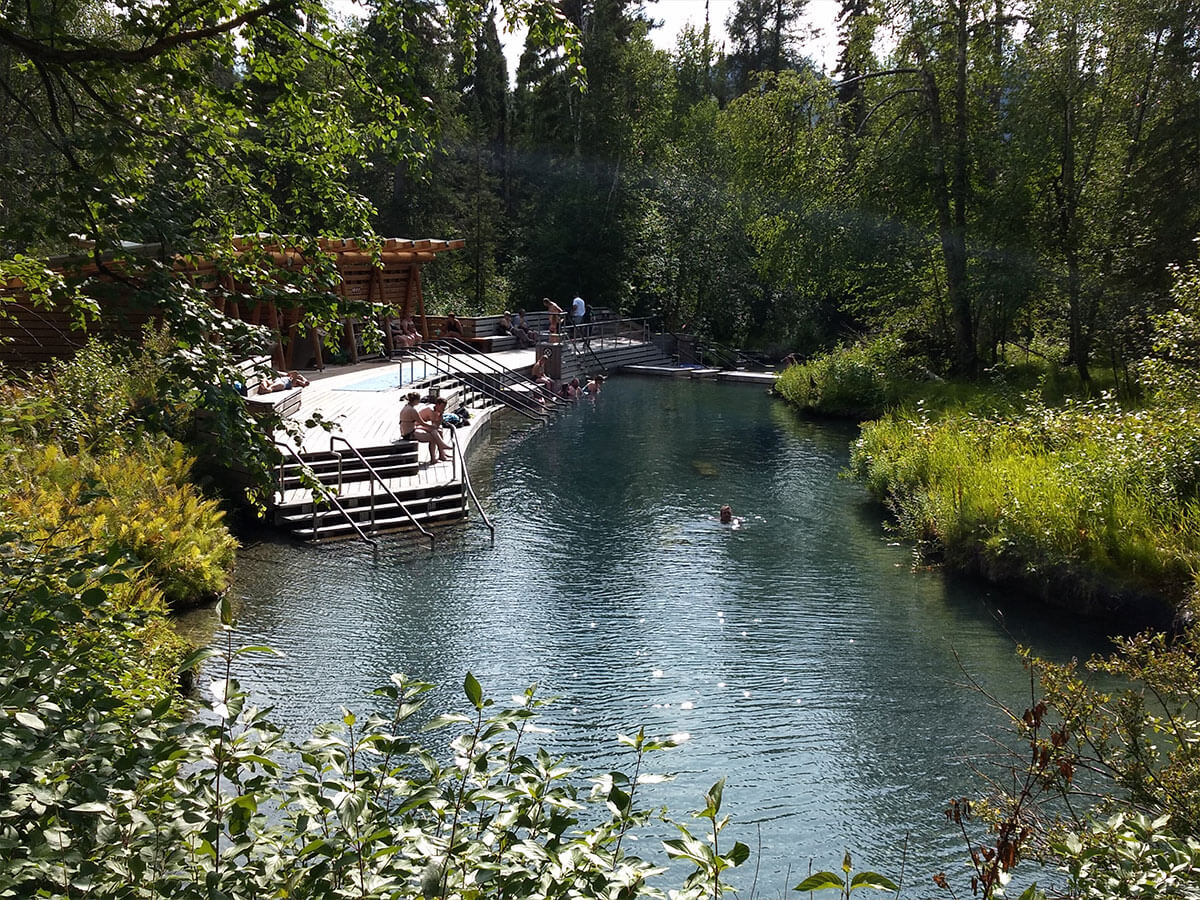 The next morning, we packed up for our drive to the start (our end) of the Alaskan Highway, Dawson Creek.  Just before we crossed the bridge over the Liard River, we met Drew and his sled dogs. His is on the sled dog race circuit.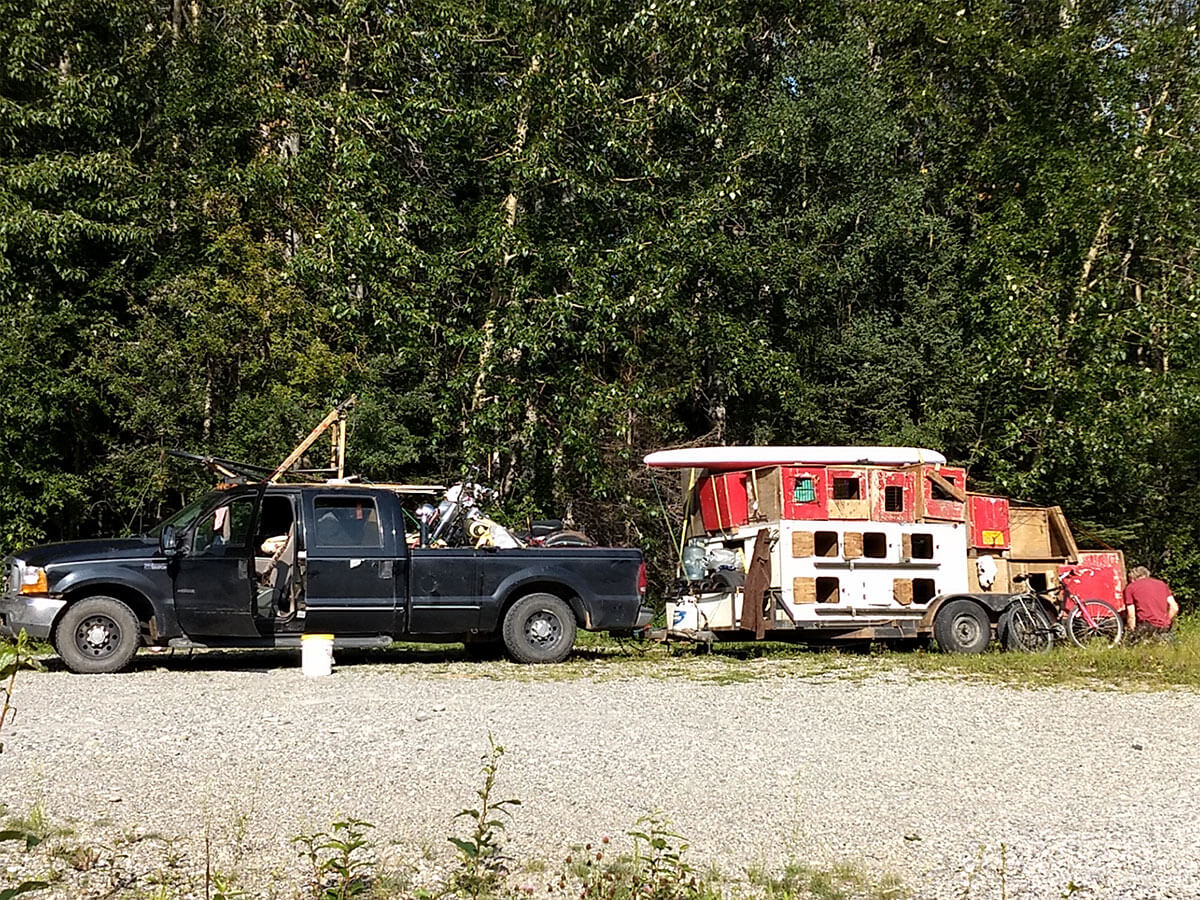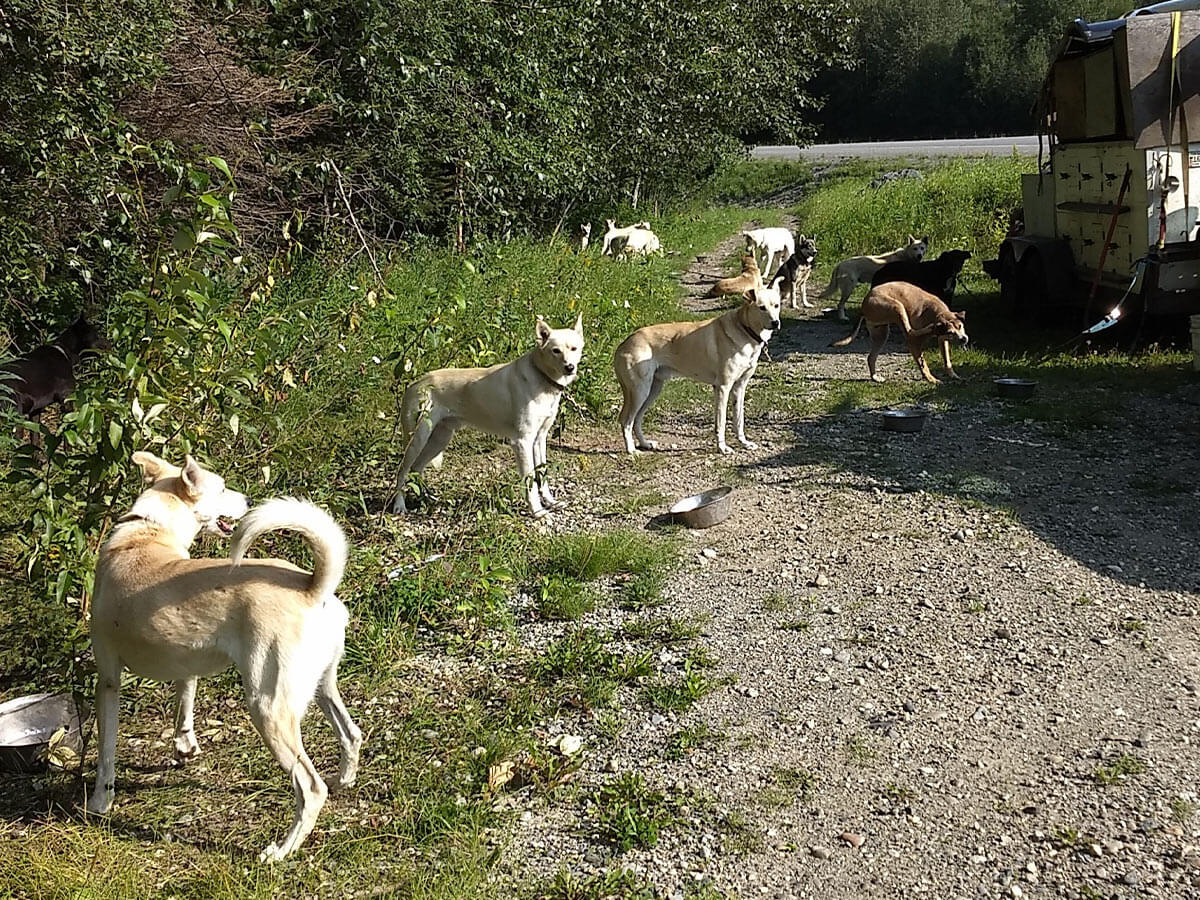 On our way to and after Muncho Lake, we encountered caribou near the road.  The lake knocked our socks off!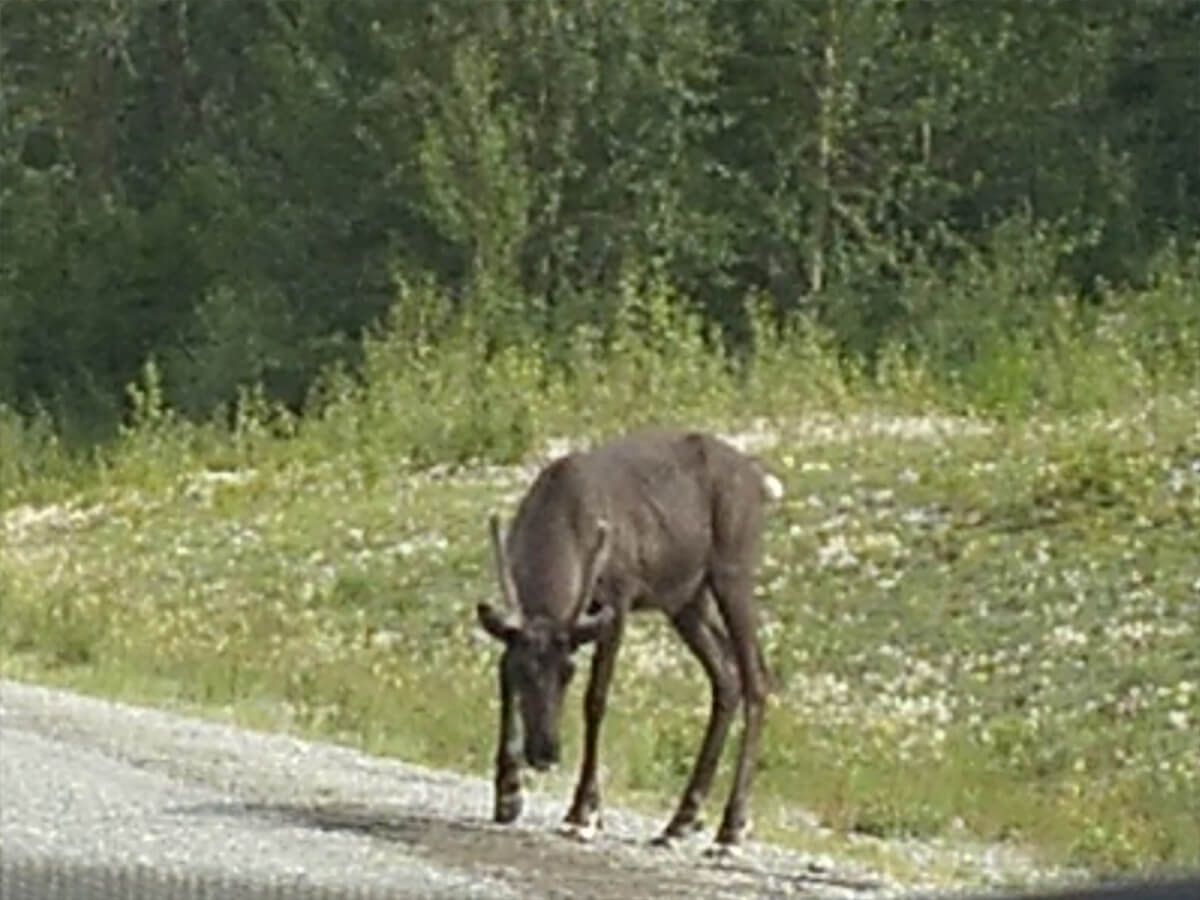 As we drove along the Toad River, we were awestruck by the magnificent Folded Mountains.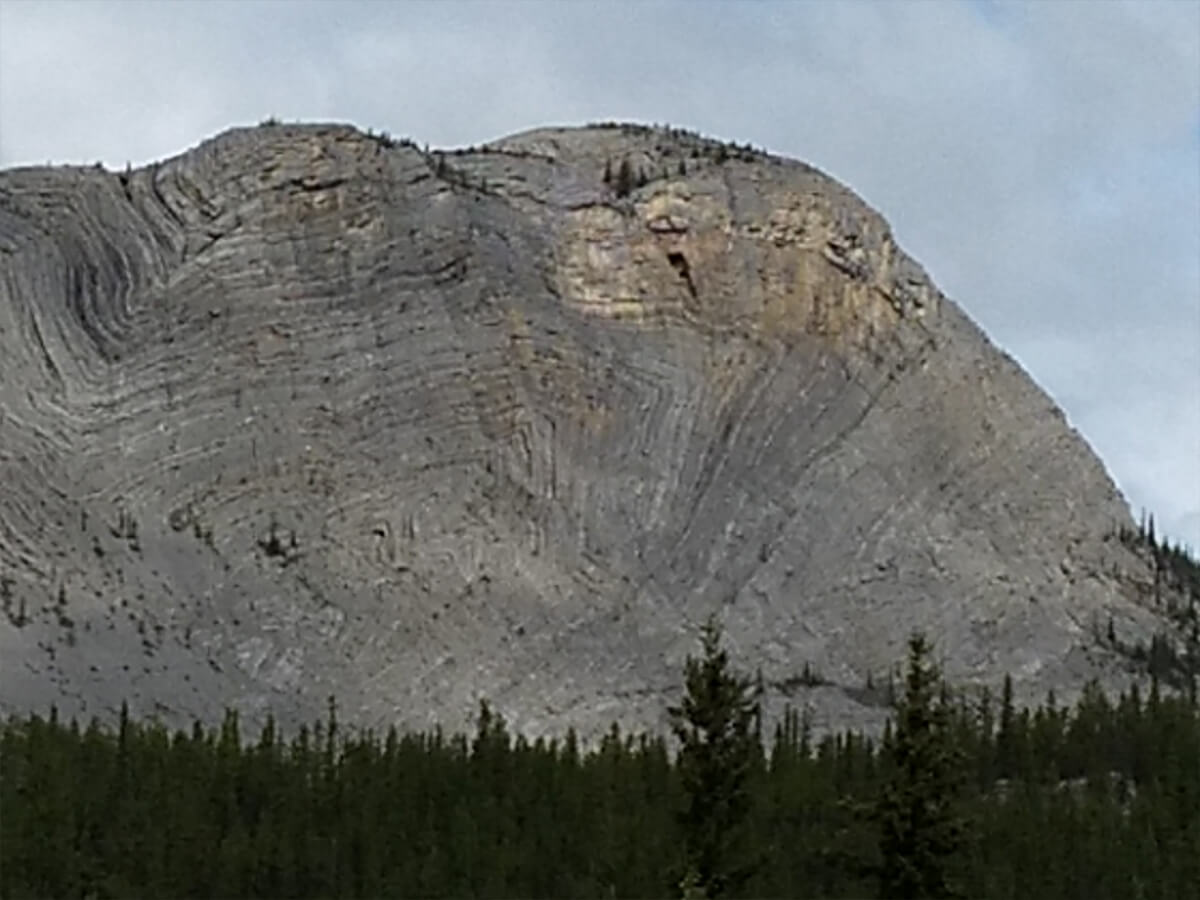 We continued to see caribou and then stone sheep (where they live, not what they're made of), all of which seemed oblivious to the vehicles that needed to share the very narrow, winding roads with them.
Along the wood's edge, we saw black tailed deer and coyote.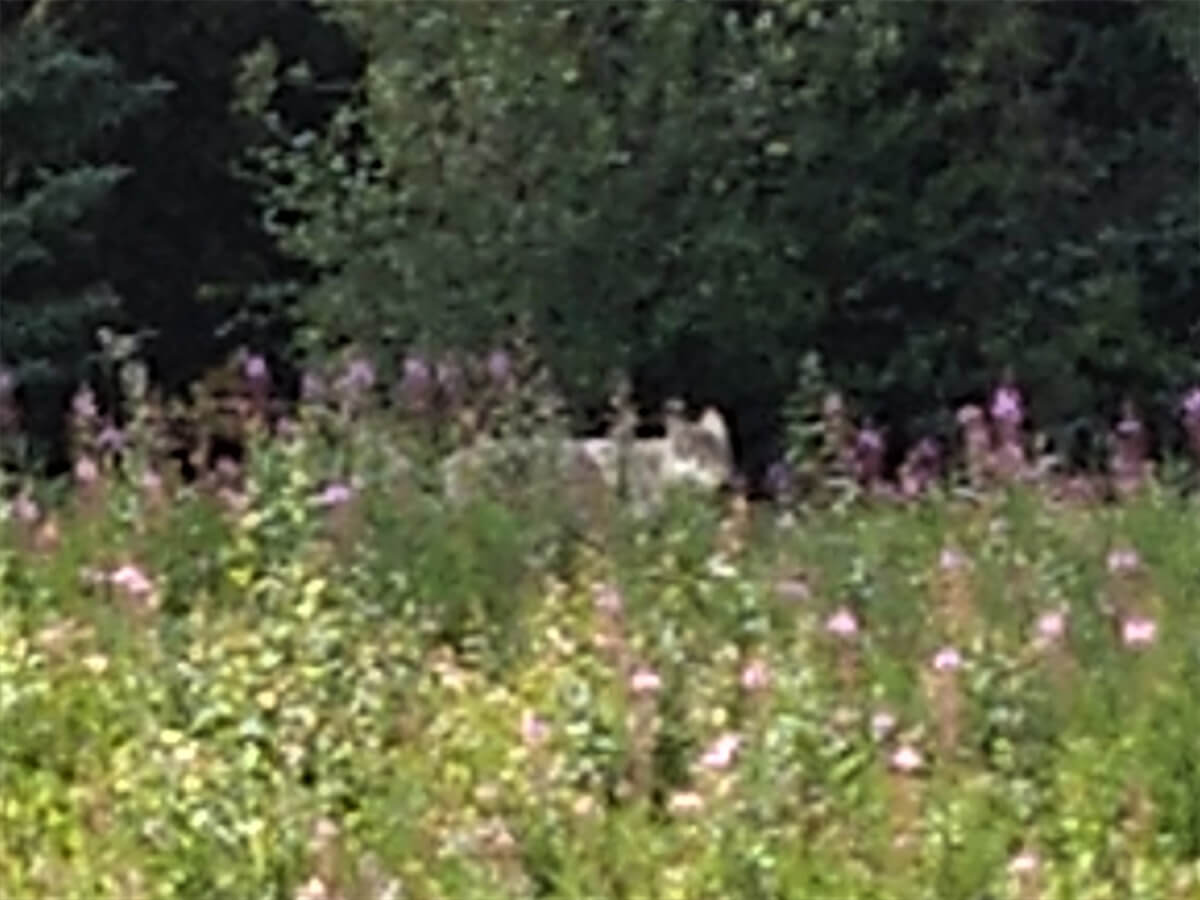 We drove into and over the clouds.
And soon after our trip odometer hit 9,000 miles, we arrived in Dawson creek – the start (our end) of the Alaskan highway.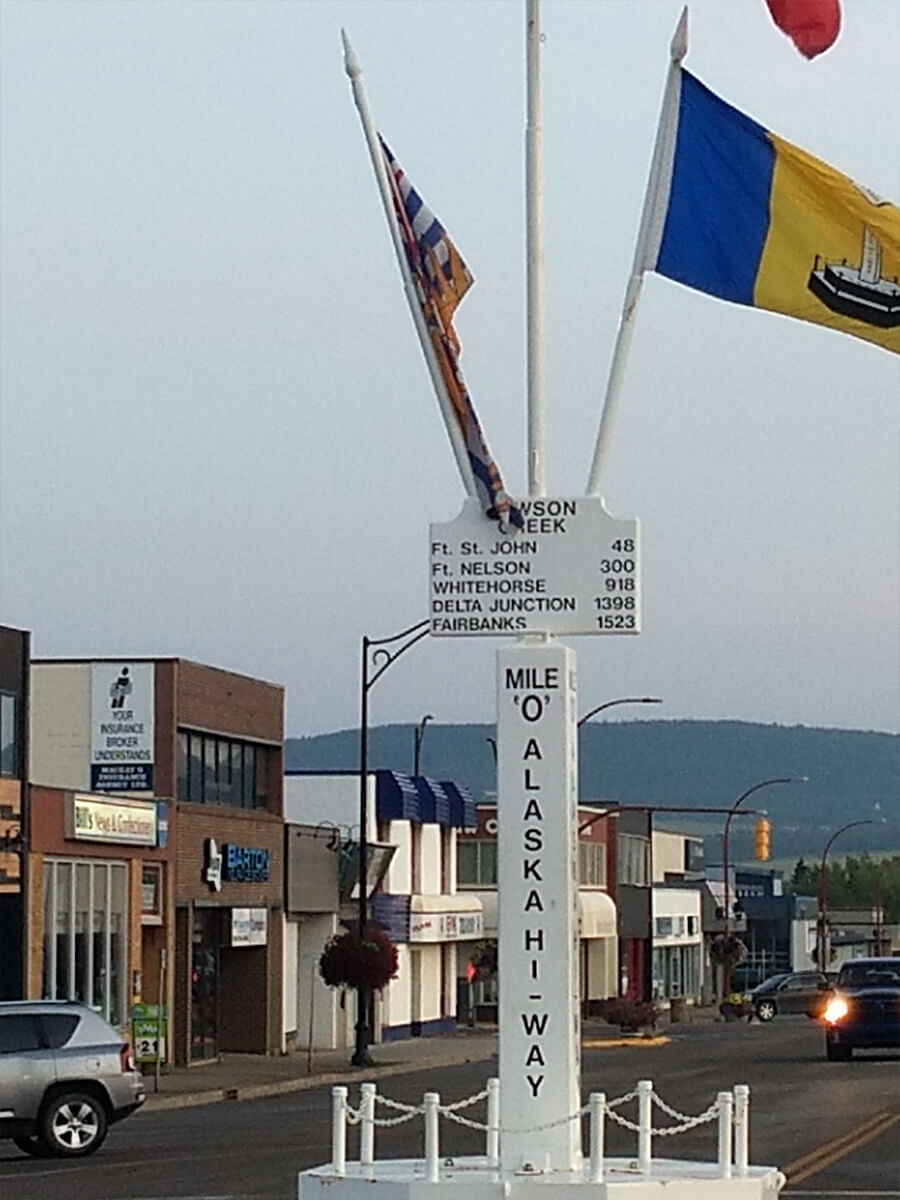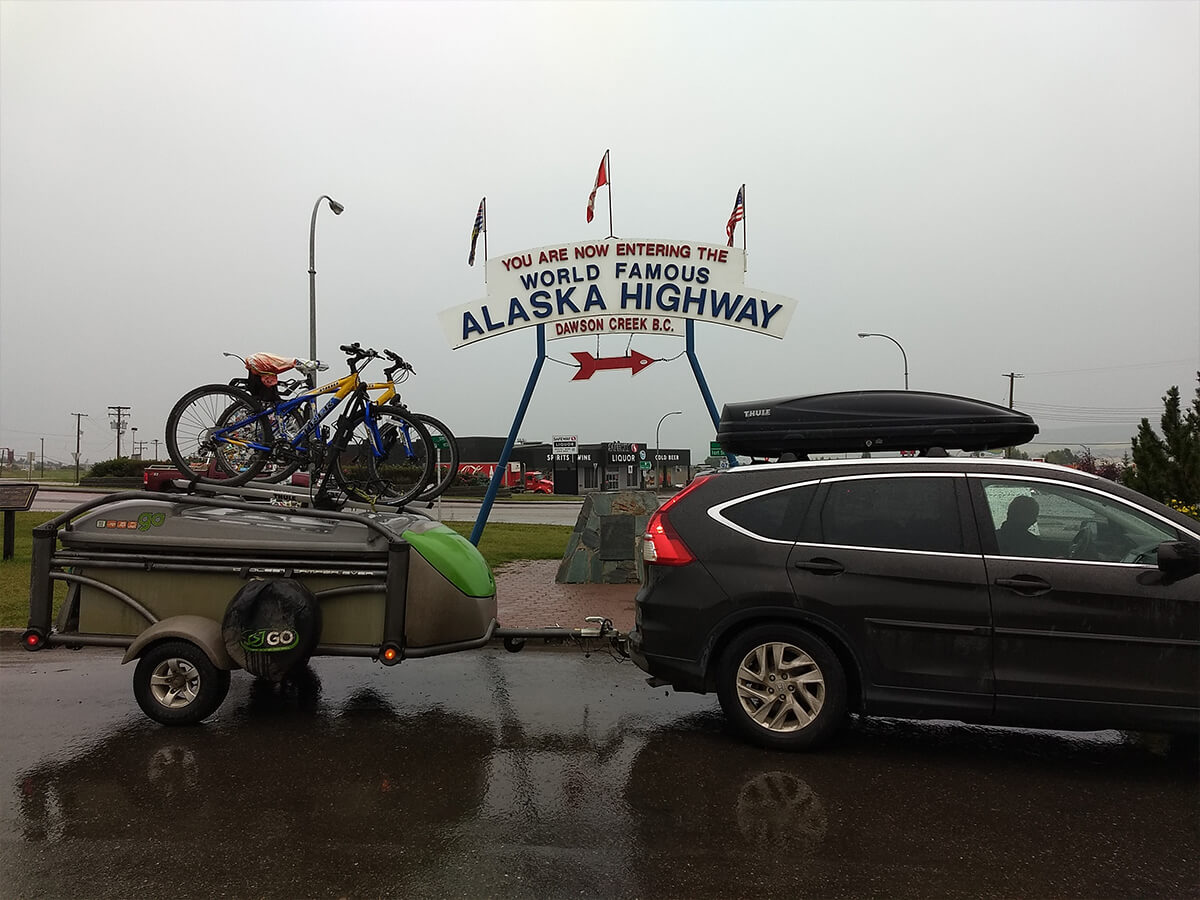 We stopped into the very nice Dawson Creek visitor's center and received an official traveller certificate!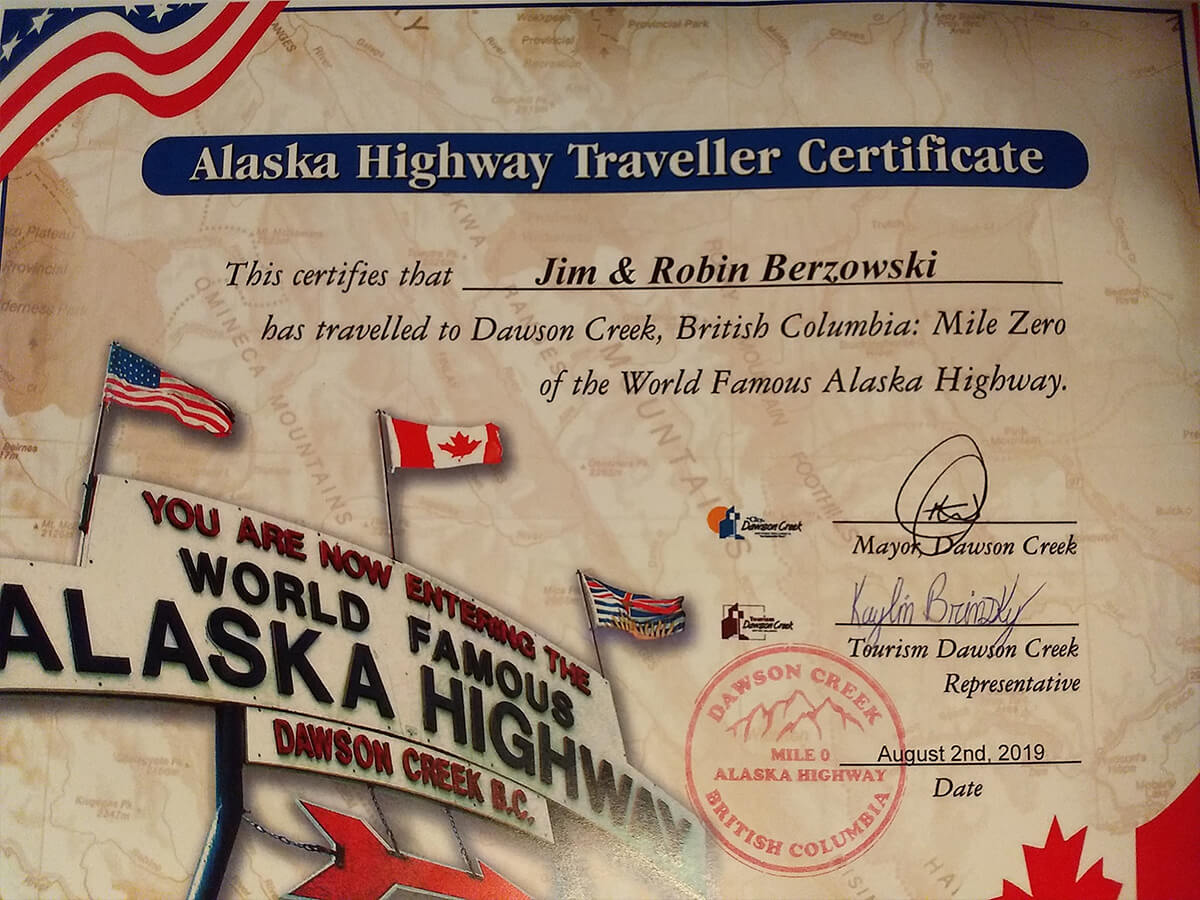 Next Stop:
Back to the USA!