Jim and Robin are off and running in their GO (nicknamed LEO – 'Low Earth Orbiter') on their 5 week Tour of the East! In search for adventure, and some warmer weather ☀️, the Berzowskis are heading south to Florida and following the coast back up to Milwaukee, WI. Along the way, they are stopping at SylvanSport dealers and giving them a little taste of the GO Life. Here is their final check in after a visit with our dealer All Seasons RV in Streetsboro, OH!
Our last stop before going home almost felt like home!!  The folks at All Seasons RV in Streetsboro, Ohio made us feel like family ?
As we drove up, we were impressed with the lineup of GOs flanking the front entrance; it turns out they fit in perfectly with the All Seasons green attire!
Mike met us at the front door (and took possession of the donuts, compliments of Earl).  No question that they were expecting us…Jennifer, the owner, and daughter of the founder, Barry, introduced us to Dan (sales manager), Charles (finance), and some of the sales team: Kallen, Dana, and Joe.
There was good discussion about their experiences selling the GOs and our experiences camping in our GO. Mike and Kallen (the twins, at least in spirit), Joe, Dana, and Dan are passionate about All Seasons, and enthusiastic about the GO.
As usual, there was lively discussion about how Jim mounts our bicycles on the GO, over the fenders using rubber-coated tension wires. Jim agreed with Dan and Mike that it is time consuming, and we explained that we would get bike racks before going to Alaska at the end of May.
Kallen talked to us about Alaska, having spent some time there last year, including a few days with the Kilchers from "Alaska, The Last Frontier".  He gave us some suggestions about his favorite places to visit, and advice about additional gear we may want to bring for this long and remote trip.
Mike, Kallen, and Joe showed us their showroom display, which includes a GO in camping mode, two GOs in low transit mode, one with bikes mounted on top and one with kayaks mounted on top, and a GOEasy ?   Their camping set up is very realistic with chairs, rug, cooler, storage bins…just need to add the people and food!  All of them are very knowledgeable about the setup, although Joe is the guru, responsible for setup and delivery for new owners.
Dana shared some questions they've received:
When camping when it's cold, do we use any heaters or generators? ANSWER:  So far, we have not had the need.  Even camping in Yellowstone with nightly lows around 29 degrees, we found that sleeping bags and wool blankets were sufficient.  However, when we go to Alaska this summer, we will bring a small electric heater, just in case!  Other GO owners have solar panels and generators, so you can probably get more info from the SylvanSport Facebook page.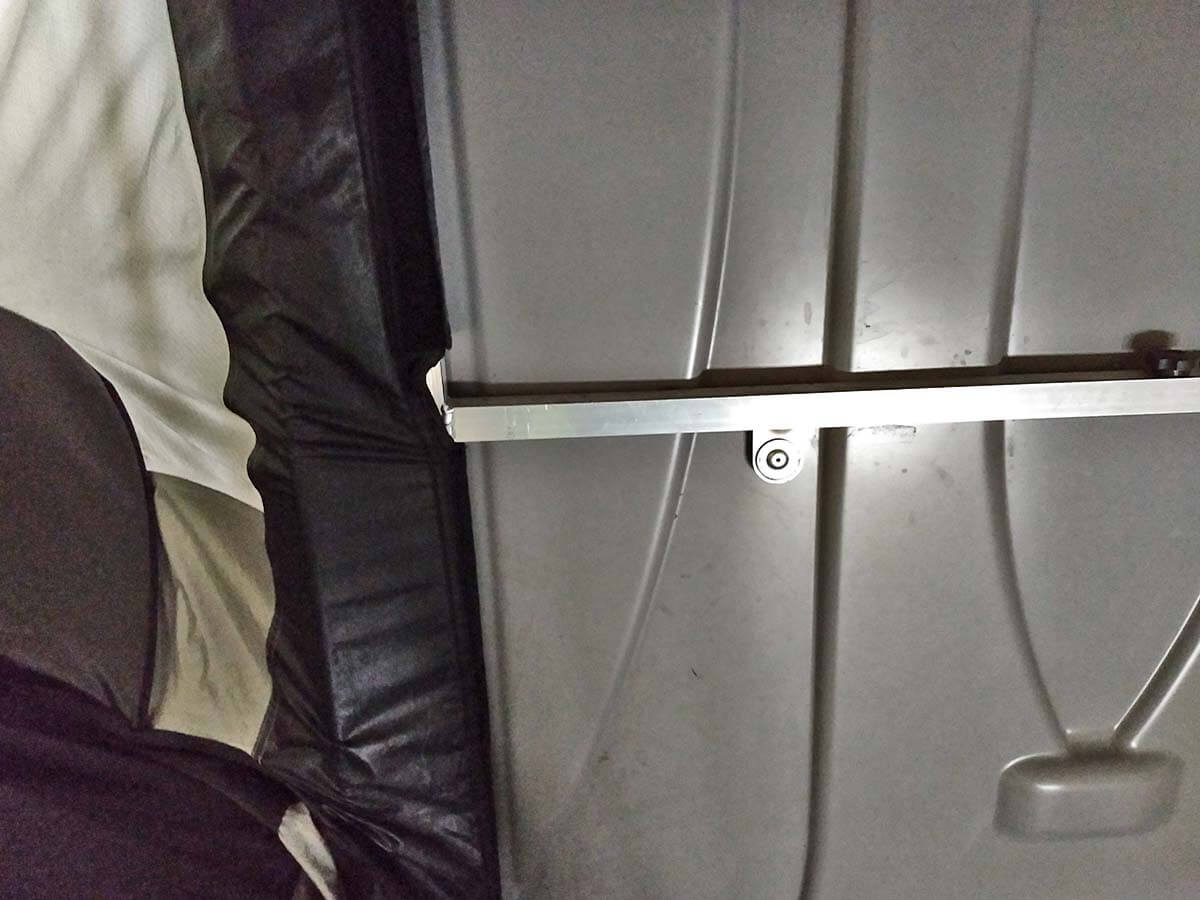 How/where do we connect to electricity? ANSWER 1: We run our extension cord through the front door of the GO, with both zippers all the way at the bottom left (if facing the GO). ANSWER 2: An extension cord can be run through between the back hard panel and pole, where there is a gap in the Velcro.
Dan asked for our car keys – we thought maybe our 'rig' was in the way and they needed to move it.  It turns out that he talked to Earl (VP Sales at SylvanSport) about mounting 2 Thule bike racks on our GO!!  Dan drove our GO out of the pouring rain, into one of their bays and Joe took the lead to install the racks.  Jim warned them that one side of the GO had grease on it, something picked up on the road, so Kallen got our GO all spiffed up using SD-20.  Gotta love these guys!!
Jim pretended to help and entertained Dana, though, truth be told, it is VERY easy to make her laugh!!
Dan brought us upstairs to meet the All Seasons' Marketing Department. That would be Sandy, who also happens to be Dan's lovely wife.  She has a great view over the showroom from her perch on the second floor.  We talked about kayaks, our inflatable and their molded plastic.  Dan will be bring the GO and GOEasy to an upcoming kayak show!!
After meeting, Barry, the founder, we tearfully bid fond farewell to our new family (ok, that's a bit strong, but they really made us feel at home) and pointed LEO west, for the final leg of this trip – we'll be back in Milwaukee tonight ☺
Best Regards,
Robin and Jim