Jim and Robin are off and running in their GO (nicknamed LEO – 'Low Earth Orbiter') on their 5 week Tour of the East! In search for adventure, and some warmer weather ☀️, the Berzowskis are heading south to Florida and following the coast back up to Milwaukee, WI. Along the way, they are stopping at SylvanSport dealers and giving them a little taste of the GO Life. Here is their latest check in after a visit with our dealer Rex and Sons RV in Wilmington, NC!
Wilmington is such a nice city! We enjoyed walking around even though the weather was pretty raw.
There are so many great restaurants!! Celebrated Jim's birthday with a fabulous dinner at Caprice Bistro, culminating with incredible desserts (goat cheese creme brulee-sounds weird but really good, and floating island-heavenly). Ate lunch at Hells Kitchen before we left town.
In the morning we visited Rex and Sons RVs.  They are a great bunch!! They are a relatively recent GO dealership, and they are very enthusiastic and energized. They've sold a couple and are participating in several shows, presenting the GO.
Jonathan gathered the team, including his dad, Rex, and brother, Travis, in the breakroom (with the donuts compliments of Earl), and we told our story.  We've learned that we need to clarify that when we say we are 'GO owners', it means we own ONE GO, not the company!!
We shared our camping experiences and heard about theirs, and of course we discussed where we've been camping with the GO. They asked questions and shared their enthusiasm for the GO.
The team is great! Besides for Rex and his sons, Jonathan and Travis, Miss Patty covers the reception desk and Reece, Dave, Gary, Paul, and Jerry are the front line with customers.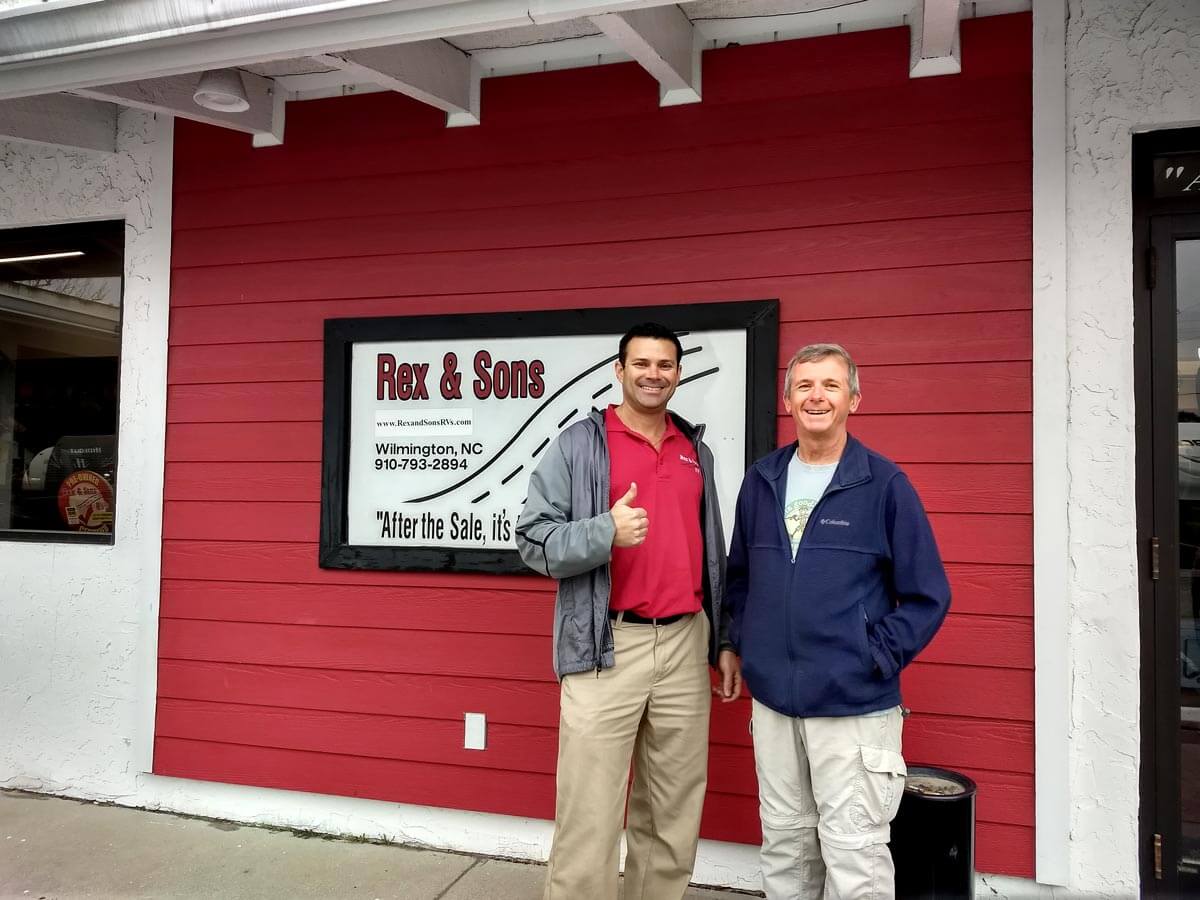 They have a GO set up in camping mode in their showroom. We talked about several configurations and proper set up of the tent. Even though they are pretty new at this, Dave has the set up time down to 15 minutes, from demonstrating at the shows!
The team came outside to see our 'rig'. They love Jim's innovative method for securing our bikes to the GO!! We talked about what gear we carry and showed them how well it all stores in the trailer, even when traveling in the low travel mode, including our inflatable kayak in the green storage compartment in front. Dave said they added a bike rack and kayak rack to a GO the bring to the shows to demonstrate how easy it is to load and bring the sports equipment. >>The ultimate adventure sports camper and carrier!!<<
We discussed security (not a problem while camping, but prudent when traveling through more populated areas). In the travel mode, we use a simple lock and chain in the back to secure the step to the folded-in bed panels; that locks all the gear inside the trailer bed. Reacting to the recommendation from a hotel clerk in one of the cities, we also locked the bikes to the GO frame with a lock and chain.
Travis asked if we would do a 'GO testimonial' with him. He asked questions and we talked about our GO, named LEO (after NASA's Low Earth Orbiter). That was fun!! He put the  video on his Rex and Sons RVs facebook page (https://www.facebook.com/RexAndSonsRV/); SylvanSport can link to it on theirs, if they want.
We wrapped up with a discussion about frequently asked questions, such as:
– what about bears (answer: per ranger instructions, do not keep ANY food in a tent, including the GO; store food in a hard-sided vehicle, such as your car, or in a park-provided metal bear box)
-camping in tent only sites (answer: after calling first to confirm, we've camped in tent only sites in national parks, state parks in WI and FL, and private camp grounds; some may require that you keep the wheels on the car pad)
– quality (answer: considering that our GO is a 2013 and we've been using it 'hard' since we retired in December 2016, it remains sturdy, solid, and dry!! We have repacked the bearings and Nixwaxed the tent, which we consider standard maintenance, and we check the tires, which still look new even after thousands of miles)
We are back on the road, hopefully missing snow, on our way to Chesapeake to visit American Family RV.
Best regards,
Robin and Jim