We decided to go to Holland, Michigan for our first camping trip because it's close to home. We wanted something manageable for our first trip so we could practice: pulling the GO with our car, setting it up, spending multiple nights, etc. The fact that it was Tulip Festival weekend was an added bonus.
We've had a lot of luck camping at Michigan State Parks in the past, and so the majority of our camping this summer will be at state parks around the state. The Holland State Park campground is close to Lake Michigan and across the road from the Macatawa Bay. The air was chilly compared to areas more inland, so it was perfect camping weather.
Looking on Reddit before we went camping, someone mentioned that a lot of people stopped by their GO whenever they camped around other people. We experienced that the moment we pulled in to register: A woman and her daughter stopped to ask us about how a whole tent could fit into what we were pulling. When we reached our camping spot, a dozen people came by right away to ask us questions and inspect the GO. It was fun to share our excitement with these folks and get to know the people around us. That's one of the things we like about being at a campground: You don't get the quiet of camping off the grid, but you do get to meet people you wouldn't otherwise. Especially because people were in town for the Tulip Festival, we met people from all over.
It was a busy weekend in Holland. We'd heard a lot of buzz about Tulip Festival but did not expect the crowds. To check out the Dutch dancing and the parade, we sat in traffic for over an hour before finally turning around. We decided to celebrate Tulip Festival from an out-of-the-way bar with a couple of PBRs. We did make it to Veldheer's Tulip Garden, though, and enjoyed rows and rows tulips. We learned while we were there that there are 5 million tulip bulbs in the city of Holland.
Otherwise, this past weekend was the perfect opportunity to relax. We've been to Holland many times before, so instead of exploring this time around, we spent a lot of time in the GO. I read and Lina tied flies. We listened to a podcast we're really loving and even took a nap. We walked around the campground a lot, exploring the different parts and determining where we'll stay if we ever visit again (Pro tip: Definitely choose from spots 1-116: the trees are taller and the bathroom is better). Once most people left on Sunday as the weekend ended, we had the campground largely to ourselves and sat in the sun and felt the breeze off the lake. Our first trip was a success. Next up: Algonac State Park on the east side of the state.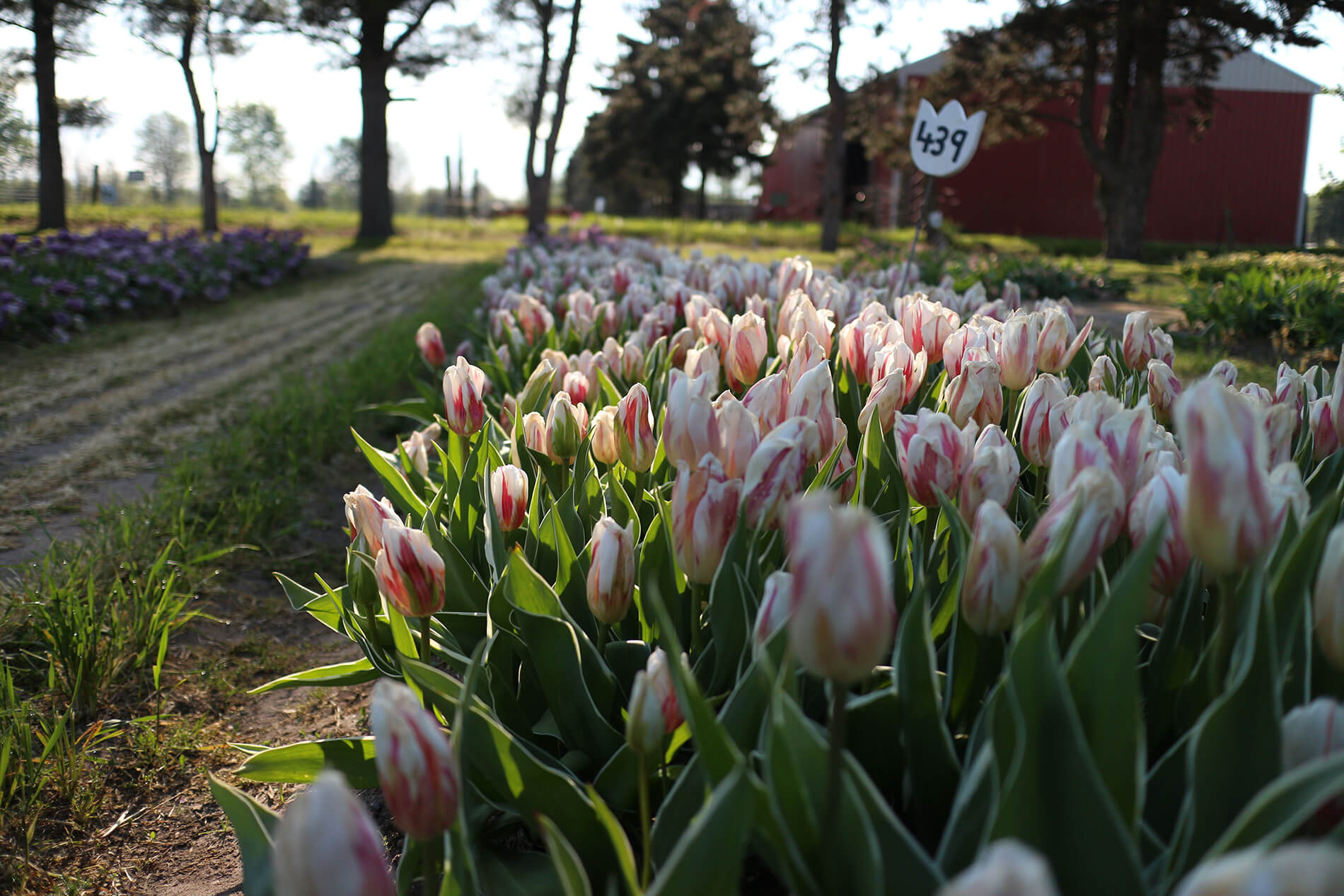 Beautiful Tulips at Veldheer's Tulip Farm, on the way in to Holland, Michigan's world famous Tulip Festival.
Weekend leisure time in the GO, it's what life's all about!