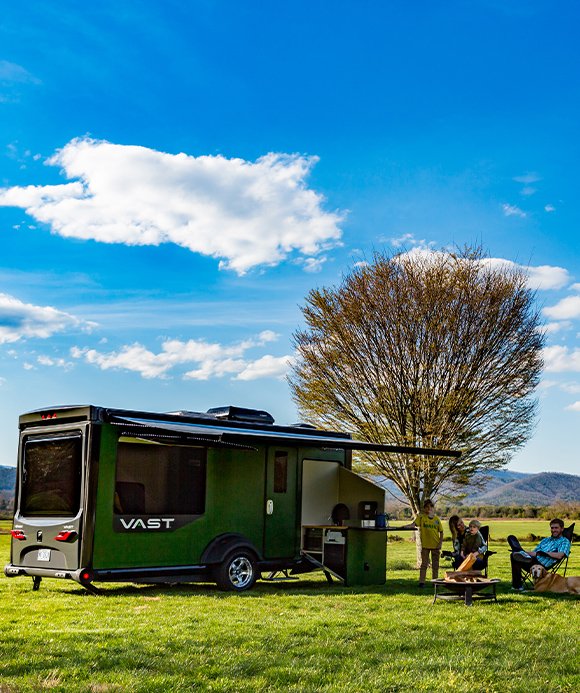 Resetting Expectations for Travel Trailers
VAST is the first travel camper from industry innovator, SylvanSport. We applied breakthrough design and engineering techniques to completely re-imagine vehicle systems, residential systems and the overall construction process. The end result is a premium-quality, lightweight towable that is fully-functional, highly efficient and extremely comfortable.
Modular Lounge | Sleep System
Innovating comfort is rethinking how we travel, relax and sleep. The lounge area uses premium cushions, high quality fabrics and a variety of configuration options. Using a precision track system, the entire lounge area slides forward to open up an interior cargo space while keeping the seating fully functional while carrying gear.
When it's time to turn in for the night, the VAST continues to impress. Two "true" queen size beds provide a home-like sleep experience. One bed, custom designed with Engineered Sleep Mattress Company, stows out of the way and lowers from the ceiling using a motorized lift system The second converts from the lounge's premium cushions for easy set-up and maximum comfort.
A first for the RV industry is the all-season kitchen that is fully functional at an optimal cooking height for the indoor or outdoor gourmet The entire kitchen unit slides and lowers outside using our patented "easy slide" technology, so you can enjoy the great outdoors while preparing meals.
Dometic Appliances and Systems
2-burner gas stove
Portable refrigerator / freezer
Integrated sink
Modular storage system
Convenient & Secure Gear Storage
Another breakthrough exterior feature of the VAST is the side-mounted rack system. Built-in rails vertically from top to bottom, that turn the entire side of the trailer into storage for any style kayak, SUP or canoe. Boats can be effortlessly attached at a convenient, easy-to-reach position.
The VAST's entire lounge area slides forward to open up substantial interior cargo space. Even with a full load of toys in the back, the lounge remains fully functional during your journey. By creating storage space inside the VAST, you can keep your valuable bikes and gear out of sight for security and protection.
Proprietary Construction Method
The outer shell of the new VAST is constructed using a custom composite skin. The skin is laminated onto an insulated wall structure and joined to a proprietary extruded aluminum frame. All the corners are double-capped for a striking look and a tight waterproof finish. The result is a perfect balance between robust strength and light weight, with maximum water protection.
The VAST has a distinctive and innovative tech-look exterior shell that showcases the structural composite material. Not only does it look amazing, but it is stronger than traditional lamination.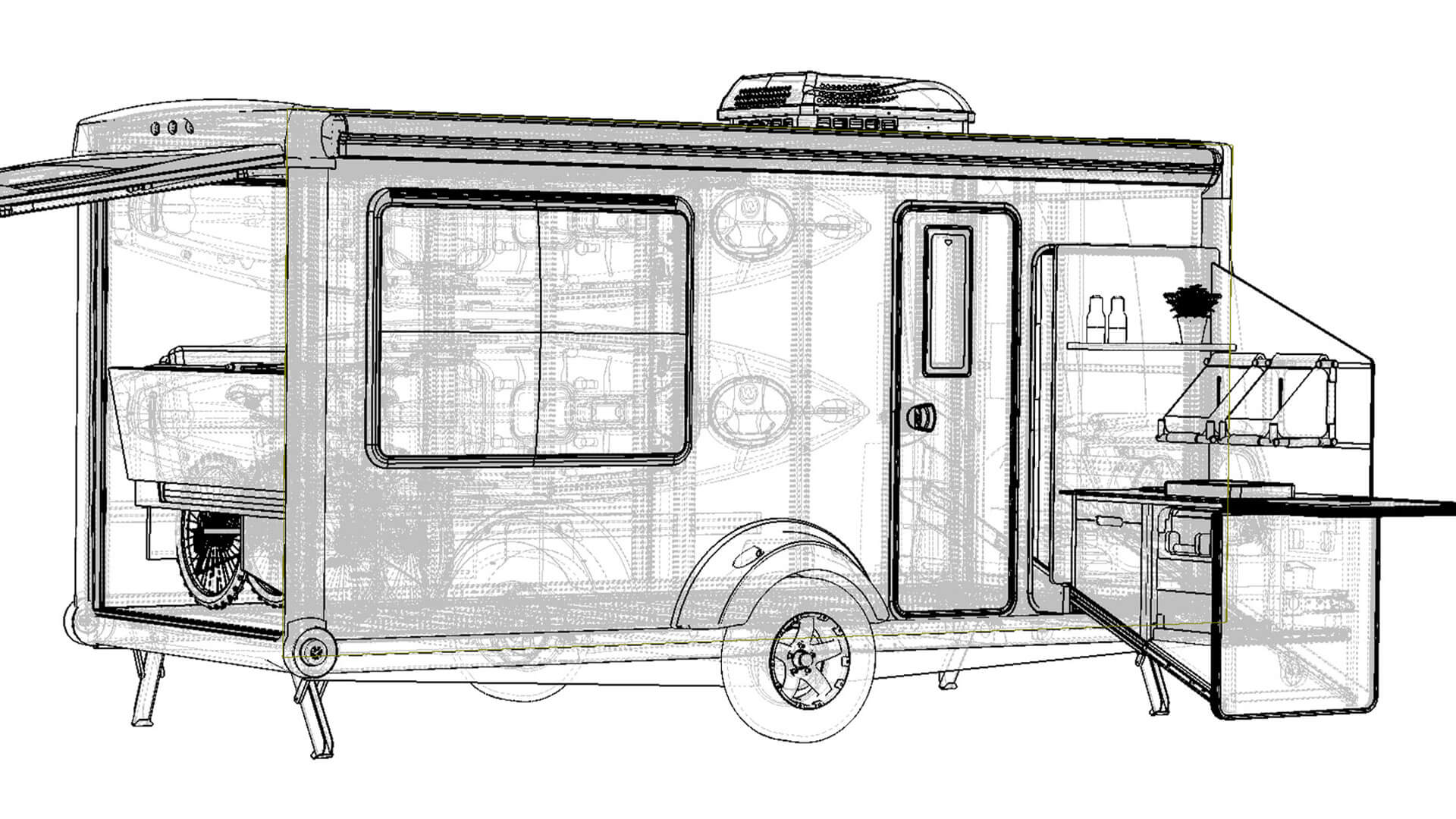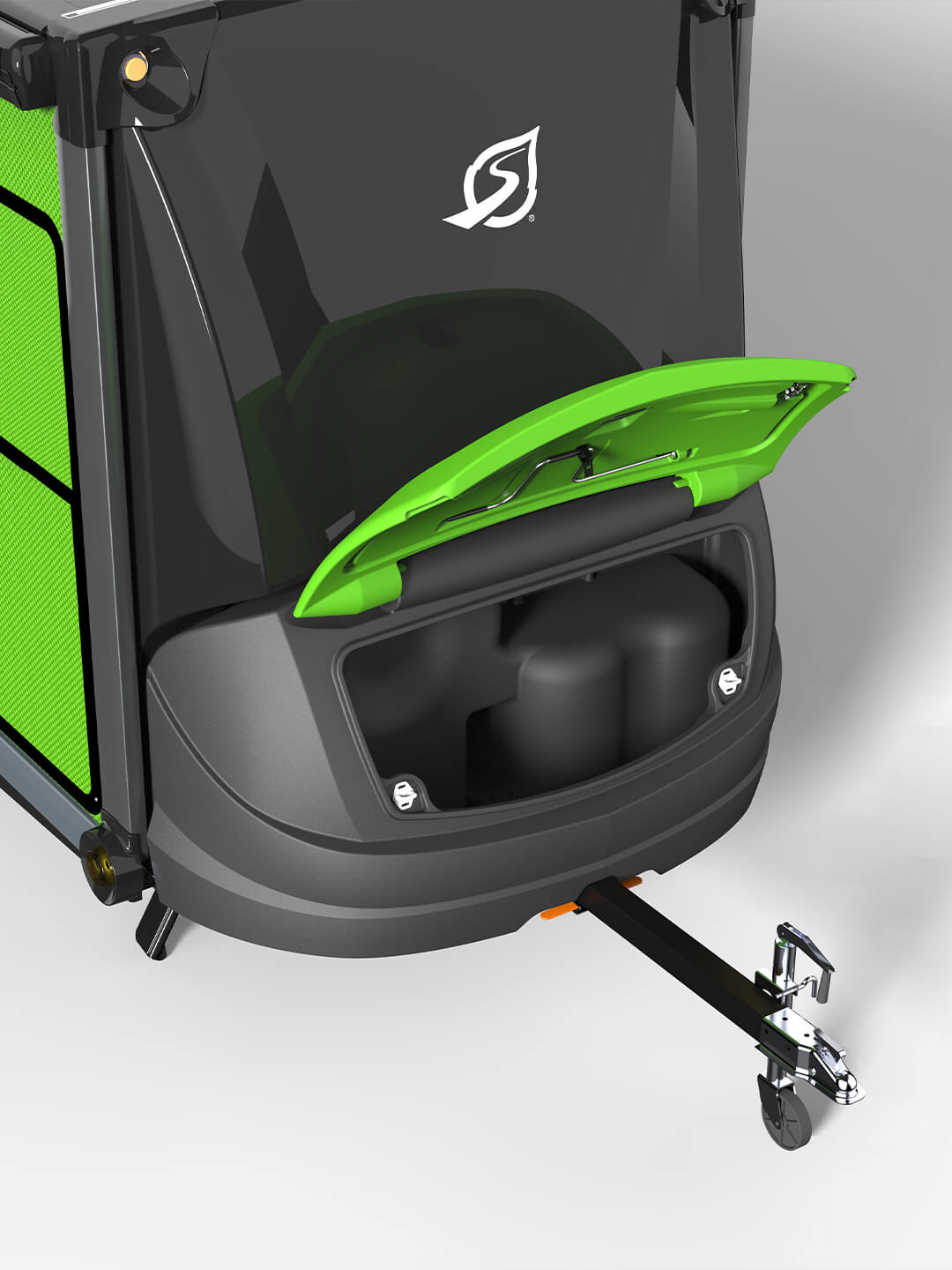 18 cu ft (.5 cu m) exterior gear pod
Provides secure storage with easy access while outside
Lockable for security and maximum water protection
Entire pod glides forward to reveal protected storage for 2 propane tanks, 2 batteries and spare tire.
Entire pod glides forward to reveal protected storage for 2 propane tanks, 2 batteries and spare tire.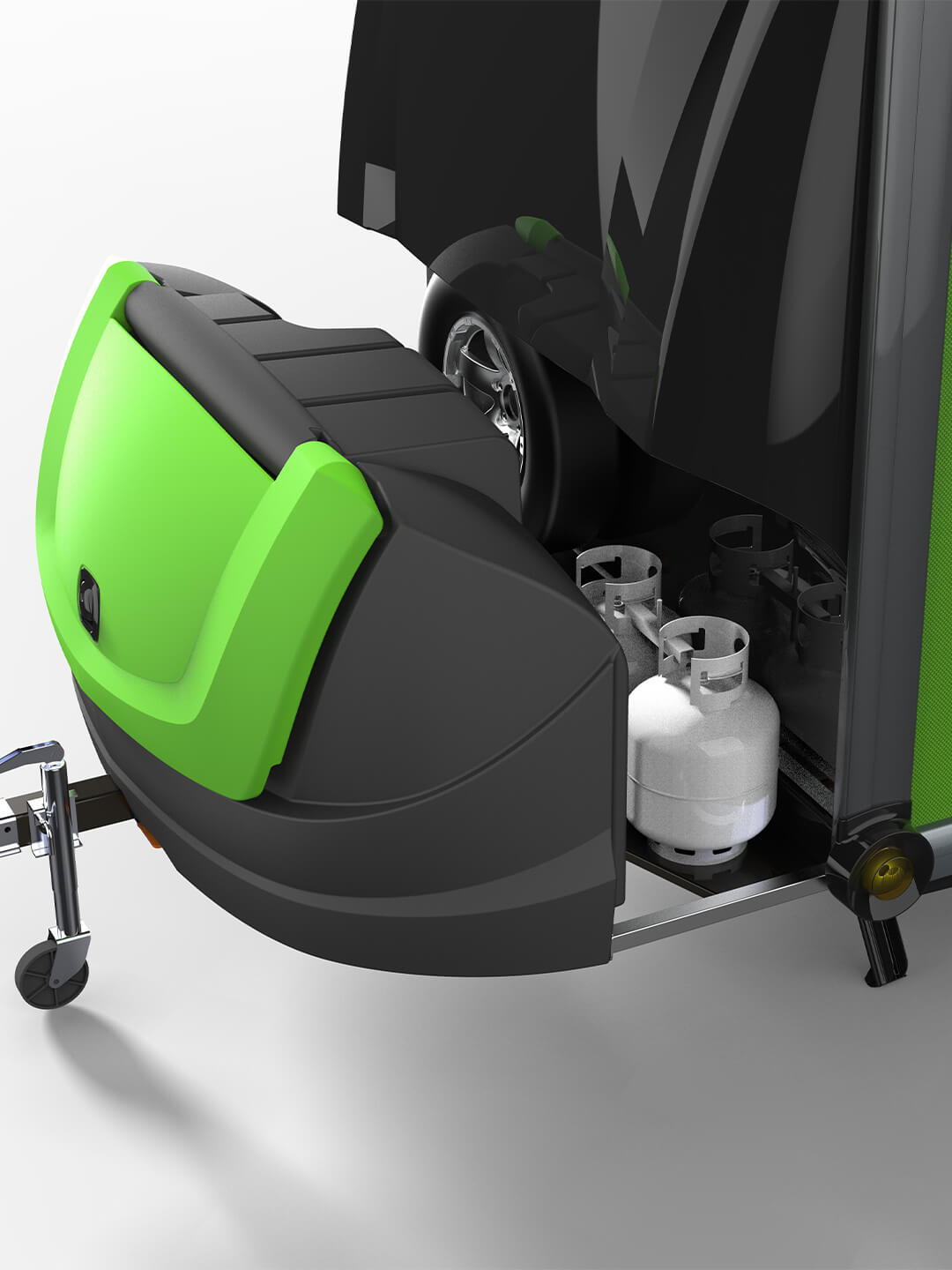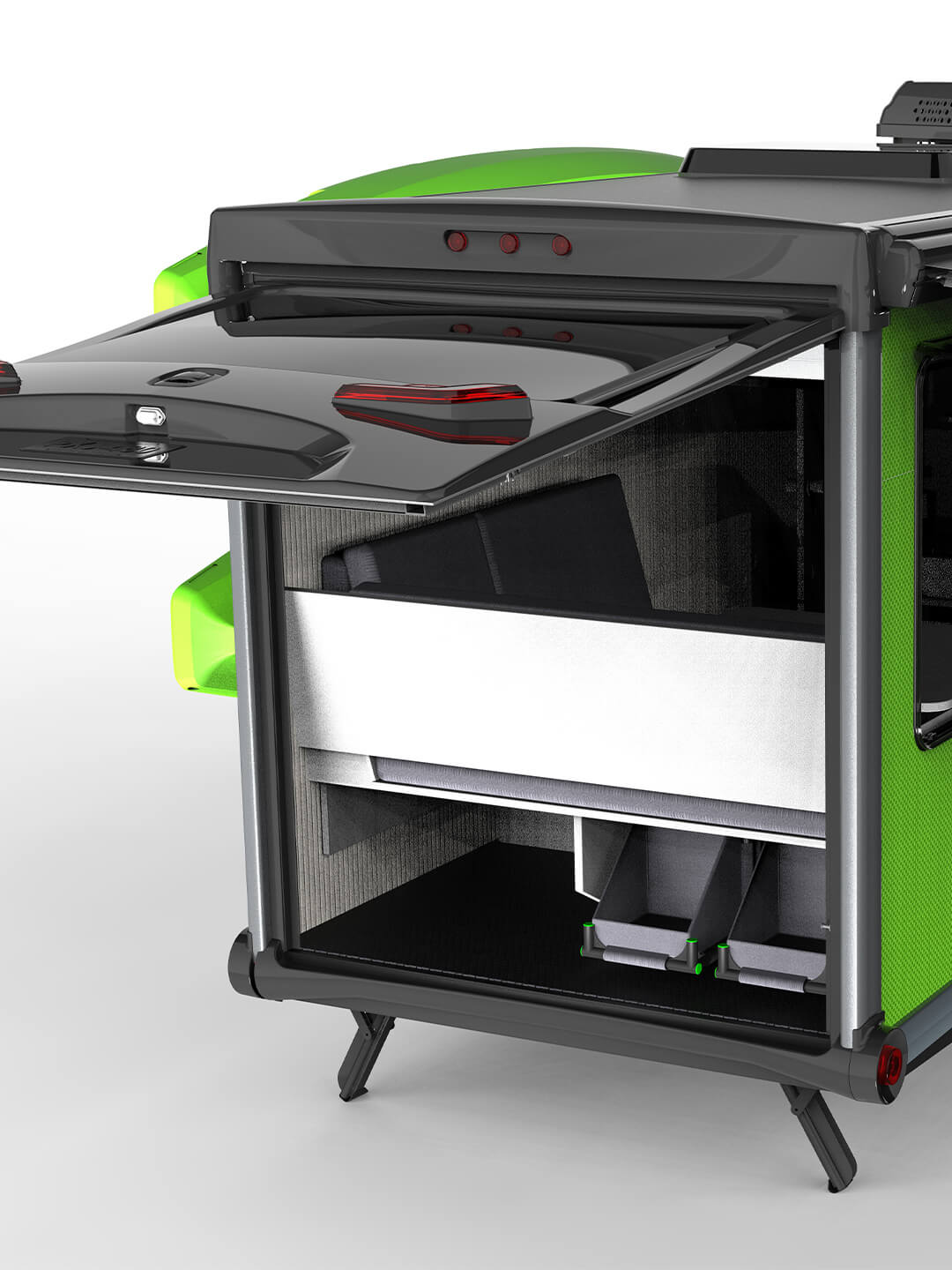 Entire back opens for weather protection & easy loading
56″ x 40″ (1.4m x 1m) opens with built-in screen & sunshade
Gas-assist easy open/close
Sleek exterior fiberglass skin
Residential-sized shower/spa
Shower revealed when kitchen is extended
Truma-Combi on-demand water heater
Space saving fold away sink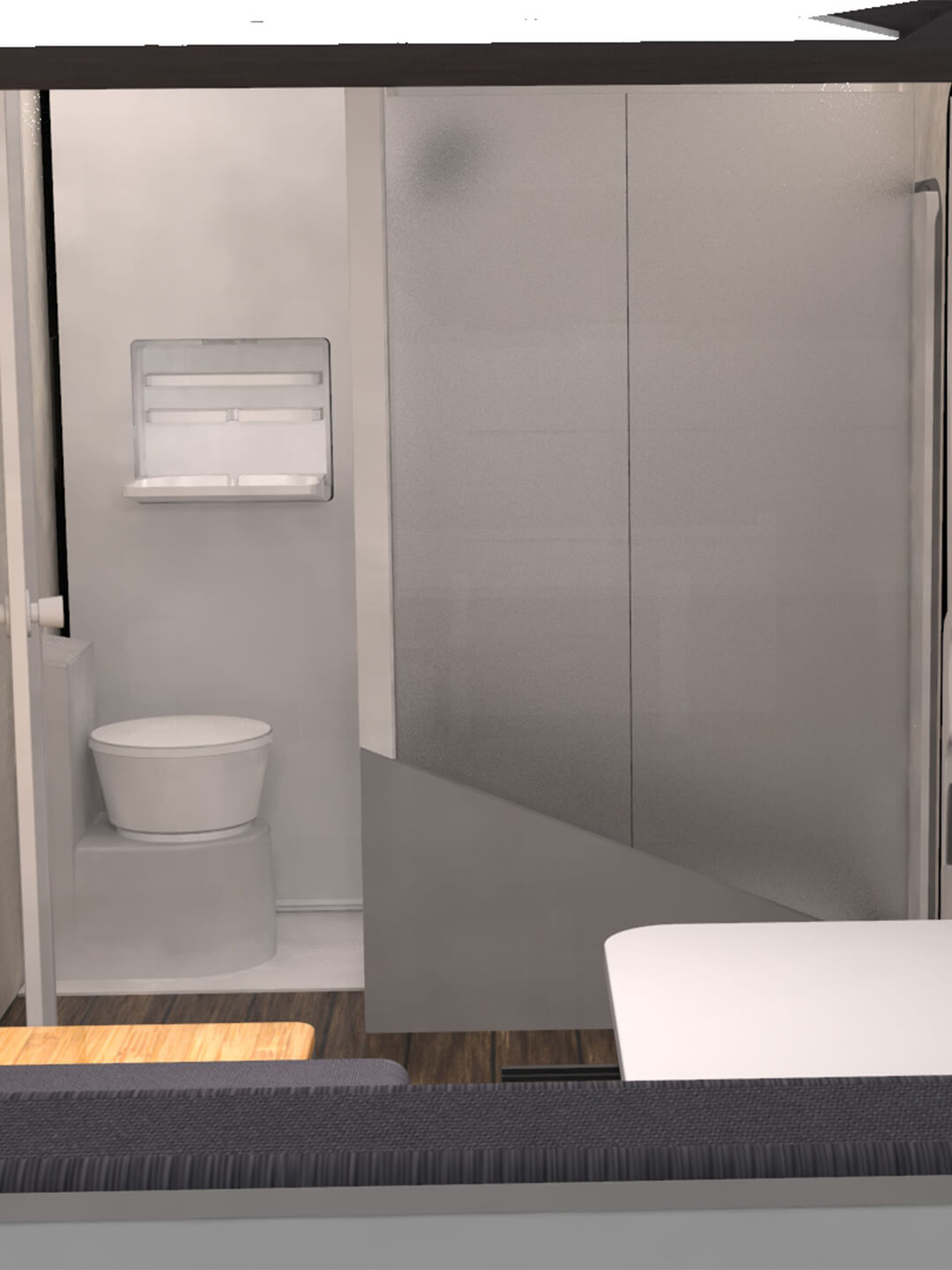 A proprietary new design allows the lounge dining table to slide partially outside, transforming into a walk-up bar that connects indoor and outdoor activities.
One Model – Unlimited Possibilities
Interior Configuration 1:
Open Lounge Area & Inside Kitchen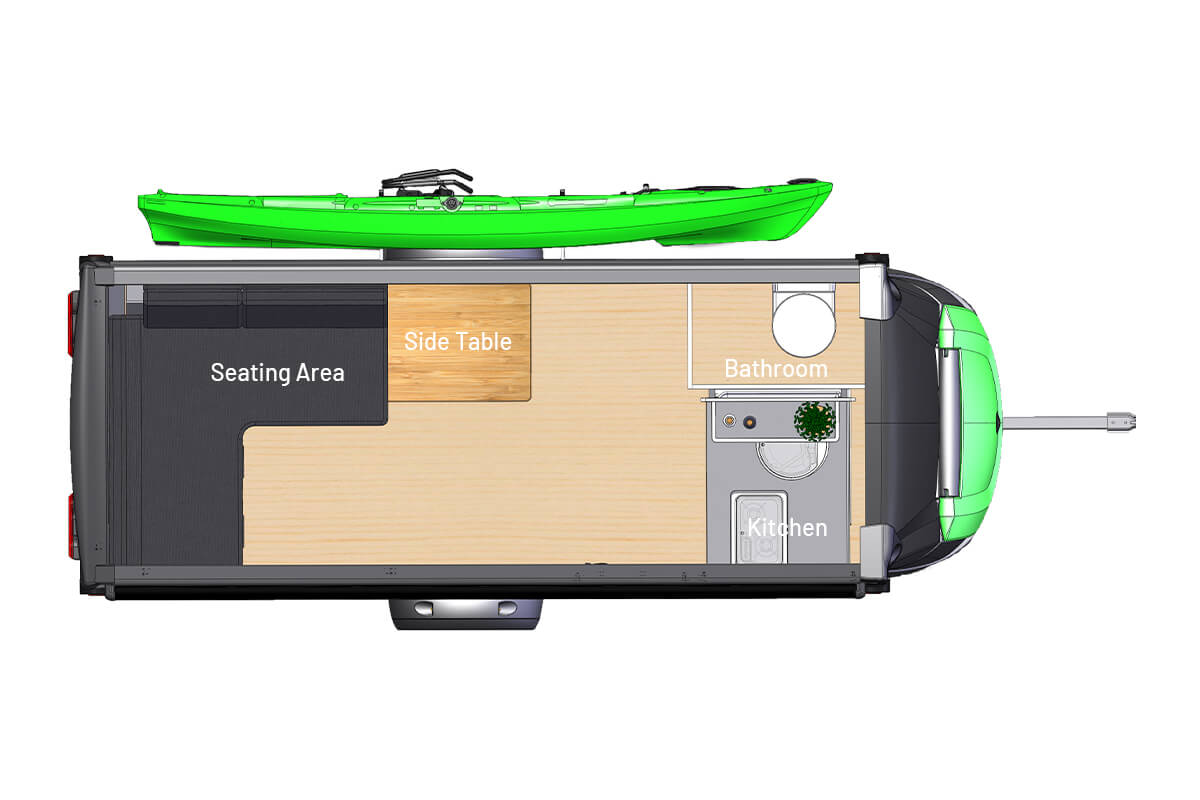 Interior Configuration 2:
Interior Gear Storage, Shower/Spa & Outside Kitchen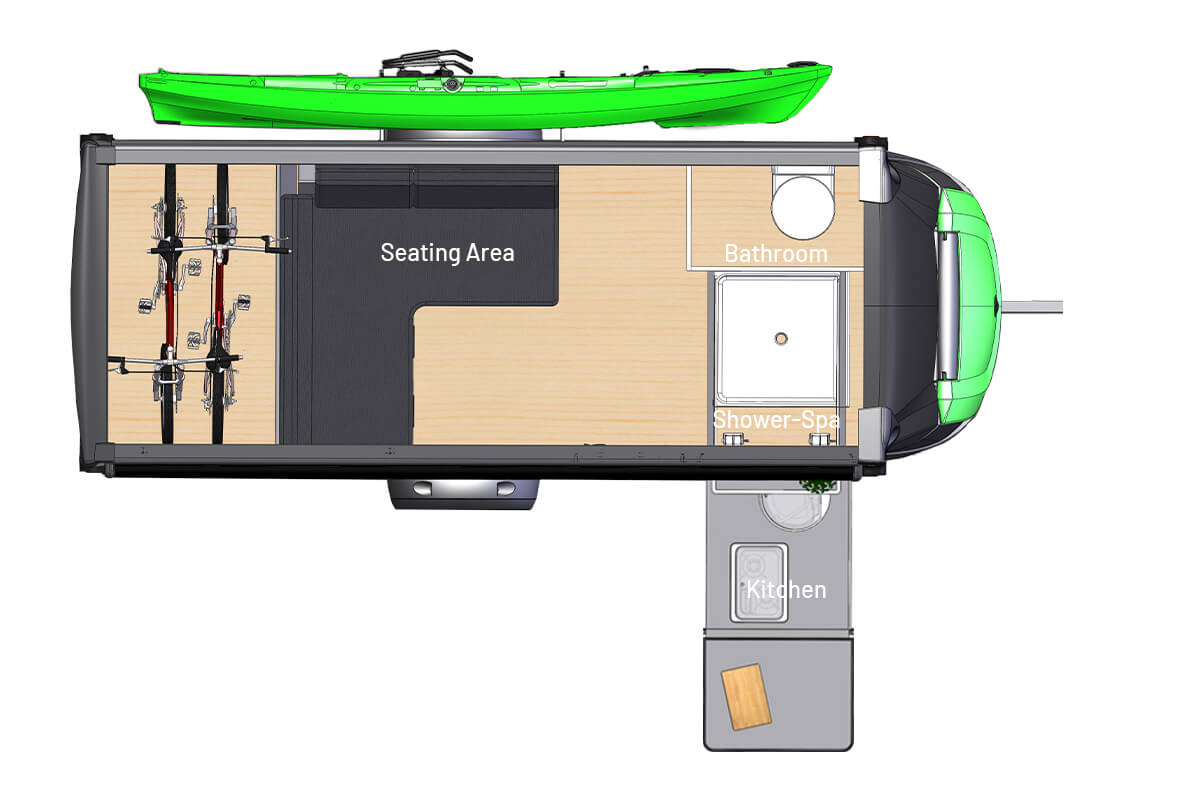 Interior Configuration 3:
1 (or 2) True Queen Beds, Shower/Spa & Outside Kitchen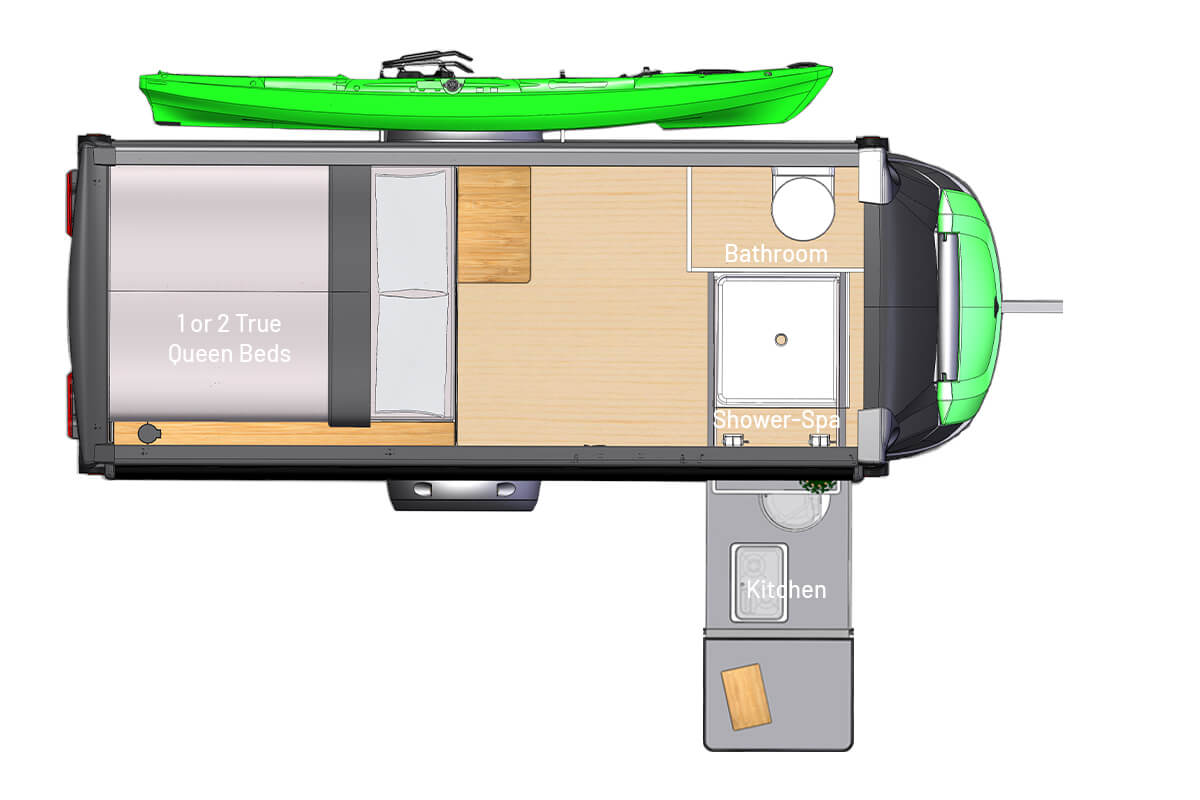 RV Reimagined
Exterior Length (overall):
21.5 ft | 6.55 m
Exterior Width (fender to fender):
7.9 ft | 2.4 m
Exterior Height with A/C:
9.5 ft | 2.9 m
Base Weight:
2,500 lbs | 1,134 kg estimated
Maximum Trailer Capacity (GVWR):
3,000 lbs | 1,361 kg estimated
Carrying Capacity:
500 lbs | 227 kg estimated
Storage Pod:
18 cu ft | .51 cu m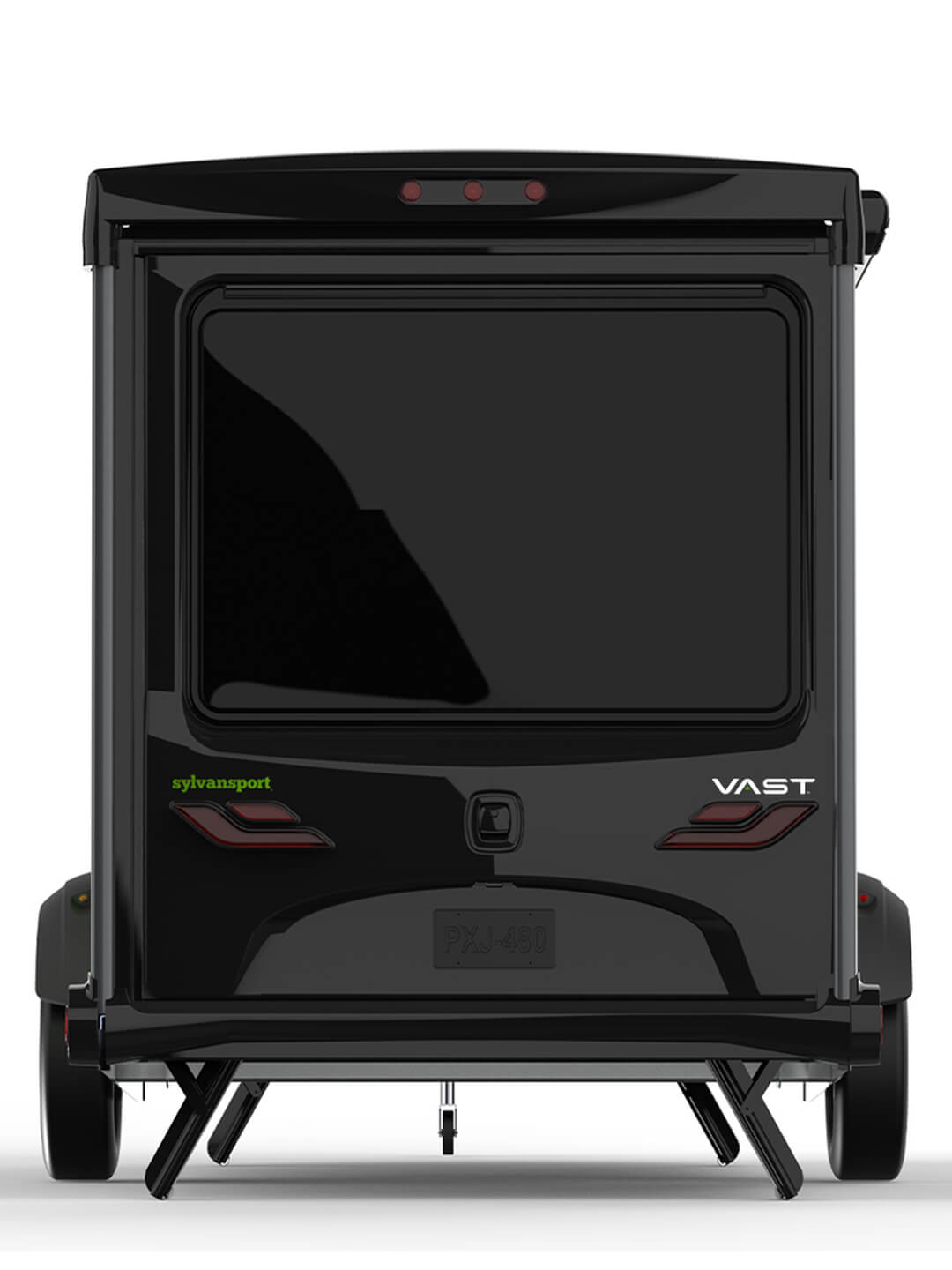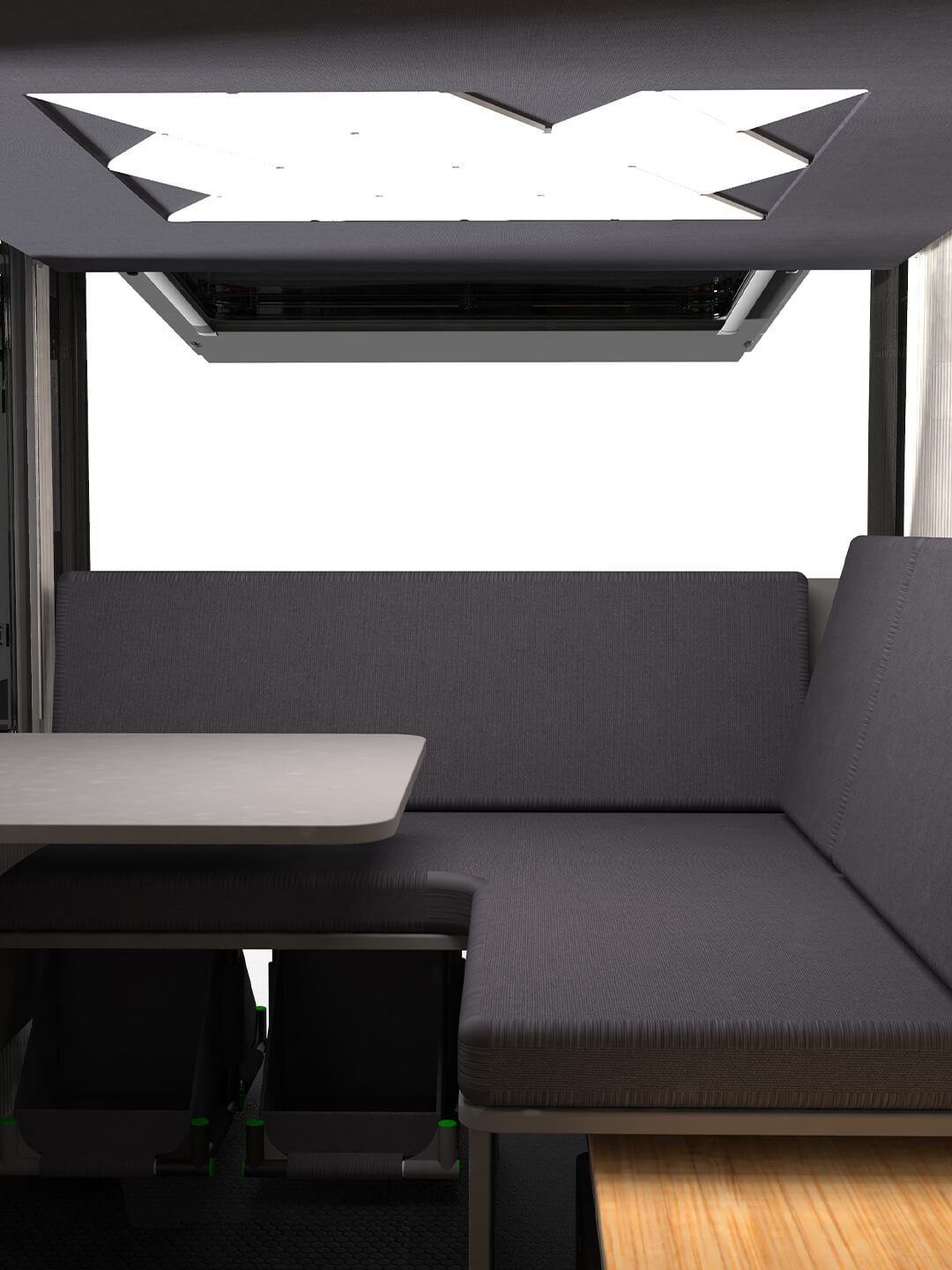 Interior Length:
15 ft | 4.6 m
Interior Width:
5.8 ft | 1.8 m
Interior Height:
6.75 ft | 2.06 m
Sleeping Capacity:
4 adults
Sleeping Configurations:
2
Bed Dimensions:
60 in x 80 in | 1.5 m x 2.03 m
Side & Rear Window Dimensions:
56 in x 40 in | 1.4 m x 1.02 m