GO – Take a Closer Look Inside
The Swiss Army Knife of Camping Trailers.
To be known as the "Swiss Army Knife of Camping Trailers", we had to make the inside of the GO as cool as the outside. We had to create a large, multi-functional, light, airy and FUN interior. It had to be intuitive, easy and comfy. And, with up to six different configurations and way more space than you ever imagined, GO takes camping to a whole new level.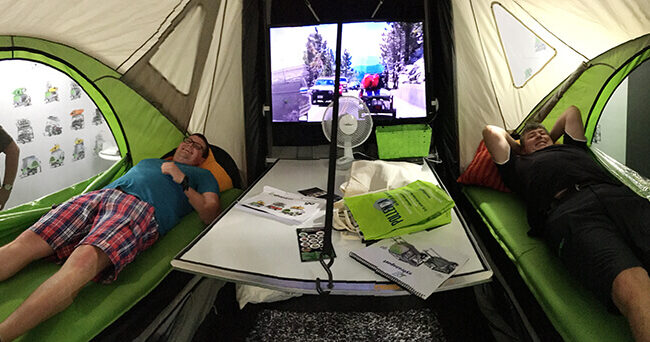 Space.
With over 6′ 4″ of standing headroom and beds that are over 7′ long, GO has more space than any other camping trailer of it's size. At the heart of the GO interior lies an ingenious Bed/Table Panel System that is lightweight and capable of holding hundreds of pounds as a bed or shelves – they even double as a "whiteboard" for planning, games and campsite artwork.
Storage.
With creative storage solutions like Mr. Stow-It-All, Nuthin' but Net and the Bed/Table Panel System, the GO interior is incredibly efficient. Keep all your gear within arms reach and out of your way.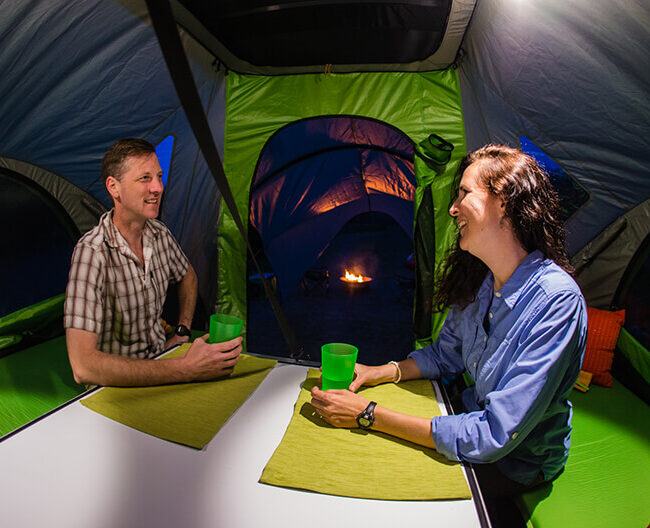 Light Up Your GO.
Add the Sunny Side Up Integrated Solar Kit and light up the interior, power your devices and watch movies all night long. Created with Goal Zero, the premiere name in solar power for camping, the Sunny Side Up Integrated Solar Kit even charges while you travel, with easy to remove solar panels mounted to the roof.
The Camping Experience.
The camping experience is at the heart of the GO and we've taken it to a whole new level. With an advanced tent system unlike any other camping trailer, you feel connected to the outside, while staying dry and comfortable inside. The star gazing panels, huge bay windows and plenty of ventilation lets you enjoy your trip, even if Mother Nature has other ideas. Enjoy meals at the family table and at the end of the day, quickly convert to a King-And-A-Half sized bed and enjoy the best camping experience. Ever.