Our GO Camper Giveaway Helps Two Frontline Healthcare Workers Enjoy More Time Outdoors Together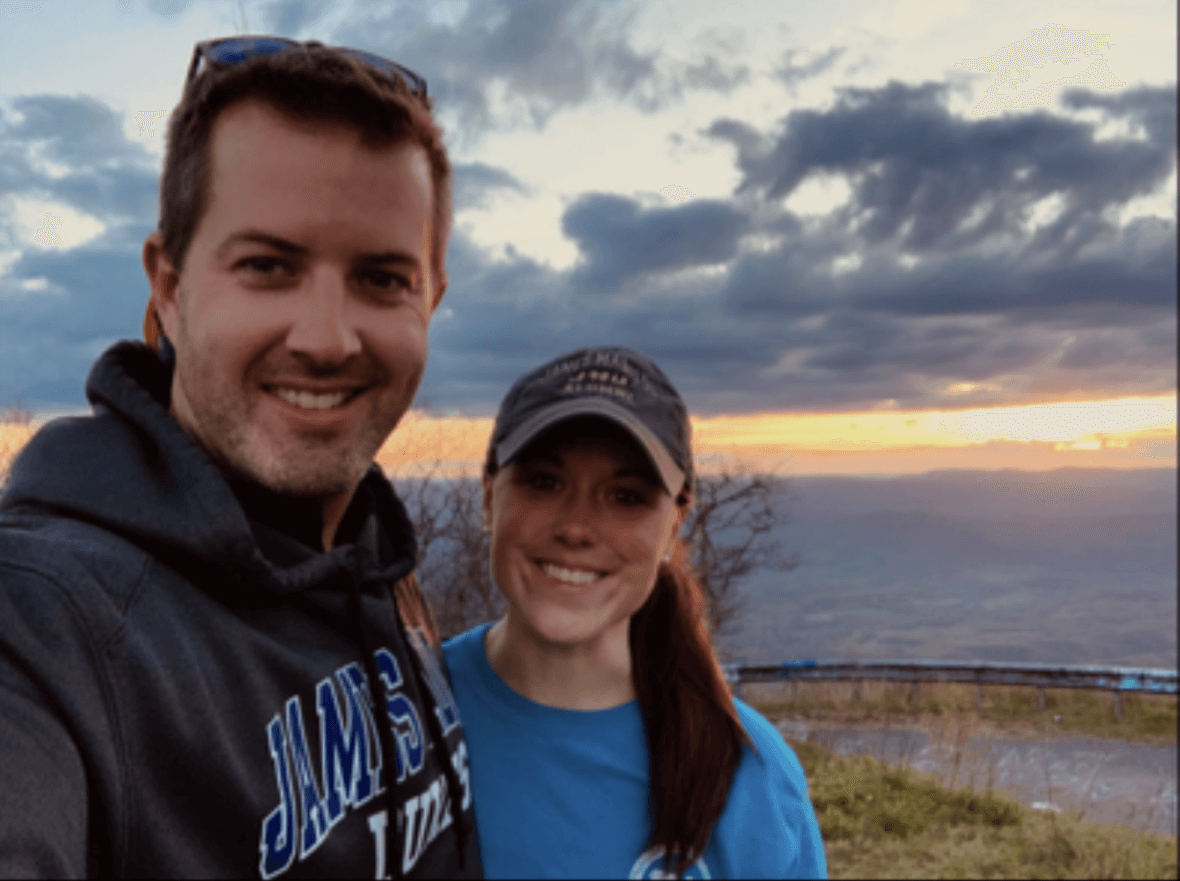 Johann and Karen are an engaged couple from just outside Charlottesville, VA. These avid outdoor enthusiasts are also frontline healthcare workers — Johann is an EMS helicopter pilot and Karen a flight paramedic and critical care physician assistant. They rely on the outdoors to help them destress from their high-intensity jobs in healthcare and recharge for another day in the field.
While on vacation to Brevard in the Fall of 2019 they stopped into the visitor center, where they stumbled upon a brochure for SylvanSport and a special giveaway contest for our GO camping trailer. A little background: SylvanSport had moved into our new factory in Brevard in January 2019 and to celebrate we were giving away our award-winning GO camper. To be entered into the contest, you had to take a tour of our new facility and learn firsthand how we make the proverbial sausage – or rather, how we make the most innovative camper in the world.
"As a couple who spends a lot of our free time in the outdoors, we instantly fell in love with the GO," said Johann. "We work in a very stressful environment and getting outside is important for our mental health and helps us to not get burnt out by our jobs. Winning the GO has made spending time outdoors so much easier and convenient for us to get outside and reset."
Johann and Karen did just that. The couple visited us for a tour of the facility and loved what they saw. In the market for a camping trailer, the couple was sold on the GO immediately — even before they entered the contest. They of course entered the contest with hopes of the big win.
When the couple got the exciting news in February — just before COVID really hit– that they'd won, they were blown away. Winning a camper like the GO would prove to be a game changer for this couple; but at the time, they had no idea just how much.
Johann and Karen spend a lot of time outdoors. Whether it's hiking, dirt and mountain biking, camping, or hanging out by a campfire, these two view being outside as the solution to avoiding burn out from their jobs. Karen's work puts her alongside patients often at their worst moments. Whether it's on the side of a road after a severe accident, often hopping out of a helicopter – flown by Johann – to care for them, or in the ICU at UVA Health, Karen cares for her patients at their most vulnerable.
With the arrival of COVID-19, Karen's job became even more intense, especially in the ICU. "The worst thing about COVID is that patients have no family there," said Karen. "As healthcare providers we watch them go through awful situations without their family." Karen's belief in the healing properties of the outdoors is part of what gets her through. Even with all of the "devastating stuff going on in the world, there's a lot of beauty around us."
For Johann, and others like him in high intensity healthcare work, post traumatic stress disorder, or PTSD, is a real consideration. Johann attributes spending time away from work, particularly outdoors, as critical to managing work associated stress and improving overall health and wellness. He said the GO – so far – has been able to provide them the perfect means to escape to nature and give them everything they need to heal and recharge before returning to the field.
Scientists and healthcare providers agree. According to an article published in 2016 from American Journal of Preventive Medicine, time spent outdoors is associated with fewer depressive symptoms. "What people may not realize is that simply spending time outside can improve your mood on its own," said Dr. Kyle Judkins, Pardee Sports and Family Medicine. "Some studies have suggested that being around more greenery, like trees, plants or forests, can have a positive impact on mental health." Johann and Karen call it their "reset" – often needed after a particularly intense emergency call or time in the ICU. "A campfire, nice dinner, and some games…those are all very therapeutic."
Since winning the GO and working long hours treating and helping patients in the Charlottesville, VA area, Johann and Karen have had some twists and turns. Recently engaged, the couple had planned to get married this past June. COVID of course derailed that plan, but the two made the best of the situation and took a trip to the exact spot where Johann proposed– Reddish Knob in George Washington National Forest – on their intended wedding date and used the GO to make it happen.
We're so thrilled for Johann and Karen and so excited that the GO has been such a positive addition to their life.
Be sure to follow us on social media — who knows — you could be the next person to win a GO!