5 Reasons You'll Love the GO
1

Versatile

Multi-use design for epic and everyday adventures.
2

Comfortable

Spacious, elevated, waterproof tent sets up fast with multiple comfy dining and sleeping options.
3

Lightweight & Low profile

Fuel efficient and amazingly easy to tow with almost any car or truck.
4

Durable

Built to last with the highest quality materials and near zero maintenance.
5

American Made
All-In-One
Camper | Gear Hauler | Utility Trailer
SylvanSport GO is the world famous, go anywhere, do everything, 'Swiss Army Knife' of camping trailers. Carry up to a dozen boats, boards, bikes, boxes, or any other combination of gear. Or pick up a load of supplies from the home store. When it's time for camping, open up the spacious and comfortable tent, relax and enjoy what National Geographic Adventure declared the "Coolest. Camper. Ever".
Camper Mode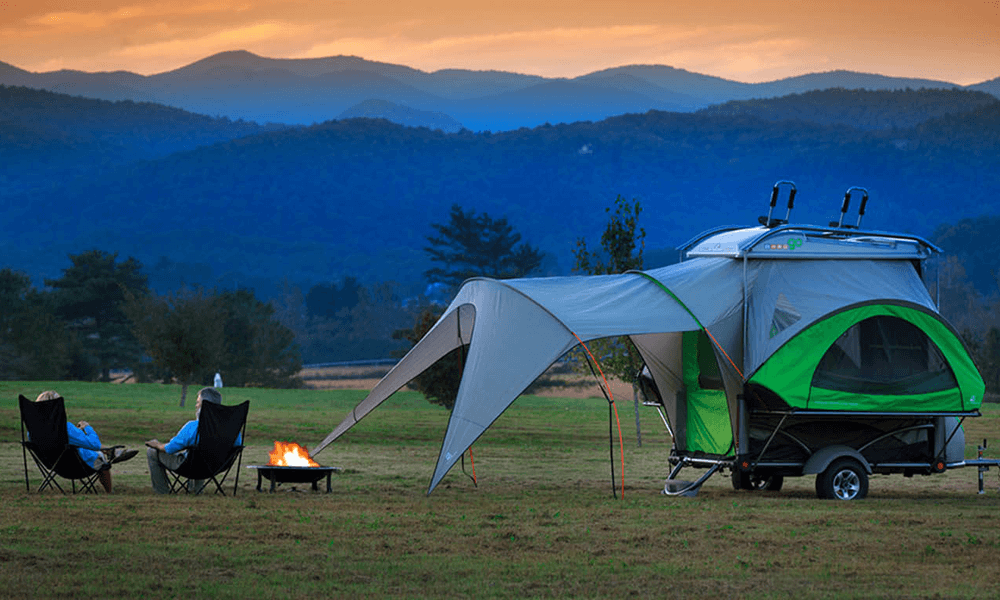 Gear Hauler Mode
Utility Trailer Mode
What Our GO Owners Have To Say
I bought a GO Camper in the spring and went to Grand Rapids to pick it up. I got caught in a blinding rain storm on the way home, lots of wind blowing cornfields flat and so much rain as to be blinding…then it HAILED! But the GO and my RAV4 soldiered thru it all with no damage. I love this little camper and feel very confident while pulling it. I am 80 years old, yet I can hook the GO up by myself and gooooooo!  Driving through big cities was a little scary at first but not anymore…the major concern is remembering that it is back there!
– Chloe – Michigan
We live in Tucson, I bought my GO 3 years ago for my two kids. I surprised my kids with a random trip to pick it up in Ohio and then disappeared into the Colorado Rockies for a couple weeks. We absolutely love it… since then it's been to Alaska, Key West, Michigan, Canada… twice, the Rockies and more. Every time that things attached to my car, people crowd around and want to talk about it.
– Dan, Tucson AZ
We just arrived home from our "maiden voyage" to Florida with our brand new GO. Try as we might we are finding it difficult, if not impossible, to suggest a design improvement. The GO is perfect. Our GO came through a 35 mph wind storm and flooding rains without any problem, the durability of the GO has been really impressive. It is easy to see that the GO was designed by some very smart people with keen foresight. Consider us very happy GO Owners!
– Jim and Donna, Berea OH